Finding the best design and fabrication company for a specific type of project can be challenging because it's truly a niche industry. When ad agencies, marketing firms, designers, artists, and innovators begin their search for a design and fabrication company, it's critical to know what questions to ask in order to find the right partner.
By the end of this article, you'll be able to identify a studio with the experience, equipment, and industry knowledge necessary to turn any concept into a successful project.
---
Questions to Ask Yourself Before Finding a Design and Fabrication Company
Before engaging a design and fabrication company, ask yourself these questions:
"What is the size of my project?"
"How is this project going to be used?"
"How much time do I have?"
"Do I need a supplier for materials?"
"How many items will I need manufactured?"
"Will it be indoors or outdoors?"

After asking these questions, make a list delineating what you want from your project versus what you absolutely need. This will help prioritize what's most important in your budget. When designing a sign, for example, custom lighting might be a "want" but a big, legible logo is a "need."
All of this pre-planning information will come in handy when asking a company about their design and fabrication process. You'll be more prepared for the initial conversation while also giving the studio what they need to get an accurate assessment of project scope.
---
Question #1: Are You a Full-Service Design and Fabrication Company?
Design and fabrication are two separate services, each with multiple subsets of services. A vendor that specializes in one type of design or fabrication won't necessarily have the capabilities or expertise to handle a complex project.
This often results in outsourcing various deliverables to third party vendors.
When design and fabrication responsibilities are divided among multiple vendors, projects are more likely to experience delays, miscommunications and other challenges.
Whether it's a design company outsourcing to a fabrication company, or several design companies coordinating with several fabrication companies, clients can quickly lose control over the process.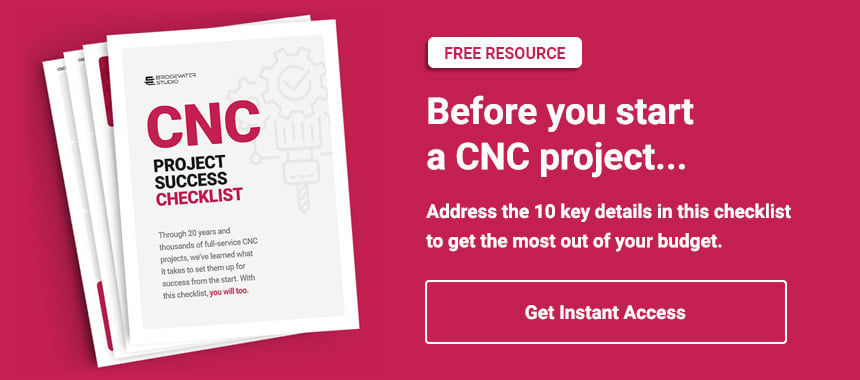 Question #2: What Types of Fabrication Do You Offer?
Asking what types of fabrication a company offers is a good way to see if they can complete your project. Some companies will only have a metal fabrication shop while others might just focus on millwork.
Will your project benefit from a singular specialist, or will it be constrained? A company that works extensively with more materials will have a wider range of experience and the most diverse solutions to help you succeed.
Vendors that work with limited materials may also have limited processes. A studio with broader capabilities can often identify alternative processes that will save time and cost, while delivering a better end product.
In all cases, you'll want to request examples of projects utilizing the materials and processes being recommended by a studio.
---
Question #3: What Types of CNC Equipment Do You Use?
CNC refers to computer-assisted tools that cut and carve the materials used in most design and fabrication projects. The CNC equipment required for a job is often determined by the types of cuts and materials specified.
Hard materials such as titanium will need plasma CNC cutting tools.
A CNC router is good for softer materials.
CNC milling machines are designed for thicker materials.
Laser cutters and plasma cutters handle the rest.
If you need a CNC laser cutter for engraving and all the company has is a compact CNC lathe for making metal bolts and screws, it's a good idea to identify this shortcoming on the first discussion and move on.
You should also ask if the machines are 3-axis, 4-axis, 5-axis, 6-axis, or 7-axis.
Each additional axis gives the CNC equipment more precision and control, but can add complexity and raise the price of services. An experienced studio will determine if your project requires 7-axis CNC fabrication services or if another machine is a better fit.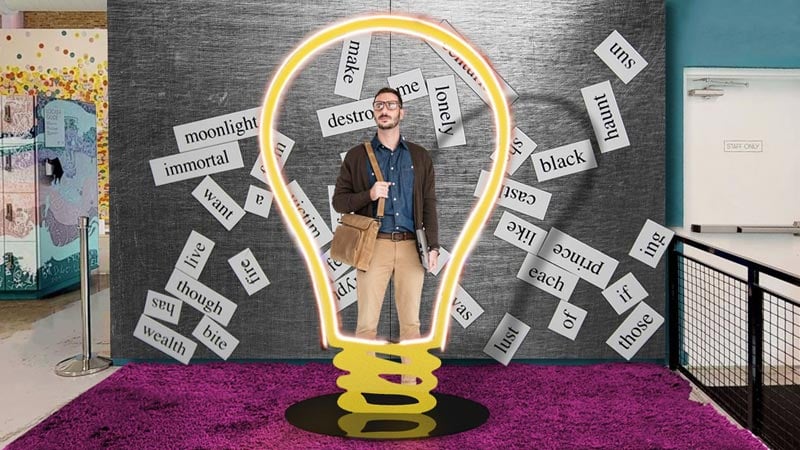 A full-service design and fabrication studio can bring any idea to life.
Question #4: Do You Outsource?
A good design and fabrication company is responsible for every detail from the initial concept all the way to the final art installation.
The best companies operate entirely in-house with no outsourcing or subcontracting, which keeps costs down and helps to guarantee a more streamlined experience.
A single partner should provide one budget, one schedule, one point of accountability - and eliminate the surprises and headaches that compromise project success.
Most projects get completed one way or another, but a fully-integrated design and fabrication studio that understands how projects win and why projects fail will optimize results every time.
---
Question #5: Do You Have Client Referrals?
The industry is competitive, and companies that have been around for a long time will get left behind very quickly if they don't keep their CNC equipment and knowledge up to date. The number of years a design and fabrication company has been in business is a strong indicator of their talent, but not the biggest.
Often, the best way to gauge the abilities of a design and fabrication company is to speak with their customers. Ask past clients if the work was delivered on time, and if the effort was consistent throughout the project. Try to find a client with a project similar to yours and compare notes.
If the design and fabrication company has worked with any notable brands, this question is also their opportunity to share high-profile CNC case studies.
---
Tips for Finding the Right Design and Fabrication Company for Your Project
The best design and fabrication companies will have questions of their own as well. Answer them honestly and provide any information you have, even files you can't open or that may not seem relevant. Armed with a bit of knowledge, the challenges of finding the right design and fabrication partner are easy to overcome by asking the right questions.