Art installation and exhibition design began as separate terms that have converged only in recent years. To fully understand the fine nuances between art installation and exhibition design, one must compare their current similarities, and then go back in time to see how the distinction was first made.
---
How Are Art Installation and Exhibition Design the Same? Immersive Environments.
Both art installation and exhibition design involve the transformation of a space to such a degree that it changes the perception of reality for the audience.
A well-designed museum exhibit, for example, can transport visitors to the bottom of the ocean to explore and learn more. They become fully immersed in an interactive environment, and their experience continues as a memory even after the exhibit is over.
An immersive "environment" is what exhibition design and art installation both seek to create.
The first reference to this type of "environment" was by artist Allan Kaprow to describe the immense rush of emotions he felt while viewing a Jackson Pollock exhibit. He was so moved by his surroundings, he felt that "they ceased to become paintings and became environments," as he wrote in the October 1958 issue of ARTnews.
Kaprow's influence as a talented artist himself lent credibility to the definition, and throughout the late 50s and 60s exhibitions of an exceptionally immersive caliber became known as art environments.
In 1969, The Art Index (an art research database) published the term "Environment (Art)" for the first time, leading to the discussion of the difference between art installation and exhibition design two years later.
---
How Exhibition Design and Art Installation Were Once Different.
Not everyone shared Allan Kaprow's enthusiasm about the way museums were designing their spaces. An artist named Daniel Buren made a distinction between "exhibition design" and "art installation" while further analyzing the term "environment" in his famous 1971 essay, "The Function of the Studio".
Most would be surprised to learn "art installation" actually came from a rant specifically criticizing museum exhibitions.
In his essay, Buren describes a "widening gap between the studio and the gallery" that leaves the art "torn from their context, their 'environment,'" leading to him to wonder if "the term 'installation' [has] come to replace 'exhibition'" – making use of "installation" for the first time.
Over the years, the negative association surrounding art installation was lost as it slowly became another buzzword to describe immersive and interactive art environments.
In 1979, the term "Installation" was officially amended to become synonymous with "Environmental (Art)" by the Art Index.
With that, the tarnished reputation of "art installation" was redeemed.
---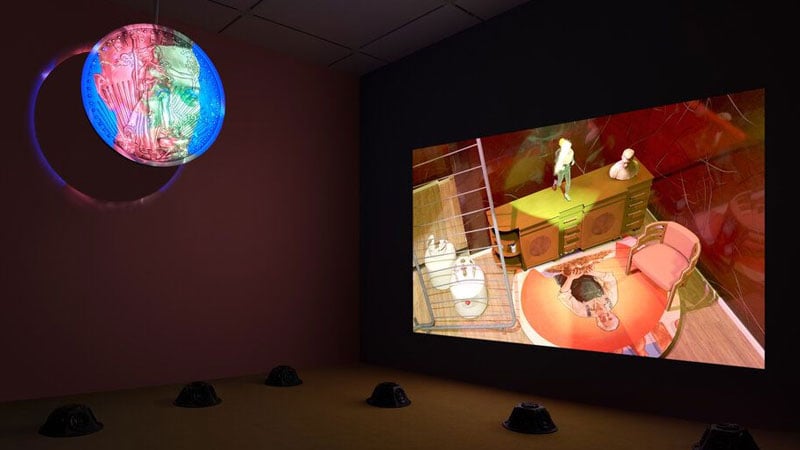 Samson Young's "Silver Star or Golden Moon, Which Will You Buy of Me"
at the Smart Museum in Chicago blurs the line between art installation and exhibition design.
How Art Installation and Exhibition Design are Different: Immersion Levels.
Although "art installation" and "exhibition design" have remained largely interchangeable for decades, some exhibition design aficionados still honor Daniel Buren's original distinction between the two.
This interpretation insists on limiting "art installation" to museum exhibit settings – much like Buren originally did – although even within this group, the negative association is no longer found. Instead, they equate an art installation to the intense immersion felt by Kaprow during the Pollock art exhibit.
In this sense, an art installation can always be considered an exhibition, but an exhibition cannot always be an art installation. To them, an exhibition is sometimes simply not immersive enough.
Most choose to ignore this distinction and conflate the two concepts, which has led to some ongoing confusion.
---
What are the Different Types of Art Installation?
Perhaps the loosest, most modern art installation definition of all is mixed media art installation, which incorporates any combination of interactive elements needed to convincingly transform a physical space into a new reality for the audience. Any installation is allowed so long as it deepens the immersion.
Numerous types of individual art installations further enhance a mixed media immersion:
Audio Installation Art– Otherwise known as sound art installation, this type of exhibition focuses on elements we can hear such as people speaking, music, and sound effects.


Street Installation Art – Often a form of experiential or popup marketing, this art installation is set up on the street to introduce consumers to a positive experience with a brand.


Sculpture Fabrication – A sculpture uses mass and space to create interesting environmental art.

Mass – The size and proportions of a sculpture can change the size that the audience perceives themselves as, effectively shrinking or enlarging to gain new perspective.
Space – In addition to allowing for kinetic movement, the empty space around a sculpture can change the visual depth and other perceptions of room architecture.


Video Installation Art – Contemporary art installations in video form (wall and otherwise).


Virtual Reality (VR) – VR systems produce images and sounds to create total interaction in a non-physical world.


Conceptual Installation Art – Concept art installations value what the work is supposed to represent more than a flawless technical execution, allowing for more crude innovations.


There are many other types of art installation to explore. The emphasis is not on filling up a space as much as creating an experience, so you can use as many or as few installations as necessary to tell a story. The more types of media you are able to cross, the more ways you have to immerse the audience in a unique environment.
---
Don't Let Your Exhibit Design Feel Like a "Buren" Burden.
The writings of Buren and Kaprow show two important facts about art installation and exhibition design:
The right exhibit design will give your audience an amazing experience like Kaprow's.
The wrong exhibit design will give your audience a terrible experience like Buren's.
For better or worse, the environments Buren and Kaprow experienced were so powerful they required new language to properly capture the experience – the change – in the perception of their surroundings.
If you are designing a space for exhibition, you want your audience to be immersed in a good way, and that's where a design and fabrication company who understands art installation can help.
The takeaway? Don't let your art installation feel like a "Buren" when it should have been a "Kaprow".