If you want to know how to really attract the attention of customers to your trade show booth, strong exhibition design is crucial.
The best and most successful trade show exhibits attract reps and consumers alike with an original booth design that stands out on the trade show floor.
You need to become that booth, the one with a unique identity unlike any other exhibit design.
---
What is Trade Show Booth Exhibition Design?
Exhibition design is how you display your products and services at a trade show. It's how to design graphics and a spatial layout that will attract attention and not lose it.
Aside from structural safety, every element of exhibition design should focus on how to make a trade show booth more interactive so that it makes for a more powerful brand experience (aka experiential marketing).
Proper exhibition design draws people to your booth and increases their "dwell time" (the amount of time they interact in your booth).
Without an immersive booth design, your brand projects a boring image, and prospects will quickly notice any recycled elements from last year.
---
Successfully Designing an Exhibit for Your Audience
Designing an exhibit for your audience means delivering an experience they connect with. Ask yourself:
Who is the audience that I am designing the exhibit for?
What are they expecting from this exhibit?
How much do they know about the subject beforehand?
How much do they want to be educated versus entertained?
Consider how well your exhibit design balances these five types of experience expectations for the audience: fun and ease (accessibility), cultural entertainment, personal identification, historical reminiscences (if applicable), and escapism. Ideally, all five categories should feel about equal.
---
Understanding How to Design a Trade Show Booth to Attract Customers
Attracting a customer's attention to your trade show booth design requires a deeper understanding of the visitor and their motivations.
Some visitors will pay attention to every booth equally, not wanting to miss anything at all. You've already won the attention of this audience by default.
Instead, you need to plan for highly-selective guests, who will only frequent booths they're most interested in.
A niche audience is generally more motivated than a broader audience and, therefore, more valuable when considering exhibition design. However, they are more fickle with their time and require a certain amount of persuasion and finesse to engage.
An interactive trade show booth exhibit design will retain their attention and earn leads of potentially higher value.
Whatever your design is, make sure it uses original elements and objects in ways they have never seen before. In other words, an "off-the-shelf" or "cookie-cutter" trade booth design is not going to attract customers or make a lasting impression.
The design has to be original and interactive.
---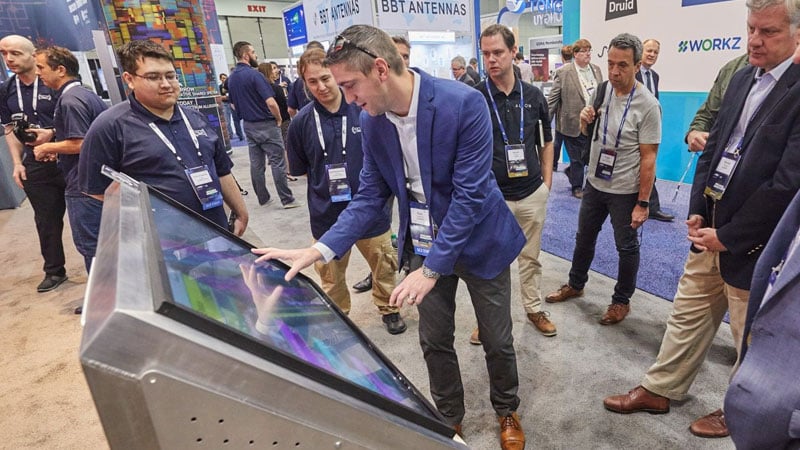 Offering visitors something original to explore increases their dwell time at your trade show booth.
How to Make a Trade Show Booth Attractive and Interactive
Making a trade show booth design as interactive as possible requires more than just a bubble machine, phone charging stations and offers of mini massages and coffee. Those are all gimmicks the audience saw last year (and the year before).
To make a trade show exhibition booth more interactive, consider the power of custom art installation.
Some common examples of custom art installation:
Custom-fabricated signage
Lighting installation
Sound (audio) installation
Brand mascot sculptures
Floating kinetic art installation
Any of these can transform your section of the trade show floor into a new environment to explore.
A trade show booth with a high-tech design and custom elements commands attention by engaging the senses and piquing curiosity – creating the perfect opportunity to introduce your marketing message.
In other words, the best exhibition design should deliver an experience that's so immersive, guests feel like they're returning to the real world when they leave. It should elicit a response much more powerful than a simple meet-and-greet conversation.
---
Why Exhibition Booth Design Fails
Aside from a lack of immersion, the following three categories are often why trade show exhibits fail:
Execution – Is the story being told right? Is the staff knowledgeable, professional and entertaining? Is more or less staff needed?


Build quality – Did the exhibition design remain true to the design schematics? Were the best materials used in the exhibition booth design (i.e. rigid foam instead of carving foam for an outdoor trade show exhibition?) Was the brand image damaged by a shoddy booth design?


Timing – Was your exhibit seen by everyone in the area or was the event overshadowed by larger trade shows or product launches on the same day?
---
How to Plan a Trade Show with Exhibition Design Companies
The best way to avoid failure at a trade show is to hire an exhibition design company to plan and exhibit using all of the best practices.
More specifically, exhibit design companies will already know:
How to make your trade show booth interactive
How to frame your exhibit with proper storytelling
How to design trade show graphics
How to attract the attention of customers
---
How Much Does the Average Trade Show Booth Design Cost?
The average cost for a trade show booth design is $150-$250 per square foot for a custom build.
---
How to get the Absolute Best Trade Show Exhibition Booth Design.
A trade show booth with a generic build and basic shelves will reduce the amount of time people will want to spend with your brand when there are so many other environments to interact with. Your trade booth exhibit design needs to make people want to stay.
For an immersive booth with an engaging design, partnering with an experienced exhibition design specialist is a great place to start – but there's much more to consider.
Budget, schedule, transport, logistics and other details can quickly add layers of complexity (and stress) to a trade show booth project. To get the most out of your investment, you'll want the streamlined process that only a studio with full in-house capabilities can provide.
Ready to transform your trade show floor space into an immersive environment that attracts and engages your audience, helps convert them into leads and creates a lasting impression? Bridgewater Studio is an end-to-end solution that will optimize your goals across the entire project lifecycle.