For companies looking to take audience engagement to new heights, there's no better approach than face-to-face, with an event activation. From innovative, one-of-a-kind experiences to retail pop-ups, corporate events, and more, event activations create the perfect atmosphere for brands and customers to connect in a memorable way.
Event activations can be used to introduce new products, market existing products, educate customers, promote brand awareness, or even to support a worthy cause. The options for a brand to create positive interactions with a highly-targeted audience using these experiential marketing campaigns are truly endless.
In this article, we'll explore the possibilities, so you can plan the best event activation strategy for your brand.
What is an Event Activation?
An event activation, as well as similar terms like "brand activation" and "marketing activation," refers to an in-person marketing experience where customers have face-to-face exposure with ambassadors from a brand. From activations that utilize nostalgia marketing to creative partnerships, a unique, memorable event can be a great way to engage prospective customers for the first time or nurture an existing audience.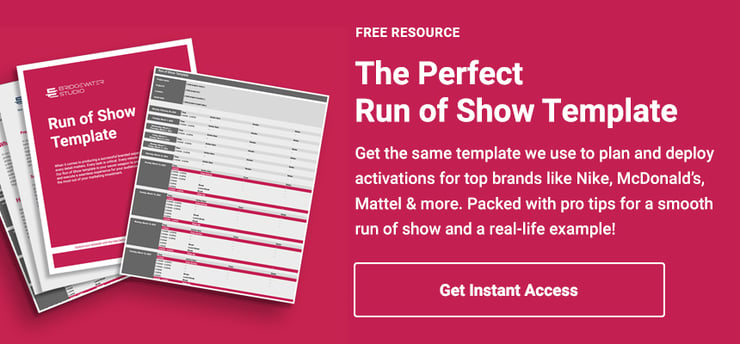 Do I Need an Event Activation?
Whether your goal is to launch a new product, generate leads, or increase sales, an activation can be a great way to connect with customers one-on-one. Brands can meet a number of goals through an event activation and, at the very least, establish a strong connection with an audience and leverage their ability to share the experience via social channels and word of mouth.
8 Types of Events Activations for Brands
An event activation can be a stand-alone experience, a multi-location experience, or an activation that ties into a larger cultural happening, such as All-Star Week, the Super Bowl, or Fashion Week.
Examples of brand activations include:
Festivals
From food festivals like New Orleans Wine & Food Experience to film festivals like Sundance, festivals are a fantastic opportunity for brands to leverage high-profile events to reach their customers in a new, exciting way. At the musical festival Lollapalooza, for example, top brands such as Cupcake Vineyards and Grubhub participated with a custom wine lounge and a Refuel Station that offered attendees the chance to have fun with giveaways and games. These events used custom-built pop-ups, such as a shaded bar area, to keep customers entertained and refreshed.
Store Within a Store
Whether it's through a pop-up, a kiosk, or a themed environment, a "store within a-store" is a great option for brands looking to get face-to-face with customers in a retail setting. With a store-in-store activation, brands can create unique, temporary experiences within the typical shopping environment that tie into seasons, special events and so much more. Popular mall brand activations have included everything from a floral confession booth from Moonpig to stylish Santas that wear designer Santa suits around the holidays.
Trade Shows
From massive events like the CES Trade Show to niche events like The National Hardware Show, trade shows are a great chance for brands to host exhibits that are both informative and entertaining. Exhibitions can provide chances for customers to try or test products, build business relationships, or educate users about new services. Exhibition design companies can create custom booths that provide the necessary components to effectively connect with customers during a show, including elements like signage, seating areas, shelving, interactive kiosks, and much more.
Retail Activations
Retail activations provide a unique face-to-face experience with customers and can include anything from limited-time events to giveaways to classes and workshops. Brands can create these immersive experiences with custom retail interiors, including furniture, sculpture, wall art, signage, and much more. For a partnership with Rag and Bone, for instance, Nordstrom built a fake New York-inspired deli to show off products at its location in Manhattan. M&M's created a hands-on experience for customers at their expansive store at the Mall of America in Minnesota, offering chances to buy limited candy flavors, take photos, and participate in their "Sweet Moves" feature.
Sports Events
Sporting events are a natural fit for brand partnerships. During NBA All-Star Week in Chicago, for example, Michelob Ultra took over Harry Buffalo to create an NBA-JAM inspired barcade. For McDonald's All-American Games (McDAAG), McDonald's sent custom sponsor kits to players, resulting in a flurry of activity across social media channels as players shared images of their kits. Brands can create these experiences with the help of custom fabrication companies, who build everything from wall art and furniture to sports lockers.
Virtual Events
Virtual events have always been important for brands who want to reach a wide audience, and the need for these activations has only expanded in the past few years. Virtual event activations now include everything from classes to talks and workshops, and are being offered through learning platforms such as Masterclass, Skillshare, and others. Companies can duplicate this format and create their own virtual events, or offer hybrid options that align the in-person and online experience, as CES and SXSW have done.
Cultural Events
From Fashion Week to Comic-Con, internationally recognized cultural events attract large, highly-targeted audiences. Brands that develop unique experiences alongside those events, such as TRESemmé's pop-up salon or HBO Max's activation for their show "Doom Patrol," can draw big audiences and earn their trust by aligning on shared values.
Industry Events
Industry events can be a great way to affiliate with similar brands, establish strategic partnerships, and gain exposure to a niche audience. At marketing events like HubSpot's Inbound and Adobe MAX, for example, companies looking to reach new customers will invest in booths, product demonstrations, interactive experiences, and more.
Event Activations: Getting Started
With an experienced partner, brands can bring innovative event activation ideas to life and get the most out of their investment. A full-service design and fabrication company is capable of taking a complex event activation project from concept, to build, to final installation. With so many details and logistics to consider, their expertise will translate into success by delivering streamlined efficiency every step of the way.
To learn how a full-service design and fabrication company can take your next event activation to the next level, schedule a no-pressure introduction to Bridgewater Studio today. We'll customize a free project plan for your activation so you'll be set up for success from the start.