An experiential marketing activation can be a bold, memorable experience that drives exposure, audience engagement, and many other benefits for brands. These types of events include everything from trade show booths to festival experiences to informative workshops to pop-up activations, and can be as innovative and imaginative as a timeline and budget will allow.
Despite how seamless these events can appear, for brands with little internal bandwidth or no experience, creating and managing an activation can be extremely intimidating. For many, this is where the expertise of an experiential marketing company comes in.
Choosing An Experiential Marketing Company
There are a number of experiential marketing companies that can see the activation process through to a successful end. Some companies focus on specific types of experiences, such as event planning or retail activations, while others offer a broad range of brand activation services. In this article, we'll review the various types of experiential marketing companies and what to expect from each.
Experiential Marketing Agencies
Experiential marketing agencies specialize in in-person, branded experiences, which can include limited time pop-ups or PR events. In the past, these events have included one-of-a-kind experiences like Oreo 3D-printing cookies at SWSX or HBO 's Escape Room that featured elements from their best shows. These clever ideas are typical of the branded events an experiential marketing agency will create.
These agencies are often responsible for coming up with these innovative campaign concepts from the very beginning, then coordinating the staffing, permitting, and logistical needs. While tasks like marketing the event on social media may be handled in-house, additional duties, such as fabrication and installation, are almost always outsourced to a third-party. Experiential marketing agencies manage:
Campaign Strategy: Experiential marketing agencies work with clients to develop concepts and campaign strategies for an activation
Project Design: During the project design stage, agencies will often work with a design studio to take the idea from rough concept drawings to precise digital models.
Project Build: The agency will select one or more outside vendors to fabricate the physical components.
Event Coordination: Before the activation, the agency will work with vendors to deliver and install the physical components.
Post-Activation: The agency will coordinate the disassembly and removal of all components and equipment.
Overall, experiential marketing agencies can provide (or find) the support necessary to create and execute a wide variety of brand activations. When hiring an agency, ask about the level of outside support they will need to bring your project to completion, as it can have a major impact on quality, timeline, and/or budget.
Event Marketing Agencies
Similar to experiential marketing agencies, event marketing agencies also specialize in in-person events, which can include trade shows, fundraisers, corporate events, and festivals for B2B or B2C companies. A few examples include the SQLBits Seminar and HubSpot's annual Inbound marketing conference, as well as virtual events, such as Buzzfeed's Saturday Night Seder fundraiser.
An event marketing agency will help develop the campaign and the structure of the event. Some experiential marketing agencies also offer services such as public relations, direct mail, email and telemarketing to promote the event. Overall, event marketing agencies manage:
Pre-Event Marketing Services: Event marketing agencies will coordinate staffing, permitting, and logistical needs
Event Coordination: The agency will work with third-party vendors to fabricate & install the physical components
Post-Event Marketing Services: After the event, agencies may manage follow-up and offer lead nurturing services
Event marketing agencies are a good match for companies who want to run an event, but need support during the process. Like an experiential marketing agency, some of the responsibilities will likely go to a third-party vendor, which may lead to a lengthier timeline or additional costs.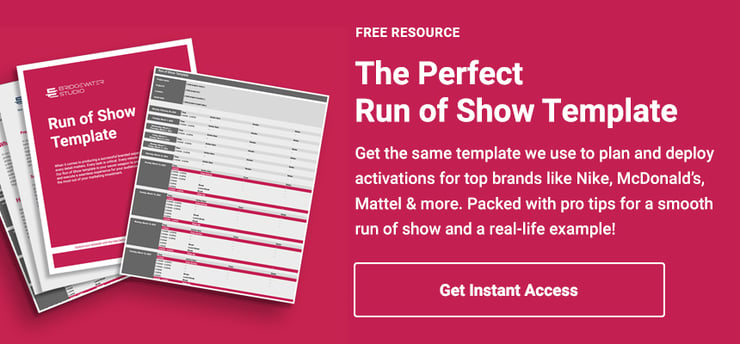 Experiential Retail Agencies
Experiential retail agencies specialize in creating engaging, memorable retail activations. Typically, these agencies help take the customer experience to a new level by adding an interactive element to their visit, providing a service that cannot be duplicated through online channels.

Examples of experiential retail activations include free yoga classes at Lululemon and West Elm's local experiences, which provide unique in-store opportunities for customers. Companies interested in enhancing their retail experience can work with an agency, who will manage:
Idea and Strategy: Experiential retail agencies work with clients to develop new retail activation concepts

Pre-Event Marketing Services: The agency will coordinate staffing, permitting, logistical, and other needs, typically with third party vendors

Design and Fabrication: Agencies select vendors to produce the physical components for the in-store environment

Event Coordination: Agencies hire vendors to deliver & install the physical components

Post-Event Marketing Services: When the event is over, experiential retail agencies may handle follow-up and lead nurturing
For retailers who want to improve their in-person shopping experience, build brand loyalty, or attract new customers to the store, hiring an experiential retail agency can be a game changer. This is particularly important in 2022, as many shoppers are craving a return to in-person retail interactions.
Producers
A Producer is not a standalone agent, but more of a project manager that can provide similar support as an experiential marketing agency. Producers usually oversee timeline, budget, vendors, and more, depending on the scope of a project. In some cases, an agency may develop a concept, then hire a producer to manage everything else.
The duties of a Producer often include:
Concepts and strategy
Project management
Coordinating accounts, creative and production teams
Problem-solving and troubleshooting
Run-of-show schedule
Working with third party vendors
For some companies, Producers can be essential for getting a project to move along smoothly. For others, Producers may be unnecessary, and result in additional costs or time. If a Producer is hired as a part of a campaign with an agency, companies should always be clear on the value they add, otherwise, the budget spent to hire them may be better used elsewhere.
Design & Fabrication Studios
Design and fabrication studios take experiential marketing campaigns from the early concept stage to final activation. With expertise in CNC services, 3D printing and other manufacturing technologies, they are able to identify the best materials and production methods for a project, then build, deliver, and install the final components. With the best design and fabrication studios, experiences are limited only by the imagination, and can include:
Sculptures and art installations
Trade show booths
Themed environments
Custom furnishings
Pop-up activations
Lighting, sound, and rigging
Multimedia and interactives
Cabinetry, shelves, and creative storage solutions
Branded signage and experiential graphic design
While areas of specialization may vary from studio to studio, the best design and fabrication companies offer full-service capabilities, and can manage every aspect of an activation from start to finish. This provides brands a valuable opportunity to streamline an entire experiential marketing campaign with a single partner. For complex projects with many moving parts and unexpected challenges, one point of contact to manage design, build, installation and run-of-show schedule is the most effective way to ensure a smooth, successful campaign.
Hiring A Full-Service Experiential Marketing Company
Any of the above companies can bring your idea to life through a myriad of services. While many agencies will plan and execute an experiential marketing campaign by coordinating multiple third party vendors, full-service design and fabrication companies offer a valuable alternative by bringing all areas of expertise under one roof. A streamlined process and a single point of accountability results in much more bang for the buck, and translates into a more successful activation every time..
To learn how full-service design and fabrication can take your next experiential marketing campaign to the next level, schedule a no-pressure introduction to Bridgewater Studio today. We'll customize a free project plan for your experience so you'll be set up for success from the start.