Incorporating multimedia into your exhibition design can be difficult. Whether you are designing a space for a film set, mall, museum, or trade show, installing too many multimedia components can make the exhibit feel overwhelming and disorganized. Not enough multimedia technology can make your exhibit look stark and monotonous. How do you choose which types of multimedia to include in your exhibit design and strike the perfect balance?
Solving this dilemma becomes much easier when you approach this as a decision between digital and analog media choices, first by understanding their differences, and then determining how your exhibit calls for differing degrees of digital and analog design solutions.
---
What is "Multimedia Exhibition Design?"
Multimedia, in terms of exhibition design, combines two different types of media technology – analog and digital – to guide an audience through a space while helping them connect with the story being told.
Analog
Printed media like magazines, newspapers, traditional signage, film reels, and other non-digital sources of information assembled and presented without the use of computers.
Good for conveying simple answers and messages.
Can usually be designed and fabricated quickly.
Often requires more maintenance than digital media.

Digital
Computer technology used for programmable video, images, web content, projection mapping, and other computer-operated applications.
Good for delivering longer answers and complex information.
iPads, tablets, and kiosks can let visitors guide their experience in an exhibit or trade show booth design.
Mixed and virtual reality present additional information in attention-grabbing ways.
Knowing what types of multimedia matters for each kind of exhibit is what makes your exhibition the most immersive, entertaining, informative and insightful at each touchpoint.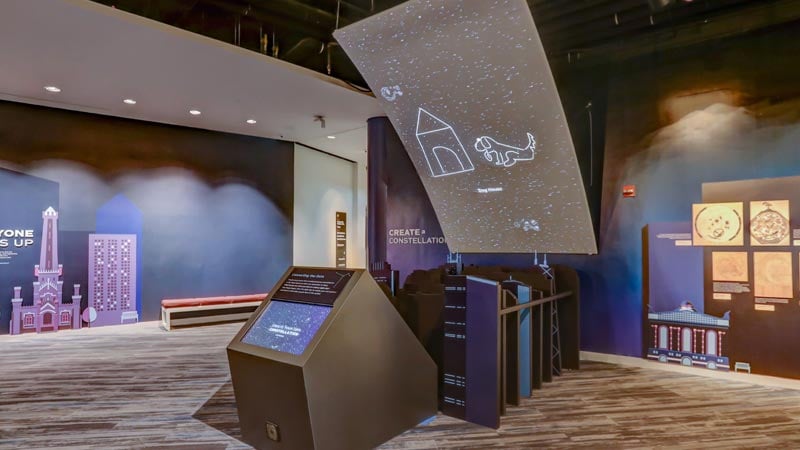 Chicago's Adler Planetarium uses multimedia to support a fun, interactive learning experience.
Choosing Multimedia for Your Exhibition Design
When choosing analog and digital multimedia, consider which is the most appropriate for your design. If your exhibit tells a story of ancient technology, installing too much digital media can detract from the atmosphere. Conversely, a scene set in the future might need a large amount of advanced digital media to feel more authentic.
Multimedia largely determines how your audience interacts with your environment and how immersed they become. The technology must align with the overall look and feel of the environment to become engaging and interactive.
Multimedia at the Entrance
In large exhibits, some type of multimedia usually denotes the entrance – most often, a digital kiosk detailing what to expect from the exhibit and how to access each part, along with a brochure, pamphlet or other information.
Multimedia at the entrance, by design, should take only a few minutes to fully interact with. Since large installations tend to draw crowds and cause backups, keeping multimedia on the smaller side once past the entrance keeps groups moving.
Video Wall Screen Selections
When incorporating digital media into exhibit design, screen size, type, and orientation can be one of the most important decisions. From single screens to multi-screen video walls – options abound.
Size
The screen must be large enough to be viewed from the appropriate distance while displaying the right colors, movement, and resolution to signify when and where to look.

Number
Personal small screens create an intimate experience for the visitor, while multi-screens can work together to produce larger images and greater stimuli.

Touchscreens
Add new levels of interactive control with touch-display information.
Other screen considerations include cost, durability, ease of integration, and user interface. The best exhibition design companies will be able to assist with these decisions by making sure all factors are fully taken into account and clearly itemized.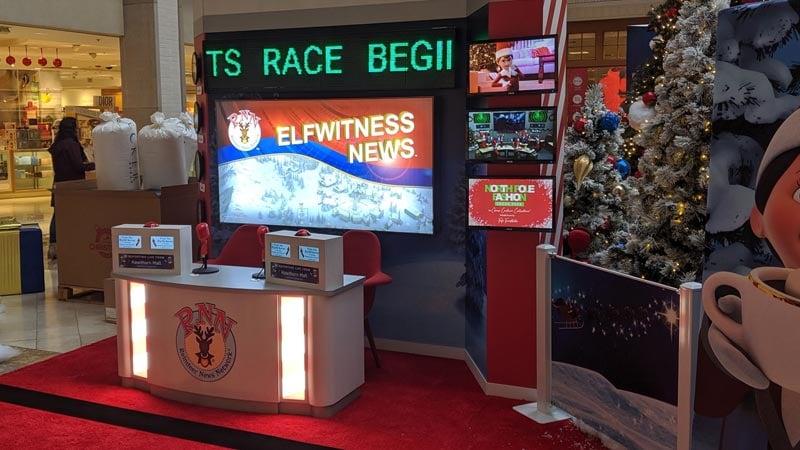 In this themed environment for the holidays, multimedia screens fit right into the concept.
Multimedia Should Always Support the Exhibit
Whether you are playing analog sound recordings of audio essays or showing videos on a digital wall display, the technology you choose should provide supplementary information to support the main exhibit without distracting or disorienting visitors. An interactive station that generates loud group conversation during a part of the exhibit meant for quiet reflection, for example, might feel out of place and become distracting.
Mixed (Augmented) Reality and Virtual Reality Multimedia
Mixed (augmented) reality and virtual reality are great ways to transport an audience for a more immersive storytelling experience. At trade shows, a vendor who builds treehouses might use virtual reality technology to show visitors what their installed product looks like at the top of the trees. The same booth might design a "mixed reality" station as well, which gives visitors the ability to "design" their own treehouse on their phone and aim it at a tree prop for a preview.
---
Have More Questions About Multimedia Exhibition Design?
If you are unsure how much digital and analog multimedia you need to plan for, the best exhibition design companies will be able to explain which technological components are the most important for your exhibit and why. An exhibition design company will also help you consider the strengths of each type of media relative to your audience to better shape and inform their experience according to your overall message and storytelling goals.