Today, CNC fabrication is used for everything from creating medical devices to freight trains to marine propellers. While much of the CNC industry is specific to the machining of parts in manufacturing, CNC fabrication is also used to create highly detailed sculptures, 3D objects, wall art, custom furniture, interactive exhibits, and more. For companies marketing with experiential activations, such as pop-ups, events or trade show booths, this provides a unique opportunity to use CNC fabrication to help create engaging physical environments. In this article, we'll explain how CNC fabrication works and the possibilities for using the technology for experiential design and production.

How CNC Machining Works
Computer Numerical Control (CNC) machining is a computerized process that uses software and code to control production equipment. To create an item, CNC equipment follows a subtractive manufacturing process to remove material from a solid, such as wood, metal, plastic or foam, to achieve the intended result. The device uses a variety of cutting, carving, bending, and laser cutting techniques to create highly-precise details.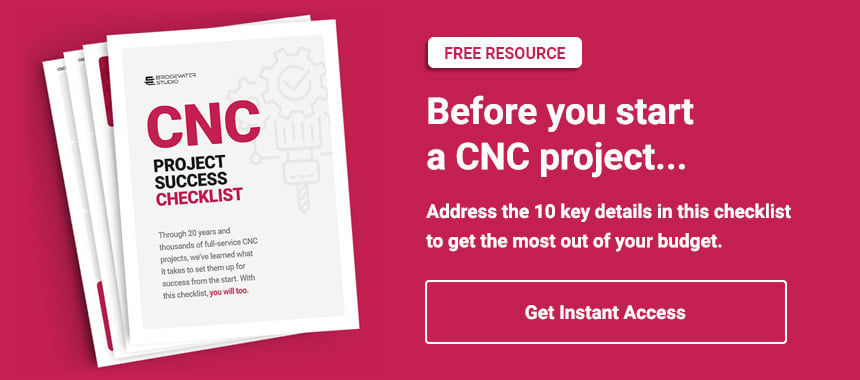 CNC Machining vs. 3D Printing
Similar to CNC machining, 3D printing is a modern fabrication technology that can be used to create highly-detailed, dimensional objects. Known for making everything from fun miniatures to useful tools, 3D printers are capable of creating almost anything. It's also possible for 3D printers to complete large scale jobs, such as industrial parts, artwork, and even cars. The two technologies are similar, but each has distinct advantages in fabrication.
The primary difference between 3D printing and CNC machining is the way the two machines manufacture items. 3D printing is an additive manufacturing process, in which objects are created by the layering of material, while CNC machining is subtractive and starts using a solid block of material, called a blank.
When it comes to choosing between and comparing CNC vs 3D printing, design and fabrication companies will consider speed, accuracy, materials, and size. A company with full-service capabilities will have expertise in both technologies, serving as a valuable partner in choosing the best method for any given project.
Common Types of CNC Machining Techniques
CNC machining techniques are capable of cutting, shaping, carving, drilling, grinding, and much more. This range of techniques makes it possible for the equipment to make incredibly precise movements, providing a far higher level of accuracy than traditional hand-carving. These techniques can also be used to add intricate details to ornamental pieces, such as engravings and etchings.
A few common types of CNC machining techniques include:
CNC Turning - The cutting tool rotates and removes material in the pattern programmed by the equipment.
CNC Milling - Multi-point rotary cutters remove material in the pattern programmed by the equipment and can retain the full structural integrity of the wood materials.
CNC Drilling - A two-edged rotating device that drills exact round holes.
Solid Sink EDM - EDM pulses remove material from the workpiece.
Wire EDM - A metallic wire cuts or shapes a workpiece.
CNC Grinding - A rotating grinding wheel to remove material.
Optical Grinding - Ultrasonic grinding of hard materials.
Cylindrical Grinding - A grinding technique that works with an object with a central axis.
These CNC machining techniques are a primary reason why the technology often makes fabrication faster and more efficient than alternative methods. CNC machining can also be less expensive and waste less materials.
How To Find A CNC Shop
With such a wide range of applications, CNC shops tend to specialize in different areas. Some CNC shops focus on machining high-volume parts, such as those used in medical device manufacturing. Others serve corporate brands, artists, museums and others who want to explore the creative possibilities offered by CNC machining. Design and fabrication companies fall into this category, offering CNC services that solve complex design challenges and bring one-of-a-kind concepts to life.
These companies have a wealth of experience working with brands on unique projects like art installations, retail activations, booths for pop-ups and trade shows, custom signage and graphics, and other elements to incorporate into:
With a full-service design and fabrication company, brands can streamline the entire process when planning and executing an experiential marketing campaign. Not only will a design and fabrication company guide a brand through the process of working with CNC machining, they will also manage budgeting, design feasibility, material selection, finishing, shipping, installation, and more.
Hiring A CNC Service
There are a number of experienced design and fabrication studios that can deliver exceptional work. When looking for the design and fabrication partner that will be the right fit for a specific project, brands should consider a studio with experience in:
Creating pieces using various materials, including marble, metal, plastic, wood, and mixed materials
Working with complex details and advanced engineering components
Partnering with designers, architects, artists, general contractors, and corporate brands
Successfully guiding a client through a CNC machining process, especially if it's their first project
Choosing CNC Fabrication For Your Design
With the help of a full-service design and fabrication studio, companies can be unburdened from the intimidating process of CNC fabrication, and push the limits of their imagination. An experienced studio will not only work to get the most out of your budget, but will ensure that the design, build, installation, and removal of a project is seamlessly managed.
To learn how a full-service design and fabrication company can take your next CNC project to the next level, schedule a no-pressure introduction to Bridgewater Studio today. We'll customize a free project plan, so you'll be set up for success from the start.