Retailers know the power of creating engaging experiences in stores for customers. Gone are the days when shopping was just a chore; now it's an opportunity to create meaningful interactions with your customers. From technologies that monitor customers' preferences to those that drive personalization even further, retail stores must be prepared for an entirely new level of customer expectations. Given the ease and convenience of online shopping, stores must give consumers a reason to shop in person, and creating an immersive experience that engages all the senses is something that simply cannot be replicated online.
To get ahead in this increasingly competitive landscape, retailers need to tailor their design strategies to ensure customers have a truly immersive experience. Here are five tips on how the latest trends can be used this year to take store design up a notch and deliver immersive retail experiences that will leave customers wanting more.
What are the Top Trends in Immersive Retail?
Leverage Digital Technology
Retail technology is evolving at breakneck speed. From touchscreen displays to motion detectors – there are myriad ways for stores to take advantage of digital technology to create a more immersive retail experience for customers. Apps can make finding products in-store a breeze, scanners can help customers check pricing and learn more about a product, and motion detectors can be employed to alert staff when a customer has entered the store or a specific area, boosting customer service. And don't forget about AR and VR (augmented and virtual reality). These fully immersive digital experiences can be used by retailers to help customers visualize a product in their home prior to purchase, or allow them to virtually try on clothing without having to hunt for the dressing room.
Create a Cohesive Brand Experience
Does your website look like your retail store? Does your retail store look like your social media presence? If you run billboards or print ads, do they have the same feel as your online store AND your brick-and-mortar store?
Creating a cohesive brand experience is essential to immersive retail. Customers should be able to recognize your branding through its colors, fonts, logo, images, message, and product presentation. In-store, retailers can amplify this by physically immersing customers in the brand. This can be achieved with wayfinding and store signage that evokes the brand's aesthetics as well as multi-sensory cues like music or even scent. Additionally, retailers can use the store layout and product placement to reinforce the brand's story or to highlight a specific product campaign. Ultimately, the goal is for your brand to be infused into every touch point that your audience engages with so that it becomes familiar and immediately recognizable, like an old friend.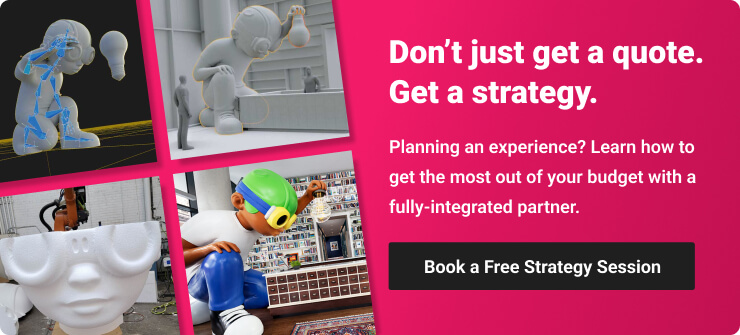 Incorporate Social Media
Odds are, your retail customers are on social media. And although it might be tempting to think of social media marketing as separate from retail interior design, doing so overlooks a massive opportunity. The fact that your customers are on social media doesn't necessarily mean they follow the brand or engage with it there. Likewise, those who follow your brand may not live near a retail store. Reminding in-store shoppers to follow you on social media channels with signage, branded hashtags and even promotion or display of UGC (user-generated content) is an easy and affordable way to boost the immersive retail experience. Creating a selfie station or wall mural that prompts customers to take and share pictures while they are in the store is another approach. Encouraging in-person shoppers to share their in-store photos, purchases, or experiences with your brand is a proven way to generate earned media and build brand awareness and loyalty.
Cater to YOUR Customer
At the end of the day, it's about meeting the needs and wants of your specific customers. If your target shopper is an urban millennial, your immersive retail experience should feel different than one for suburban retirees. If you see that product X is selling like crazy online, it makes sense to highlight that same product in-store, by displaying it prominently and making it easy to find. Data is everywhere – why not leverage it to elevate the customer experience?
Understanding who your customers are and what products they love right now is important, but it's also vital to consider their pain points – what problems are they trying to solve? What hurdles do they face in making a decision or finalizing a purchase? Do they want to shop online and pick up in-store? Do they have limited internet access, so need a more personalized experience when they walk in the door? The better you know and understand your customers, the better you can tailor your immersive retail experience to their needs.
Make It Memorable
Dynamic lighting, thoughtful use of sound or music, custom fixtures, and creative use of color – by stimulating the senses, brands can help make their retail interior more memorable, leading to repeat visits and positive word-of-mouth recommendations from customers. After all, immersive retail implies a full-body experience, so it's important to fully engage your customers in every aspect of that experience from the moment they enter the store to the moment they depart (ideally with a purchase). If you've nailed the other trends on this list, you should be well on your way to building a successful immersive retail experience.
Immersive Retail is the Future of Impactful Customer Experiences
Creating an immersive retail experience doesn't happen by accident. However, it is essential for businesses looking to stand out in a crowded retail landscape. Leveraging these 5 design trends, brands can create a shopping experience that engages customers on multiple levels. Digital technology can help bring products to life and create a dynamic and interactive environment. Cohesive branding across all touchpoints creates a sense of familiarity and trust. Social media integration can help amplify the experience and reach a wider audience. Personalization adds a sense of exclusivity, making customers feel special. And finally, making the experience memorable through unique and creative elements ensures that customers will want to come back for more. Following these tips will help you create an experiential retail environment that drives sales and creates loyal customers.
In a world where consumers increasingly expect highly personalized and unforgettable shopping experiences, retailers simply can't afford to be stagnant. If you're looking to leverage immersive retail for your brand, book a no-obligation introduction to Bridgewater Studio. Our end-to-end strategy, design, and production services help stores elevate their spaces to better serve their customers, stand out from the competition, and communicate the story of their brand.