Has your GPS ever led you astray? What about that online map app you use to find restaurants, shops or offices? Yeah. It's happened to me too. Modern technology is amazing and makes finding locations much easier than wandering around with a printed map hoping to find the right street number or landmark.
But the technology isn't perfect, especially once you're inside an enclosed location such as a park or office building. That's why many locations have wayfinding signage that tells you where you are and how to get to where you want to go.
Wayfinding signage can do more than just point employees and visitors in the right direction, though. Corporate wayfinding displays can communicate a business's style and personality and create a more enjoyable corporate interior environment.
In this article we'll explore how businesses can use custom wayfinding signage to design cohesive, memorable interior messaging that benefits their employees and guests.
What's ahead:
What is interior wayfinding and wayfinding signage?
How does wayfinding signage contribute to effective wayfinding?
How can businesses use wayfinding signage to do more than merely give directions?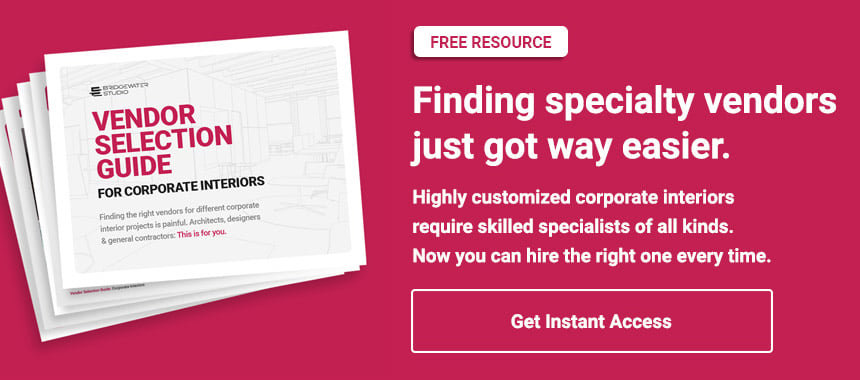 What is interior wayfinding and wayfinding signage?
Interior signage seems simple enough. Companies put up signs to label rooms or stick symbols and arrows on walls to point the way toward exits, elevators or other sought-after locations within their buildings. Boring, perhaps, but also necessary.
Corporate interiors should include easy-to-understand signs to ensure that people can find the spaces they need quickly and exit buildings safely. Often the appearance and placement of safety and security related signage is dictated by local laws and regulations.
These necessary elements may form the foundation of a wayfinding system but true wayfinding does more. The term wayfinding when used as a verb, describes the process people use to find their way through a physical space. For example, a person who is using a map, following the arrows along a path or reading room numbers to locate their desired endpoint is wayfinding.
Wayfinding, the noun, refers to the systems that guide individuals through their navigation process. These systems may include visual, tactile and auditory cues that help individuals identify where they are in a physical space and how to get where they want to go.
How does wayfinding signage contribute to effective wayfinding?
As you might imagine, wayfinding signage is a core component of most wayfinding systems. Signs are a well-recognized and affordable method for communicating information to diverse audiences. Fixed signs can be installed on walls or three-dimensional kiosks or other displays. Moveable signs can provide temporary guidance and be repositioned as needed.
Signs can also present information for multiple audiences. A single sign may provide navigational directions in several languages, use symbols to reinforce the messages and guide those who cannot understand the text, and add braille or other tactile elements to assist those who are visually impaired.
Wayfinding and wayfinding signage makes visitors feel welcomed and enables people to navigate confidently through a space, creating a positive experience. After all, no one enjoys feeling lost or confused.
For employees, clear, comprehensive wayfinding signs help them get to where they need to be efficiently, avoiding lost time caused by misdirection or late arrivals. Deliveries are more likely to make it to their intended destinations when a building has proper signage, too.
How can businesses use wayfinding signage to do more than merely give directions?
Effective wayfinding systems present information for navigating a physical space in a logical, unified way. Rooms numbers are sequential and the symbols used on signs within a single environment are consistent.
Consistency doesn't have to be boring, though. In fact, by infusing brand personality into signage, businesses can do a lot more than simply provide direction for employees and guests.
Use design elements to create a wayfinding experience
Do you remember the Seinfeld episode in which the cast members were lost in a parking garage? Has it happened to you?
Think of a hospital, hotel, or multi-story office building you've visited where each floor and its signage was identical except for a floor number next to the stairwell and elevators. This type of signage puts the burden on users to remember which floor they are on to continue their journey.
A better system is to create wayfinding signs that are consistent across your corporate office interior but also distinctive between different areas. For instance, each floor may be assigned a different themed name, such as the "lido deck" or "galley."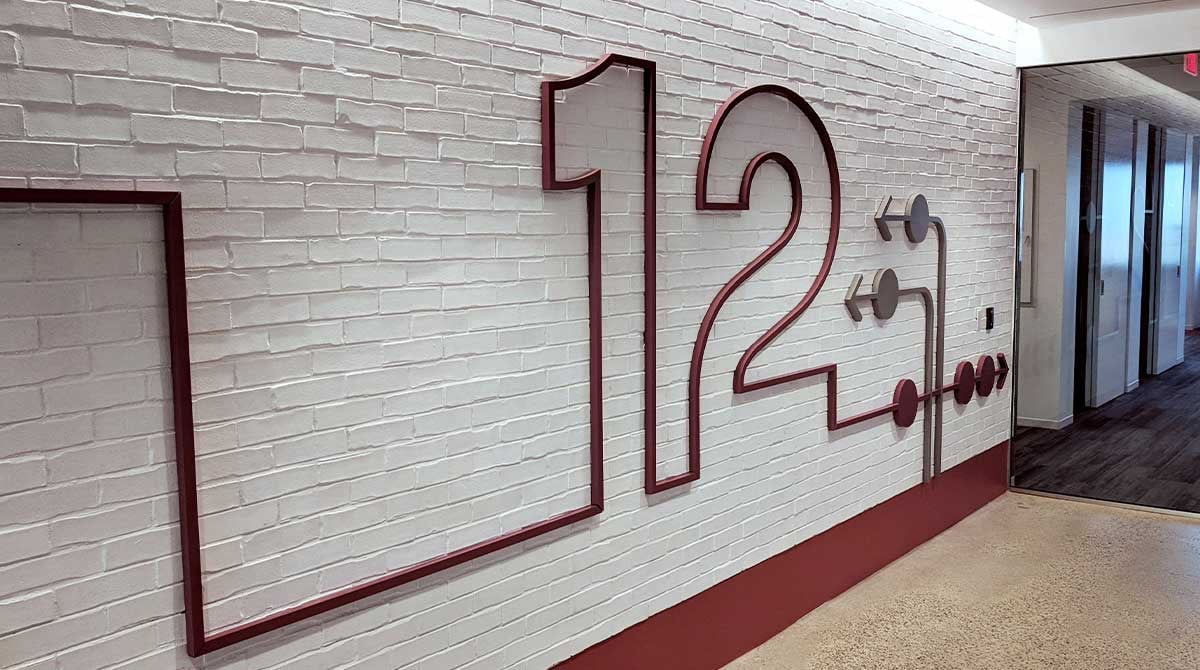 Paylocity went big with numbered wayfinding wall art in its Schaumburg, Illinois, corporate headquarters.
Colors, numbering, themes, graphic design and texture variations can all be used to designate different floors, departments, room purposes or other key pieces of information. Combine these cues with comprehensive central directories and two-dimensional signs to show off your business's style while showing people around.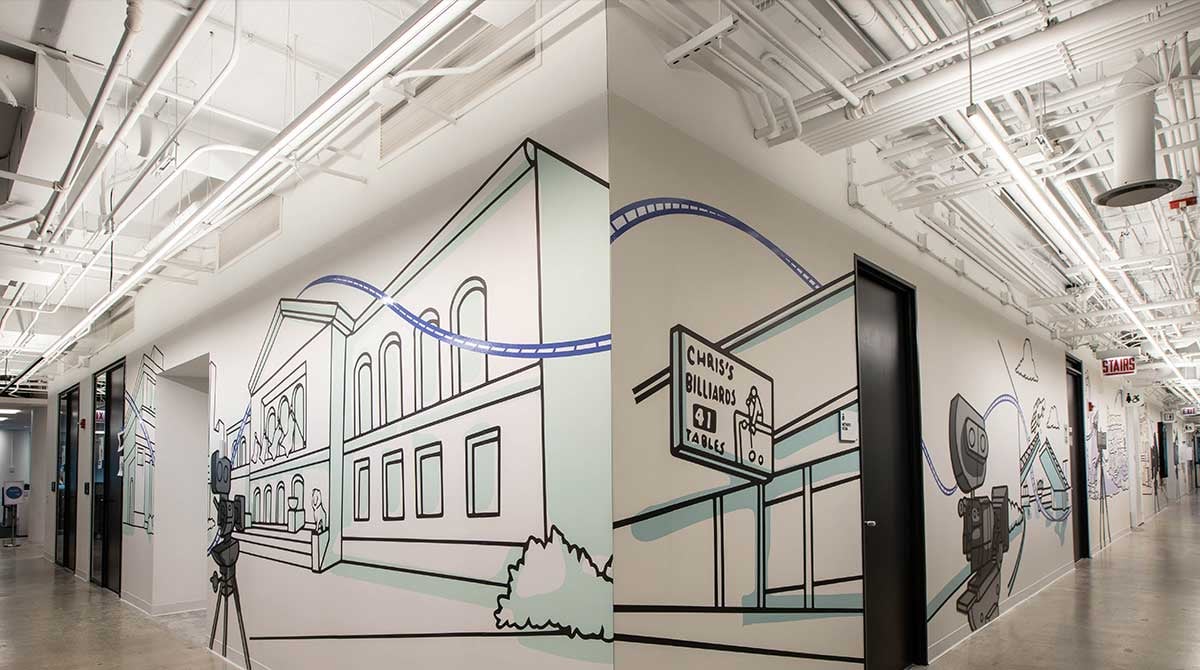 LinkedIn headquarters in Chicago coordinates its stairwell signage with the surrounding design to provide directions with style.
Leverage digital wayfinding signage to provide real-time information
In an era of hybrid work schedules, hot desking, high meeting volumes and multiple-use spaces, digital signage adds an extra layer of agility to your wayfinding system.
Digital signage has been around for a while, but new technologies make these devices more flexible than ever before. These attractive displays can be installed in central concourses or next to individual rooms and are available in a variety of sizes and formats. Some signs include advanced wayfinding features such as interactive touchscreens as well.
Digital signage can be integrated with your building facilities or scheduling platforms to indicate when a room is in use or a route is unavailable. Real-time updates help your teams find spaces to collaborate and avoid the frustrations of trekking all the way down to that cafeteria in the basement only to discover it is closed.
Digital displays also extend the lifetime of your signage. When an office is reassigned or a space renovated, you don't have to replace your signage–just update its contents.
Of course, choosing to go digital is a design choice as well as a functional one. Digital signs don't convey the permanence or warmth of other materials. But as part of a comprehensive wayfinding design, they can add an extra level of convenience for employees, vendors, and visitors.
Design a people-centric space with wayfinding signage that does more than just give directions
The environments in which people work and interact influence their perceptions and their productivity. Design a people-centric corporate interior with the help of a full-service design and fabrication company that understands the importance of wayfinding systems that express your organization's personality. To learn more, schedule your no-pressure introduction to Bridgewater Studio today. We'll listen and learn about your company's needs and objectives, and create a free customized project plan to guide you every step of the way.