In the wake of changing consumer behavior and expectations, retail interior design is due for a major refresh. Is your store ready for change?
To keep up with the new rules of retail—which focus on maximizing shopper convenience, personalizing experiences, and making frictionless connections between the digital and physical world—brick and mortar retailers are revisiting their layouts, updating their interior design and adding engaging, interactive features.
Consumers have always been attracted to the novelty of an updated retail interior. It gives them something new to explore when they go shopping. But updating your store to capture every new trend can become expensive. How do you decide which customer-pleasing trends should prompt a redesign of your retail store?
In the article, discover the trends that are driving modern retail interior design in 2022 and why you should plan to make these upgrades to your store.
Retail interior design is rising to the challenge of modern customer demands
Whether you're building out a new interior or updating an existing one, a primary function of retail store design is to convey your brand image and optimize the customer experience. Your design has to be attractive, engaging and on-brand, while meeting the expectations of today's shoppers.
However, those expectations are very different than they were just a few years ago.
The pandemic accelerated the transition from in-person to online shopping and many consumers say they'll continue making online purchases because of the selection and convenience digital channels offer. But not everyone wants to make their purchases by clicking a link or tapping on a screen.
Shopping remains a social activity for many consumers. Plus, the online shopping experience is no substitute for being able to touch, feel and try out a product before making a purchase decision.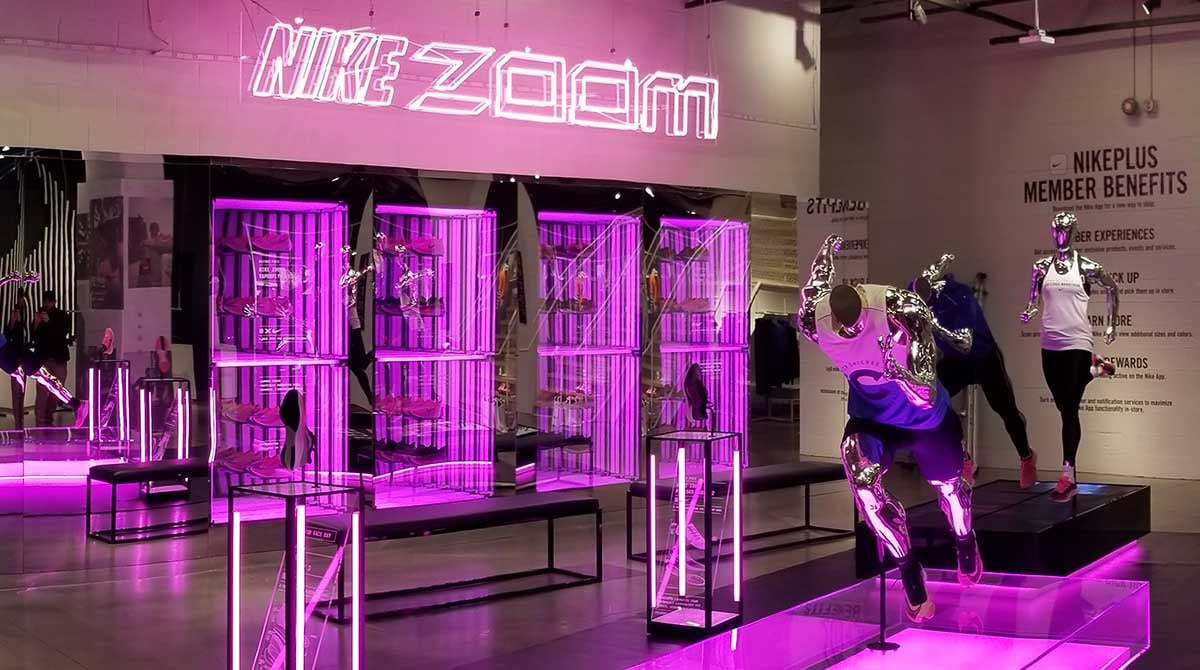 This Nike retail interior inspired by the Chicago Marathon makes visitors feel like a part of the action and allows them to touch and interact with the products on display.

Brick and mortar stores are still an important part of many consumers' retail experiences. Some physical stores have even seen a resurgence in traffic as people look for reasons to step outside and seek local products and in-person service.
That's not to say that the old way of presenting retail merchandise is enough to convince modern shoppers to pay your store a visit.
Today's most effective retail interiors drive traffic and sales by embracing four major trends that define the modern shopping experience. Here's a look at those trends and why they motivate shoppers to head out to the store.
1. Prioritizing customer convenience
Today's customers are accustomed to finding what they want, when they want it. In the new, on-demand economy, shoppers go online and order an item, and it's delivered to their door. But not everyone wants to wait for a delivery or worry about porch pirates.
In recent years, brick and mortar locations have stepped up to offer customer convenience in the form of buy online, pick up in store (BOPIS) options. In-store returns of both online and offline purchases, multi-store return hubs and delivery lockers save shoppers time by allowing them to process all their pick ups and drop offs (and do more shopping) all in one stop.
But older retail floor plans weren't developed with direct-to-customer distribution, mixed uses and multi-store return centers in mind. As stores remodel with the help of qualified retail interior designers, they are adjusting their space allocations and building in room for flexibility.
These new retail designs aren't just about moving a few interior walls, either. The incorporation of no-touch pickup centers, self-checkout kiosks, food and beverage offerings and more, into a centralized retail space requires considerable effort. Rethinking traffic flows, store displays, and signage are just the beginning.
2. Introducing innovative technology to bridge the gap between the digital and physical experience
Describing the revival of brick-and-mortar retail, EventMarketer's Kait Shea notes that consumers who shop at physical stores still want digital engagement. Shea calls this a "phygital" retail experience. At its most basic, bringing together online and offline shopping requires an upgraded infrastructure that enables customers to use their mobile phones to look up reviews or recommendations and compare prices while in a store.
Full integration of the digital and physical store experience does even more. The latest retail interior design upgrades include connected video features that allow customers to share their shopping experience with friends online and kiosks that allow them to search for products in-store or place an order for out-of-stock items.
3. Creating interactive brand experiences that can only happen in a physical store
In-person shopping is a multi-sensory experience. Shoppers visit physical stores because they want to see, touch and try the items they are considering before they buy. They may also want the advice of expert sales staff or wish to compare different products in a side-by-side setting.
New interior designs that add space for product use and demonstrations, AR and VR interactions and one-of-a-kind experiences give customers a reason to visit their local store. Modern product showroom designs place the products in their natural setting.
For instance, a store that sells basketballs will install a half court. A shop that sells grills and outdoor cooking accessories may add an outdoor diner that uses its products. Paul Conder of architectural firm CallisonRTKL calls this the "feel, fit and function" element.
Modern retail interiors that incorporate experiential elements can draw traffic and increase sales by offering physical interactions that a digital storefront can't.
4. Leveraging temporary redesigns to pop in a new customer experience
A hot new interior design trend is to install a temporary retail pop-up store or activation. These mini-shops may last for a day or a season and transform a space into a new, exciting experience for shoppers.
A pop-up activation or store-within-a-store (pop-in) enables a retailer to build a temporary space to highlight a particular product or promote a theme.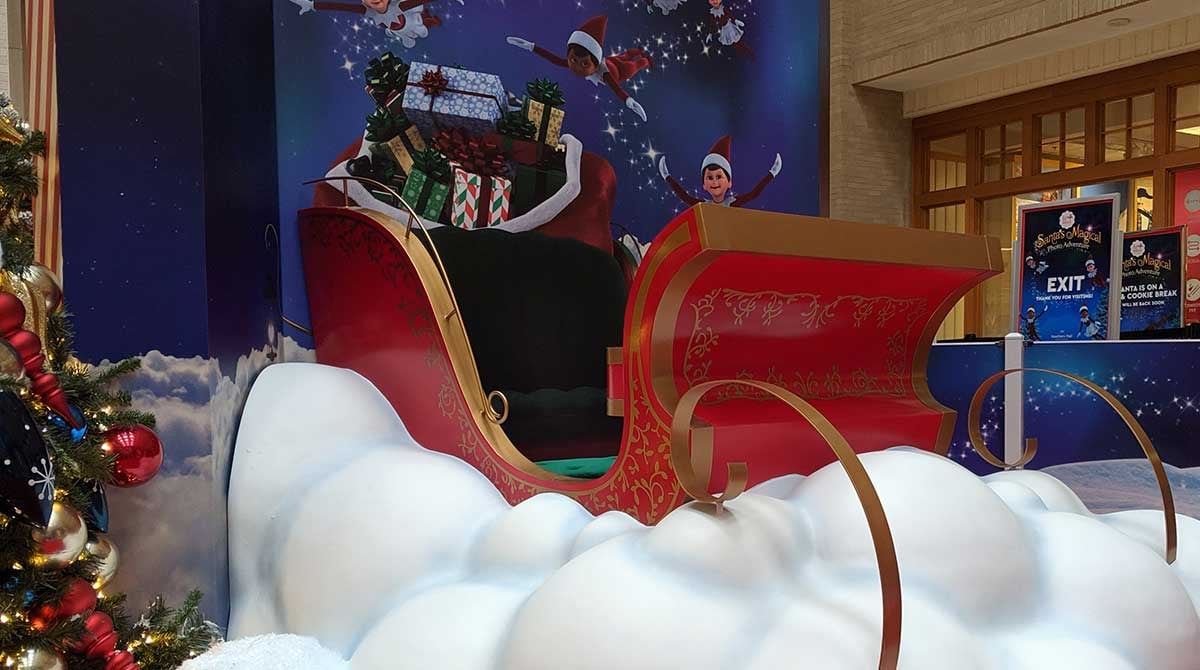 The winter holiday season is a popular time for themed pop-ups like this interactive Elf on Shelf exhibit to make their appearance.


Pop-up installations can be long- or short-term. A retailer can lease pop-up space to a different brand or retailer, too. Pop-ups can offer shoppers convenience by grouping related products or giving them access to online or non-local brands.
Pop-ups generate interest by presenting something novel for customers to explore.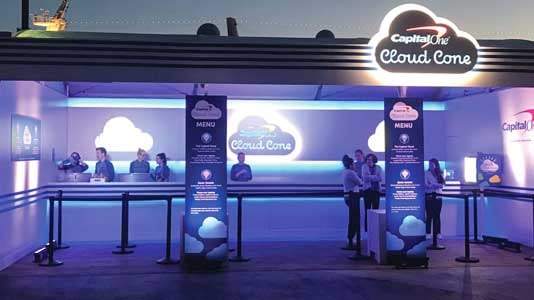 Capital One delivered a tasty, only-in-person experience in this pop-up brand activation at the Tastemaker Chicago event.


Retail pop-ups deliver positive ROI because of their ability to draw a crowd and accelerate sales. You can increase the return on your investment in these short-term installations by working with your design and fabrication company to create reusable components and incorporating the foundation for future pop-ups into your store's design.
How often should retailers change their store interiors?
Like a classic wardrobe, the key to remaining trendy without breaking your budget when redesigning or refurbishing your retail interior is identifying those trends that add long-term value—or enough of a short-term boost—to make them worth your while.
Many retailers update parts of their interior on a rotating basis. Every six to eight weeks, they partition a portion of their floor space and modify the display layout, change fixtures and add or replace walls or other elements. Color changes, new flooring or lighting fixtures can add a whole new look to a space. This allows the brand to continue operations and gives shoppers something new to explore at regular intervals.
In other instances, a complete overhaul is in order. A store's layout may not be suitable for its current inventory, foot traffic or priorities. For example, some large retailers are redesigning their interiors to accommodate distribution centers. Others are incorporating the store-within-a-store concept, offering customers more convenience by bringing additional brands into their retail space.
Full remodels may also happen when a location hasn't been updated for several years or the brand is going through a company-wide rebranding. A full-scale remodel is usually executed in stages so a retailer can remain open during most of the renovations.
Not every brand will follow the same timetable. The decision to make a change should be a strategic one that considers the location's performance, your available resources, how much disruption the changes will cause, and whether your current retail design is meeting your customers' expectations.
Planning your next retail interior design
Our advice? Before planning your next retail interior design, take the time to find an experienced partner.
As a full-service design and fabrication company, Bridgewater Studio will incorporate the latest retail trends into your store design with a streamlined process that minimizes disruption and maximizes your budget. It all starts with a Project Success Map — a free plan to detail every stage of your project from ideation to installation. Take the first step to transforming your retail experience by scheduling your introduction today.