Heading into 2024, in-store retail is still the dominant channel in the worldwide retail market. Consumers are still looking to have meaningful brand experiences in a physical location, which provides an exciting and fun challenge for brands who want to engage with their audience in person. However, attracting customers to a brick-and-mortar location isn't the only way. Top brands are bringing the in-person experience to customers with unique experiential marketing campaigns that leverage both online and offline channels.
Thankfully, there are a lot of companies already creating these types of brand experiences for their audiences and a lot of examples to inspire new and exciting ideas.
One popular marketing tactic is a pop-up activation. With a pop-up activation, brands can launch innovative campaigns that allow them to provide an exceptional in-person experience while reaching prospective customers through social media, email marketing, content marketing, and much more.
What is a Pop-up Activation?
A pop-up activation is a temporary, in-person brand experience that can last anywhere from a few days to a few weeks. There are a lot of different types of pop-up activations, including:
Open-Air Markets
Temporary Retail Space
Product Testing/Trials
Showrooms
Vending Machines
Coffee Shops
Bookstores
Food Trucks
Art Installations
Fitness Classes
Concerts
Guest Speaker Events
Tastings
Movie Screenings
Brands have even gotten as creative as offering a limited-time slip-and-slide through London, dumpsters converted into swimming pools in NYC, and a library made of ice in Russia. While choosing a fun concept might seem easy, identifying and executing the right pop-up for your brand can be a major challenge.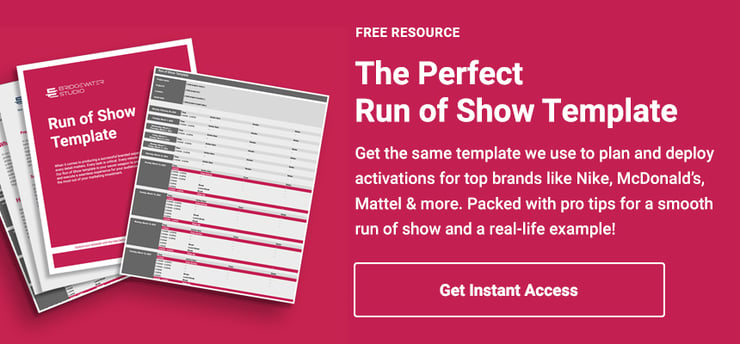 How To Choose The Right Pop-Up Activation For Your Brand
The key to choosing the right event activation is aligning the event with your existing marketing strategy and your ideal customer. For example, a wellness brand may host a pop-up yoga class in the park. The wellness brand is already looking to attract people who care about their health, and a free yoga class is a great way to get their attention and give them something for free.
Here are a few characteristics of other pop-up activations that could potentially be a fit for your target customer.
1. Supports Charitable Causes
In a Shopify survey, 77% of individuals said that they feel that brands should be making charitable efforts during the ongoing pandemic. To meet this expectation, brands can find ways to give back to the community during their pop-up campaigns. A few creative pop-ups that could focus on charity include:
These kinds of pop-ups can be designed around raising money for nonprofits, collecting donations, and more.
2. Replicates Community Businesses or Activities
Pop-up events that resemble community events, such as farmer's markets, coffee shops, bookstores, and more, can be a great way for companies to connect and collaborate with the local community. A few examples include:
These short-term experiences can help give your brand a local boost, drawing in new prospective customers and spreading brand awareness.
3. Encourages and Rewards Online or App Use
Brands that can successfully bridge the gap between in-person and online experiences, making them complementary to each other instead of competitive, can deliver exceptional customer support. A few ways to incorporate both online and offline experiences could include:
Online is here to stay, and in-person interactions are making a comeback. A pop-up that can deliver on both is an opportunity to make personal connections with your customers and increase your brand awareness online.
4. Displays That Highlight In-Person Advantages
According to SquareUp's 2023 Future of Retail Report, customers need brands to make their in-store experience stand out. Brands can remind customers about the pros of shopping at their storefront with limited-time offers such as:
A lot of customers still look to brick-and-mortar stores to help them make purchase decisions. The retailers that transform in-person shopping into an inviting, social experience give customers a good reason to return.
5. Provides An Opportunity To Have Fun
According to a survey by Momentum Worldwide, customers are stressed and distrustful of institutions. When engaging with brands, 70% of customers want to have fun, engaging experiences, and with the right pop-up, brands can accommodate, with memorable pop-ups such as:
Whether it's a game, activity, free products, or chances to play with pets, fun pop-up activations are one of the fastest ways to improve customer engagement.
6. Promotes A New Product or Limited Time Offer
Pop-up events can be great for generating attention to new products or services with product launches, product testing, collecting customer feedback, and more. A few examples include:
When pop-ups are held in a heavy traffic area, they're the perfect chance to talk to customers face-to-face and get immediate engagement about something you're testing or launching.
7. Implements Safe Interaction
Although social distancing may no longer be the norm, COVID is still a lingering concern for many customers, making outdoor and open-air event activations a smart choice. Some examples include:
A lot of people even prioritize companies that are implementing best practices and measures to create experiences and events that are safe to attend.
Getting Personal with Pop-Up Activations
Pop-up activations can be a powerful social experience, helping brands build personal relationships with their customers. With the right strategy, project plan, design and display, installation, staff, and more, brands can create successful pop-ups that increase brand engagement and expand their audience.
Learn how a fully integrated design and fabrication studio can streamline the entire process by scheduling an introduction to Bridgewater Studio today, and get a free strategy session that sets your next pop-up activation up for success from the start.