Retail pop-up activations are popping up everywhere lately. Why? Well, who doesn't like a little variety now and then? Besides, as today's consumers have adjusted to online shopping and store-to-door deliveries, retailers need to give them a good reason to go out to the store. Pop-up activations offer retailers the ability to deliver a novel experience to consumers without having to build a whole new store.
Just because something is fun and trendy doesn't make it profitable, though. How can you be sure a pop up will produce results for your retail store? Like any good experiential marketing campaign, you're most likely to achieve success if you start with a plan and use data to guide your decisions.
In this article, we'll detail what a retail pop up activation is, why they're so popular with brands of all sizes, and how you can plan a pop up for your brand that pleases your customers and your CFO.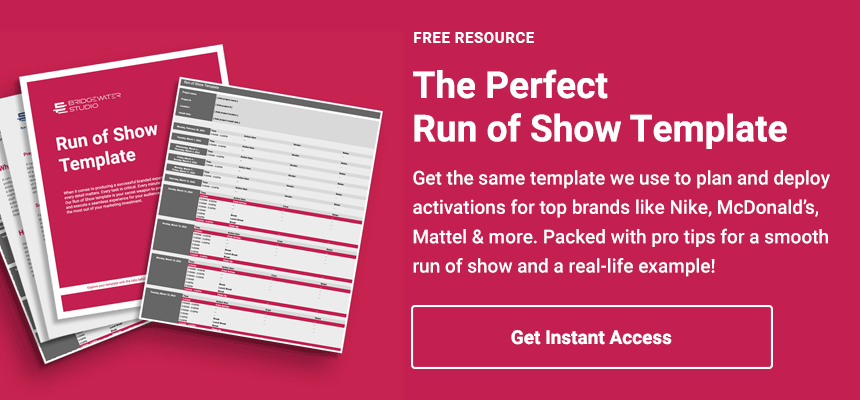 What's a retail pop-up activation and why are they cropping up everywhere?
A brand activation is the deployment of a temporary, location-based marketing event. Pop-ups are a distinctive type of activation characterized by their use of familiar displays in atypical locations to attract attention.
A retail pop-up activation is a pop-up activation executed by a retail store. Retailers use activation campaigns to build awareness and interest in their brand and generate a response from consumers. That response may be to share their brand experience on social media, make a purchase, or provide feedback to the brand.
A successful retail pop-up activation captures the target audience's attention and moves them toward a desired conversion action or actions. They buy the merchandise on display, share photos of your pop-up online and get better acquainted with your brand. Your neighbor-kids' lemonade stand is a retail pop-up. So are the fashion trucks (a.k.a. mobile boutiques) that roll up at outdoor events to sell their wares.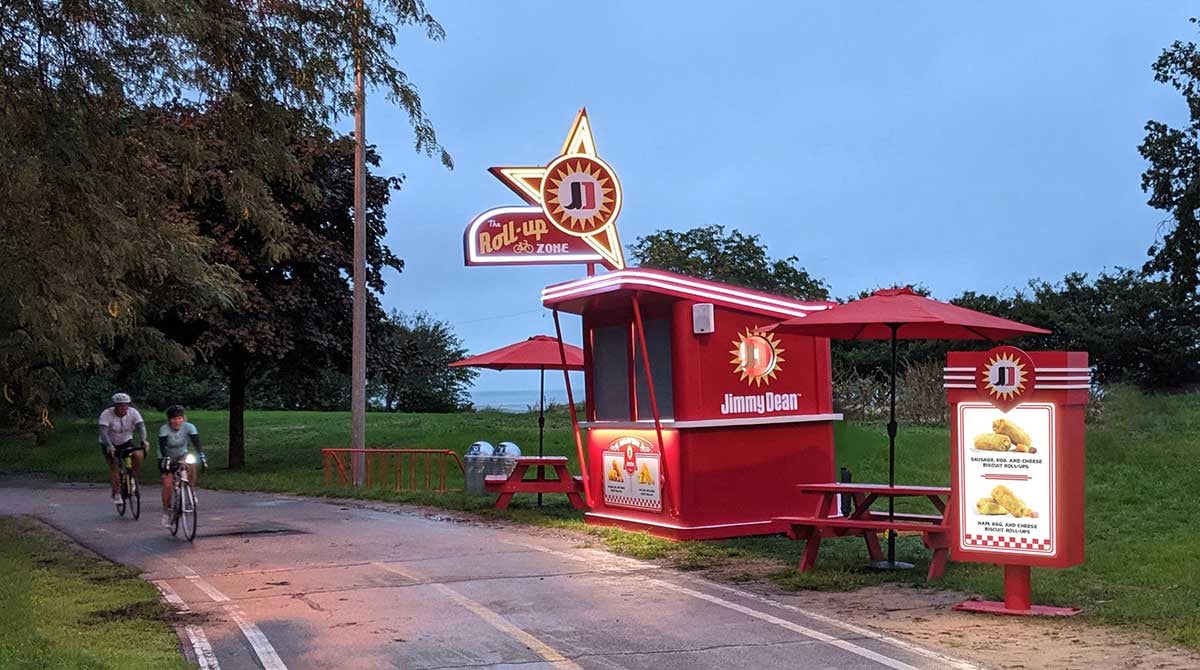 Jimmy Dean made an appearance on Chicago's Lakeshore Drive to introduce locals to its flavor with a pop-up bike-through diner.


Pop-up activations aren't just for retailers, either. Individual brands, sports organizations, museums, non-profit groups and just about any other type of entity can use a pop-up to reach new audiences, generate buzz or position itself in a new community. The mini-museum exhibits or art displays that take over a location for a day or a month before heading to a new destination are also pop-ups.
Essentially, a pop-up activation is something that seems to "pop-up" out of nowhere. It takes over a space–such as a section of a park or street, a vacant storefront, or part of a building.
Many pop-up activations are short-term installations. The unexpectedness and newness of pop-ups gives them a sense of whimsy, intrigue and urgency. Consumers understand that if they want to explore what a pop-up activation offers, they can't wait. The installation could be here today and gone tomorrow.
However, a pop-up can stick around for longer. When a retailer creates a store-within-a-store, they may leave it in place for the duration of a special event, like a conference or sports championship, for one season or until it stops generating the desired buzz or revenue.
Sometimes a pop-up activation gains so much popularity, it becomes a long-term installation. Building a pop-up store is a good way to test the market before making a commitment. That's one reason retailers use pop-up activations.
Why create a retail pop-up activation?
Retail pop-up stores give shoppers something new and interesting to explore and allow brands to test new concepts, products and locations. In-store pops add visual interest and an economical way to refresh a store's layout without a complete remodel. Out-of-store experiences can introduce a retailer to a new community or gain access to desirable locations where long-term space is hard to find.
Pop-up activations can also put a retailer in contact with consumers who might not be able to reach their permanent physical store's location. To promote British designers, Bicester Village partnered with the British Fashion Council to bring a pop-up boutique featuring 19 designers to town for the summer. Pooling the creations of several British designers enhanced the pop-up's draw.
Retail pop-ups help businesses and property owners make good use of vacant space as well. A low-traffic location can become a travel destination with the installation of an intriguing retail pop-up. Retail activations that incorporate immersive, interactive and photo-friendly design elements build social media buzz, increase awareness, promote engagement with your brand and generate foot traffic and sales.
How to ensure your retail pop-up activation achieves its objectives
Every good marketing campaign begins with a clear set of objectives and goals. A retail pop-up activation is no different. To succeed, your activation must be built from a solid, strategic plan.
Start by defining why your retail brand wants to launch a pop-up activation. Is there a geographic market you want to reach? Why do you want to reach that area? Is it to test the potential for sales or raise awareness?
Narrowing down your objectives will help you plan a pop-up shop that achieves them. This planning will include not just your shop's design but also your site selection and the timing of your installation. Consider both external and internal resources, limitations and long-term goals when developing your plans.
Your planning discussion should answer questions such as:
When's the best time to reach your target audience?
Can you secure a location near your ideal customers?
How much do you plan to spend on your retail pop-up?
Will your pop-up activation remain in one location or should it be built for travel?
Once you have a comprehensive plan for what you want to achieve with your retail pop-up activation, work with an experienced design and fabrication company to bring those plans to fruition. Bringing these project partners into the process early for a realistic assessment of budget, fabrication timelines, and other critical details, is essential to avoiding complications.
A full-service, experiential design and fabrication company doesn't just develop the initial concept. As a partner throughout the entire project process, they will help you select materials, solve complex engineering and logistical challenges, build the physical components to the highest quality standards, and safely transport and install your retail pop-up shop. They will even assist you with removal, disposal, storage and transportation when your retail pop-up activation is complete.
The last step in managing a successful retail pop-up activation is to review your results. Did you accomplish your objectives? List the positive and negative outcomes of your pop-up activation and make plans to do even better next time.
Planning Your Next Pop-Up Activation
Great customer experiences build lasting customer relationships. A retail pop-up activation can raise your profile online and off, expose your brand to new audiences and provide valuable insight into new markets. To make the most of these interactive customer experiences, you need a solid, goal-focused plan and flawless execution.
To learn how a full-service design and fabrication company can plan and execute a retail pop up activation that draws your customers out of their homes and into your space, schedule a no-pressure introduction to Bridgewater Studio today. We'll customize a free project plan for your retail activation and help you maximize your pop-up's success.