At the core of any great marketing campaign is a strategy to build brand loyalty and trust. But, in an increasingly digital world, opportunities to foster customer relationships are hard to come by. As brands look to balance their online marketing tactics with more personal "offline" efforts, one strategy has risen to the top—event activations.
Event activations are unique experiences that allow brands to engage face-to-face with a target audience in ways that other marketing channels simply can't compete with. Any brand looking to reach a live audience and generate positive word of mouth should consider adding event activations to their strategy. However, there's much to learn before diving in.
What exactly is an event activation? What are the steps involved? Who produces event activations? How do they contribute to business goals?
In this article, we'll explore all of these questions and more, so you can decide if an event activation is the right strategy for your brand's marketing mix.
What is an Event Activation in Marketing?
An event activation is a location-based experience, produced by a brand, with the purpose of creating memorable, in-person connections with its target audience. Also called brand activations, these events are often part of an experiential marketing campaign designed to achieve specific business goals.
Event activations can support product releases, cross-promotions, charitable causes, local outreach, and many other objectives. These can be standalone events, such as a retail pop-up, featuring a single brand—or, an event activation can be part of a larger happening, like a trade show or music festival.
How Can An Event Activation Boost Your Brand?
The driving principle behind event activations can be summed up with the adage "what is learned with pleasure is learned in full measure." In other words, customer audiences are most open to a brand's message when they are engaged in an enjoyable experience.
A thoughtfully planned and executed event activation doesn't resemble a marketing tactic. Instead, it appeals to an audience's desire to learn, to grow, and to be entertained. When a brand engages individual customers face-to-face with a compelling experience, it can earn loyalty, build community, and turn those customers into valuable promoters. Word-of-mouth, social media, and press coverage are just a few of the channels an event activation can leverage for maximum brand exposure.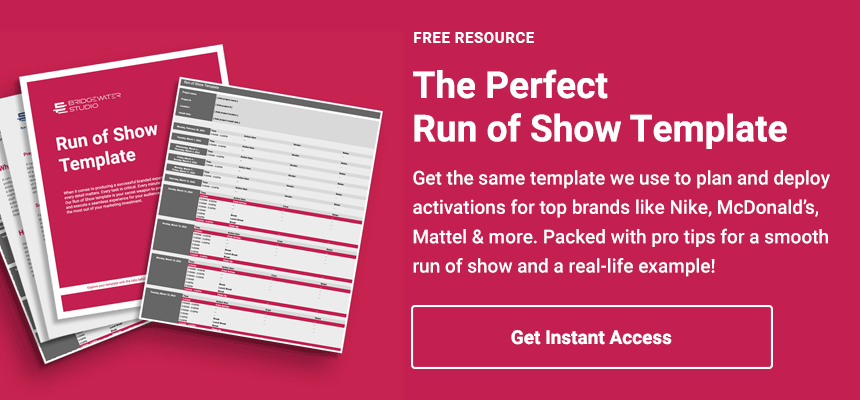 How to Plan an Event Activation for Your Brand: A Step-By-Step Guide to Successful Event Marketing
Event activations are complex productions with many moving parts. From initial concept through to the main event, a successful marketing activation will require extensive planning, logistics management, and a team with a wide variety of design and fabrication capabilities.
Here is a simple, yet effective guide to each stage of a successful event activation.
1. Project Planning and Programming Development
This first essential step will inform the entire project process and should begin with clarifying the purpose of the event activation.
What is the story your brand wishes to tell? Will you be providing an educational experience? An entertaining experience? What is the desired takeaway for your audience? These types of questions will help to define the event's programming, and are important to answer early in the process.
During this initial planning phase, you'll also define your budget, timeline, and other key project parameters that will help determine the most effective use of resources in subsequent stages. The more accurate these planning figures are, the more successful your activation will be at each step.
The right project partner will serve as a valuable guide, but you'll want to engage their services as early in the process as possible. Brands looking to produce an event activation have a few options when choosing an external partner to bring their experience to life:


Experiential Marketing Agencies (or Event Marketing Agencies)
An agency will help to develop your activation concept, and will typically source third-party vendors to produce the physical components. While many agencies have earned solid reputations for high-caliber creative, brands should always consider the impact that third-party vendors can have on a complex project. This includes extra layers of accountability, quality control, communication, and cost.


Experiential Design and Fabrication Company
Design and fabrication companies are the specialists who actually design, engineer, and build the physical elements for an event activation—using 3D printers, CNC machining, and a host of other modern manufacturing technologies. While some focus on a limited subset of capabilities, a full-service experiential design and fabrication company will take your entire event activation project from start to finish with a single team.
2. Design
In the design phase of an event activation, you'll evolve the initial concept into finished schematic drawings, detailing all physical elements, features, and functions that will need to be produced. Here, you will concentrate on design feasibility, taking budget, time, and any other constraints into consideration. You will also explore options for materials, finishes, and other details. Smart brands will rely on the guidance of a full-service partner at this early stage, to avoid making uninformed decisions that may cause problems later in the process.
3. Visualization
After design schematics are approved, the best design and fabrication companies will create precise, digital 3D models of your event activation concept. Here, you'll see exactly how the final result will look from every angle, and have the opportunity to quickly visualize alternative design options or make last minute changes before production begins. This helps to align all stakeholders on the approved design concept and avoid costly change orders later in the process.
4. Fabrication
With an approved digital rendering, fabrication specialists can now engineer and build the physical components of your event activation. This process often relies on multiple skill sets and a variety of modern manufacturing technologies, including CNC routing, 3D printing, carpentry, lighting integration, interactive programming, painting, finishing, and much more. You can hire individual vendors for each of these processes, rely on an agency to manage vendors for you, or partner with a full-service company that offers all of these design and fabrication capabilities under one roof.
5. Shipping and Installation
Transporting the finished product to and from the event activation venue can be challenging. Then, of course, there's the installation. This is where experienced project management is invaluable. Numerous logistics include packing, loading, shipping, permitting, storage, staffing, and site preparation. This entails seemingly endless coordination with staff, vendors, and other auxiliary services like electrical contractors and equipment rentals.
Stay on top of things by creating a run-of-show schedule that documents every detail for the installation and event timeline. This master schedule will ensure everything goes according to plan and, if it doesn't, you have contingency plans in place. During installation and throughout the event, remember to document with photos and videos. Or better yet, partner with a full-service event activation company to ensure everything is done right.
6. Strike and Removal
An event activation isn't complete until every last piece of the physical components has been disassembled and removed from the premises. Account for these final details early in the project, so you'll have a clear plan of action for responsible disposal, recycling, transport, and any storage needs. Here, an organized strategy will prevent extra costs and additional labor from compromising the success of your event. A capable event activation partner will guide the process and manage this often overlooked—but essential—step.


4 Tips for the Best Event Activations
1. Document with photography & video
As media pundits often say, "if there's no picture, it didn't happen." Take plenty of photos and videos during your event activation to document its success. Be sure to share them on social media and with the press to get the most out of your activation investment. There's no better way to get the word out than to leverage the viral nature of social media platforms, while journalists and influencers can also provide a trustworthy, third-party account for their audiences. Photography and video will go a long way to build brand awareness and credibility with your target audience on all of these channels.

2. Pair the in-person experience with an online experience
There's always strength in numbers. What better way to boost your event marketing activation than by complementing it with a virtual experience that includes pre-event emails and post-event follow-ups? Boost traffic and build community by encouraging the use of hashtags on social media for shared images and videos. Be sure to engage with your audience on social platforms to keep the conversation going.


3. Measure your results
Every event activation must have goals, and those goals must be measured. You'll want to ensure clear results that support the brand's investment in the activation—and, you will benefit from any data that can help improve the next marketing experience.


Here are a few ways to measure the success of your event activation:
Attendance vs. Registration Rate: This compares the number of those who registered versus those who actually attended your event.


Event Surveys: These allow you to secure valuable feedback that you can use to improve your next event and exceed audience expectations.


Dwell Time: By measuring the amount of time attendees spend at the event, or engaged with a particular aspect of the event, you'll gain valuable insights that drive future improvements.


Social Media Engagement: By observing the level of activity on your social media accounts, you'll have both quantitative and qualitative feedback to gauge the impact of your event.
4. Hire an experienced partner
Event activations are complex projects with many moving parts. The more experienced your design and fabrication partner, the greater the chances of a smooth project that achieves its goals. The less reliance on third-party vendors, the lower the chances of unexpected surprises along the way. For many brands, the ideal partner is one who provides a single point of accountability, full-service capabilities, and a streamlined, stress-free process.
Hiring an Experiential Design & Fabrication Company for Your Event Activation
The best experiential design and fabrication companies won't just develop a concept for your event activation and hire others to build it. They will own the entire project from start to finish. They won't just react to the many problems that can arise, they will anticipate and eliminate them. They won't be just another vendor, they will be a true partner with a deep commitment to your success.
To learn how a full-service, experiential design and fabrication company can help you get the most out of your next event activation, schedule a no-pressure introduction to Bridgewater Studio today. We'll customize a free project plan, so you'll be set up for success from the start.