Social media has redefined the world of marketing. Going viral can put a new brand on the map or make an old brand cool again. But brands can't always control what their audiences decide to share. Sometimes the source of a social media sensation arises organically and brands can only capitalize on the results. Top brands don't just wait for these organic moments to happen, though. They know that employing earned social media tactics can nudge netizens to build buzz around their products.
Creating opportunities for sharing can reap great rewards, including enhanced brand recognition and customer loyalty, and that's why experiential and engagement marketing are growing trends in the marketing industry.
How do brands gain the attention of fickle audiences and earn social media buzz? In this article, we share the earned social media tactics that top brands use to gain social media buzz.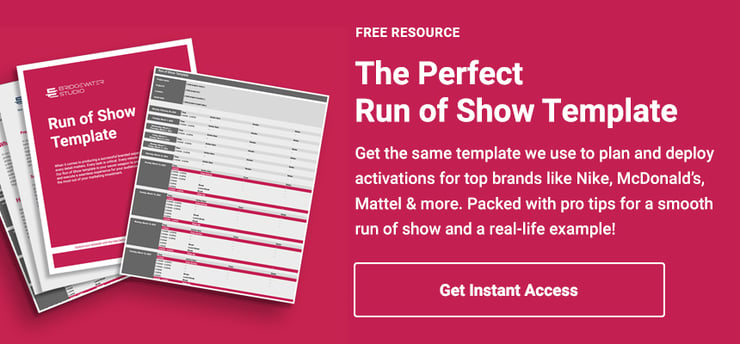 What is earned social media?
Brands can make their presence known on social media through active marketing such as posting on their branded accounts (owned social media), paying to place ads on social media platforms (paid social media), and engaging with their followers and other social media users through commenting, liking and sharing others' posts and encouraging people to do the same with the brand's posts (shared social media).
Earned social media is different. Earned social media attention is social media mentions and sharing that the brand doesn't pay for and can't always directly control. Earned social media may, and often does, occur spontaneously as social media users are attracted to a particular narrative or event involving a brand and share their thoughts about it.
How does earned social media differ from other types of social media marketing activities?
Earned social media differs from other types of social media marketing activities because it isn't focused on engagement via social media. Instead, a brand's non-social media activities or external events generate social media attention for the brand.
For example, Ocean Spray and Fleetwood Mac both received lots of positive social media attention following the widespread sharing of TikTok user Nathan Apodaca's video that featured the beverage maker's cran-raspberry juice and the band's song, Dreams.
Also, earned social media is usually characterized by broader reach than other types of social coverage. Not every earned social media occurrence achieves viral status but most will reach audiences beyond a brand's usual followers.
How do popular brands get social media users to voluntarily spread the word about their products, services, and activities?
Today's social media audience wants to share the parts of their lives that are interesting, unique and special. They enjoy surprising their friends, getting exclusive information or an inside look at an event or new product. As a visual medium, an attractive, startling, or unusual look doesn't hurt either. However, social media users are savvy and don't enjoy feeling as if they are being used or taken for granted. This means that earned social media experiences must incorporate authenticity and transparency as well as deliver value.
This authentic feel is part of what makes earned social media attention particularly effective. It is powered by real people who choose to mention a brand or its products voluntarily. It's the ultimate in modern word-of-mouth marketing.
That's not to say that your brand can't invest in setting the stage for this type of social media buzz and help control the direction it takes. In fact, some of the best earned social media happens when brands are prepared to respond to an organic or orchestrated opportunity.
After Apodoca's TikTok went viral, Ocean Spray contacted the content's creator and bought him a new truck. Mick Fleetwood and Stevie Nicks made their own social media posts acknowledging the attention being generated. In the end, the drink featured in the video flew off store shelves and sales of the Fleetwood Mac song, Dreams jumped 374%.
When an earned social media opportunity is orchestrated by a company's marketing team, they'll use organic posts, encourage sharing and may place paid ads to maximize the event's reach.
Mars, Inc. launched the M&M Flavor Vote Experience in 2016 to engage customers in selecting new flavors for the brand's chocolate coated candies. In 2018, the experience was expanded to include both online voting and in-person, photo-worthy experiences hosted in NYC. The brand selected 3 flavors to present to the world online and off and get people invested in the next great M&M taste.


Use the following examples of earned social media tactics to inspire your next brand activation:
Give visitors something incredible and unique to post about. Create an immersive and multi-sensory environment that transports the guest to a fantasy world that they can interact with and explore.

For instance, Refinery29's ever-changing 29Rooms tour showcases different artists and creator's works in custom curated rooms (29 of them) that visitors can explore. Many of the rooms contain interactive elements such as clothing guests can don, objects they can move, or spaces where they can add their creative touches.


Include intentional spots for photo ops. Create spaces for visitors to take images and videos without risking being photo bombed. Unless being photo bombed by other guests is part of the experience, of course. Reserve some areas outside the flow of traffic so one person's attempt to achieve the perfect pose doesn't keep others from enjoying the experience.

CAMP's family-friendly and photographable experiences put the brand on parents' radar. Who doesn't like to show off their kids and share the good times they have with family and friends? CAMP leverages our natural parental pride to convert visitors to its retail store into social media promoters.

Every space and experience in this store + play zone is made for sharing, and that's by design. CAMP's founders planned the store to be an experiential destination that would generate online buzz explains Digiday's Kayleigh Barber.


Build in digital connectivity and add digital out-of-home advertising to your experience. Put your name out there and make sure it's easy for visitors to share. Use special event hashtags and QR codes and keep the bandwidth open.


Promote your event or activation before, during and after it happens. Creating a one-of-a-kind experience is a creative and financial investment. Maximize your ROI by making sure your brand's fans and followers know what's happening and when.

Mars, Inc.'s, The M&M Flavor Vote Experience, first launched as an online vote in 2016 before expanding to include online promotions and an in-person, photo-worthy experience hosted in NYC in 2018. The brand selected 3 flavors to present to the world online and off and get people invested in the next great M&M taste. The brand continues to benefit from the draw of both its online and offline events with regional and special occasion votes, although subsequent experiences have been online only.


Leverage the power of partnerships. Build a store-within-a-store to reach new customers, enlist a social media influencer or celebrity to talk about your exhibition, sponsor someone else's event to multiply your reach and theirs. Sponsorship activations are an effective way to put your brand in front of a large audience without footing the entire bill yourself.

Nike generates almost non-stop social media buzz through a combination of multiple owned social media accounts and earned mentions. The brand supports sports and wellness among amateurs and celebrities through sponsorship activations, pop-ups, social media posts, contests and other activities.

Is Nike's strategy of sponsoring sport-related events across all levels of performance a successful one? According to Brand24, Nike's Presence Score indicates that it is one of the most recognizable brands worldwide.


Be true to your brand and your audience. There's a saying that "All publicity is good publicity." But don't believe it. Today's consumers expect an authentic experience that represents your brand's values and shares theirs. When it comes to earned social media, don't get caught trying to fake it.
Earned social media happens when an experience is worth sharing
Social media audiences are inundated with information. What makes them pause and want to share what they've seen? Often it's an experience that surprises and delights. Set the stage to be a part of those moments by creating experiential events and brand activations that are engaging and share-worthy.
Discover how to create buzz around your brand by booking a no-pressure introduction to Bridgewater Studio today. You'll see how a full-service experience design, production, and strategy company streamlines the entire process, from ideation to installation. After we learn about your brand, audience and objectives, we'll put together a free customized project plan for your next brand activation that will put you on the road to success.