Top brands are constantly searching for new ways to reach their audiences, and for many, brand activations have become the strategy of choice. This increasingly popular method of engagement challenges brands to find unique and memorable ways to connect with audiences and to leverage a positive experience to generate various business outcomes.
For some, these activations can even go viral, helping them reach people from all over the world through word-of-mouth and free publicity. It's no wonder that a growing number of brands in a variety of industries are beginning to experiment with live events and marketing activations.
However, experiential marketing campaigns are often complex projects with a lot of moving parts. Brands looking to explore the potential of this exciting marketing strategy will benefit from a solid understanding of its basic principles before diving in.
In this article, we'll explain what brand activation is, look at different types of activations, and provide key steps to planning your own experiential marketing campaign.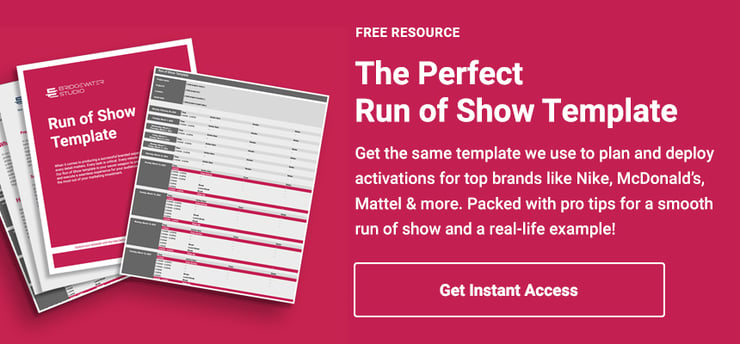 What is a Brand Activation?
From free hamburgers to expansive three-day improv events, brand activations are compelling, in-person experiences that can be tailored to fit the unique voice and goals of any company. These experiences are used to capture the attention and loyalty of an audience, making them more aware and interested in the products and services that a company provides.
Top qualities of successful brand activations include:
In-person, face-to-face interactions between brands and customers
Both online and offline components
Buzz generated by positive connections and reactions
The cycle of attracting, engaging, and converting customers
From there, additional characteristics of a brand activation, such as the type of event, theme or size will be unique to the timeline, budget, and objectives of the company.
The Role of Brand Activation in Marketing
Brand activations help companies meet specific and measurable goals, but rely on face-to-face interaction in a non-sales environment. Objectives of brand activation may include:
Promoting a new product or service
Attracting new audiences
Educating customers about an important cause
Increasing lead quality or sales
Brands can also set goals around supporting campaign efforts, such as response to direct mail pieces, email opens or click thru rates, social media likes, and much more.
Types Of Activations
Brand activations can be as imaginative as budgets and timelines allow them to be. A few types of innovative experiential activations include:
Whether a brand is new and reaching customers for the first time or established and looking to mix things up, any of these brand activation concepts can provide a direct path to audience engagement.
Who Are Brand Activations For?
Brand activations are all about fostering trust, so they're not a one-size fits all solution for only one brand or industry. A few different examples of companies and organizations who have run successful brand activations include:
Given the versatility of experiential activation campaigns, eCommerce, B2B, retail, museums, and entertainment and production companies can all benefit from these interactive experiences.
Effective Brand Activations: 5 Examples
Experiential marketing activations are bold in-person experiences that range from marketing exhibitions to food trucks to hands-on workshops. Activations that are considered successful typically accomplish a number of goals, such as increasing exposure and loyalty to a brand.
A few examples of effective brand activations include:
While each of these experiential marketing examples began with a great concept, it takes a lot more than a clever idea to achieve success. A solid strategy and execution is essential, and that all begins with programming.
Programming for a Brand Activation
Experienced brands know that a successful activation begins with a proper programming strategy. Programming refers to the overall message and objective of a marketing experience. What should the audience take away from it all? How will this contribute to the brand's goals?
The programming of a brand activation shouldn't feel like advertising or promotion, and should come off as a thoughtful, genuine attempt to connect with the target audience. The best experiential marketing events are successful in creating an emotional appeal, making intellectual connections, and providing meaningful physical interaction.
A great example of successful brand programming is Mini Babybel and the Comic Relief charity promotion for Red Nose Day using food billboards. As the goal of Red Nose Day is to raise enough money to end child poverty through entertainment, Mini Babybel designed an activation using 10,000 individually wrapped cheeses with jokes printed on them. The billboards were placed in Kings Cross station in London, and passersby were invited to take free samples. The event specifically targeted stressed commuters, offering both free samples and lighthearted jokes without asking for anything in return.
The Steps to Great Brand Activations
Brand activations are typically fun events with a spontaneous feel. However, they require extensive planning and expertise to design, engineer, build, and install. There are a lot of things that can go wrong, but brands who understand and embrace the lifecycle of a brand activation project can help keep their project flowing. Key stages of the process include:


Planning
With a strong plan, brands can keep projects moving in the right direction. From the beginning, the plan will define the scope and outcome of the project, and includes components such as:
Programming Strategy: Programming is the core message of an activation, and also includes the activation objective and goals.
Budget - The budget determines the size and the scope of the activation.
Timeline - The desired timeline of the project sets the pace of the project.
Design Concepts and Feasibility - Design concepts establish the visual direction of an activation, while budget and timeline help determine project feasibility.
Permitting - Permits may be needed for an activation, and the permitting process should get started as soon as possible.
The logistics of a brand activation can get complicated quickly. That's why many brands choose to bring in a strategic partner early in the process. By leveraging the expertise of a full-service experiential design and fabrication company, brands can flatten the learning curve, streamline the process, and gain value at every stage.


Design and Production
During the design stage, concept sketches help to align all project stakeholders on visual direction. When brands work with a full-service partner, they often have the added benefit of expert guidance with finish and material selection—details that can have a major impact on budget, timeline, and build quality. The best experiential design companies will also take a forward-looking approach during this stage, factoring any shipping, safety, and durability concerns into the design. Once the design is finalized, a full-service partner should provide detailed 3D renderings for approval. A project will then move into production, where the fabrication team will manufacture the physical components.
Activation
The activation stage includes shipping and installation of the physical environment, as well as the coordination of all storage, staffing, logistics, permitting, and other on-site needs. Throughout this stage, unexpected challenges, such as inclement weather, supplier issues, and last-minute changes, are possible.
A run of show schedule is a brand's master plan for the management of all logistics—both planned and unplanned—during the activation. A full-service experiential design company will own this document and begin forming the activation plan at the very beginning of a project to ensure no details fall through the cracks. The run-of-show schedule will be a living document that coordinates every activity from the arrival of the installation team to the final disassembly and removal after the event concludes.
Delivering Your Best Experiential Marketing Campaign
To pull off a successful experiential marketing activation, brands need a solid plan and an expert execution at every stage. Some brands may choose to manage the many details, logistics, and vendors on their own. Others may hire an experiential marketing agency to manage it all for them. Many smart brands are finding the optimal solution with a full-service experiential design and fabrication company—a single partner who plans, manages, and produces the entire project under one roof.

To learn how a full-service partner can take your next brand activation to the next level, schedule a no-pressure introduction to Bridgewater Studio today. We'll customize a free project plan for your activation so you'll be set up for success from the start.