Every physical space is a place to be experienced. The best architects, interior designers, event planners and spatial designers recognize this. Experiential designers, in particular, put the human experience within a space at the forefront of all that they do. Experiential design studios are the engine behind many of the current examples of amazing brand activations, themed entertainment venues and interactive environments that attract attention and expand reach.
In this article, learn more about experiential design and how experiential design studios work with brands and marketing agencies to create built environments that tell a story, engage with the users of a space and enhance visitors' experiences.
What is experiential design?
Because any space built for human occupation, visitation or use is a space that will stimulate and engage people's senses, the discipline of experiential design is broad. Experiential designers help plan and develop office interiors, multi-family residences, public art installations, temporary brand activations and every other type of built environment—all while prioritizing how people will interact with that environment.
Experiential design is sometimes called "environmental design" because of its concentration on developing a cohesive built environment with intentionality. This maintenance of an understood narrative is at the crux of experiential design. A purposefully built environment should not only serve its occupants, but also communicate how to use the space optimally to those occupants.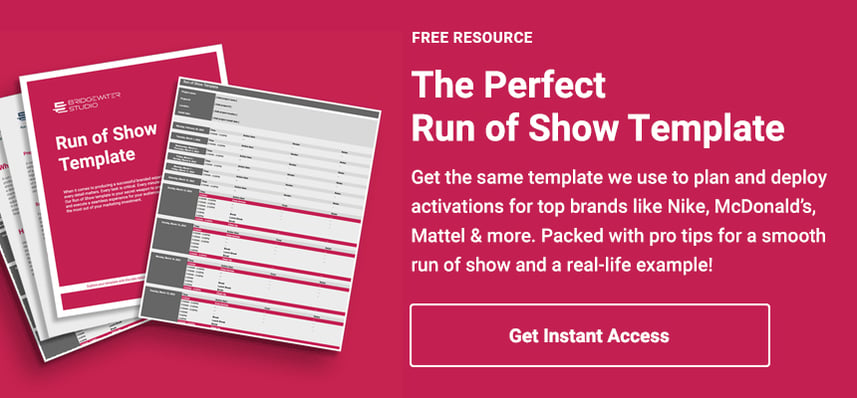 Is experiential design the same as experiential graphic design or environmental graphic design?
Much of how we experience a space is through visual input such as colors, signs, wayfinding systems, and the distribution of objects and fixtures. For this reason, many people in the past limited experiential design's scope to a subset of the discipline, experiential graphic design (a.k.a. environmental graphic design).
However, a modern approach to experiential design is holistic, encompassing all the ways in which people experience a space. What people see and hear and how they interact with the space, and the objects and other people in it, and how well the space meets each person's needs affect their feelings and reaction to the space and thus, are experiential design considerations.
A comprehensive experiential design process facilitates positive experiences and employs storytelling and interactive elements to connect with visitors and create lasting memories.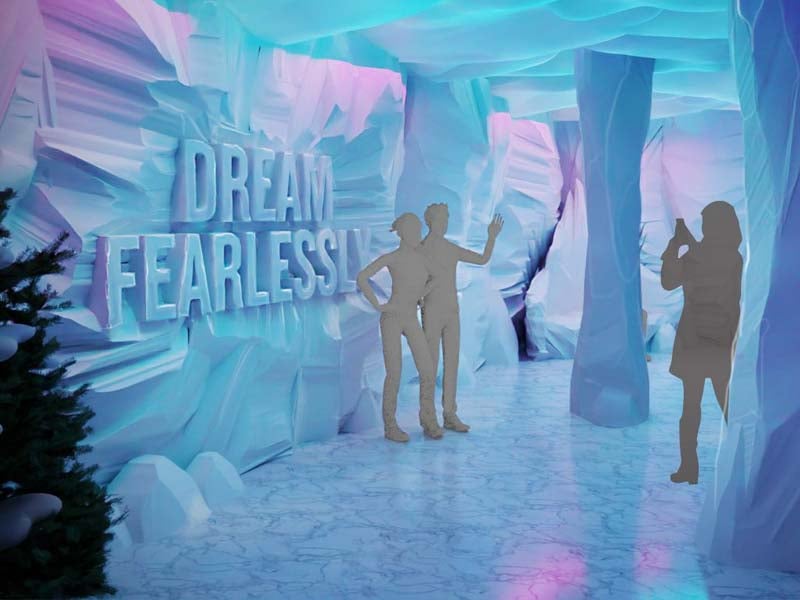 This experience designed for American Family Insurance's Magic of Lights event, immerses guests in a fantasy world with several interactive components.

In different contexts, experiential design can impact employee satisfaction and productivity, build brand awareness and affinity, and create the engaging experiences that people want to tell their friends and family about.
Experiential design is purposeful, objective-focused design.
What is an experiential design studio and what do they do?
Brands don't want to be associated with negative experiences, whether it's related to a product or service … or a spatial interaction. An experiential design studio assists businesses in developing a plan for an interior design, brand activation, or event, that considers all the factors that determine the quality of visitors' experience within a space.


An experiential design studio and its team members can help organizations:
Plan inclusive experiences.

Without experience in building inclusive, positive spaces, it can be easy to overlook some visitors and their needs. This can happen when a space is multi-purpose by design or when a brand is seeking to create an amazing, interactive experience but lacks the knowledge to ensure it appeals to the different people in its target audience.



Create a project roadmap.

An experiential design team can prepare project guidelines to steer design and development decisions and

ensure that the project remains true to its objectives and stays on budget. Your experiential design partner can serve as a project manager and logistics coordinator as well, leveraging their experience and connections to find the materials or services your project needs.


Draft and test detailed design blueprints and schematics. Every component of the overall design from signage to three-dimensional objects, wall placements to ceiling treatments must have a design plan that details its materials, construction methods and dimensions.

Using digital design tools, an experiential design studio can assemble multiple elements of a design and enable virtual walk-throughs to see how those elements work together.



Build the components of your planned environment.

Ideally, an experiential design firm is more than just a planning-stage partner. A full-service experiential design and fabrication firm can smoothly transition from ideation and design approval to

manufacturing customized pieces for your space.



Deliver and install your completed experiential exhibition or interior.

Getting all the moving parts of a story-focused, comprehensive design into place correctly isn't always easy. It becomes much easier if the experiential design studio that drafted the initial construction plans

oversees the process

.
Plus, a full-service design and fabrication company will have access to the right tools and equipment to ensure that transport and installation of your new environment comes off without a hitch.
What are the qualities you should look for when hiring an experiential design studio?
When looking for an experiential design studio to help you create a one-of-a-kind environment that maximizes the positive impact on guests and occupants, start by confirming that they have a full range of experiential design capabilities.


These capabilities include:
Deep design expertise across different mediums and purposes.
An understanding of the impact employee and customer experiences have on brand reputation, public relations and brand marketing. To achieve your objectives, you need a team capable of understanding the "why" behind those objectives.
Collaborative, problem-solving and critical reasoning skills to ensure that issues can be quickly resolved and your project stays on time and within budget.
Imaginative and creative story-telling abilities to assist you with designing your environment's unique programming or narrative.
Knowledge of a wide range of design tools and technologies from maquette construction to computer assisted design (CAD).
Fabrication skills to match their imaginations. An idea that can't be realized can't be incorporated into your experiential design. A studio with a deep bench of makers who know how to build what they and their teammates design is essential.
Access to the machines, materials and tools necessary to fabricate and finish each component of your design.
What else should you look for in an experiential design studio?
While it is possible to work with a different team or agency to piece together your next amazing experiential space, doing so comes with a lot of logistical headaches. When looking for an experiential design studio to help you build something amazing, look for one that is full-service and can shepherd your project from start to finish. You'll benefit from the early input of the fabrication team to assess the feasibility of your ideas, a single point of contact and full-accountability throughout the process.
Ready to explore the possibilities for your next brand activation or built environment? Schedule a no-hassle introduction to Bridgewater Studio today. Our full-service experiential design and fabrication company transforms ordinary spaces into extraordinary experiences. Tell us about your objectives and we'll create a free customized success roadmap for your project.