In 2022, companies are looking to enhance their marketing campaigns and create exciting customer experiences. For many brands, this includes experimenting with channels they may not have invested in before, such as influencer marketing, short-form video content, and moving their events online for engaging virtual events. For many others, they turn to experiential marketing companies for support.
As customers continue to come back for in-store experiences, many brands are choosing to invest in opportunities to meet with their audience face-to-face. Many retailers, according to a report from Shopify, are preparing for this, with 40% of brands identifying experiential retail as a top priority next year.
Experiential marketing, which focuses on the in-person connection between a brand and a customer, can be an incredibly effective way to improve brand recognition, provide better customer support, and pick up traction on social media.
An unfocused experiential marketing campaign, however, can quickly become mismanaged, expensive, and fall short of your expectations. As brands explore the possibilities of experiential marketing, there are foreseeable risks that every company should look out for, especially when hiring an experiential marketing company.
13 Questions To Ask Experiential Marketing Companies
Companies that recognize the challenges of experiential marketing often choose to hire a partner to run their campaigns. By investing in an experiential marketing company to lead the charge, companies can focus on their own day-to-day duties and not get weighed down by the complexities of experiential marketing. Additionally, a partner that is well-versed in experiential marketing will have a plethora of resources and connections for their clients, making it easier and more cost-effective to execute a successful campaign..
Not every experiential marketing company will be the right fit for your company, of course, so it's important to know what to ask for when considering potential partners. As a full-service and multidisciplinary design and fabrication studio, we've worked with top brands to create unique and memorable spaces, experiences, and art installations. We also have enough experience to know what companies hiring an experiential marketing company should look for in a partner. In this article, we'll share the questions that our own clients have asked us at the start of our partnership and how to find the best experiential marketing company for a project.
1. What Are Your Areas of Specialty?
Experiential marketing campaigns cannot be one-size-fits-all, as they need to engage your target audience, support your marketing and sales goals, and match the personality of your brand. When hiring an experiential marketing company, look for one with experience in the specialties that your unique project requires. Companies that have a number of specialties may be too broad to meet specific needs, while niche design and fabrication companies may have limitations in what they can deliver.
2. Do You Have Experience With Our Industry?
When you hire a marketing company or agency that does not have substantial experience in your specific industry, you risk paying for the company to learn on the job. This can result in your project going over budget and delaying your timeline. They may also mismatch your company with a strategy that won't work within your industry or attract the right audience.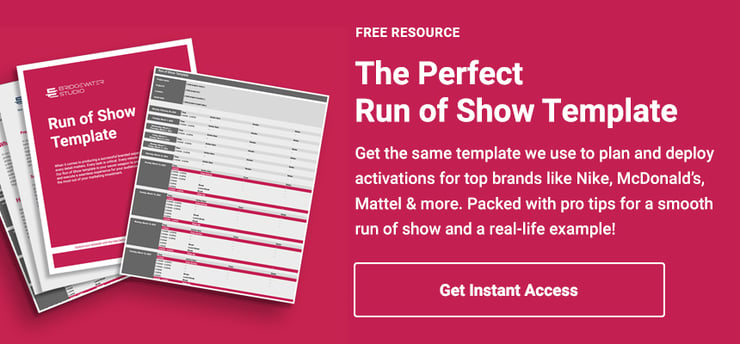 3. How Will You Help Visualize Our Concepts?
Experiential marketing campaigns can be visually stimulating and stunning. Personally, we've helped create a number of fantastic looking structures and displays, including:
At one point, these installations began as concepts that our clients wanted us to bring to life. Since we've managed the creation of these types of assets in-house, we have experience using 2D and 3D models to show our clients how we plan to execute their vision. Due to the complexity of some experiential marketing designs, it's important to ask any company you partner with how they plan to visualize, present, and plan to carry your concept through to implementation.
4. What Does Your Ideal Client Look Like?
When we field prospective clients, we typically look for companies and organizations who seek an all-in-one service and need services in concept design, digital fabrication, graphics, printing, building, and fabrication, as well as project management. We know who our ideal client is, and we have enough experience to know that not every prospective client will be a fit for us. Some marketing companies may look to bring on any client, regardless of fit, so asking about their ideal client traits is crucial.
5. What Will Day-to-Day Communication Be Like?
By bringing the entire process in-house without multiple vendors, we're able to maintain a high level of communication and avoid project delays and setbacks, unexpected expenses late into the timeline, as well as stressful activation days that don't go as planned. To ensure the same kind of experience with a prospective experiential marketing company, inquire upfront about communication, such as your assigned point of contact, communication methods, platforms used for communication, meeting expectations, and more.
6. Do You Have Experience With Social And Digital Marketing?
We're always looking at interesting and exciting experiential marketing activations for inspiration. Some of our favorites have excelled at aligning an exceptional activation with social and digital marketing strategies, including:
These projects were able to connect the audience in-person with the target audience that engaged online with the campaign, helping these companies get even more exposure online.
7. Will You Outsource Work To Other Vendors?
Experiential marketing companies may choose to bring on additional vendors during a projectn when they're not the experts, or when there's an opportunity to cut costs. In our experience, this is a big mistake, as excessive outsourcing is often why experiential marketing campaigns fail. Miscommunications, delays, and unexpected issues of every kind are all too common when there isn't a single point of accountability. well as communication and issues with logistics. As a result, companies lose control of projects, and the quality of work suffers. We manage our projects completely from start to finish and find that our peers who follow the same approach have smoother, more successful projects.
8. What CNC Services Do You Offer?
Experiential marketing activations can be everything from informative trade show exhibits to larger-than-life art installations. Computer Numerically Controlled machining services (CNC Services) can be a crucial part of creating these activations, crafting unique pieces for memorable large-scale pieces such as:
By working in-house to conceptualize, fabricate, install, and manage the singular hut with neon signage, we had complete creative control over the construction and final result.
9. Will You Handle and Manage Shipping Logistics?
During one brand activation, we got the opportunity to spread holiday cheer with a Santa Claus- themed Mattel installation. Aside from being engaging, the traveling installation also needed to be durable, as we were shipping Santa's workshop to several locations. Since we manage our entire process in-house, we planned for the shipping requirements from our first day on the project. Experiential marketing companies who provide project management, design, simulation, build, activation, and break-down in-house, will be able to handle shipping logistics and communicate their plan to you in advance.
10. Do You Manage Permitting For Experiences?
Believe it or not, not every city would want a giant marshmallow man in the middle of one of their train stations. But that's what Forbidden Planet did with their giant Stay Puft Marshmallow man in 2016 to celebrate the new Ghostbusters movie. The installation was at London's Waterloo station, a location that requires permits to build. An experienced experiential marketing company will have knowledge and expertise in permits and will handle all of the documents and permissions needed to set up your installation.
11. Do You Handle Temporary Staffing For Experiences?
In 2019, Mountain Dew accidentally edited Michigan's Upper Peninsula out of the state lines in a social media post. The backlash came quickly, inspiring Mountain Dew to come up with an event that was part apology and part experiential marketing campaign. The company would send a dunk tank to an outdoor fair in the Upper Peninsula, where residents could drench Dew team members into their signature soda. In this case, the very success of the event relied on the team members chosen to represent the brand. An experienced company will understand the importance of getting the right staff together to run your event smoothly.
12. Will You Perform On-Site Installation?
An experiential marketing activation can be incredibly ambitious and creative, requiring additional guidance and expertise in installation. A brand planning to construct a giant water slide through London, for example, would want to ensure that the piece was installed, so it was safe to use. A television show-themed bar at Bryant Park, on the other hand, would need to look and function like a bar, requiring the right group of people to assemble and break down the pop-up. With the amount of moving pieces in an activation, no brand wants to add installation headaches ​​to their run-of-show schedule..
13. What Was Your Favorite Project?
The best kinds of experiential marketing activations are the ones that evoke emotion not only for the target audience but for the project manager and crew. Companies that have created a number of activations will likely have a favorite project, showing their passion and interest in what they do. This question can also inspire the style and type of experiential activation that the brand may be looking to create.

Choosing The Best Experiential Marketing Company
With the right experiential marketing partner, a display can turn into a unique, unforgettable experience for you and your customer. We've created a number of activations for our clients, working from concept through to the post-event clean-up, mastering our in-house process.
To check out our favorite projects and learn more about our start-to-finish approach, schedule an introduction to Bridgewater Studio today and get a free plan customized for your next experiential marketing campaign.