Brands seeking ideas for highly effective brand activations will find them everywhere. From the first-ever human anamorphic billboard to OREO Cakesters' Blockbusters Takeover, there are a number of ways that top brands are building buzz with memorable activations. However, a successful brand activation is about more than a flashy idea.
To make an impact on the target audience, brands must make their activations engaging, emotional, and personal experiences.
The Qualities of a Top Performing Brand Activation
Brands can find inspiration from other brands, but the best way to plan a successful experiential marketing campaign is to find a way to connect with customers on a deeper level. When planning a brand activation, brands should ensure that their campaign is:
Making an emotional connection
Connecting with the customer intellectually
Including a physical interaction during the engagement
These are just a few characteristics of top-performing campaigns. In this article, we'll discuss additional qualities of successful experiential marketing activations and examples of types of activations that fall into those respective categories.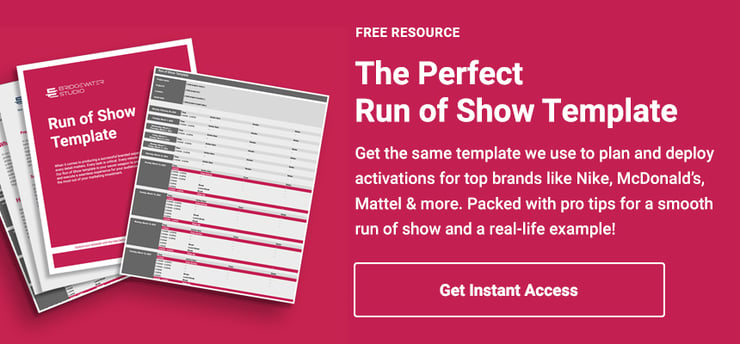 Informative and Educational
Informative and educational activations allow brands to pass on knowledge or expertise to their customers, putting them in the role of thought leader or trusted guide. This can be a great way to build trust and authority, showing customers how to use a product or inspire them to rally them behind a cause.
A few ways that brands can help inform and educate their audiences are:
Demo Products:

Product demonstrations are a great opportunity to show customers how to achieve results with a product or service. Additionally, it can help build confidence in the value, sustainability or worth of a product. The experience can be designed around the key objectives of a company, such as increasing retail sales.



Support Causes:

Brands that educate about charitable, social, environmental, and local causes can establish emotional connections with their customers while doing good. Brands can enhance activations for charities by having strong messaging around the charity mission, promoting testimonials, and creating a follow-up strategy for after the activation ends.


Related Partnerships: Brands that partner with similar, but non-competitive brands on experiential activations can align with their interests and access their audiences, while helping their own customers discover related products and services.


Shareable and Promotional
To get the most from experiential activations, brands can create a range of interesting content to help their story and get their message out. A few examples of shareable and promotional content that brands can offer during and after the activation include:
Free Photos: Photo opportunities during an experiential activation can range from a professional photographer or videographer to a photo or video booth. This can help engage attendees at an event, especially when they're encouraged to share pictures and videos across social media.



Live Streams:

By setting up a live stream, brands can create unique experiences and reach audiences from all over the world. Live streams can be shared on social media and include happy or networking hours, Q&A sessions, and much more.



Over-the-top Props:

Memorable, bold props can be strategically placed to create an immersive environment. Brands can encourage their customers to take photos or videos with unique props, like large-scale sculptures, and share them on social media.
Valuable and Compelling
When brands share something without asking anything in return, they can build trust and loyalty with customers. These valuable and compelling components can include:
Providing Product Samples:

Product samples at brand activations help audiences familiarize themselves with a brand's products or services.


Free Giveaways and Contests: Contests and giveaways at an activation can keep attendees engaged and participating in the event.


Custom Fittings or Consultations: Ideas include in-person fittings for custom apparel or a free consultation that provides valuable information.
Face to Face and Memorable
Activation events provide brands with the opportunity to showcase their unique identity and set themselves apart from competitors. The popularity of innovative, one-of-a-kind experiences highlights both the art and science behind the most memorable brand activations, and can include:
Interactive games and content:

Brands can make their own interactive video or game content as a part of their activation, such as Seiko's interactive tennis game at the Australian open.



Augmented reality or simulations:

VR and simulations can be a fun way to keep audiences engaged and excited at in-person events, such as Michelin's "Be The Tire" exhibit that simulated the experience of a tire rolling on a road.



One-of-a-kind Experiences:

Brands pushing the limits of creativity and technical execution often create the most buzz. For example, the European sporting equipment company Globetrotter lets shoppers step into a rain chamber to try out their waterproof jackets.


Online and Offline
Nearly any target audience will want to engage in both physical and digital spaces. When planning an activation, brands can find creative ways to align both the online and offline experience.
Pre-Activation Digital Ads and Targeting: Brands can use digital marketing strategies, such as paid search ads and email campaigns, to increase audience awareness prior to an activation.


In-Person Engagement: From brand ambassadors who approach people on the street to immersive experiences in public spaces, a marketing activation provides the best opportunity to make meaningful face-to-face connections.


Post-Activation Outreach: After an activation is over, brands can reach out through social media, email marketing, and more to continue the relationship and move customers towards a desired action.


High Production Values
Whether it's a branded ball pit or a custom-built champagne bar, the quality of the physical environment matters with brand activations. When planning a brand activation, brands should ensure that their physical components follow the same high standards as the marketing components of the event, such as:
Adequate budget and timeframe: While cutting corners to save money can be tempting, it comes at a cost, as it can damage brand perception and detract from the experience.


Quality materials: The materials used for an activation can make all the difference. Throughout the design process, brands should consider the highest-quality materials for both aesthetics and durability.



Experienced partners:

The best experiential marketing companies will have full-service design, fabrication, and installation capabilities. They will manage your entire project from start to finish with a streamlined process and own every detail along the way to a premium experience.


The Key to a Successful Activation
The key to a smooth and successful experiential marketing activation is a solid strategy. From the very beginning of an activation, brands must have a plan for the message they want to convey, and select an activation that meets their budget, timeline, and vision. Brands that want to ensure this successful journey—and get the most out of their budget—should partner with a full-service experiential design and fabrication company as early in the process as possible.

To learn how a full-service design and fabrication company can take your next brand activation to the next level, schedule a no-pressure introduction to Bridgewater Studio today. We'll customize a free project plan for your activation so you'll be set up for success from the start.