CNC sculpture fabrication is the newest, most innovative high-tech way for artists to create a sculpture. With computer numeric controlled (CNC) fabrication, a sculpture is not chiseled, but rather programmed using special robotic carving, cutting and routing services that are far more precise than the human hand.
With sculpture fabrication, large-scale sculptures are simply carved into pieces, all of which retain the artist's original integrity and merit, and then reassembled into a final art installation; the same equipment can also be used for carving smaller sculptures made from a singular piece.
The end result? Beautiful sculptures that would not have been possible for even the most talented of artists to complete in their own studio without specialized CNC services.
---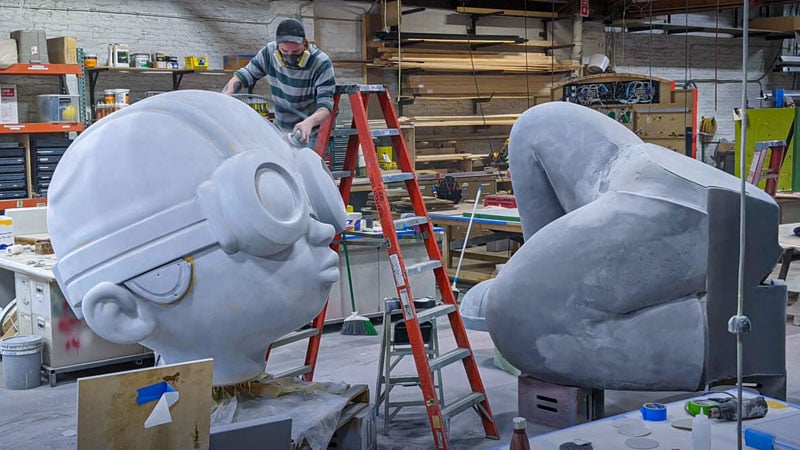 Hebru Brantley's Flyboy sculpture is CNC-fabricated as smaller pieces for custom assembly by hand.
Different Types of CNC Sculpture Fabrication
While not all types of sculptures require fabrication services from a design studio, CNC sculpting can enhance any type of sculpture, and some types of sculpture have become especially popular with CNC cutting and carving.
The following types of sculptures have particularly flourished under CNC fabrication services:
Engravings – The CNC laser carving of a low-depth design upon a hard surface. Instead of hand tools, laser precision is used to either cut or discolor the material into distinctive designs.


Sliced Sculptures – A form of CNC wall art in which planks are installed next to each other on the wall to form a complete design. Multiple planks can be stacked and designed simultaneously, further saving time.


Marble Sculptures – CNC marble statues contain all the details of conventional marble statues and are more efficient to make, wasting less material.


Wood Sculptures – CNC millwork enables the production of wooden sculptures that retain the full structural integrity of the wood materials.


3D Objects – Any 3D object, from candelabras to animal carvings, can be faithfully recreated to a higher degree of accuracy than hand-sculpting.
---
What Are the Benefits of CNC Sculpture Fabrication Services?
CNC sculpture fabrication has three main design and manufacturing benefits:
Time – What originally took months of sculpting by hand can be CNC-fabricated in weeks. Automation also adds more accuracy to a CNC project timeline.


3D Visualization – Preview multiple versions of the same sculpture made with different materials, sizes, and other properties without actually having to make a physical model.


Money – The cost of sculpture fabrication services is usually much less expensive than traditional sculpting because the process requires fewer models, fewer materials, and less labor.


As an artist, CNC eliminates the need for toiling away in a dusty studio wearing protective equipment because CNC services are like the ultimate studio assistant.
Why not let a machine handle all the arduous cutting and carving tasks with absolute accuracy and no breaks? It really is no different than using a paintbrush instead of your fingers. One is more efficient.
CNC sculpting is letting a tool do the work so the artist can focus on applying all of the finishing details to make the sculpture their very own, just the same as before – but dimensionally perfect.

A CNC robot carves a foam block into a section of this large-scale sculpture at Bridgewater Studio.
How Does CNC Sculpting Work?
The sculpture fabrication process is as follows:
The artist describes their idea to the studio. They may have sculpted a figurine or scaled-down replica that can be 3D scanned.
3D software allows the artist to visualize multiple design options.
A detailed scale model of the sculpture is 3D printed.
CNC engineers contemplate how the sculpture will be divided into segments and program the exact pathways they want each piece of the sculpture to be machine carved.
Advanced robots cut and carve the materials exactly as programmed into segments which are then assembled by technicians in the studio.
Finishing elements such as sanding, polyurea spray-coating, paint finishes, and other surface preparation are applied.
Disassembly of the sculpture (if necessary for shipping or delivery).
Shipping or delivering the CNC sculpture to its intended site.
Installing the sculpture at its final destination.
Bask in admiration and acclaim!
With the precision of CNC, the final product looks exactly like the prototype. The artist maintains creative control through every step of the process, so their vision is enlarged and amplified, but never compromised.
---
Different Types of CNC Sculpture Materials
Prior to CNC sculpting, the most popular materials for sculptures were steel, bronze, copper, and iron. CNC equipment now lets the artist cut, carve and shape a multitude of additional materials into new styles and shapes.
CNC sculpting can easily shape, carve and cut through many different materials:
Metal — Sculptures made of metal materials such as aluminum, brass or steel.


Plastic — Plastic sculptures have no need for a secondary finish and resist corrosion.


Wood — Sculptures of wood typically use materials like hardwood, softwood, or plywood.

Hardwood is easier to maintain and resistant to fire and decay, but expensive.
Softwood is resistant to insects, but difficult to maintain.
Plywood is very dimensionally stable, but chips easily.



Natural stone – Marble, granite, and other difficult-to-carve natural stone is made easy through CNC engineering.

Foam — Foam sculptures are lightweight and durable, which makes them good for traveling sculpture exhibits.

3D Carving foam – A high-density foam material that can be easily shaped for modeling. This foam resists extreme temperatures and can be used for molds and sculptures.
Rigid foam – As the name suggests, this foam is not the best for carving sculptures.
---
Bridgewater Studio Leads Sculpture Fabrication Services in Chicago
The concept of an art studio dates back to The Renaissance when the Church ceased to be the main source of art in favor of art from private citizens. Ever since, artists have gathered in studios to engineer new techniques designed to take the hard labor out of their work and help each other better create.
CNC sculpting is the latest art advancement to follow in this tradition.
Bridgewater Studio specializes in design and fabrication services for sculptures with top brand names:
Think you might have a need for commercial sculpture fabrication services for an upcoming scenic exhibit or experiential marketing campaign? Schedule a 30-minute call to explore your options.