Did you know that 76 percent of consumers would rather spend their money on experiences than material items? For brick-and-mortar stores, this provides a unique opportunity for 2022: Experiential Retail.
Stores can take advantage of nearly two years of limited in-person interactions and implement memorable in-store events to drive sales and boost brand awareness. These in-store events and campaigns, also known as experiential marketing activations, can deliver the unique, hands-on experiences customers have been missing.
Top brands like ShopRite, Bloomingdale's, and Starbucks are already finding success with activations in retail environments, as activations can be tailored to suit the goals of nearly any retail space. With the right approach, your brand can do the same. However, experiential marketing activations that are mismanaged and poorly planned can quickly become expensive and ineffective.
6 Tips For Designing and Deploying An Experiential Retail Activation
A successful experiential marketing project has many moving parts, and an overall project plan is essential to keeping the project on track. Depending on your project and partners, your plan may vary, but a valuable program includes a lot of careful planning to ensure everything is delivered on time and on budget. A quality partner won't outsource any work and should create a plan that covers:
Creating a custom project plan (we call it a project success map)
Create concepts that align stakeholders visions, integrate the clients budget, marketing intent, and feasible fabrication
Digitally simulate the final build to accurately engineer and fabricate parts
Execute a comprehensive shipping, installation, and on-stie logistics plan
Conduct strike, which includes disassembly, removal, storage, and/or recycling
While this process encompasses many of the logistics needed to design an experiential retail activation, there are also several best practices to follow. In this article, we'll cover a number of tactics you can use to design your own activation.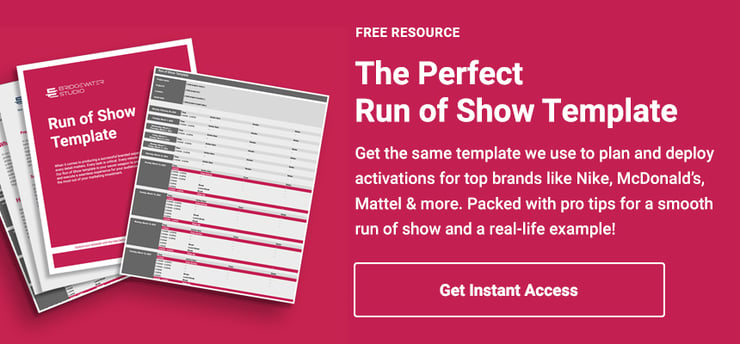 1. Set Specific and Measurable Goals for Your Event
Experiential retail activations can be incredibly exciting, and many companies are eager to jump in and get started. However, while the success of an experiential marketing campaign can be measured by attendance, sales, social engagement, and so much more, it's important to establish the goals of the activation before starting a concept or vision. By assigning "SMART goals" to their experiential retail activations, which stands for specific, measurable, attainable, relevant, and time-bound, companies can keep an experiential retail activation focused on what it needs to accomplish.
RadioShack, a popular retailer in the 90s, used an in-store retail activation at their first concept store in Manhattan. With the goal of increasing their in-store sales, the concept store was outfitted with a new store design that dedicated more of their retail space to interaction. RadioShack also had more technology available to try and test out, giving customers the opportunity to compare headphones, laptops, and more.
2. Draft A Start-to-Finish Project Lifecycle Plan
The best partners work closely with their clients to create a project success plan. If you're designing an activation without a partner, you will still need to create a start-to-finish project lifecycle plan to see the project through to fruition. While there is no one-size-fits-all plan, as an experiential retail activation can be anything from the chance to ride on a mechanical bull to flying a hot air balloon modeled after Van Gogh, there are still various stages that every design will go through, such as budgeting, scheduling, design, prototyping, fabrication, and delivery, as well as installation and removal. A strong project plan may also include:
Supporting marketing or multimedia assets
A start-to-finish timeline for the entire event
An in-depth training plan for your employees
An agenda for the first activation day
Any permitting requirements
Depending on the complexity of your project, it may be worth considering a fully-integrated design and fabrication partner to help create the plan and manage your activation.
3. Outline A Comprehensive Budget
When looking at budgets for experiential retail activations, a great vendor can help you get the most value for what you can spend. Elephant Car Wash made a memorable marketing campaign with faux bird droppings that were actually business cards for their services. Gibson Garage, on the other hand, made an immersive event space where customers could test out and design their own guitars. The projects are both inventive but varied greatly in budget.
Ultimately, the budget for an experiential retail activation project will be influenced by the vendors involved. This is another area where the right integrated design and fabrication partner can be incredibly helpful. This partner will help you get the most out of your budget and make recommendations based on their experience. A design and fabrication company can also help save costs by guiding material selections, processes, logistics, and more.
4. Identify The Project Team
Depending on the scope of an event, projects may also require additional designers, directors, producers, costume designers, sound technicians, music directors, and/or playwrights to build and install your experience. Brands can hire these individuals directly or rely on an experienced design and fabrication company to assist.
To deploy an activation, additional staff may be needed to run the event. When Bloomingdales created an interactive Scavenger Hunt in their store, their own employees interacted and encouraged customers throughout the experience. IKEA's Dining Event, however, required the company to hire professional chefs to support the event, which invited guests to cook for their families using IKEA products. The project team will be crucial to ensuring the success of an activation and requires additional time for onboarding, training, and rehearsal.
5. Use Retail Space Effectively
By 2025, nearly 60% of consumers expect more than half of retail space to be devoted to a brand experience. A lot of brands are already investing in unique renovations and opportunities for engagement, such as Dick's Sporting Goods, which launched its new "House of Sport" concept in Victor, NY. The store now houses a 32 ft. rock climbing wall, a food court, an indoor ice skating rink, and more fun activities for customers to enjoy.
As not every retail space will have room for a rock wall, another way that companies can make their space interactive is by implementing elements such as multimedia. Additional multimedia that provides supplementary information or improves the day-to-day processes, such as an iPad that collects sign-ups, can help create easier, more personalized experiences for in-person customers.
6. Establish A Run of Show Schedule
When pulling off an experiential retail activation, many brands look to event marketers for inspiration. Retail activations can include games, activities, photo ops, pop-ups, or live events, and companies should come prepared with an event schedule for the first day. A big event may also require rehearsal or tech runs to make sure the project goes off without a hitch. Similar to a play or a concert, a first-day event schedule should include:
The precise times that every task needs to be finished
Who the task is assigned to and how to contact them
Any equipment or props required during the event, and who is responsible for those items
Important events throughout the day such as guest speakers, networking times, breaks for lunch, etc.
The Benefit Cosmetics National Brow Day Stunt was a one-day event where brand advocates helped break a Guinness World Record for the "Most People Filling in their Brows Simultaneously." This large, public event is just the kind of experiential activation that couldn't be run without a comprehensive day-of plan in place.
Investing In Experiential Retail Activations
While the items above are best practices for experiential retail activations, they are not an all-encompassing list. These items are only a small part of a plan that should be developed based on the unique needs of your activation.
We've built retail activations for a long time, and through trial and error, found that the moving parts within an activation are best managed by a single design and fabrication partner. The right partner will develop a plan to streamline your entire activation—from budgeting and design options, to fabrication, installation and removal.
Learn how an experienced, full-service design and fabrication partner can set your next experiential retail activation up for success from the start. Schedule an introduction to Bridgewater Studio and get a free plan customized for your project.