Touring immersive art exhibits receive a lot of attention (and ticket sales). But there's a lot more to the immersive experience industry than these high-profile, and highly imitated digital media displays. The best immersive experiences may be ones you've not heard of yet. Entertainment and "retailtainment" venues, individual creators, brands and event hosts are embracing immersive installations as a way to give people a reason to visit their locations or events—and linger.
Whether temporary, touring, or permanent installations, what makes an immersive experience memorable is its ability to transform visitors' environments and draw them to interact with a physical space. Immersive experience designers may employ original designs and concepts or deliver familiar ideas, artworks or branded content in new ways.
Blending the familiar with the new, bending our ideas of reality, inviting us to become a part of a new reality–these are the hallmarks of immersive experiences.
What are some of the best immersive experiences in recent years? Here are a few of our favorites.


Seven immersive experiences that raise the bar
These fascinating and compelling immersive experiences took guests back in time and into alternative universes. Each of the following experiences delivered something unique and interactive, distinctive and memorable.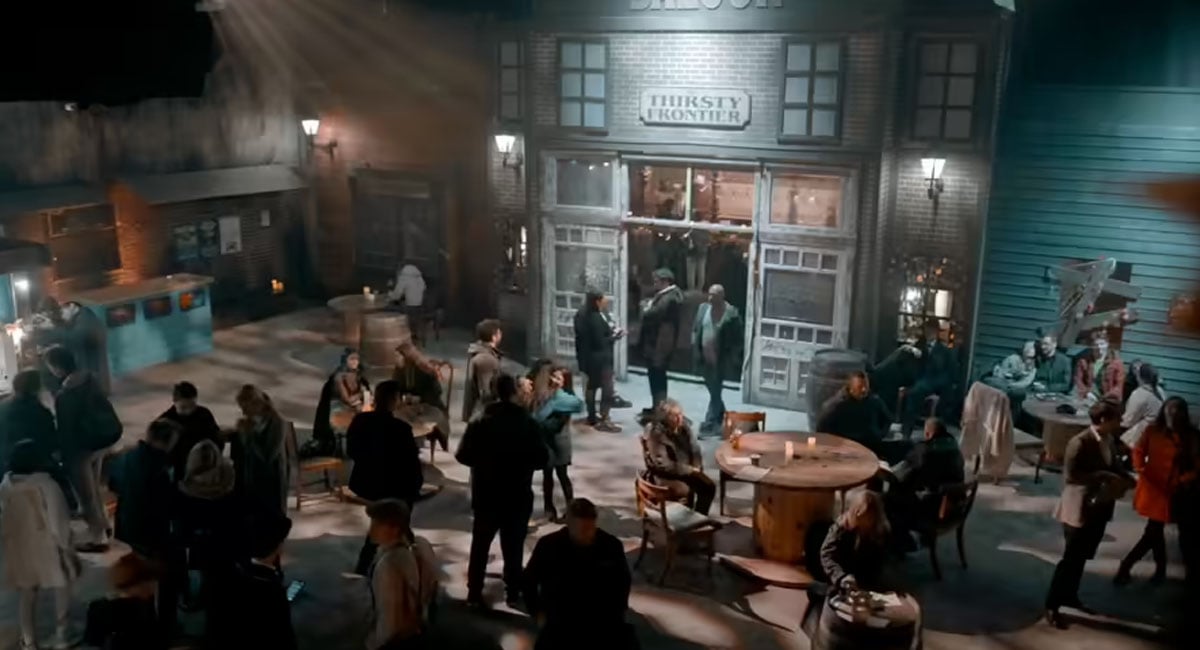 1. Phantom Peak's Open-World Adventure
Phantom Peak immerses visitors in a complete world where they can choose their own paths and interactions. For the holiday season, Phantom Peak Wintermas invited citizens of Old Town to enjoy the Festival of Winter, exploring the town, dining and drinking, viewing theater presentations or solving escape room puzzles.
London-based Phantom Peak recommends setting aside 5 hours to explore the location's various indoor and outdoor experiences. Designing a full world and creating a series of interactive elements such as slides, mirror-mazes, dining rooms and theaters is no easy feat. This experience's magnitude makes it particularly impressive.
2. Netflix's Stranger Things: The Experience
People are drawn to books, movies or series as an escape from (or glimpses of) alternate versions of reality. These formats stimulate our imaginations but often leave us wanting for more. Immersive experiences like Netflix's Stranger Things:The Experience, enable fans to step into their favorite imagined world and interact there.
The New York City Stranger Things experience offers fans hands-on access to some of the most interesting locations from the Stranger Things universe (both on the topside and in the Upside Down).
Building on a foundation of the familiar, immersive experiences that integrate intellectual property reinforce brand messaging and expand brand franchises while pleasing fans.
3. Coca-Cola United Airlines O'Hare Lounge Takeover
An immersive experience doesn't have to be big to have a big impact. Coca Cola brings travelers a comforting experience at Chicago's O'Hare International Airport with a pop-up activation that created an oasis of rest in the busy transportation hub.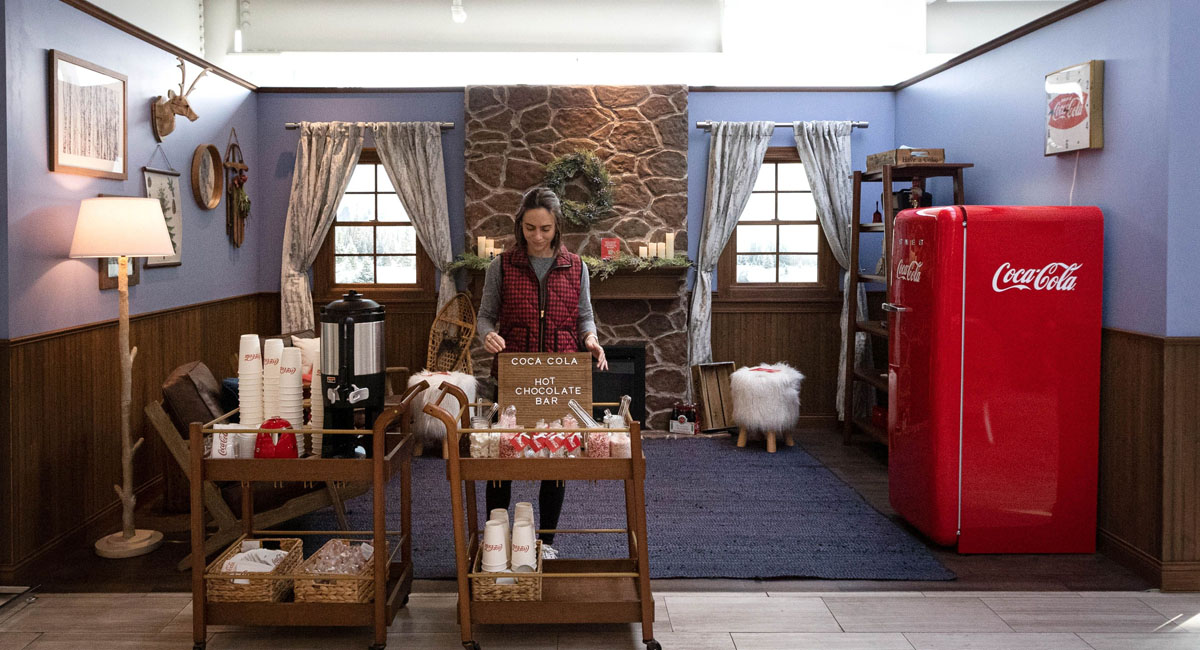 Building a cozy room for United Club members to sit and enjoy a Coca-Cola Sprite Cranberry introduces hundreds of guests to the brand and its latest seasonal flavor. The made-for-pictures 3D set generated more than 1,200 social-shareable photos, too.
Offering a one-of-a-kind space for rest and respite during the busy holiday travel season is what makes this immersive experience a truly memorable one.
4. Rubell Museum's Yayoi Kusama: Narcissus Garden
Immersive experiences create environments often covering or remodeling existing spaces in unusual and surprising ways. Yayoi Kusama's Narcissus Garden took over the central hall of the Rubell Museum in Miami from November 2020 through August 2022 with a display that invites guests to look both at it and themselves.
This transformation changes the space and stimulates self-reflection (literally). Like many experiential designs, Kusama's work is reactive.
As people enter the exhibit, their behaviors alter their own experiences and those of other guests. The reflective globes empower guests to not only see themselves but to see themselves in relation to those around them.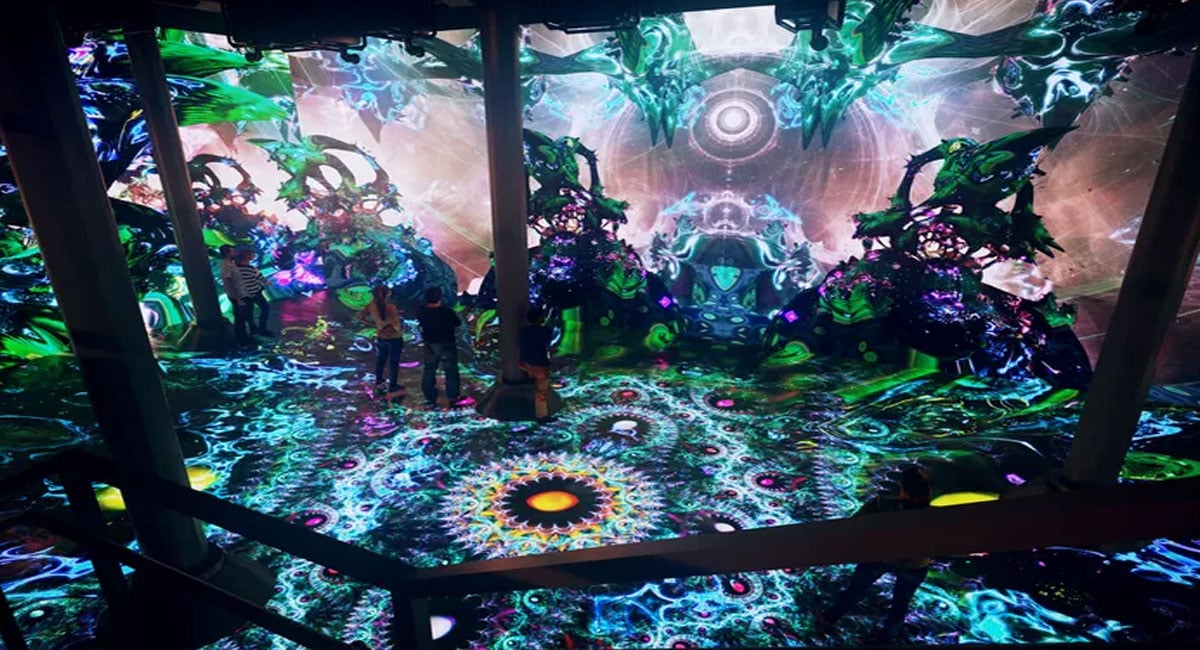 Photo: JULIUS HORSTHUIS/COURTESY OF ARTECHOUSE
5. Artechouse's changeable, extended reality experiences
Deploying digital and physical design assets, Artechouse offers guests immersive experiences that change with the seasons. The Artechouse DC Pixelbloom experience blended physical displays with virtual immersions for a burst of spring colors.
Its Spectacular Factor holiday experience invited guests to explore the grandest of holiday gift factories and participate in a scavenger hunt facilitated by extended reality. Combining location-based elements with virtual inputs and updating them regularly, Artechouse draws repeat visitors and offers them a new, interactive experience every time.
6. Particle Ink: Speed of Dark
Shrouded in mystery, fully immersive and located in Las Vegas, Particle Ink's mixed reality experience draws guests into the creators' world and invites them to become a part of it. In Particle Ink's unique metaverse, guests find their emotions stimulated and senses challenged through interaction with the physical environment and viewing live performances.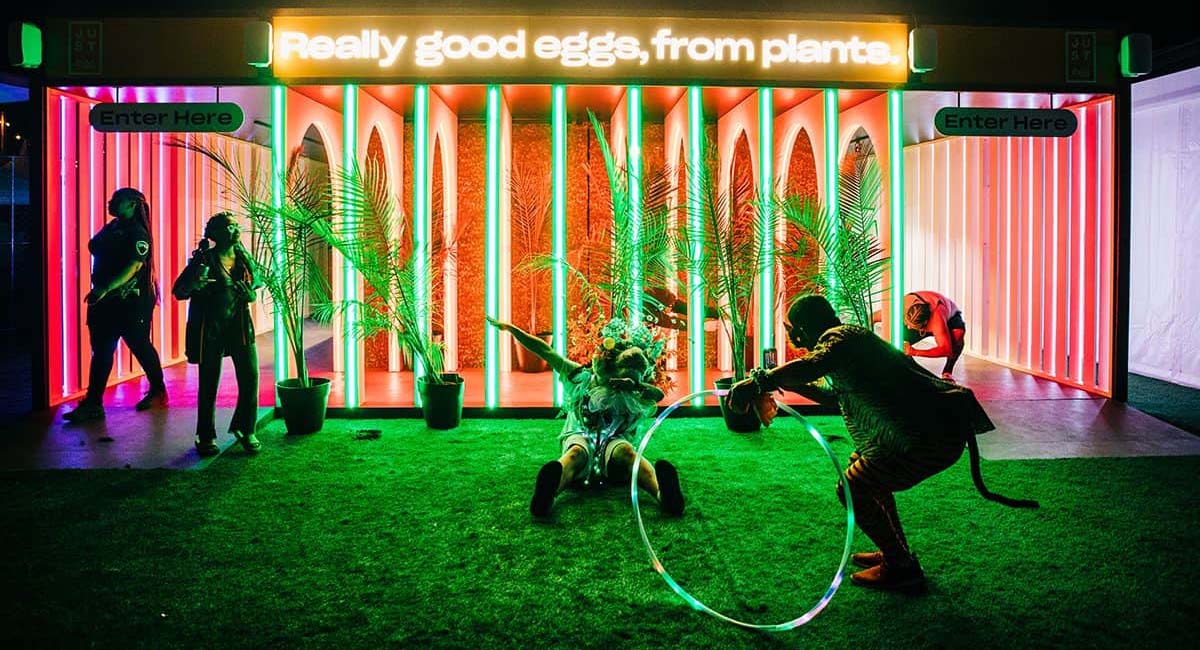 7. Really Good Eggs Summer Music Festival Tour
Introducing a new product and raising awareness in today's crowded marketplace can be challenging. Increasingly, businesses are turning to experiential marketing and event activations to earn their products and services the attention they deserve.
Eat JUST, maker of a plant-based egg alternative called JUST eggs, brought its brand activation to an ideal audience of hungry festival attendees with a six-stop Live Nation tour.
This immersive activation stayed true to the brand's persona as eco-friendly and modern while also appealing to the festival's audience with a display made for social media sharing.
What made the experience immersive?
Just Egg's mobile kitchen delivered fresh-cooked samples via conveyors and guests were invited to explore a tunnel packed with experiences and imagery representing the brand's plant-loving values. Light shows, merchandise, and, of course, music completed the experience.
How can your brand use immersive experiences to create a lasting impression?
Immersive experiences have the power to stimulate audiences' senses, challenge them to change their perspectives, and engage them with brands at a deeper level. How can you leverage this power to deliver your message to audiences?
Begin by consulting with a full-service design, production and strategy company with expertise across the entire project life cycle for immersive experiences. Schedule your introduction to Bridgewater Studio today and let us prepare you for a seamless process with a free, customized project plan to build your one-of-a-kind immersive experience.