Whether the goal is to boost sales, launch a new product, or simply grow an audience, experiential marketing has become the go-to strategy for a growing number of B2B and B2C brands. Why? In-person events and experiences are the best way for brands to engage face-to-face with customers, build trust, and generate positive word-of-mouth in a setting that doesn't feel transactional.
At the end of the day, however, there are still design objectives to consider.
How can a brand pursue its goals in a non-commercial environment? How much branding should be present in an experiential marketing campaign? Can a marketing experience be effective without heavy-handed branding?
A successful experience can, indeed, deliver a unique, memorable, spontaneous moment that also includes a well-planned brand presence. In this article, we'll explore the many nuances of branding and experiential marketing, and how they can both work together to accomplish a variety of goals for your brand.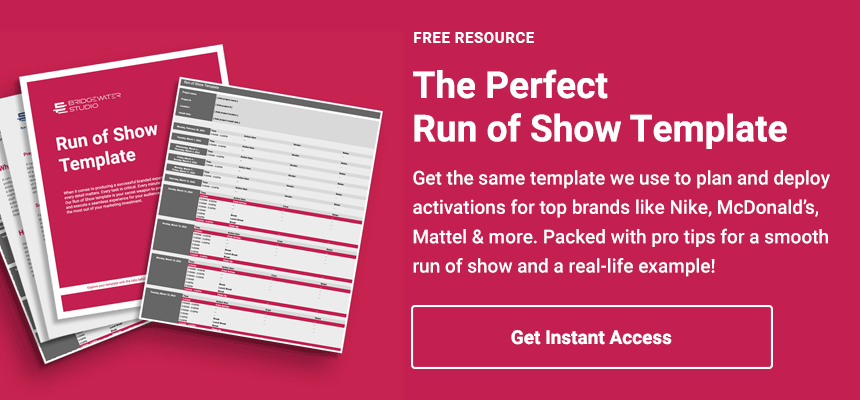 Branding & Experiential Marketing: Striking the Right Balance
A successful experiential marketing campaign forms a meaningful connection between a brand and its customers. In some campaigns, a brand presence is at the forefront. For others, a charitable cause or cultural event may take center stage. The role of branding, in either case, should be determined early in the planning stages, with consideration to the intended result for both the audience and the brand.
The Difference Between Experiential Marketing and Branding
Experiential marketing refers to planned, in-person experiences, typically designed to increase brand awareness, foster brand loyalty, generate leads, inspire direct conversations, or drive sales.
Branding is the process by which a company defines and develops a marketable identity, as well as the actions it takes to promote that identity.
Lululemon, for example, is an athletic apparel brand. Their experiential retail stores are community-focused, featuring fitness studios that offer classes—but also offer an option to test the brand's products. The classes are innovative examples of experiential marketing, as they get the brand face-to-face with customers in a way that promotes community and brand ideals.
The branding itself consists of messaging and aesthetics that Lululemon has created for itself, such as their mission to help customers "be well in every area of their lives". The retailer's branding and experiential marketing efforts have resulted in their rise to the top of athleisure, with a dedicated audience who trusts and invests in its products.
Setting Goals for Experiential Activations
Lululemon's experiential marketing strategy owes its success to a carefully measured balance of customer needs and brand goals. In other words, by first satisfying their customers' needs with an exceptional experience, the brand earned the opportunity to sell its products to a loyal audience. Other brands can follow this example by taking the time to clearly define the purpose of a brand activation—and its goals—as early as possible.
Common goals for experiential brand activations include:


Goal: Educate and Inform
Activation Idea: Workshops and Classes
For brands with a new product or service, workshops or classes can be an effective activation. The classes held at Lululemon stores allow customers to try out products for free, while Lululemon provides an informative resource that aligns with their own goals to be healthy and fit. As a bonus, workshops and classes can be held in-person, online, or both, offering brands a lot of flexibility and return on their investment.


Goal: Familiarize Customers With Products
Activation Idea: Product-Focused Events
We've all seen this form of experiential marketing in practice at the grocery store, with food brands offering free samples to shoppers. The goal for these companies is to help customers gain awareness of their products and, hopefully, purchase them. Product-centered activations are an effective strategy for brands of all kinds, from cookware to software. Product demos, free trials, and free samples go a long way toward promoting brand awareness, especially in a location filled with your target audience.


Goal: Support a Cause
Activation Idea: Partner With A Charity
Businesses that want to support a worthy cause can do a lot of good by partnering with a charity for a memorable event. Consider the star-studded Met Gala, a charity event held at the Metropolitan Museum of Art in New York City each spring, or London's creative H2Only water-only bar that encouraged customers to skip purchasing expensive drinks like alcohol or coffee and donate to charity. A compelling concept that involves customers and keeps them engaged and focused on the message can be very effective for raising funds—and awareness.


Goal: Brand Awareness
Activation Idea: Sponsor or Partner For An Event
For brands that don't mind sharing the spotlight, co-branding and event sponsorships can represent an opportunity to reach a bigger audience. Examples include everything from Red Bull and Stratos to YouTube at Coachella. Brands that have similar audiences benefit from extended reach, building awareness, authority, and trust with new customers. Sponsorships can include a brand presence at conventions, community events, music festivals, and more.


Goal: Sales
Activation Idea: Pop-Up Retail Experience
Pop-up retail activations can attract foot traffic from both existing and new customers with the lure of an immersive experience. These can include one-time events, such as Barkbox's week-long retail pop-up BarkShop Live, or an e-commerce store experimenting with a brick-and-mortar, like Havenly Interior Design first did with their "Hideaway" pop-up. Both types of events get brands in front of their customers in unexpected places and unexpected ways, creating the perfect opportunity for a memorable experience.
How Promotional Should Brand Activations Be?
Activation Type: Educational or Informative
Branding: Secondary
In educational activations, the role of branding is often secondary to the goal of teaching something to the audience. The audience should leave with the impression that the brand is helpful. Branding should be understated.


Activation Type: Supporting A Cause
Branding: Through Shared Values
Activations that are designed to support a cause should take a light-handed approach to branding. Ideally, the brand will be tied to a cause that it has common traits and characteristics with, such as being supportive of the local community or environment.


Activation Type: Sponsoring An Event
Branding: Secondary

Similar to supporting a cause, when a brand is sponsoring an event, the focus should be on the event. Whether it's a local industry gathering or a high-profile cultural event like NBA All-Star Week, audiences are primarily focused on the event itself, and brand sponsors should leverage their shared values to enhance the audience experience.
Activation Type: Product-Focused
Branding: Promotional

A product-focused event has a clear and direct association with the brand. An activation with the goal of promoting a new product release, for example, should leave the audience with a memorable impression of the brand and the product. In many cases, brands won't be selling directly to customers during an activation and must rely on positive brand recognition later in the audience's buying journey.
Activation Type: Sales-Focused
Branding: Promotional
A sales-focused activation is about selling products directly to an audience. Common examples include retail activations and store-in-store concepts, both designed to transform the typical shopping routine into an immersive experience. Here, an overt brand presence is appropriate and can support both sales and awareness goals.
Brand Awareness
Branding: Promotional
Brand activations that are attention-grabbing and created purely for brand awareness should prominently feature the brand, and often do so in an irreverent way. These can include innovative and unexpected large-scale sculptures, photo opportunities, and art installations that help the brand stand out, but focus on the experience, rather than it products.
Tips For Planning An Experiential Branding Activation
It can be challenging to plan an experiential marketing campaign with the perfect dose of branding. In our experience, some of the best ways to pull it off include:


Determine the brand message and objectives before deciding on the kind of activation.
There are many different types of experiential marketing campaigns. To choose one that matches the intent of a campaign, brands can start with the goals of the activation, as well as the overall brand message. For example, a goal to increase product sales could result in an activation that gives away free samples or offers product demos.


Decide what the audience should take away from the experience.
At the end of an activation, customers will walk away with impressions of the brand. The preference is that the impressions are positive, of course, and there can be other goals for post-activation as well. For example, brands can send follow-ups via social media and email marketing for audiences to take further action, whether the goal is email sign-ups, photos shared from an event, product demos, trials, or more.


Get an experiential marketing company involved from the very beginning.
A full-service experiential design and fabrication company guides brands through the entire project process from start to finish. With creative, technical, and project management expertise, they will ensure your concept is feasible, your budget and timeline are realistic, and that every detail is accounted for—from planning to design, fabrication, and installation.
Partnering With An Experiential Marketing Company
As experiential marketing continues to provide brands with new ways to reach audiences, the scope—and complexity—of those experiences continues to grow. Top brands are constantly raising the bar with elaborate events and activations, and technology is making it all more accessible than ever before.
Needless to say, planning a brand experience can be overwhelming. Fortunately, an experienced, full-service partner can turn an otherwise chaotic project into a streamlined process that optimizes your budget and delivers remarkable results.
To learn more about working with a full-service experiential design and fabrication company, schedule a no-pressure introduction to Bridgewater Studio today. We'll customize a free project plan for your activation so you'll be set up for success from the start.