Once upon a time, hospitality interior design was all about conformity and consistency. People flocked to branded hotels and motels because they knew each one would be the same. They liked knowing what to expect and not having to adjust to an unfamiliar environment each time they traveled. But then, people realized, what's the fun in that?
Today's travelers are in the mood for something new, something interesting, something adventurous. Hospitality interior design has changed, too. Top hospitality brands don't want to offer the same experience as their competitors. Customized, localized, one-of-a-kind hospitality interior design is in.
What brands are setting the pace and making a lasting impression on guests with 'outside-the-box' interior designs? We share some of our favorites in this article.
What is hospitality interior design?
Hospitality interior design is a distinct category of interior design serving the needs of the hospitality industry. This sector of the design industry is the creative force behind the experiences provided by hotels, luxury spas, restaurants, private clubs and similar recreational spaces.
Guests at hospitality venues may come for a few hours, stay for the day or book an extended stay. They are high-traffic environments entertaining guests with high expectations. Designers for hospitality must develop spaces that are functional, durable and deliver an excellent experience to every guest.
Hospitality industry businesses served by hospitality interior design typically fall within one or more of the following categories:
Food and beverage companies including restaurants, bars, catering companies, and related services.
Accommodation businesses such as hotels, spas, resorts, and vacation rentals.
Meeting and events venues and planners for individual or corporate events.
Travel and tourism organizations such as travel agencies, tour guide services and cruise ships.
Attractions like theme or amusement parks, zoos, museums, and other location-based experiential environments.
Entertainment venues such as theaters, casinos, and performance or sports stadiums.
Recreation locations including campgrounds, gyms, sports parks, ski resorts and golf clubs.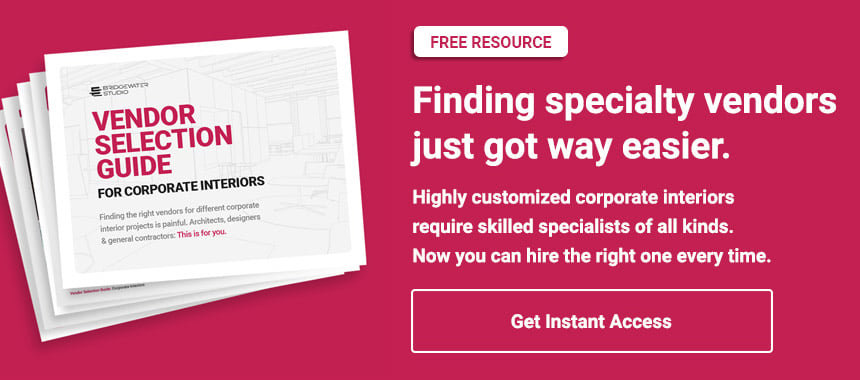 Why should hospitality businesses care about hospitality interior design?
Whether a local coffee shop or a luxury resort, hospitality spaces survive and thrive by providing extraordinary services to their guests. Hospitality guests expect easy access to the location's amenities, a comfortable and relaxing or entertaining setting, and suitable ambiance. This makes designing an ideal environment critical for success and hospitality interior design a challenging niche.
The best hospitality interior designs combine superior functionality with positive, memorable guest experiences that win the host brand repeat visits. Achieving that level of excellence in design requires an in-depth understanding of the type of hospitality services being offered, the venue's unique value proposition, brand style and defining characteristics and its ideal guests' wants and needs.
Staying on top of the latest design trends and consumer expectations is essential to maintaining guests' interest and loyalty.
What are the trends behind today's best hospitality interior designs?
Among the top design trends driving hospitality interior design today are customization, localization, continuity and inclusivity.
Customization
When themed-locations and franchised businesses first hit the scene, their popularity was founded on the idea that people wanted sameness. People wanted to know what to expect when they entered a specific brand's restaurant or hotel no matter where it was located.
Today's consumers are a lot more adventurous. Modern hospitality customers seek experiences that surprise and delight, aided by digital resources that allow them to preview a location and read other consumers' reviews that help them avoid unpleasant surprises.
What this means for hospitality interior design is that each hospitality environment must not only provide all the expected amenities and functionality but also deliver a distinct experience.
Consumers no longer want to encounter the same lobby design or restaurant-hotel pairing everywhere they travel. They want to visit places that offer them something new to discover (and share online). For this reason, hospitality businesses are moving away from off-the-shelf furnishings and decor and instead populating their spaces with custom-designed pieces that show the location's unique style.
Localization
Localized designs are an especially powerful way to create one-of-a-kind interiors. A hotel may have standard specifications for every room or minimum requirements for each lobby, but no two hotels are located in the exact same place. Adding local touches ensures that each of the brand's locations is distinct. Adding regional touches to a built environment's design makes it more memorable and reinforces guests' sense of place and their emotional attachment to the location.
Continuity
How does continuity fit into the drive for differentiation? Through the experience each location of a restaurant, spa, or other hospitality venue delivers. Consumers don't just want to see something different when they enter a space, they want to experience something different. This requires a coordinated design process that brings together all the elements of the environment to deliver a connected experience.
For instance, a design might pair a hotel with rooms built inside repurposed train cars with a depot-style diner and rail-travel themed decor throughout common areas. A conference center might use coordinating themes and colors for designating different areas within the larger space and use these same motifs in its wayfinding system.
Sometimes referred to as immersive experiences, a coordinated interior design sets the stage to elicit specific emotions and then maintains continuity throughout so that the illusion isn't broken.
Inclusivity
Finally, hospitality interior design is designing for customer service. Spaces built to welcome guests and serve their needs must put inclusivity foremost so that every guest feels secure, comfortable and welcomed. Examining the guest experience from a diversity of perspectives helps top hospitality brands surprise and delight each person who enters their business.
What does amazing hospitality interior design look like? Check out these examples.
Five examples of hospitality brands bringing their interior design A-game
1. Habitas Alula in Saudi Arabia immerses guests in the natural environment without sacrificing luxury. The entire resort merges with the local terrain and its interiors deliver comfort while embracing the area's spectacular views. Windowed villas with full-length curtains allow guests to choose when they need a break from the sun.

2. Restaurant Azurmendi spotlights its values by making sustainability the central theme of its interior design. The restaurant employs biophilic design techniques to incorporate local plants into the space and skylights that allow natural light to nurture its plant and human occupants.


3. Graduate Hotels adds distinctive (and memorable) flair to every location. Guests at the Graduate Hotel in Eugene Oregon won't forget the duck of unusual size that greets them in the hotel's lobby.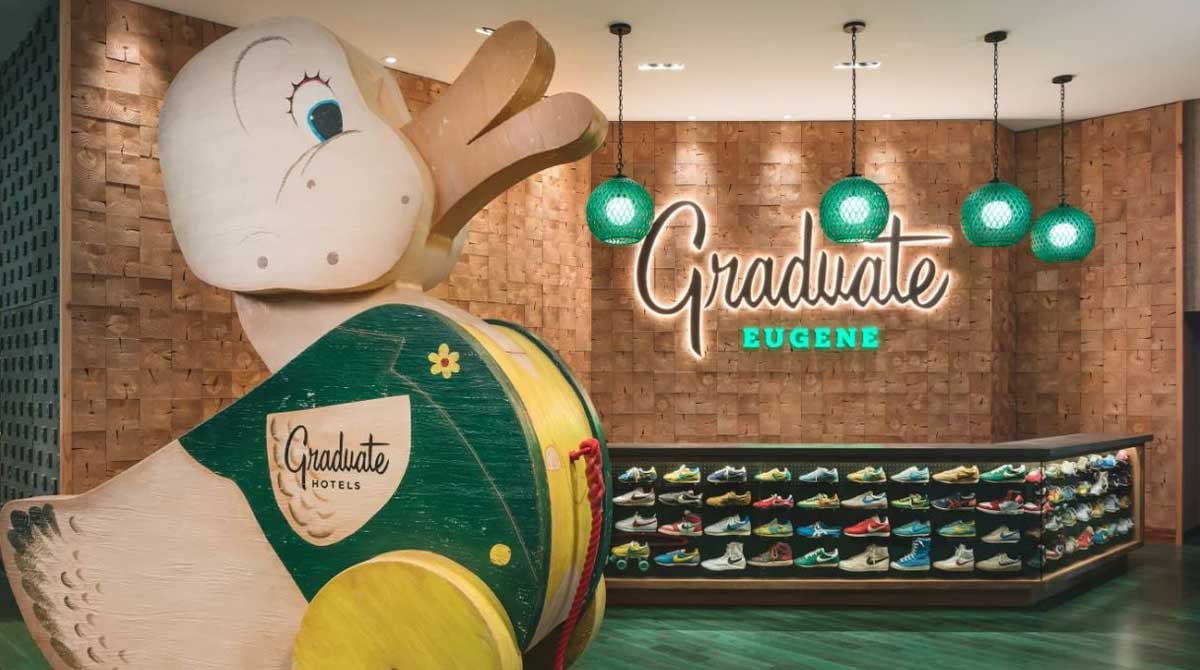 Meanwhile, New York City Graduate Hotel guests are greeted by an entirely different, yet equally memorable, giant. A 13-foot Flyboy sculpture oversees the check-in desk offering visitors illumination.



4. JW Marriott fascinates visitors with sculptural and experiential elements, like a hidden butterfly garden, they won't find anywhere else.


5. Mondrian Hotels share a common abstract vision across locations, while making each one unique with fully customized lobbies. Visitors don't just know they are in a Mondrian, but which Mondrian when they visit the Park Avenue, Doha or Seoul locations.
Surprise and delight your guests with one-of-a-kind hospitality design
Delivering the same experience at every location is a recipe for boredom and disappointed guests. It's time to create spaces that are built to surprise and delight the people who visit them. The process starts with a viable design strategy that meets your brand's objectives and your customers' wants and needs.
You don't have to come up with your next great interior on your own, though.
A full-service design, fabrication and strategy company with expertise in hospitality design can provide project support from ideation to installation. Discover how easy it is to reimagine your guest experience by scheduling an introduction to Bridgewater Studio today.