Environmental branding and experiential design are two terms commonly used by architects and designers in the planning of physical spaces for corporate interiors. While many of the same principles and design elements apply to both disciplines, they serve different purposes.
Experiential design for corporate interiors is a thoughtful approach to shaping the mood and atmosphere within an office space, and the way audiences interact with it.
Corporate settings that include environmental branding are bringing brand identity, mission and culture into their office design.
For project managers tasked with bringing corporate interior design concepts to life, understanding the intent of each, and how they often work together, can lead to more successful executions.
In this article, we'll explore the differences between environmental branding and experiential design for corporate interiors. And, we'll answer common questions that surface with projects that incorporate these practices.
What vendors have the custom fabrication and installation capabilities needed? Are certain design and fabrication services better suited to environmental branding? Are others specific to experiential design?
Answers to questions like these will help you find experienced vendors with a streamlined fabrication process, the right equipment, and installation expertise – setting your projects up for success from the start.
What is Corporate Environmental Branding?
Environmental branding infuses a company's personality, messaging, culture or values into a space through the use of architectural and design elements. In a corporate setting, environmental branding can inspire company pride, encourage productivity, and cultivate strong interpersonal relationships between workers – all by creating spaces that shape the experience of the audience interacting within it.
Examples of environmental branding in corporate office settings can include:
Quote walls
Company history walls
Community walls
Thematic wayfinding signage
Specialty furnishings and fixtures
Board rooms
Interactive activities
Employee engagement areas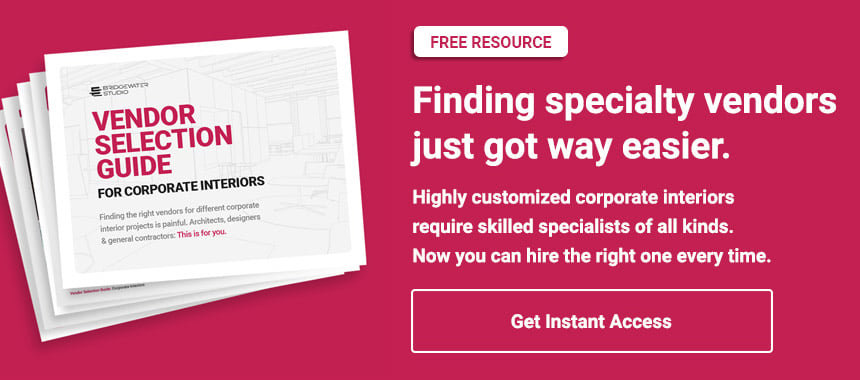 What Design and Fabrication Services Are Used in Environmental Branding?
Corporate interiors often focus on large format office wall graphics with specialty vinyl or paper materials that require wide-, large-, or grand-format printing.
Larger images, logos, and dimensional signs may need CNC services for laser cutting, routing and relief carving to produce intricate details or fabricate multiple parts.
Vendors experienced in CNC machining and assembling multiple parts will be prepared to take complex fabrications from design to finish. The best design and fabrication studios will have a multidisciplinary skill set, with the right CNC equipment, and full-service capabilities in-house. To get the most value out of these studios, involve them as early in the process as possible. You'll benefit from their input on everything from material selection to final installation logistics.
What is Experiential Design?
Experiential design is used to consciously and subconsciously shape human interaction with a physical space. In corporate interiors, it seeks to influence the actions and perceptions of an audience in the workplace.
Successful experiential design elicits different emotional and intellectual responses from employees and clients as they move through corporate interiors – whether it's an art installation in a waiting room meant to handle the increased dwell time, or office graphics on a conference room wall meant to inspire focus and creativity.
Vendors with a strong grasp of experiential design can provide important guidance from the schematic phase through to final installation, ensuring every decision is aligned with the intended result.
Experiential design in corporate interiors draws from several disciplines, including:
Graphic design
Industrial design
Sound & lighting design
Infographics
Much more
What Design and Fabrication Services Are Used in Experiential Design?
Environmental branding is a subset of experiential design. That is, the built environment of a corporate interior may focus on creating a desired experience with, or without, the use of branded elements. The elements in an office interior design—branded or not—won't affect the ways corporate interiors use design and fabrication services.
Experiential design, like environmental branding, may include signage, wallcoverings, custom millwork, lighting integration, sculpture, art installations, and a host of other features to bring a corporate interior design to life.
Experiential design may require fabrication services like CNC routing, large-format printing, vinyl wrapping, metal fabrication, custom upholstery, and more.
Installation services for both experiential design and environmental branding may include site survey, permitting, art installation, onsite stencil graphics, and other specialty skills associated with activation planning.
Finding Vendors for Corporate Interior Projects
Corporate interior design projects have a lot of moving parts. Success often hinges on the abilities of multiple vendors and contractors to deliver high-quality, error-free results on time, and on budget.
Project managers who need to bring environmental branding and experiential design concepts to life in corporate interiors will find many benefits in partnering with a full-service design and fabrication studio. With a multidisciplinary skill set, these studios can typically fabricate and install every element specified in a design concept. Projects will benefit from a streamlined fabrication process, a single point of contact, and an expert perspective to anticipate and solve problems before they arise.
Most importantly, the best design and fabrication companies understand how environmental branding and experiential design come together to make an office interior work. They know the many reasons why projects fail, and can offer valuable recommendations to optimize time, cost and quality across an entire job, helping project managers—and their firms—shine.
Interested in streamlining success for your next corporate interior project? Whether it requires experiential design, environmental branding, complex fabrication, or just an installation – start with a 30-minute introduction to Bridgewater Studio, and get a free, customized plan to set your entire project up to win.