From the parts to construct a pop-up shop to a custom-built reception desk, CNC machining can create just about anything. As the go-to fabrication method for architects, designers, artists, and brands in creating decorative custom pieces for brand activations, exhibits, corporate interiors, sculpture, and art installations, there are a variety of CNC shops available to help bring a vision to life.
However, all CNC providers are not the same. With multiple areas of specialization, different CNC shops come with different equipment, material options, skill sets, and capabilities. Needless to say, it's important to match your project up with the right CNC shop.
CNC Cutting Services: 11 Important Questions To Ask
While commonly used for high-volume industrial manufacturing of metal parts, CNC machining can also be used for detailed woodwork and millwork. CNC machining continues to expand to other applications, giving brands the opportunity to construct a number of custom elements for corporate interiors, experiential brand activations, and much more. In this article, we'll help architects, designers, brands, and artists in their search by sharing important questions to ask and what answers to look for in a potential partner.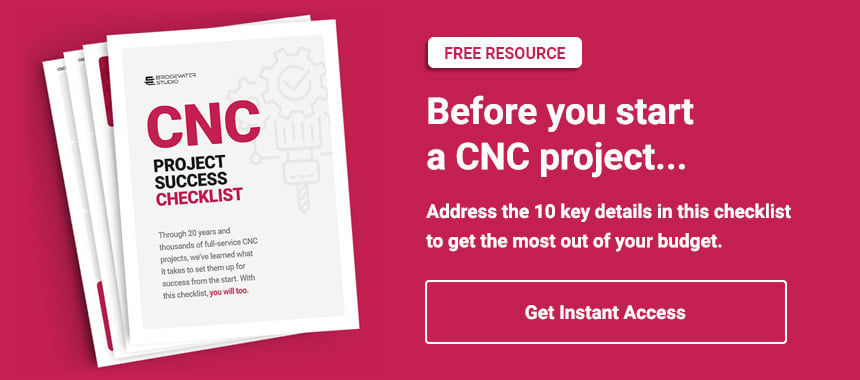 1. What is the typical turnaround for a CNC project like mine?
The timeline for a CNC machining project will depend on a few variables. However, when asking a studio this question, brands should be able to get a clear answer. Most shops can use their previous experience with a project type and articulate their process with well-defined steps.
2. What material would you recommend? Why?
While some CNC shops are limited to metals and wood, the most versatile CNC services will work with multiple materials. Not only will they have experience with metal, wood, and marble, but also plastics such as PVC, HDPE, UHMW, and ABS, composite materials, such as dibond, and both low density EPS and high density rigid Polyurethane foams. CNC shops should also be able to make recommendations based on cost, durability, quality of details, and other factors.
3. Can you source the recommended materials?
To prevent delays and changes to budgets, work with a CNC vendor that has access to the material specifications. If the vendor plans to source the materials, it's almost a guarantee that the timeline or budget will be challenged, at the very least.
4. Do you have experience cutting the recommended materials?
If the shop has experience cutting the recommended materials, ask for examples. It's important to know that the shop is capable of delivering a clean finish and detail fidelity. This will ensure that any custom office interior elements or brand activation displays are of the highest production value. Brands should also inquire about dimensional accuracy. If they do not have experience cutting the recommended materials, verify that parts can be cut with their equipment, and verify cut strategies with render clean finishes. Brands can also help develop a process for getting clean finishes to expectations on finish quality and production times.
5. What is the finish of the parts?
The finish of the parts will impact the quality of the final product. CNC shops should be able to confidently describe the quality of the finished cut. Professional shops should offer clean cuts and parts, or the services to clean them up if needed.
6. What is the largest part you can cut?
Larger cuts mean less seams and less waste, as well as a higher degree of dimensional accuracy. Professional scenic shops or design and fabrication companies should run a machine that can handle 4x8 or 5x10 sheet goods (the raw materials).
7. Can you pull cut profiles from a 2D drawing or 3D model?
Professional shops should be able to access information for CNC cuts from 3D files, interpret 2D drawings, and plan the right cuts accordingly. This is where experienced fabrication and design studios can be a great option, because while smaller shops and hobbyists may be able to do this in rare cases, it will be in a more limited scope. Many shops are only able to cut from the exact information that is given to them.
8. Do you do relief carving of 3D objects?
Deeper cuts for larger parts means less slices and pieces to reassemble. This is a more efficient process, and requires that studios have equipment built to cut deeper. Generally, this means that overall, brands have great dimensional accuracy and less labor to clean up seams. For brands, this translates into less waste and cost savings.
9. Do you have a 5th, 6th, or 7th axis on your CNC equipment?
This question applies to carving 3D shapes with advanced CNC equipment. In general, more axis means less undercuts and hand finishing. These multi axis machines excel in reducing machine setup times, considering the time to load the stock, position it, and secure it to the CNC table, because fewer cuts are required to achieve complex details. If the studio does not have a 5th, 6th or 7th axis, brands should ask how their process compensates for this.
10. Do you outsource?
Depending on their in-house capabilities, CNC machining shops may or may not need to outsource parts of their process. It's always important to know if shops do this, as it may add additional time and unnecessary cost to your project.
11. What other fabrication services do you offer?
Brands looking to hire a CNC cutting service can choose from a number of experienced shops. For complex projects, such as redesigning a corporate interior or launching a brand activation, however, a full-service design and fabrication studio is a one-stop shop. A full-service company will not only provide the complete scope of design and production services, but will also manage every detail from initial planning to final installation.
Hire the Best CNC Cutting Service for Your Needs
To learn how a full-service design and fabrication company provides the widest range of CNC services and more, schedule a no-pressure introduction to Bridgewater Studio today. We'll customize a free project plan to ensure you're choosing the best partner for the job—setting you up for success from the start.