Experiential marketing activations, which can range from fun pop-ups to larger-than-life events, give brands the opportunity to connect with their target customers face-to-face.
When done right, these experiences will leave a positive lasting impression on an audience.
However, an activation that misses the mark can fall flat and turn your customers away. Knowing this, it's essential for brands to nail the key components of a successful experiential marketing activation.
One of the most important aspects of an activation are compelling experiential marketing displays.
Creating Engaging Experiential Marketing Displays
Experiential marketing displays can come in many forms, but are typically custom-made objects, signage, art installations, and more. Here are a few examples of the types of displays that many brands use in experiential marketing:
Exhibit booths
Pop-up experiences
Kiosks
Wall graphics & supergraphics
Activities & games
3D elements
Photo ops
Retail environments
Customized Vehicles
Signage
When these designs are aligned with the vision, goals, and expectations for your activation, they can help create an immersive, vibrant environment for your customer. There are a few characteristics that every engaging display will have, and in this post, we'll share top tactics for creating memorable displays to build an unforgettable experience.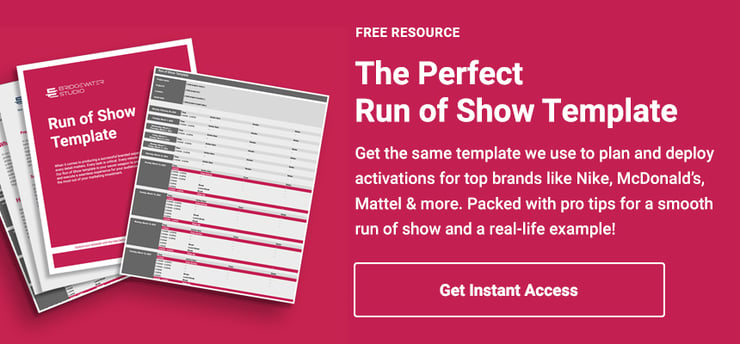 Bring Customers On A Memorable Journey
A lot of companies turn their experiential marketing displays and installations into one-of-a- kind adventures for their customers. A few recent examples include:
These marketing displays are accessible and fun for the target audience. Customers aren't going to forget catching a pack of applesauce in the park or scaling a rock climbing wall made out of furniture.
Create An Immersive Environment
A lot of brands partner with experiential marketing companies to build immersive installations and displays that make customers feel like they've stepped into a different world. Some of our favorite displays include:
As these types of immersive art installations continue to grow in popularity, brands can take advantage of this growing medium by creating their own sensory experiences.
Align The Online and Offline Customer Experience
A successful experiential marketing display inspires customers to connect with a brand face-to-face. Social media can compliment those connections, giving customers a space to share their positive experiences with a brand. The companies who have used their displays to align the online and offline customer experience include:
Whether it's a hashtag or a selfie, brands that encourage their audiences to spread the word about their experiential marketing online can get even more mileage for their campaign.
Match The Brand Voice and Identity
Brand voice and identity are vital components to a cohesive experiential marketing strategy. These experiential marketing displays were built around a unique brand voice and identity to deliver exceptional experiences:
By leveraging brand voice and identity, these brands were able to tap into the heart and soul of their companies, creating one-of-a-kind displays.
Offer Exclusive or Limited Time Deals
Exclusivity can generate buzz and inspire customers to take action, which is a popular marketing tactic that can work very well for brands. A few experiential marketing displays that have used exclusivity or limited time offers to drive engagement include:
Brands can build an entire experience around anticipation and exclusivity, which can be used in virtually any industry for a successful experiential marketing campaign.
Building A Unique Experiential Marketing Display
Whether it's an exhibit booth or a pop-up experience, creating an experiential marketing display can be a huge undertaking. In addition to developing a strategy that aligns with marketing and sales goals, the actual design, installation, and breakdown of a display will take a lot of time and resources. While there are a number of vendors to hire for this type of work, a fully-integrated design and fabrication company can take projects from start to finish with unparalleled efficiency.
Schedule an introduction to Bridgewater Studio today to learn how, and get a free project plan customized for your next experiential marketing campaign.