Today, companies everywhere are refreshing their corporate office interiors with sleek, modern design. Thanks to innovations in 3D printing, CNC machining, and other advanced production equipment, brands have the opportunity to create custom-built design elements that generate buzz well beyond the office walls. For many brands, this translates to a reception desk that isn't just a place for visitors to check in, but a bold focal point for a memorable first impression.
In this article, we'll discuss the basic elements of a modern corporate interior and how brands leverage custom fabrication to transform reception desks into the show-stopping centerpieces of their offices.
Designing The Perfect Reception Desk and Lobby
There are limitless options for a lobby or reception desk design, but before starting on a redesign, brands must consider the primary function of a desk and reception space. On a day-to-day basis, the functional requirements of a reception desk and waiting area include:
Welcoming visitors to the office
Providing a comfortable waiting area
Expressing the brand and culture
Help employees perform their daily duties
With the right approach, brands can leverage a remarkable office interior design to create a one-of-a-kind visitor experience—without sacrificing the core functions of a reception desk and lobby.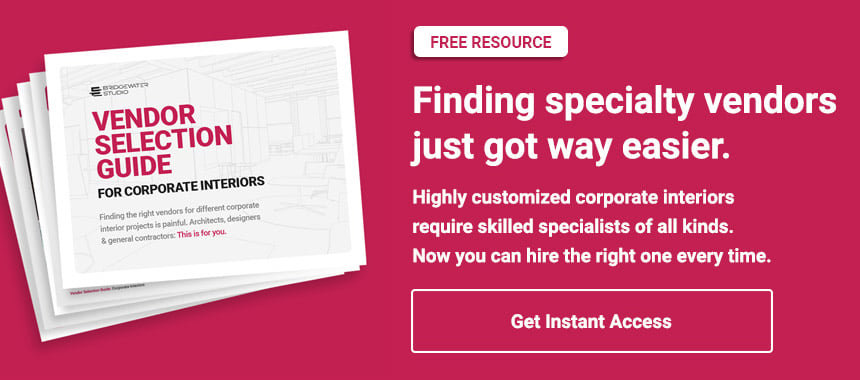 The Elements of a Reception Area
To provide a cohesive experience, a successful corporate interior design will keep the look and feel of a reception desk design and lobby consistent. Considerations for the overall reception area or waiting room space may include:
Soothing Lighting: The choice of lighting sets the mood for any space. As many reception areas are small, natural sunlight is preferable.
Quiet Acoustics: The music and sound within a lobby can also reflect culture and set a tone. If emphasizing a quiet, more professional setting, brands may include elements with sound-dampening qualities, such as carpets or specialty materials for the walls and ceiling.
Cheerful Greenery: Natural greenery is an easy way to make a space more pleasant for clients while they wait.
Consistent Color Scheme: A space should have a color scheme and style that matches a company's brand and feel, i.e., innovative, traditional, youthful.

Artwork:

An office wall art installation or corporate office graphics can contribute to the look and feel of the space in many ways.
Companies can further support design elements with their choice of comforting amenities for clients, such as industry-related magazines on coffee tables, coffee and tea service, charging ports, and custom furnishings.
Reception Desk Design: The Basics
When planning a reception desk design, two major considerations are the location and size of the desk, which will vary based on the needs of the space.
When selecting the location for a reception desk, brands should ensure that it is positioned where:
The desk is immediately visible to anyone walking in
It draws the eye and is the obvious approach point for arriving clients
The path to it is unimpeded and clear
When planning the size of a reception desk design, brands should consider the role it needs to play in the day-to-day duties of employees. For some companies, a reception desk is a brief stop-over where staff can greet clients before ushering them into offices. For others, it's a place to conduct more involved business transactions, consultations, or document handling.
Companies can choose the best size for their reception desk by answering questions such as:
What job duties will receptionists have that may require space?
What actions will clients take at the reception desk?
What items will need to be stored in or around the desk?
Does technology serve any role for the client or receptionist?
Once the basics are covered, companies can consider branding and storage components, such as signage, decor, wall displays, cabinets, shelves, and more. With a well-designed reception desk area, companies have the opportunity to improve the experience of both clients and employees.
Reception Desk Designs: Choosing A Partner
For many brands, designing a reception desk and lobby quickly becomes a daunting challenge. That's why companies frequently rely on the turnkey expertise of corporate interior design and fabrication firms. By working with a full-service partner from the very beginning of a project, companies can:
Develop innovative design concepts
Explore design feasibility
Receive expert guidance on materials and production methods
Ensure a seamless build and installation process
Delivering value over the entire project lifecycle, a full-service studio will help create an accurate budget, a realistic timeline, and solutions to common problems before they arise.
Creating A Custom Reception Desk Design: The Cost
The right partner will also help companies push their creativity and explore options for their reception desk they may not have considered. An experienced studio will know how to budget for a highly-customized reception space through:
Material Selection
Materials have the most significant impact on cost. It is far more expensive, for instance, to use solid wood instead of a wood veneer or laminate. While metal is highly durable, it may not fit the image of more traditional or conservative brands. Glass pieces can look sleek and professional, but may come at a high cost. A full-service design and fabrication studio will know how to select pieces that not only fit the project budget, but align with the function and design of the space. As a bonus, many have relationships with suppliers that may cut down on costs.
Creative Desk Shape and Design
The size and shape of a desk will also be an important cost factor. As the size of the desk should depend on the function it needs to serve, a reception area may need to be large. A studio can be a tremendous resource in choosing the shape and design of a desk and how it relates to the work that needs to be done there.
Custom Millwork
Custom millwork is increasingly common in reception desks and office interior design—and it's not just for wood. Today's CNC machining equipment can also work with metal, acrylics, concrete, textiles, and many other materials, helping companies and design studios bring elaborate, decorative concepts to life.
Reception Desk Design: Getting Started
A well-designed reception desk is the centerpiece of a welcoming lobby area that will leave a lasting impression on guests. By hiring a vendor who can manage the entire design, fabrication, and installation process, companies can leverage a stunning reception desk design to provide an experience that promotes brand values and, ultimately, leads to positive business outcomes.
Ready to get started? Share your vision with the corporate interior specialists at Bridgewater Studio by booking a no-obligation strategy session today.