Artist Hebru Brantley's comic-inspired Flyboy character has been making a statement and drawing fans for more than a decade. Flyboy is featured along with Lil Mama in paintings, prints, sculptures and even an immersive experience called Nevermore Park, installed in the Pilsen neighborhood of Chicago. In vivid color or monochrome, in 2D or 3D, Flyboy was a hit.
But in 2020 Brantley took Flyboy to new heights, literally, teaming up with Bridgewater Studio to create what would be the first of 3 larger-than-life Flyboy sculptures. Brantley's vision for these sculptures wasn't just to go large, though. Each one was made to convey a distinctive message to his audiences.
In this article, find out how Brantley added new dimensions to Flyboy's character through the use of color, materials and design and how going larger-than-life can give viewers a whole new perspective.
Hebru Brantley's Flyboy: A character study in 3D times 3
This is the story of a giant undertaking, in 3 parts.
1. Setting a playful tone of discovery at the Graduate Hotel Roosevelt Island
Our first opportunity to work with Hebru Brantley, came from the design team at the Graduate Hotel Roosevelt Island. They planned to install a Flyboy sculpture in the hotel's lobby.
This 12-foot Flyboy sculpture would represent a message of empowerment through knowledge. Brantley's design for this Flyboy would be colorful, filling the space with a sense of wonderment and delight. And fill the space it did. Moving the sculpture into place required a delicate series of steps as the sculpture's size made it a tight squeeze.
When designing any installation, particularly an indoor exhibit, part of the process is measuring your space and making sure you know what your minimum threshold (the smallest opening) is.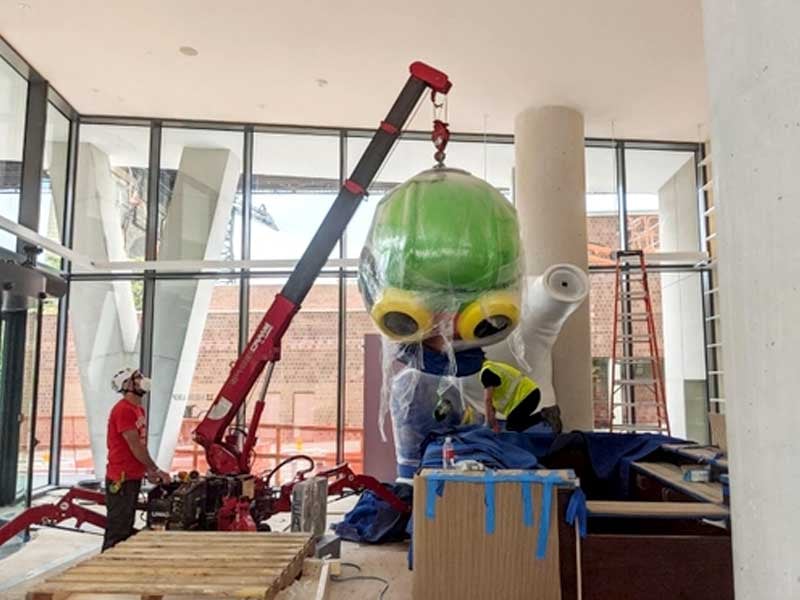 Flyboy and our installation equipment had to make through doors, around furniture and support columns.
Logistics aside, replicating a well-known character requires attention to detail at every phase. To capture Hebru Brantley's intent for this piece, we began by capturing a 3D scan of a miniature Flyboy figure to record its geometry and build a digital base mesh. Once we digitized this model, we began experimenting with different poses, working through several iterations of the sculpture with Brantley to ensure the piece met his design intent.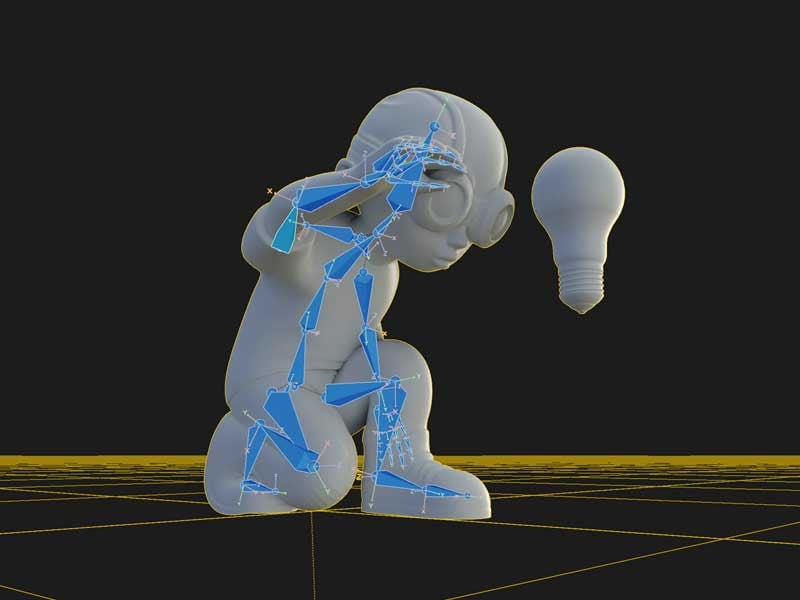 3D Scanning, modeling and sculpting technology enables us to repose existing forms into completely new shapes and ideas.
As you may have noticed, Flyboy didn't arrive at the Graduate Hotel Roosevelt Island in one piece. After we perfected our digital design and 3D-printed a scaled-down model for review and approval, we had to work out where to divide Flyboy so he could make his journey.
We began fabrication on the sculpture by carving shapes out of expanded polystyrene (EPS) foam using our 7-axis Kuka robot. EPS foam serves as a good foundation for large sculpture because it is lightweight, manageable to carve in large parts and can be easily hard coated.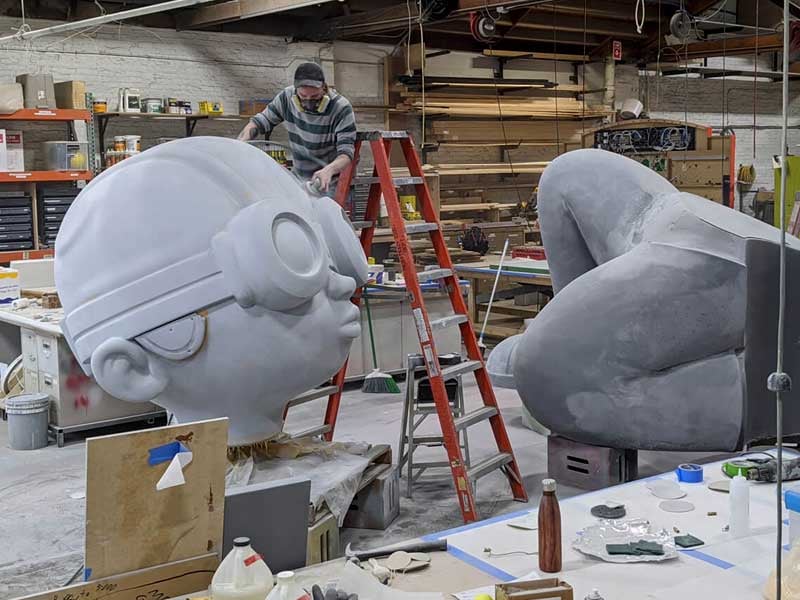 Things are starting to come together now!
Each sculpted piece was fitted onto a steel framework (also known as an armature) for sturdy support and given a final polish by hand to smooth out any rough edges. A durable polyurea coating and automotive grade paint give the final sculpture its bright satin finish.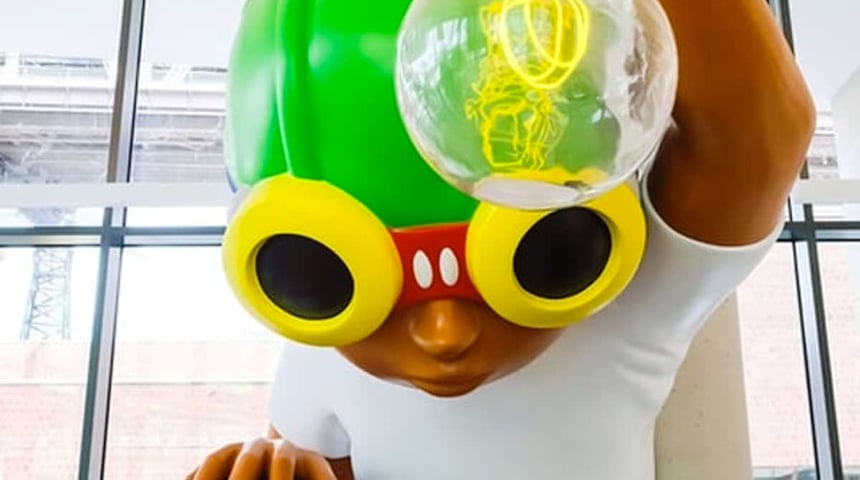 Looking smooth, Flyboy.
By the way, that lightbulb Flyboy's holding? It required a different set of processes to create. We made it by custom machining a negative mold and casting the form using clear resin. We think the effect is worth it.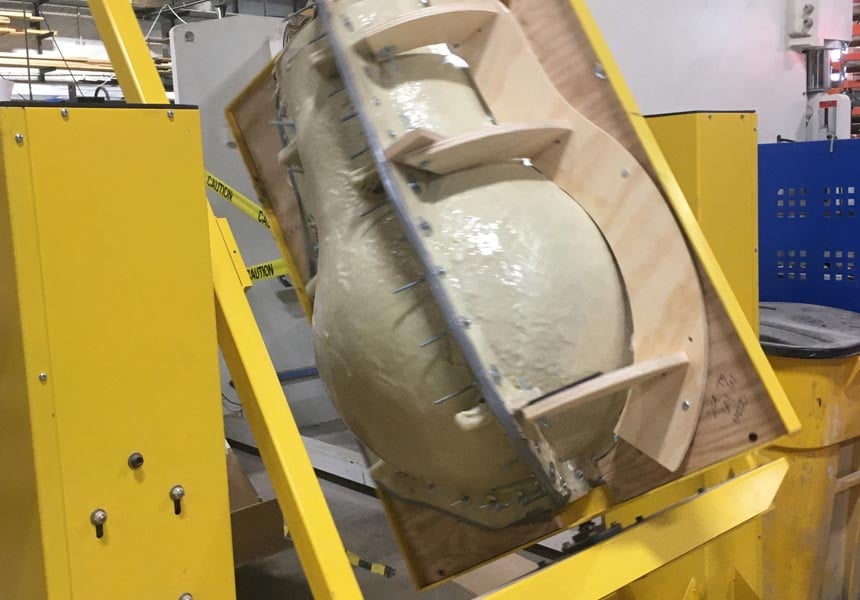 To get a hollow bulb, we built a hollow mold then filled it with clear liquid resin. The rotocasting machine in the picture is rotating the entire mold to make sure all the interior surfaces are coated evenly with the resin.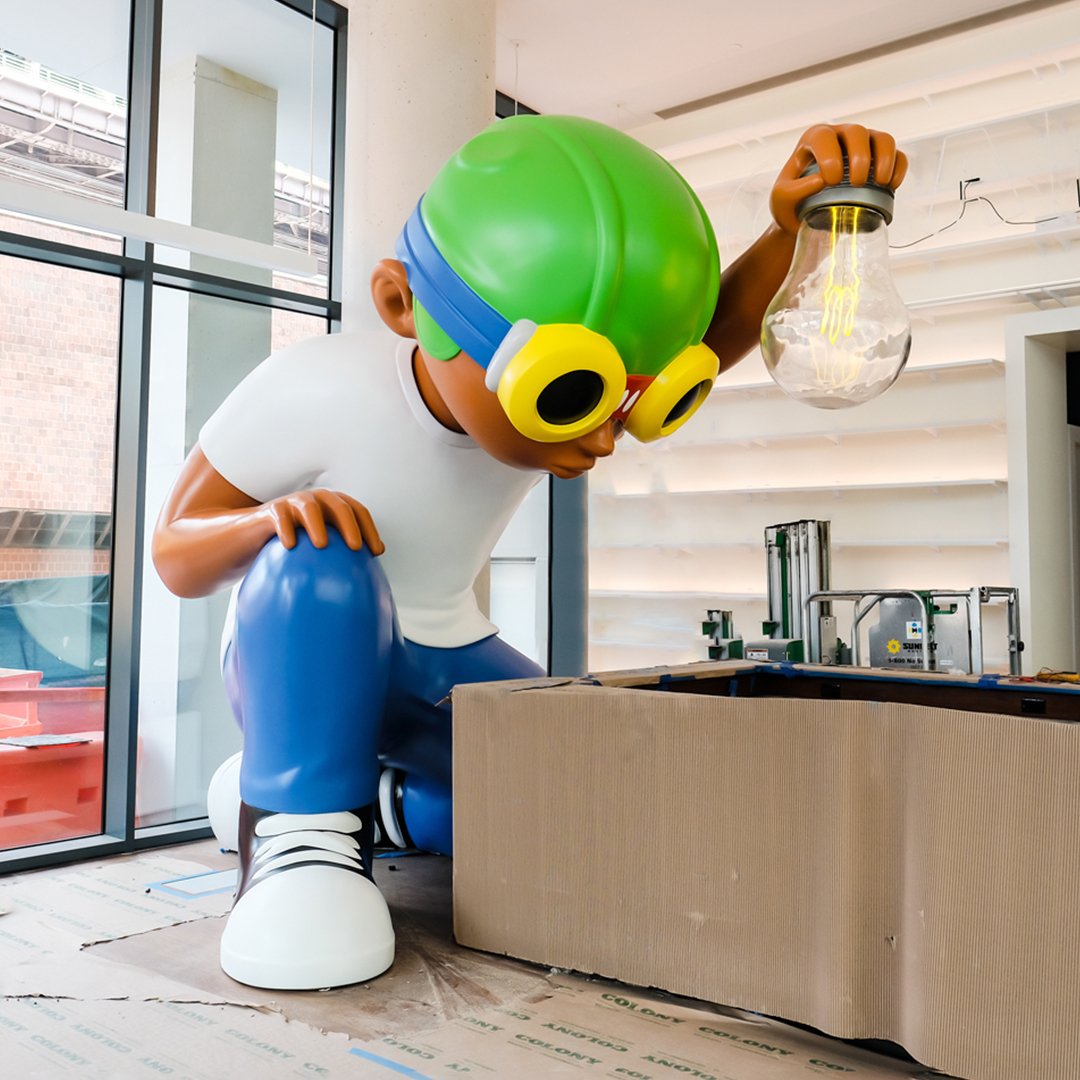 Once the mold was opened, our bulb was ready to shine.
Hebru Brantley's Flyboy was installed and ready to greet guests during the hotel's June 2021 grand opening and continues to welcome new arrivals.
2. Taking a strong stand in NYC's Battery Park
Technically, twelve-feet is larger-than-life. But for his next installation, Hebru Brantley wanted to go bigger. Brantley partnered with the NYC Parks' Art in the Parks Program to bring a 16-foot Flyboy sculpture called "The Great Debate" to The Battery. (In case you're wondering, this public space at the tip of Manhattan was called Battery Park until 2015, when the NYC Parks commission restored its original name.)
Like the Roosevelt Island sculpture, we built this one in pieces for on-site assembly. We crafted the armature of steel then enclosed it with CNC sculpted EPS foam. This foam form is covered with an ultra-durable, weather proof coating of polyurea. To obtain a uniformly smooth finish, this coated sculpture is sanded, painted and polished. Unlike the colorful Flyboy of Roosevelt Island, this sculpture's visual impact came through the use of a single color.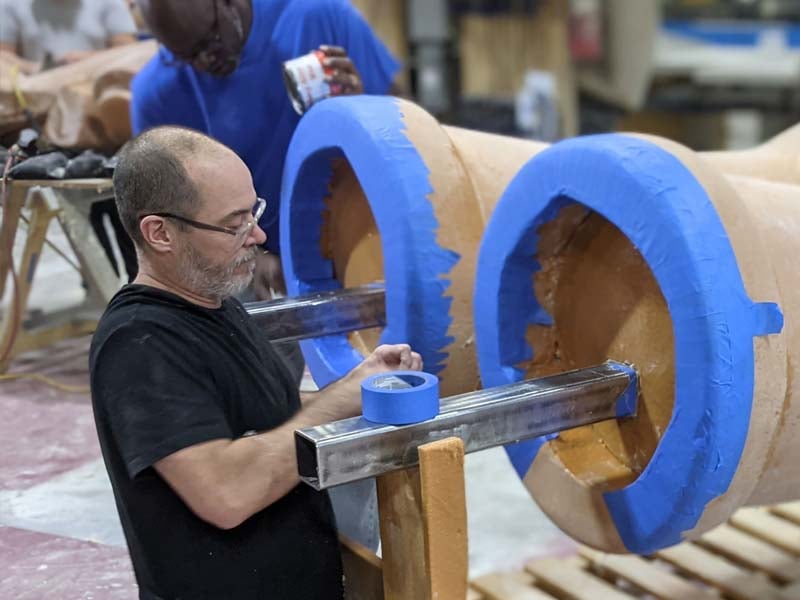 Prepping part of The Great Debate for painting.
Dedicated in November 2021 and on display through November 2022, The Battery Flyboy is an outdoor, public art piece. With no tight doorways to squeeze through, this Flyboy sculpture could stand tall, reaching a full 16-feet.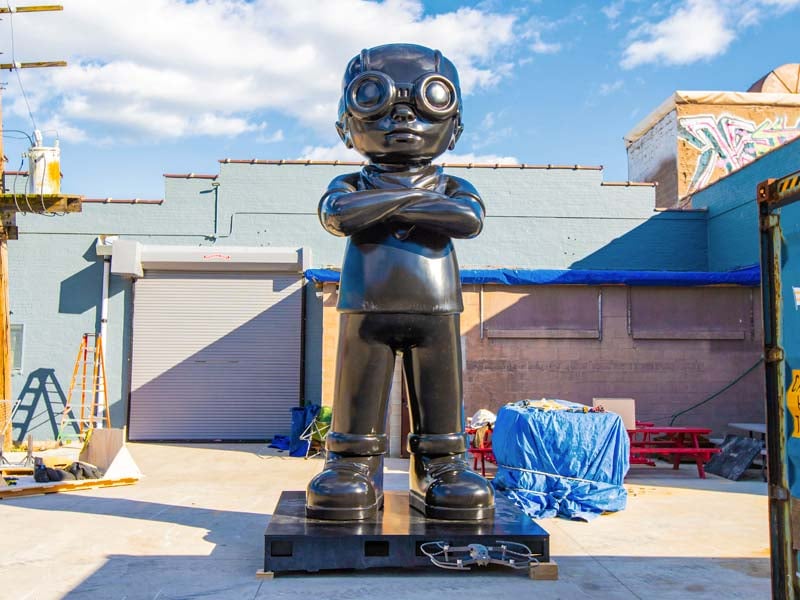 The head held high stance tells this Flyboy's story, conveying a sense of calm resolve during his final test assembly outside Bridgewater's production facility.
As an outdoor art installation, putting this Flyboy in place was easier than installing one in the tight quarters of a hotel lobby. The site was open and accessible. We were able to bring in large equipment to assemble the structure overnight, minimizing interference with other park activities.
While access may not be an issue, selecting durable, all-weather materials and conforming the size and shape of a design to harmonize with the surrounding environment are important factors to consider when planning an outdoor sculpture.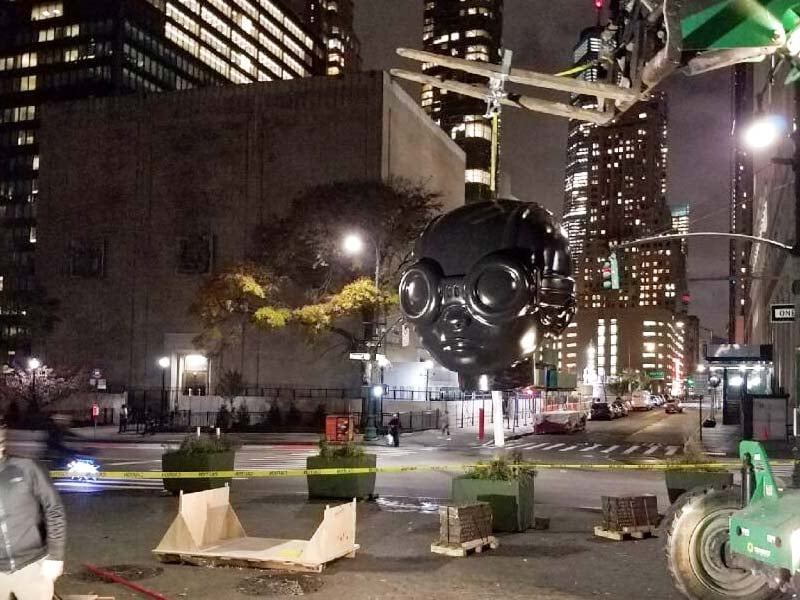 There was plenty of room to assemble the pieces on-site at NYC's The Battery.
Brantley built The Great Debate to engage, inspire, and stimulate the imaginations of an entire community with a message of encouragement to engage in public discourse, agree to disagree and stand up for what you believe. We're proud to have helped to bring his message to The Battery.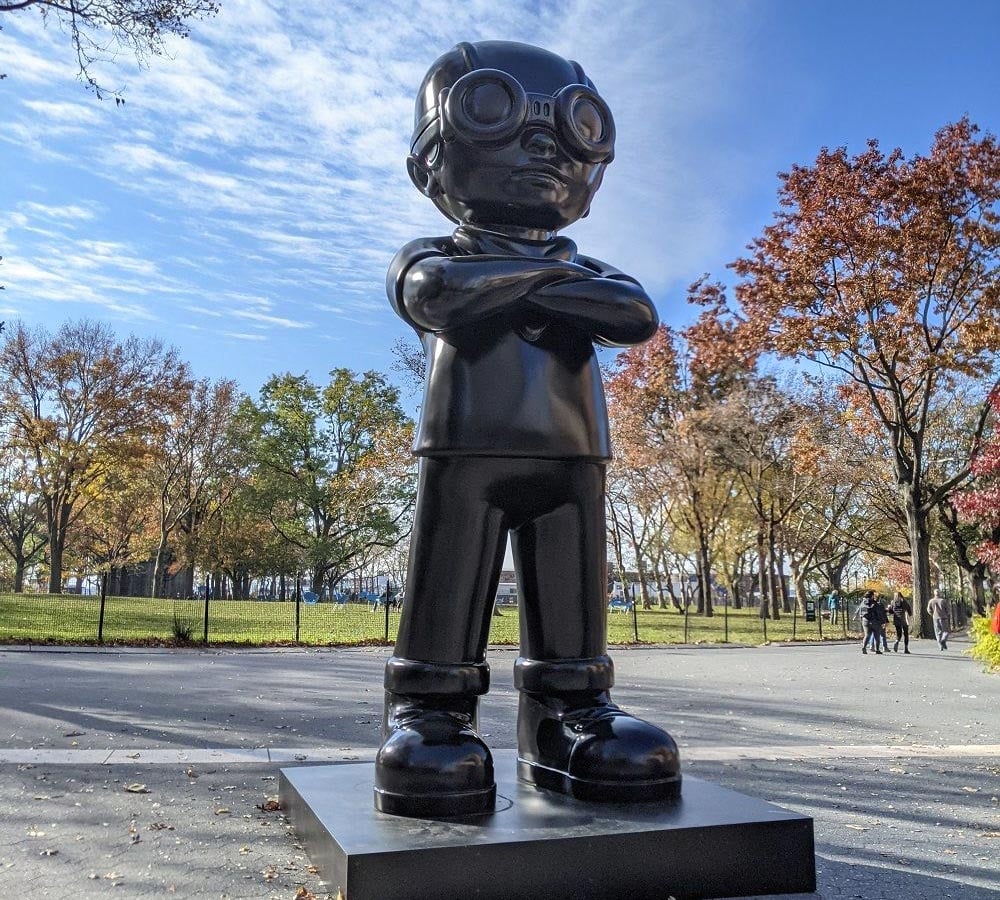 With this Flyboy completed, it was on to the next installation.
3. Colorful and confident, Flyboy stands tall at Navy Pier
Who says you can't have it all? 16-feet? Check. Outdoor installation? Check. Full-color? You betcha! In May 2022, we built Hebru Brantley's latest giant.
It's the Chicago Children's Museum's own "The Great Debate" Flyboy statue. He's tall, he's bright, he's confident, and he bears a message of empowerment, hope and belonging. The Navy Pier sculpture extends Flyboy's connection with Chicago Children's Museum, which also includes an interior art clubhouse where young creators can ideate and explore the intersection of imagination and art.
After completing The Battery Flyboy, we knew what shape this piece would take. But there were a few differences between the two installations. First, every outdoor site has its own unique conditions. In this case, the slope of each location was different so the base of each sculpture had to be calibrated to fit.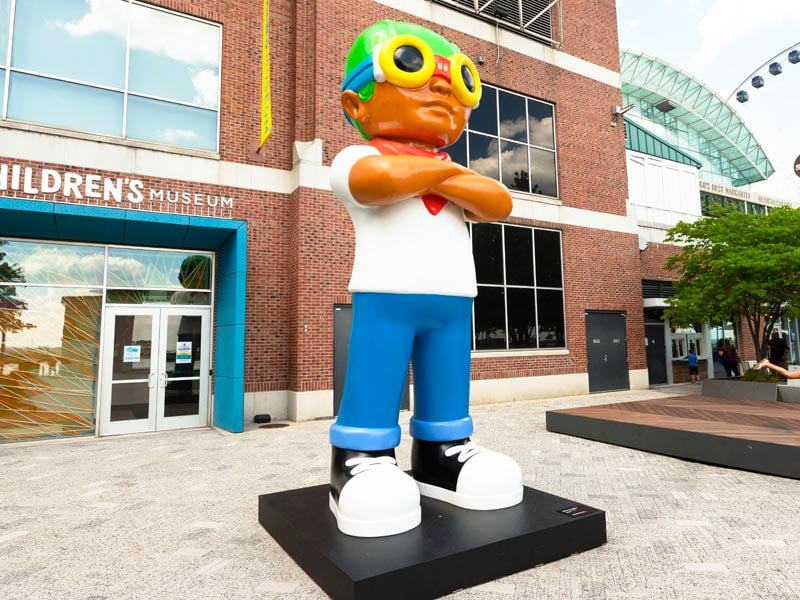 Flyboy's Navy Pier custom base keeps him straight and steady.
Understanding the challenges of a particular site including the surface on which your sculpture will be installed, extreme weather exposure, wind speeds and drainage, are a key part of planning an outdoor installation.
Of course, the other big difference between this Flyboy and his NYC doppelganger is the use of color. Navy Pier Flyboy stands tall but is displayed in his classic bright colors. To achieve this look, our team had to carefully tape off and paint each color before adding a final, protective automotive clear coat.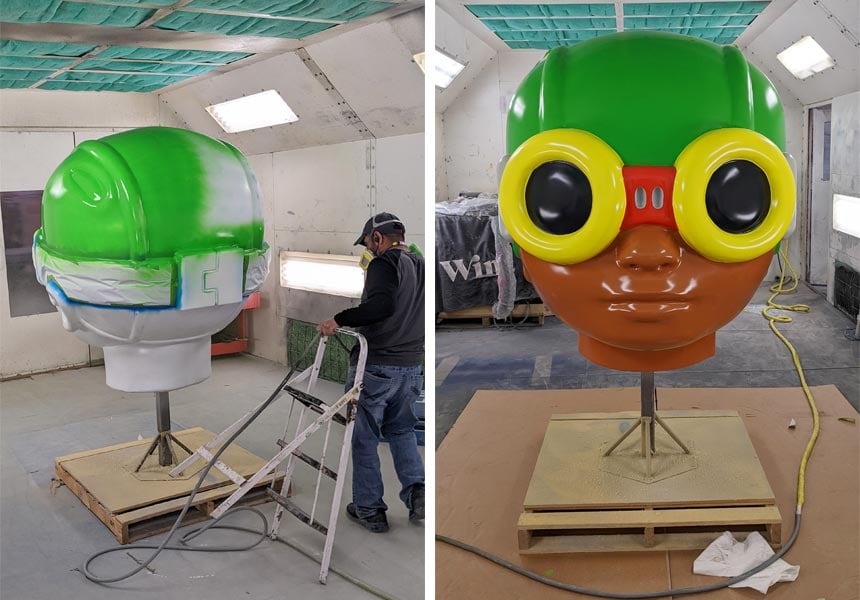 This paint scheme required multiple masking operations to cleanly apply all the colors.
That's the Story of How Hebru Brantley's 3 Giant Flyboy Sculptures Came to Be
Hebru Brantley's super-sized sculptures are capturing imaginations and telling his story to thousands. Modern 3D modeling and fabrication techniques and lightweight materials make it possible for you to make a really big statement, too.
If you'd like to explore a giant 3D sculpture or another big idea, schedule a no-pressure introduction to Bridgewater Studio today. Learn how our full-service design and fabrication company handles every step of the process in-house and get a free project plan that sets you up for success from the start. Let's dream big together.