Medical office design has come a long way in recent years. While the focus of these interior spaces is still on patient health and wellbeing, healthcare companies have also begun to consider the business impacts of a well-designed medical office.
Healthcare facilities from major hospital campuses to local treatment centers aim to provide safe, comfortable spaces for patients—but they also have competition. Patients are customers and they can always choose to take their needs elsewhere. In addition to the quality of staff and treatment, the interior design of medical and healthcare offices plays a considerable role in the patient—or customer—experience.
In this article, we'll discuss 5 ways medical and healthcare companies are evolving their office interiors to improve the patient experience, while producing brand affinity and positive business results.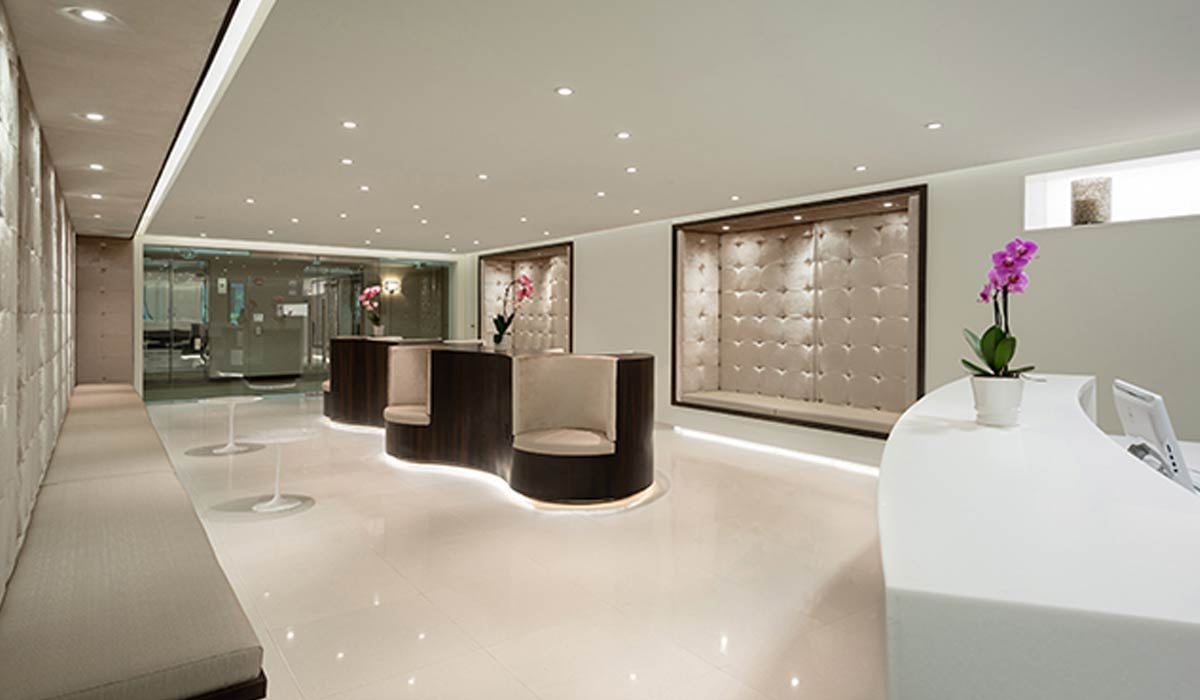 Custom seating highlights the redesigned reception area at the National Center for Plastic Surgery in VA.
1. Medical Offices with Homey, Comforting Touches
Hospitals and medical offices can re-imagine their waiting rooms and exam rooms as a "home away from home" with simple changes to flooring, color scheme, and furnishings, making quick, cost-effective improvements such as:
Replacing linoleum or faded carpet flooring with warm wood tiling
Repainting walls with neutral tones
Adding potted plants and greenery
Decorating walls with unique art pieces
The addition of integrated entertainment, such as high definition TVs in waiting areas, is another way healthcare office interiors are improving the patient and family experience.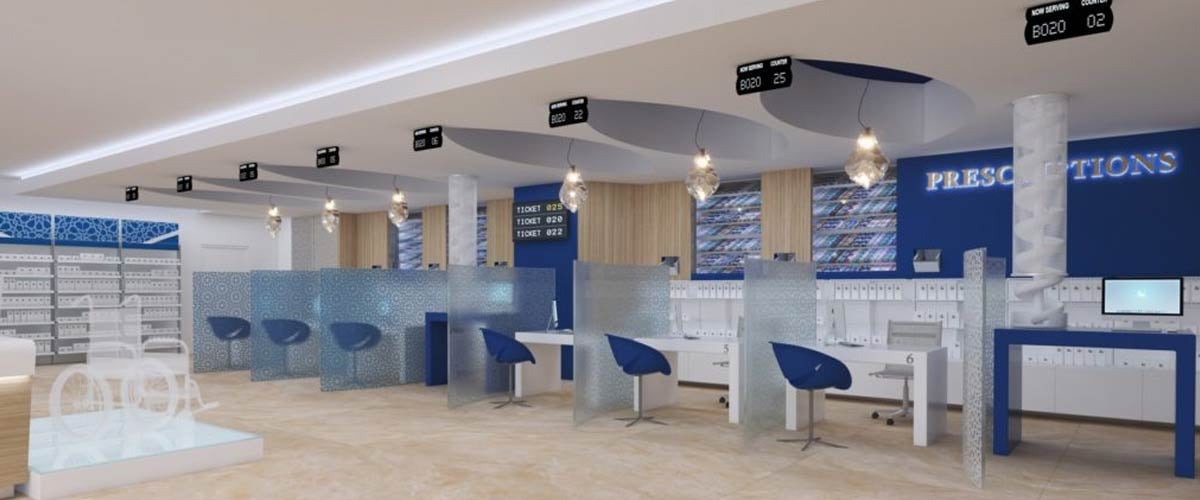 Design is central to the experience at Sartoretto Verna, with pharmacy locations in 35 countries.
2. Convenience and Versatility in Healthcare Facilities
With many basic medical services outsourced to pharmacies, urgent care, and outpatient sites, hospitals are re-purposing newly available space for convenience services. These convenience services include eateries, gift shops, hair salons, wellness centers, and other retail service vendors for the use of staff, patients, and families.
Hospitals have also turned employee lounge areas and doctors' offices into more versatile spaces. When needed, employees can use these spaces for remote health visits, private meetings with families, and more.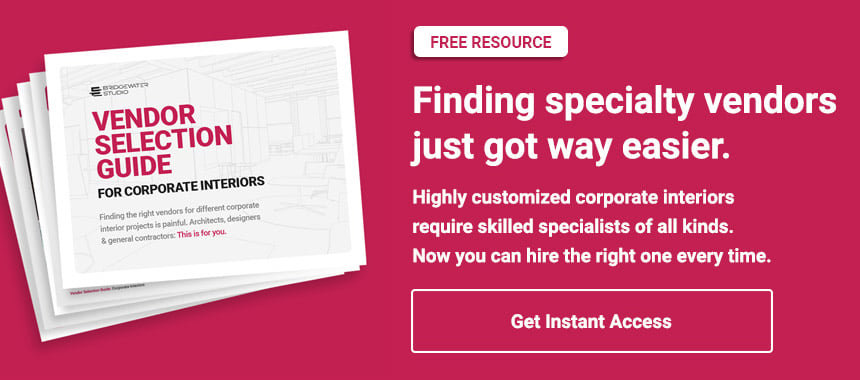 3. Designing for Virtual Health Visits
For some time, medical offices have been integrating virtual health visits into their operations. For patients that have busy schedules, limited mobility or live far away from medical facilities, virtual health visits are a welcome option. In 2020, the arrival of the pandemic only increased demand for telehealth for essential health services, as it was no longer just a convenience, but a matter of personal safety and public health.
Medical offices are now setting aside spaces where doctors conduct telehealth visits, upgrading internet connections, and investing in appropriate décor for background walls and lighting that better illuminates the faces of medical professionals on calls.
4. Improved Design in Concierge and Outpatient Facilities
Satellite healthcare offices and smaller medical facilities are easing the load on hospitals by providing a convenient option for regular examinations, minor medical care, and outpatient services. By "outsourcing" such activities to these satellite offices, hospitals are able to focus on patients with more severe medical issues and improve their patient flow.
Healthcare office design plays a significant role. Environmental branding can create a cohesive interior design theme across multiple locations, supporting a common level of trust and familiarity from acute care facilities to ancillary offices, smaller clinics and treatment centers.
Interior design for medical offices, healthcare facilities, and even pharmacies like CVS, is helping to improve the customer experience. Examples range from basic informational signage to innovative concepts such as the Minute Clinic.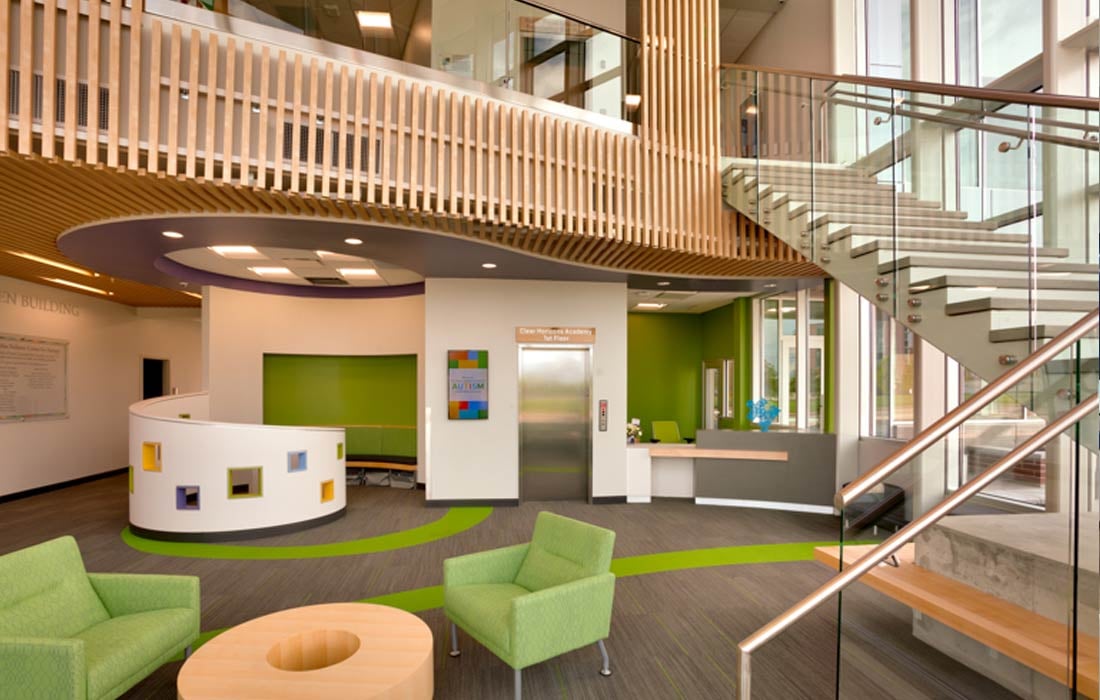 Fortina, an aluminum architectural system developed by B+N Industries, is indistinguishable from real wood and produces less waste, making it ideal for green medical office interiors.
Photography by Martin van Hemert Photography.
5. Using technology in Medical and Healthcare Office Design
Medical and healthcare facilities are finding other inventive ways to improve the efficiency of their spaces with the help of technology. Waiting rooms are adding check-in kiosks, allowing arriving patients to check-in for scheduled appointments, and avoiding overcrowded reception desks. USB charging ports and network hubs are also being incorporated into both the waiting rooms and lounge areas so that patients, family, and staff can keep their electronics charged up or even work while they wait.
Hospitals are also implementing electronic tracking systems to indicate when exam rooms have opened up, improving patient flow and reducing wait times.
Medical and Healthcare Office Design: a Shift Toward Comfort and Convenience
Medical and healthcare interiors are innovating their office designs to re-imagine the patient experience. From more comfortable waiting rooms to efficient reception desk designs, healthcare companies are finding a variety of creative ways to improve their spaces.
However, bringing those concepts to life can be challenging. The right full-service design and fabrication studio can guide hospitals and healthcare companies through the entire process, from concept, to production, to final installation. To learn more about implementing a new design for a medical or healthcare office interior, schedule an introduction to Bridgewater Studio and get a free project plan customized to your needs.