With art installations of any kind, outdoor exhibitions and indoor exhibitions both seek to transport an audience into an immersive environment through unique storytelling objects and elements. However, preparing for an outdoor art exhibit is vastly different than an indoor art exhibit and raises many questions.
How do you plan ahead for the weather? What materials are appropriate? How do site conditions impact design considerations? Can an indoor art exhibit be used outside?
Understanding how outdoor art exhibits are planned, designed, fabricated and installed will provide answers to these and other questions – so your next outdoor exhibit is a stress-free experience from start to finish.
What is an Outdoor Exhibition?
An outdoor exhibition can include any type of art installation or structure on public display, whether temporary or permanent. When sponsored by a company, outdoor art exhibits are often part of experiential marketing campaigns, designed to attract and engage an audience with the goal of promoting a brand.
Exhibits can be freestanding, attached to a building, or otherwise installed onto an existing structure. To be considered an outdoor exhibition, public art and experiential marketing simply need to create an engaging environment in an outside setting.
Examples of outdoor exhibition may include:
Outdoor murals
Multimedia exhibits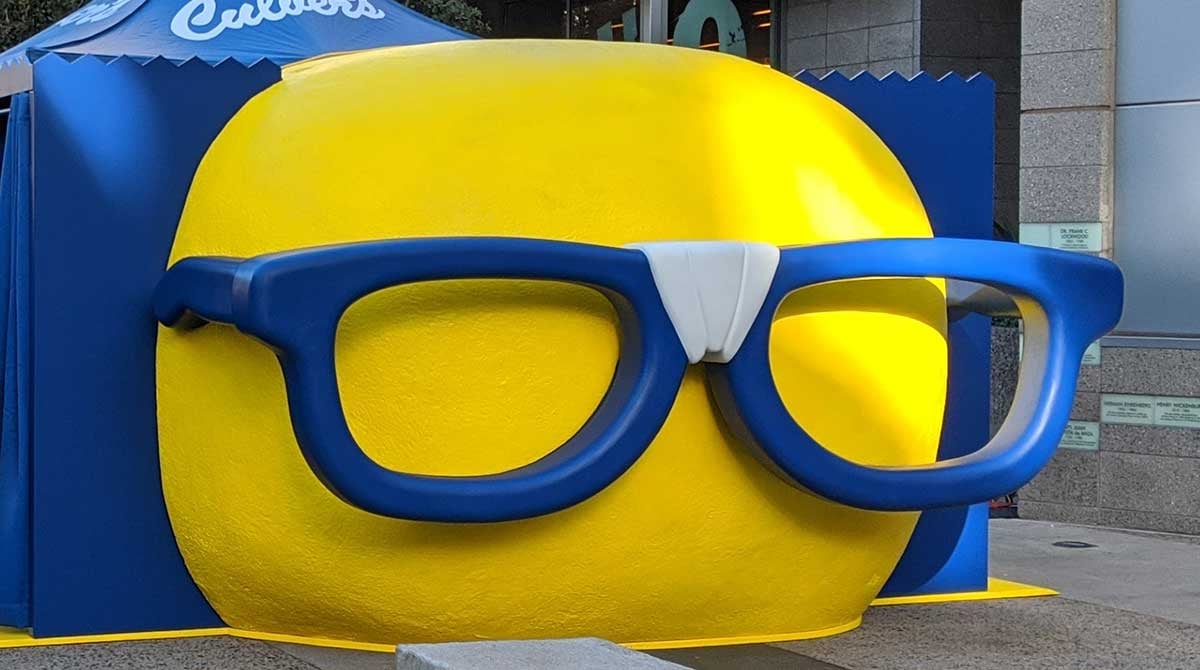 A large corporate sculpture serves as a pop-up photo booth for fans of Culver's, a midwestern restaurant chain.
How to Design for an Outdoor Audience
Planning the design of an art exhibit that's outside requires a different approach to audience engagement. An outdoor exhibition isn't always a chosen destination with a captive audience, like many indoor exhibitions. Instead, outdoor exhibits often rely on spur-of-the-moment interest, inspired by curiosity.
Signage may be essential to direct visitors toward an exhibit where visual distractions or obstructions compete for attention. Often, the surrounding landscape can help create a focal point that draws the eye. Large-scale printed graphics and other supporting visual elements are another way to encourage engagement in a public setting.
Outdoor Exhibition Design: Site Preparation
When designing art exhibits for outdoor use, additional planning, logistics and safety considerations should be taken into account. A preliminary site survey will help identify slopes and other landscape irregularities that might pose challenges. Other site-specific factors to document early in the process of art exhibition design include traffic patterns, availability of power sources, impeding infrastructure, and any permitting or inspection requirements.
Outdoor Exhibition Design: Wind Load
A primary concern for any outdoor art exhibit is the unpredictability of wind. Wind load refers to any pressures or forces exerted on a structure by wind.
Calculating maximum wind load is critical to ensure sculptures, signage, exhibit booths and other elements absorb wind forces safely and efficiently. For multimedia exhibition design, damage to video screens and electronic components can be costly. For fine art, damage to one-of-a-kind art pieces can be irreplaceable. In all cases, public safety is a top priority.
An exhibition design company must be experienced in calculating wind load and fabricating art installations that will be structurally sound and secure in any conditions.
Critical decisions must be made throughout the process – from material choices, to fabrication methods, to proper use of anchors and other installation techniques. The best exhibition design companies will also help coordinate with local inspectors and insurance companies to ensure safe installation of an outdoor art exhibit.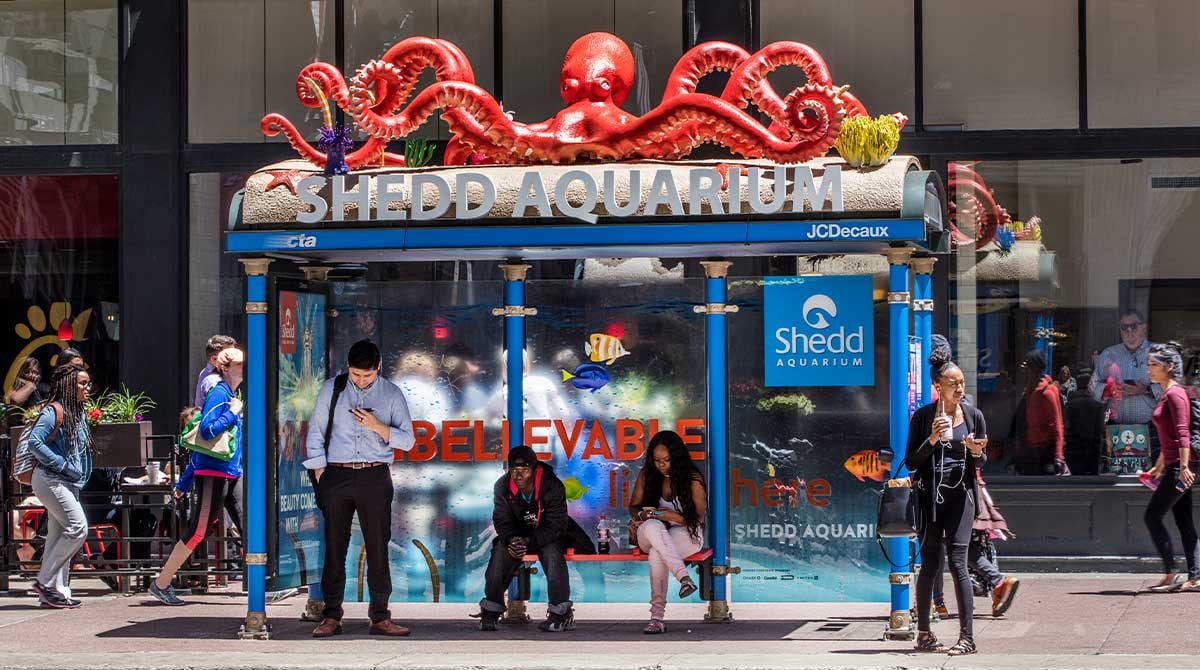 Planning for wind, weather and safety is critical for outdoor art installations like this sculpture produced for Shedd Aquarium.
Planning for Weather
An exhibition display that has been built for outdoor use will be protected against the elements by way of durable materials. Corrosion, warping from extreme temperatures, water damage, and other hazards can be avoided with careful planning early in the process.
Temporary installations might require little more than a temporary covering to shield against bad weather. For experiential marketing campaigns designed to attract and engage an audience, a rainy day plan can help avoid costly downtime.
An exhibit with integrated lighting or sound may need an outdoor power supply, which can pose problems in poor weather conditions. Prepare by keeping spare extension cords, industrial tape, first-aid kit, and other extra supplies on hand.
Finding Outdoor Art Installation Companies
Designing and fabricating large outdoor art installations requires planning and coordination every step of the way. From material and finish selection, to surveying prospective sites, gathering necessary permits, and passing inspections, it's a process best left to professionals – as unexpected problems can risk time, money and personal safety.
Exhibition design companies who design, fabricate and install art exhibits will have a multidisciplinary skill set that optimizes every step. They will anticipate issues and respond with practical solutions. They will provide a single point of contact and accountability. They will deliver expertise and maintain one high standard across every project need.
How can you benefit from a fully-integrated design and fabrication studio? Schedule an introduction to Bridgewater Studio and get a free project plan to set your next outdoor art exhibit up for success from the start.