If you've ever seen a really big sculpture in an unexpected location, it probably stopped you in your tracks and immediately grabbed your attention. Maybe you even took a photo with it and shared it on social media.
Creative art installations like big sculptures have a unique ability to make bold statements and create memorable moments—that's why they have become such a popular experiential marketing strategy for brand activations.
Corporate brands, entertainment brands, sports brands, and even museums are taking advantage of big sculptures as a powerful way to engage their audiences. From giant ice cream cones to oversized amphibians, it's hard to ignore the presence of these colossal curiosities and the messages they represent.
In this article, we'll explore the impact of big sculptures, how they are produced, and how companies of all kinds use them in creative ways to pursue their business goals.
What Are "Big Sculptures?"
Big sculptures are a prominent form of experiential marketing—a strategy in which a brand facilitates meaningful, face-to-face interactions with its audience.
Experiential marketing events and activations are often location-based, meaning they take place outside of typical retail or corporate environments. With their sheer size, big sculptures have a way of dominating any space and engaging all who are near. When successful, they create personal connections between a brand and its customers, and can contribute to a variety of business objectives.
The size of big sculptures isn't strictly defined, but is typically life-size at a minimum. Visibility, impact, and scale relative to nearby objects are all important factors. When "life-size" isn't enough, sculpture fabrication companies have many options for increasing an object's dimensions. These include pedestals and bases to add height, aerial suspension for dramatic effect, or simply making it bigger by producing and assembling in large pieces.
The Benefits of Using Big Sculptures
Here are some of the top reasons brands use big sculptures, and why you should, too:
Large sculptures help convey a brand's personality.
Top brands know that big sculptures are a great way to visually communicate a message—which can include brand personality. A large sculpture of a brand mascot can certainly represent a company's values and characteristics, but that's just the beginning. Cross-promotions, charitable causes, community outreach, and more, can have a thematic tie-in to a brand's personality. From new brands to established brands to rebrands, big sculptures can convey the right message on a grand scale.
Big sculptures create lasting impact.
Monumental sculptures create the wow-factor that captures audience attention in the present, but they can do much more. For example, when designed as a photo op, images of your big sculpture will quickly make their way onto social media and continue to delight more audiences. While an in-person visitor may only spend a moment taking in a large sculpture, they will revisit the experience every time they view a photo.
Large-scale sculptures can help boost sales.
When an experiential marketing campaign is focused on lead generation or sales conversions, large-scale sculptures can be used to call attention to a brand ambassador or point of sale. A brand activation with less emphasis on transactions can use a big sculpture to promote new product releases, to help generate buzz (and demand) on social media channels, or to attract the attention of press and industry influencers.
Art installations contribute to employee morale and productivity.
Art installations aren't just showpieces for potential customers, they can be a valuable source of company pride and help to promote corporate culture. In other words, a brand experience isn't limited to a location-based activation for a consumer audience. In a corporate interior, for example, a big sculpture can make a one-of-a-kind statement that reinforces a brand's internal mission, inspires creative thinking, energizes staff, and supports a company-wide commitment to a healthy workplace.


The Process: How Big Sculptures are Made
A big sculpture is the result of many carefully planned stages and critical decisions. The more you know about the process of creating a large-scale sculpture—from material selection to fabrication to transport—the smoother your project will be and the more you'll get out of your investment.
Common Materials Used for Big Sculptures
When it comes to materials for big sculptures, brands have many options. Material selection will take a number of project criteria into consideration—including stability, durability, aesthetic, production timeline, and budget. An experiential design and fabrication company can provide valuable guidance here, helping you prioritize needs and get the most out of your investment.
Here are some of the popular materials used to produce big sculptures:
1. Metal
Bronze is the most prevalent metal for creating everlasting sculptures, particularly corporate sculpture. However, aluminum, brass, and iron are also commonly used. Metal sculptures use metals suitable not just for their color and bright luster, but also because of their high tensile strength. This characteristic provides designers with greater flexibility than working with stone or wood, as well as added structural stability and durability.
2. Foam
Foam is an excellent medium for big sculptures. This material can help you create highly-detailed models and figures for events, exhibitions, and other promotional activities. Using foam is advantageous because it's cost-effective, versatile, light, durable, and easy to move around. With CNC fabrication services, you can create foam sculptures with much design and production freedom.
3. Stone
Big sculptures made of stone can make spaces feel naturally warm and inviting. Limestone is a popular example, which is easy to carve and holds fine design details while also supporting undercutting. Although polish does not last long with limestone carvings, the material can survive acid rain better than marble, which enhances its longevity when placed outdoors.
4. Wood
When it comes to wood sculptures, there are many kinds of hardwood and softwood to choose from. Because wood is fibrous, it has considerable tensile strength and is suitable for carving in great detail. However, wood is better suited for indoor installations, as it can be vulnerable to the elements, insects, and fungal attacks. Although it isn't as durable as stone, wood is a versatile material with a distinct aesthetic that lends natural warmth to spaces.
5. Fiberglass
For big sculptures, some artists and fabricators prefer working with fiberglass instead of bronze and other heavy materials. Fiberglass is lightweight, making it easier and less costly to transport, and also has the strength and durability to withstand the elements, making it suitable for outdoor art exhibits. Despite the advantages of fiberglass sculptures, however, many modern fabricators are transitioning to foam as a superior replacement due to the toxic process associated with fiberglass fabrication..
How Big Sculptures Are Produced
In order to create big sculptures to the highest standards, the best fabrication teams obsess over every detail before, during, and after the production process. The project process includes several stages, beginning with ideation and planning.
When brainstorming ideas for a big sculpture, the modern marketer should ask: "What is the story we want to tell?" A truly immersive experience will engage all the senses and every detail should support that story. The planning follows to determine the timelines, budget, and other project parameters.
The second part of the process is the design of the sculpture. The design team will analyze the concept for feasibility, recommend materials and finishes to be used, and guide other key design decisions. At this stage, variations can still be explored in rough design sketches, allowing multiple options to be rapidly iterated.
Visualization is the next step, in which design drawings are transformed into digital 3D models for final approval before fabrication begins. The 3D models will be precise representations of the final sculpture and provide one last opportunity to make any subtle adjustments.
The fabrication stage of a big sculpture will include CNC machining or 3D printing, and often includes both. These modern production technologies have distinct benefits and an experienced design and fabrication partner will determine the most cost-effective and quality-conscious use of them.
After a big sculpture has been created, it needs to be moved to its final destination. This stage includes transport, shipping, rigging, and installation of the finished sculpture. Often, a large sculpture will be assembled in the production facility, disassembled, packed, shipped, reassembled, and installed. A final step should account for any required clean-up, storage, and environmentally responsible disposal if a sculpture is to be discarded after an activation.
As you can see, much is involved in bringing a big sculpture to life. Working with a full-service design and fabrication company from the very beginning will ensure a smooth process, a safe installation, and premium results.
How Big Sculptures Are Transported

How to transport big sculptures safely.
Sculptures can easily be damaged without the necessary precautions while in transit. To protect these, a full-service design and fabrication company will use everything from moving blankets and bubble wrap to custom-built crates and specialized trucking companies. Early in the design process, they will engineer the pieces for on-site reassembly, if needed, and will begin planning the shipping strategy with the utmost attention to safe and secure transport.


How to keep a big sculpture stable during transport.
The size of large sculpture elements will determine the best way to load them during the shipping process. Smaller pieces may be safely moved with a furniture dolly, while larger pieces may require a forklift or crane. Once loaded onto a truck, all pieces must be securely anchored to avoid unnecessary movement.


How to take statues to difficult locations.
Depending on the installation, a big sculpture may travel to multiple locations or over long distances. This can complicate logistics. To ensure your art piece is delivered in tip-top shape, partner with an experienced, full-service fabrication company that provides in-house shipping services.


How Brands Use Big Sculptures to Stand Out
Here are a few of the finest and most inspiring examples of big sculptures: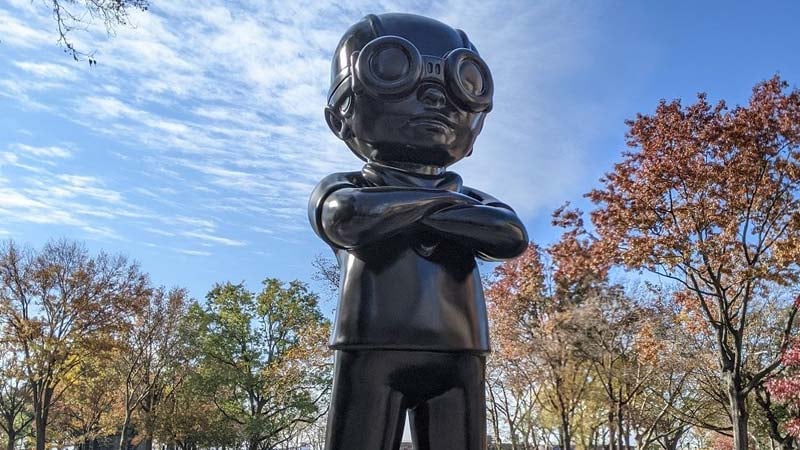 This 16-foot-tall sculpture of steel and fiberglass makes a commanding statement at The Battery in Manhattan as part of the famous "Flyboy" series. Created by the artist Hebru Brantley, the series depicts superhero characters of color, donning pilot goggles as a tribute to the Tuskegee Airmen. Titled "The Great Debate," this piece speaks to the positive side of public discourse, with the goal of reminding people to hold their heads high, stand firm in their beliefs, and cherish the freedom we all have to disagree with one another. Here, a powerful message is supported by the use of scale, materials, location, and story.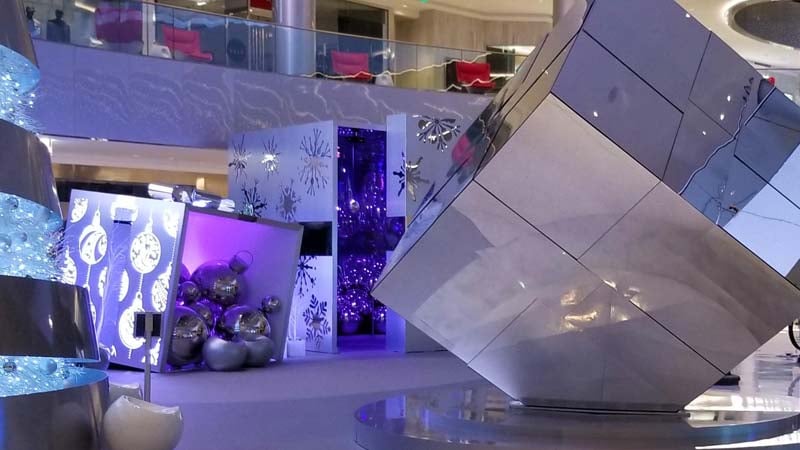 The Beverly Center, Los Angeles' trendiest shopping mall, wanted to give their shoppers a one-of-a-kind holiday experience that would be awe-inspiring. The result of their partnership was a massive interactive art installation that epitomized the spirit of the season. From the ornament gift boxes to the matching Christmas tree sculpture and custom LED lighting, the dazzling ensemble captured the attention of both the young and young-at-heart.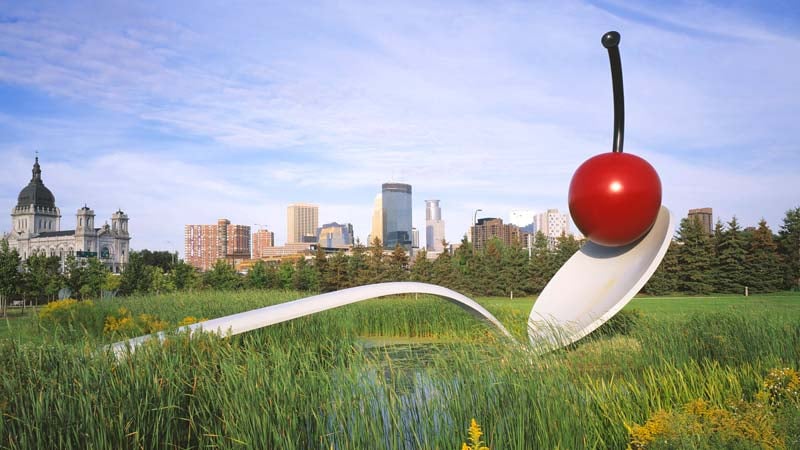 If you've been to the Minneapolis Sculpture Garden, you probably noticed this oversized sculpture. Created by Swedish-born American sculptor Claes Oldenburg, the whimsical and daring public art piece is made of stainless steel and aluminum. The spoon portion alone weighs a whopping 5200 lbs. The "Spoonbridge and Cherry" installation has become so iconic to the city of Minnesota that visitors never fail to include it among their selfie spots.
How to Make Your Big Sculpture a Success
Big sculptures are a great way to capture the attention of an audience, but there are many details to get right in order to achieve a desired business goal. However, when it all comes together, your brand can make meaningful connections on a personal level and create a lasting impression that generates a return on investment long into the future.
The best way to ensure a large-scale sculpture will bring success to an experiential marketing activation is to partner with a full-service, design and fabrication team. With project management, creative, and technical expertise all under one roof, you'll have a single point of contact and enjoy a streamlined process that delivers immense value at every stage of the project lifecycle.
To learn how a full-service, design and fabrication company can help you get the most out of your investment in a big sculpture, schedule a no-pressure introduction to Bridgewater Studio today. We'll customize a free project plan, so you'll be set up for success from the start.