From fine art pieces to whimsical brand mascots, corporate sculptures have the visual appeal to redefine a work environment in many ways. As with any art installation, however, there are lots of variables.
Experienced project managers at architecture and design firms have a keen eye for detail when it comes to office interiors, but knowing how to get the most impact out of a corporate sculpture can be tricky. This is where the expertise of a design and fabrication studio can provide valuable insight – especially when it's a studio that specializes in the fabrication and installation of corporate sculpture.
In fact, the more a project manager knows about sculpture fabrication services, the more they can ensure optimal results at every stage in the process – from design to installation. In this article, we'll share key tips from our team at Bridgewater Studio to set your next sculpture installation up for success.
Let's begin with the basics...
To effectively incorporate sculptures into a corporate interior, you must carefully consider:
Type of sculpture
Placement
Materials used
Message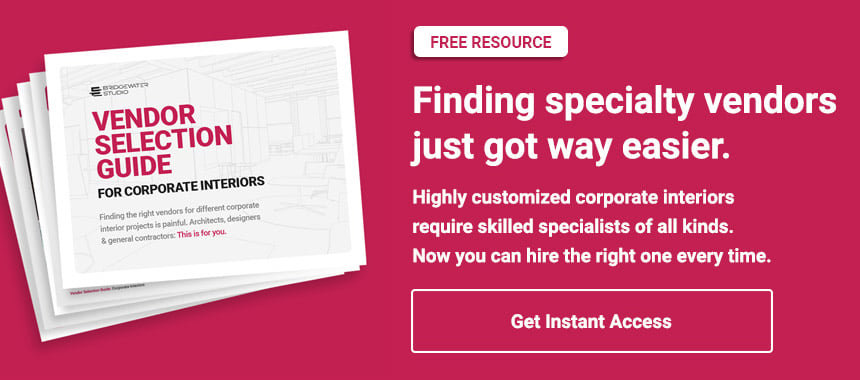 Types of Corporate Sculptures
The four main types of sculptures for corporate office interiors include:
Freestanding – Immobile works of art typically meant to make a corporate statement or share company history.
Wall – Otherwise known as "relief sculptures," this form of hanging artwork can also help direct the flow of traffic and avoid monotony on wall spaces.
Kinetic – Sculpture that moves via mechanical forces, magnetic pull, wind power, hydraulic jet streams, or other motion triggers. Hanging mobiles are one kind of kinetic sculpture.
Non-traditional – Also known as "assemblage sculptures," these are sculptures not categorized as freestanding, wall, or kinetic, but defined by the elements that are used to create them (such as found objects).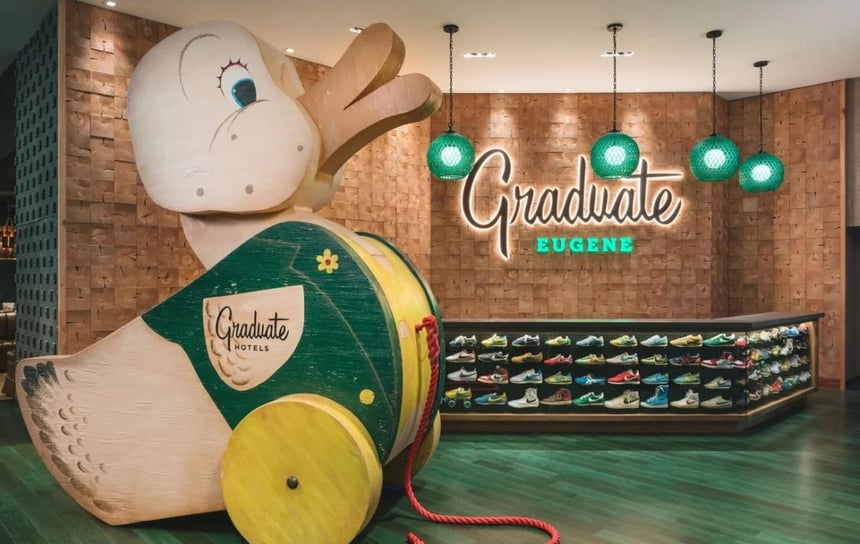 Freestanding corporate sculptures like this large-scale sculpture for Graduate Hotels can create an unforgettable experience with the right placement.
Sculpture Placement
A sculpture in a corporate interior environment is asking to be studied. For this reason, sculptures should be placed in office interiors where the audience has time to appreciate and engage with them. An elevator lobby, for example, is a common area for sculpture placement.
For all four types of corporate sculptures, be sure to always consider:
Foot traffic flow
The audience (employees, clients, other)
Intended message
Placing Freestanding Sculptures
Freestanding sculptures can serve as a primary focal point in any corporate environment. Consider placing a freestanding sculpture in high-traffic areas like an entrance, lobby, reception area, or at the end of a long hall. Talk to stakeholders to make sure freestanding sculptures are not placed directly in the path of vital operations. For office interiors designed with clients or customers in mind, freestanding corporate sculptures can make popular photo backdrops for experiential marketing campaigns. If this is a priority, choose a well-lit, easily accessible area.
Placing Wall Sculptures
Wall sculpture is a great option when there isn't enough floor space for a freestanding sculpture in a corporate interior space. These relief sculptures can set the tone as focal points in conference rooms, elevator lobbies, hallways, office spaces, reception desk areas, and boardrooms, helping to drive conversations and spark creativity. Wall sculptures can also bring attention to entrances, exits, and to other wall art installations like company history walls, employee plaques, paintings, murals, and wayfinding signage.
Placing Kinetic Sculptures
Kinetic sculptures are best displayed in corporate office interiors with high ceilings. Displaying kinetic sculptures in well-lit areas like windows and entrance ways lets the light reflect off the sculpture in interesting ways that can create different emotions. Large spaces benefit from the dramatic effects of changing light patterns and shapes, where viewers can appreciate the sculpture's movement from a variety of angles.
Placing Non-Traditional Sculptures
Non-traditional sculptures can define a unique interior space that feels less restrictive and "corporate." By showcasing sculptures that seem to defy traditional rules in boardrooms, lobbies, and hallways, you can foster a work culture of new ideas and creative independence, or as a visual cue that this space is somehow different from the rest of the building, like a break room.
Corporate Sculptures vs. Mascot Sculptures
A clear distinction must be made between corporate sculptures and mascot sculptures, as the two terms are often used interchangeably despite some major differences.
The main differences between corporate and mascot sculptures are:
Design – A corporate structure is often conceptual. A mascot sculpture typically features an animal, person, or figure that represents a brand.
Size – Corporate sculptures tend to be larger than mascot sculptures.
Durability – Corporate sculptures are designed for high-traffic spaces and are typically more durable than mascot sculptures.
Materials – Corporate sculptures are usually made from metal or fiberglass. Mascot sculptures can be made from wood, ceramic, foam, and hardcoating.
There are some instances in which a corporate sculpture is also a mascot sculpture. For example, a sculpture of Tony the Tiger™ would be a mascot sculpture and a corporate sculpture at the same time because the animal mascot is also a corporate symbol. In general, when a company requests a mascot sculpture, they're looking for a sculpture that is smaller and probably designed for low-traffic areas.
How Corporate Sculptures Transform the Workplace Environment
Installing sculptures into a corporate interior can redefine a work environment in three ways:
Atmosphere – The color and materials can help set the mood or tone with employees & clients. Colorful art can inspire hope and encourage growth. Neutral colors add a more serious tone to the environment.
Storytelling – Tell the history of a company, its workers, its performance, and its mission.
Experiential – Create a memorable experience that people will want to share with others.
A wood-and-stone sculpture at the entrance to a conference room can set a professional tone for boardroom conversations. A granite sculpture in a lobby can symbolize strength and longevity. A mascot sculpture can inspire unity around the ideals of a brand.
Companies can use sculpture to communicate a variety of messages to an audience, but control over the atmosphere and storytelling – through successful art installation – is what transforms corporate office interiors into unforgettable experiences.
Want to learn more about corporate sculpture design, fabrication or installation? We've just scratched the surface and, with expertise that spans the entire project lifecycle, we've got plenty more to share. Schedule an introduction to Bridgewater Studio today and get a free plan, customized for your next corporate sculpture project.