To many, an elevator lobby is merely a stopover point on the way to a corporate reception desk. However, for imaginative companies looking to make lasting impressions with custom corporate interiors, an elevator lobby can be transformed into a welcoming space to engage employees and clients alike.
With the right design elements, an elevator lobby can:
Set the tone of the day for your employees
Make a positive first impression on prospective clients
Provide instructions or directions
Reflect the company's brand and values
Make an artistic or creative statement
By balancing form and function with their elevator lobby design, a brand can put their best foot forward with everything from soothing lighting to comfortable furniture. Brands that want to be even bolder can work with design and fabrication companies, investing in elevator lobby designs that incorporate highly customized elements. Using CNC services, these can range from custom millwork to larger-than-life corporate sculptures.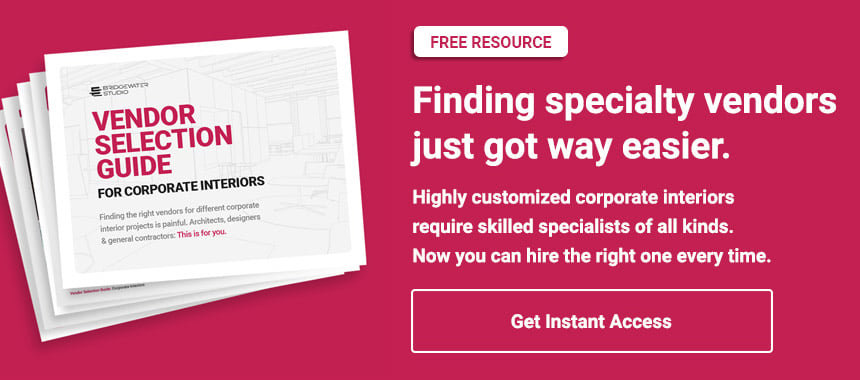 Impressive Elevator Lobby Design: Where To Start
In our experience, brands looking to refresh their corporate interiors with an elevator lobby design can find opportunities in:
Furniture and custom millwork
Logo and identity signage
Elevator walls and surround walls
Floor numbers
Directional and artistic wayfinding signage
Displays for community initiatives
History walls
Product displays
Lighting
In this article, we'll discuss four companies who successfully upgraded their corporate interior design with stylish, yet functional elevator lobbies, and explain how brands can use these examples to inspire their elevator lobby designs.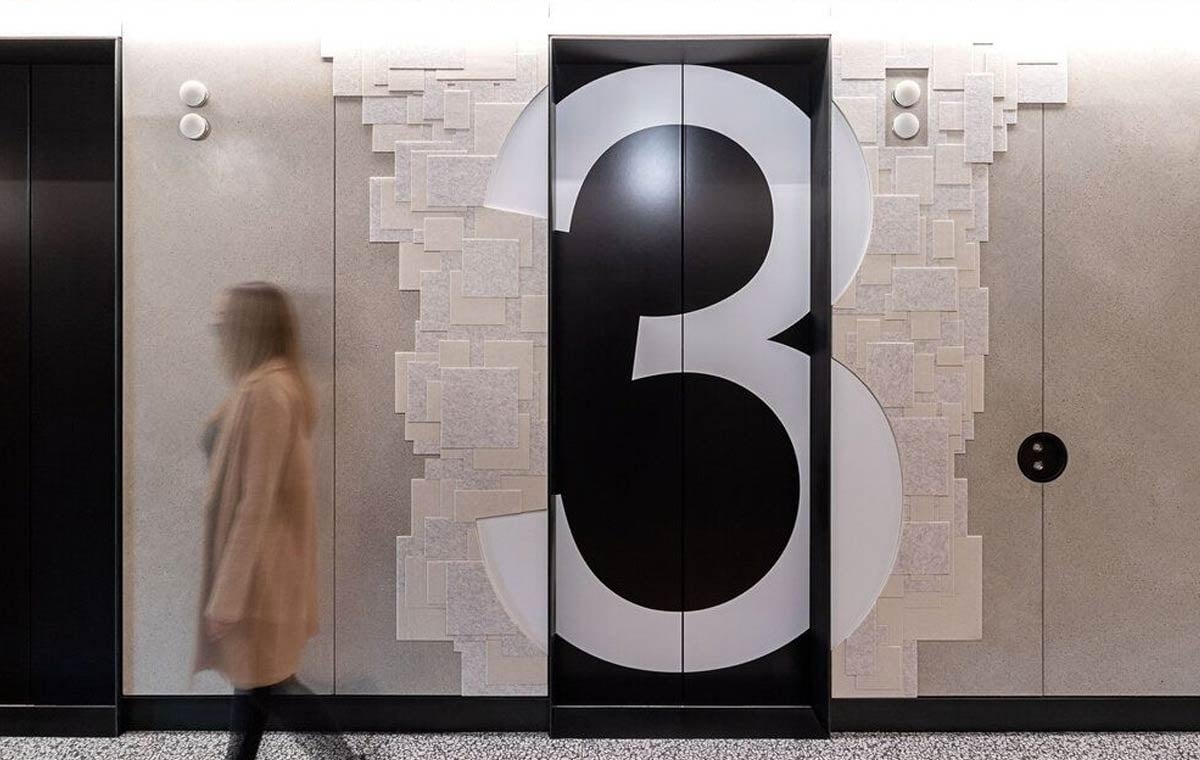 1. Komatsu America
Komatsu America Corp. is one of the world's leading manufacturers and suppliers of earth-moving equipment. Komatsu espouses having a "challenging spirit," a statement that is central to their brand ethos. At their corporate headquarters in Chicago, they carry this ethos through their elevator lobby, marrying form and function.
Komatsu's elevator lobby is awash in natural earth tones, in concert with the primary medium with which their machines work. The space is brightly lit, aiding visitors with way-finding signage and highlighting an appearance of solidity and unflinching strength.
The elevator doors stand out with an oversized floor number motif melding into the patterns along the lobby walls. The doors clearly display each floor level with a dramatic size that is emblematic of the immense scope of the projects Komatsu undertakes.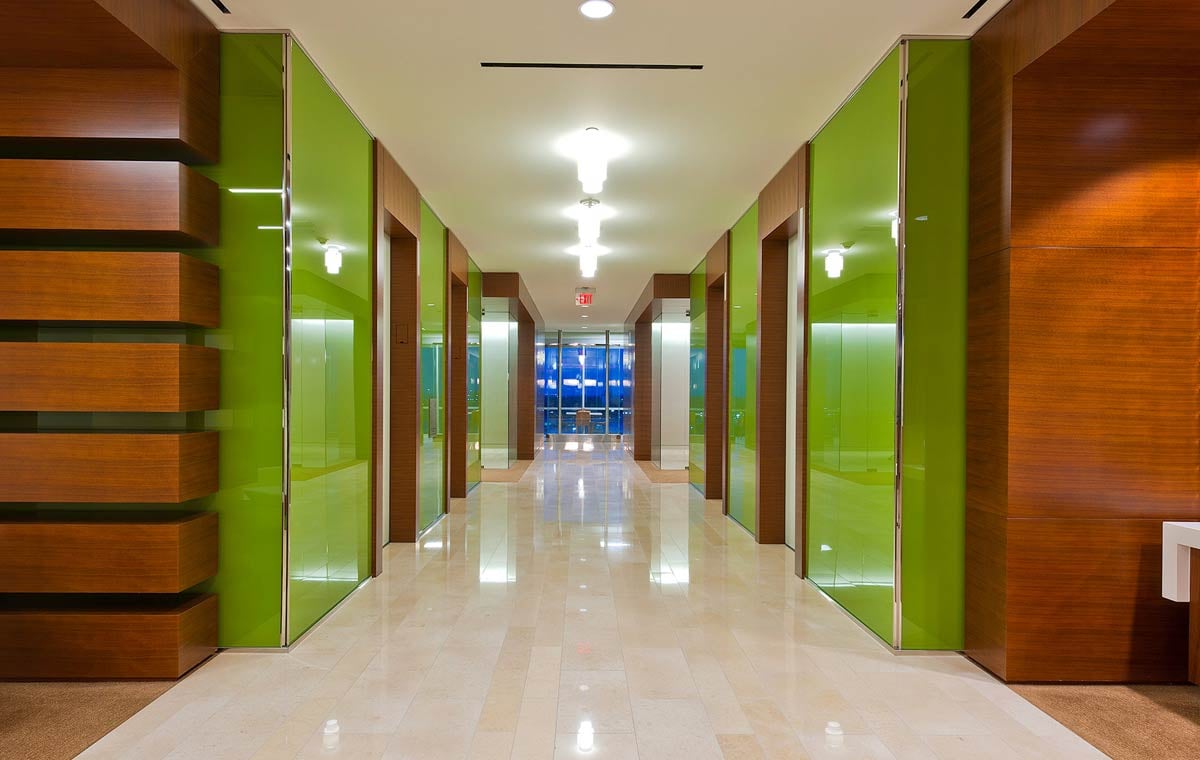 2. Beusa Energy
Beusa Energy is a petroleum management and logistics company based in The Woodlands, Texas. Beusa takes great pride in its commitment to sustainability and clean energy, and takes a strong environmentally-friendly stance in the fossil fuels industry. These values are especially evident in Beusa's corporate office and elevator lobby design.
The green walls are softly lit by natural light that greets visitors as they enter Beusa's offices. Expansive windows, glass walls, and a somewhat open floor plan allow sunlight to filter throughout the lobby. Natural light allows Beusa to dim its interior lighting for energy savings. During their office design process, Beusa also used recycled materials to build internal structures and decorative displays.
The lobby was also well-designed from a functional standpoint, with wide, accessible corridors and elevator bays and sound-dampening wood panels to minimize noise. The final result was a welcoming lobby that expressed and stayed true to Beusa's environmentally-friendly culture.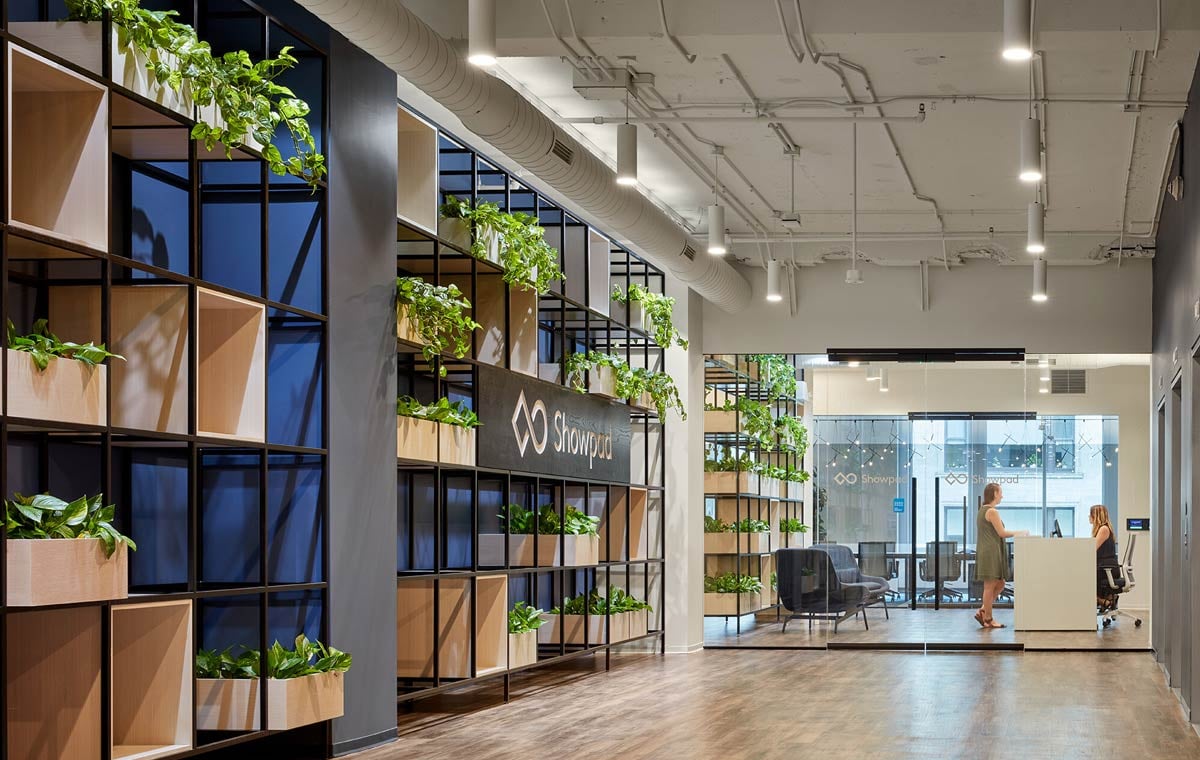 3. Showpad
Showpad is a marketing company specializing in sales software and training. Formed in Belgium in 2011, Showpad now has offices across the United States and Europe. At their Chicago-based North American headquarters, Showpad has a fresh elevator lobby design that uses natural light and wood-panel tiling to create a friendly, warm, and inviting space. The elevator doors open to floor-to-ceiling custom grid shelving with a mix of open space and verdant green plant life.
By leaning into their self-proclaimed "good-natured ass-kickers" ethos with elements of nature in their elevator lobby design, Showpad successfully aligned form and function with their company branding.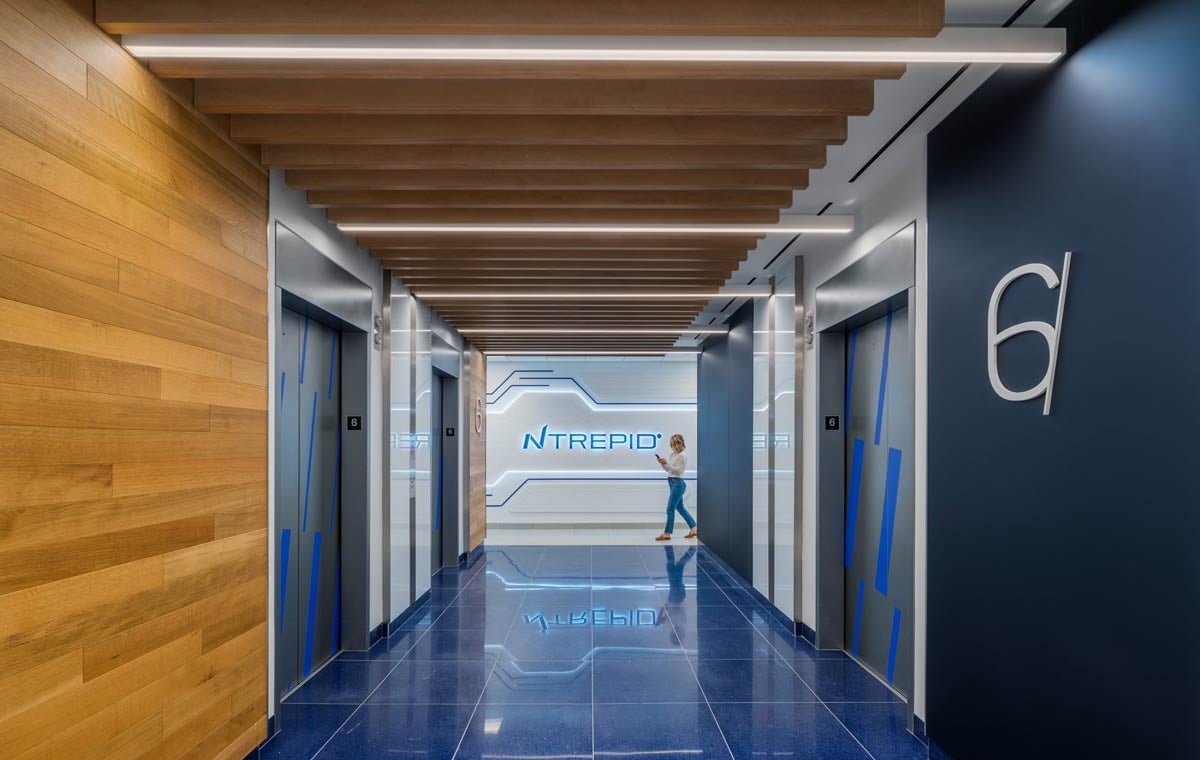 4: NTrepid
NTrepid is a forward-thinking online security and visualization technology firm. Based out of Herndon, Virginia, in the D.C. metro area, NTrepid has several high-end government cyber and national security clients. Describing itself as an "unconventional technology company", NTrepid has a culture of innovation, collaboration, and vitality. To demonstrate this culture through their elevator lobby design, NTrepid has a futuristic look with blue and gray tones.
The lobby features a combination of deep-sea blue marble flooring, sharp-lined modern signage and patterning, and homey wood-paneled walls and ceiling baffles. The baffles work to mute sound, and the lobby is well-lit with non-intrusive strip lighting. The result is a sleek space matching the ambition and innovation of NTrepid.
Designing a Memorable Elevator Lobby
By investing in an elevator lobby space, companies can create a bold, memorable experience for their clients and their employees. For companies interested in designing an elevator lobby that supports the unique personality of their organization, finding a full-service design and fabrication firm can be a great first step. By working with a firm from the very beginning, companies can rely on experts from concept to design to production to installation. Ready to get started? Schedule an introductory call with Bridgewater Studio and get a free Project Success Map customized for your needs.