Corporate interior projects use office graphics to direct, inform and enliven many different business settings – but as a project manager, the more you know about the fabrication and installation of office graphics, the better you can plan, budget, schedule, and optimize every project for success.
By understanding the services required for the fabrication and installation of corporate office graphics, you'll be able to find the most experienced vendors. Studios that don't just have the skills and equipment needed to produce stellar office graphics for corporate interior environments, but who can also navigate the challenges of complex jobs, and even perform flawless installation.
By the end of this article, you will know what to expect during the fabrication and installation of office graphics for corporate interior projects, including:
Wallcoverings

Signage

Dimensional wall art

Glass prints (frost)

Supergraphics

Labels
How Office Graphics are Produced: UV Printing & CNC Services
Corporate office graphics are usually printed on either vinyl or wallpaper using ultraviolet (UV) printers, which have a special ink that instantly hardens when exposed to UV light to create text and photorealistic images on a wide variety of substrates. Instead of vinyl or wallpaper, graphics can also be UV printed directly onto the substrate itself (this is called UV direct-to-substrate printing).
To ensure high-quality UV printing, vendors will require sufficient image resolution. Files typically need to be 300dpi at full size, or in vector format, allowing graphics to scale without losing quality.
CNC services offer many additional options for producing office graphics. CNC routing machines can cut and trim vinyl, paper, foam, styrene, wood, aluminum, and other materials to provide a wide array of print finishing services and graphic applications. CNC routers, in particular, excel at creating dimensional signage where precise cuts are needed, though it is common for UV printing and CNC services to be combined for dimensional signage, wall art and other office graphics.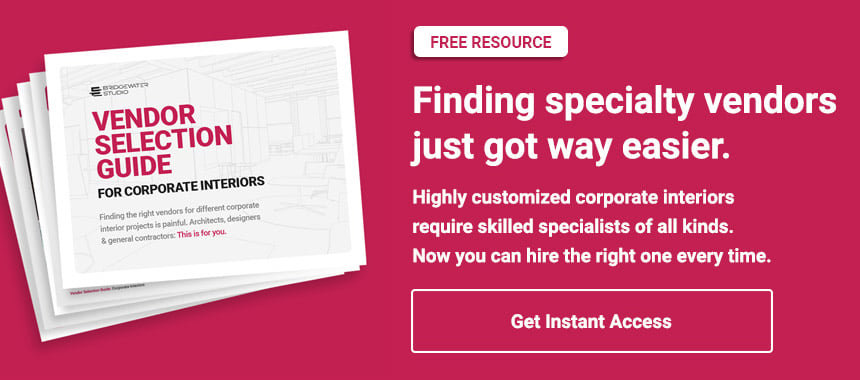 Printed Panels
Office graphics can be UV-printed onto two types of panels for installation:
Canvas panels – Traditional cotton material pulled over a solid wooden frame and stapled tightly. If desired, the image can wrap around the sides.
Acrylic panels – The image is pressurized to the back of a diamond-polished acrylic sheet with high-quality photo paper for a brighter, glossy, and more modern look.
Large panels can be installed using standoff fixings, hidden fixings, or tension cable systems. Smaller panels can be installed using tabletop supports.

Acrylic Installation (Wet vs. Dry Applications)
Corporate interior projects install acrylic graphics in one of two ways – wet or dry installations.
Wet – A solution is applied to wet the surface and the graphic before application. The graphic can be repositioned as needed for a perfect placement. A good option for installing graphics on flat, glassy surfaces.
Dry – Using special transfer tape, the graphic is applied to the surface much like a sticker. Good for large, curved surfaces and almost all other surfaces.
A wet installation gives your studio multiple chances to position the graphic, but waiting for the installation to dry can take up to several hours depending on the temperature and humidity of the office interior. A dry installation is much faster, but your vendor only has one chance for a successful install.
Contour Cutting for Signs
Before being applied to panels, graphics can be contour-cut to custom dimensions using CNC machines. The most common use of contour cutting is for signs that are special shapes for company logos, slogans, and other environmental branding elements. Contour cutting is also popular for producing custom wayfinding signage for directions, room names and numbers, and other information.
Self-adhesive vinyl can be contour cut into a stencil for custom painting graphics. After a dry installation, paint is applied over the stencil, which reveals the custom painted graphics when removed..
Office Graphic Installations
For office graphic installations using wallpaper:
All imperfections are removed from the wall and it is taken to a level 5 finish, then professionally cleaned and dust-free.

Primer is added to protect the wall from the adhesive's corrosive effects.

Panel locations are measured and marked.

Adhesive is applied.

The graphic is installed.
For dimensional art installation:
Aluminum Z-clips provide the strongest solution and are preferred over less stable options like wooden French cleats.
Office Graphic Cost Variables
The cost of office graphics will vary depending on the quality and uniqueness of the materials used. Chrome vinyl, iridescent acrylics, and graffiti-proof wallpapers, for example, are three specialty items that will increase the costs of corporate interior projects.
CNC machining time, coverage area, and design complexity are also typically factored into project cost.
The best fabrication and installation studios will clearly itemize and explain all cost variables when planning and budgeting for your next corporate interior project, while also offering recommendations to help streamline the project process.
Finding Experienced Graphic Vendors
Dedicated sign and vinyl printing companies can have some of the services required for corporate interior projects. However, many shops are not familiar with corporate interior standards, and even fewer companies have the durable ink options needed for UV printing. Experience with corporate art installations will also be limited.
For office graphics requiring CNC services, studios will typically need 3-axis CNC machines at a minimum. Knowledge of CAD and CAM files is also necessary to properly preview graphics and program CNC equipment. The more intricate the graphics and print finishes, the more capabilities a studio will need.
The best way to set complex corporate interior projects up for success is to partner with a full-service design and fabrication studio. You will benefit from a single resource with a multi-disciplinary skill set that includes CNC equipment, UV-printing, and additional fabrication services needed for corporate interiors such as assemblage, finishing, surveying, site preparation, and installation.
If you need to take office graphics to the next level for your next corporate interior project, find out how with a free Project Success Map and an introduction to fully-integrated design, fabrication and installation.