Environmental branding in corporate office interiors refers to office settings that infuse corporate brand personality, characteristics, or culture into their design. The options for incorporating branded elements in an office space are limited only by the imagination, but bringing a concept to life often calls for the expertise of professional design and fabrication services.
Planning a successful environmental branding project requires practical knowledge that goes beyond the basics of corporate interior design. Material choices, fabrication methods and installation processes are just a few of the considerations that can impact budget, schedule and quality of the final results.
This article explores four examples of environmental branding for corporate interiors, detailing different approaches for each — from design and fabrication to final installation. With a little inside knowledge, you'll understand why projects fail and how to set your next branded interior up for success at every stage of the process.
Examples of environmental branding in corporate interiors include:
Logo signage
Quote walls
Company history displays
Wallcoverings
Thematic wayfinding signage
Branded sculpture
Before we look at examples of branded office interiors, let's make an important distinction by answering the question: "What is the difference between corporate interiors and environmental branding?"
---
Corporate Interiors vs. Environmental Branding
Corporate interior design considers both the aesthetics and function of a space in an office setting. This can include elevator lobby design, reception desk design, conference rooms and other areas within a corporate office. Elements of corporate interiors can include wall coverings, signage, furnishings, fine art installations and more.
Environmental branding refers to a space that incorporates the personality, messaging, or other characteristics of a corporate brand. The goal of environmental branding is to design a setting that uses visual storytelling to engage the audience within it and convey a corporate message.
Think of environmental branding as a subset of corporate interiors. A corporate interior may or may not be designed to include branded elements that infuse the space with the tone or personality of a brand.
Now that we've clarified the difference between environmental branding and corporate interiors, let's dive into some unique examples that feature dimensional signage, custom CNC services and corporate office graphics.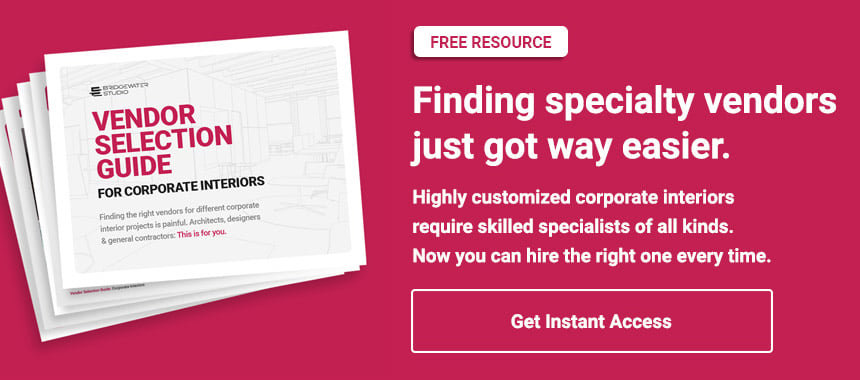 Dimensional Signage
Corporate interior designs can utilize many different materials for wayfinding and other signage. In some cases, material considerations may be purely aesthetic. In others, durability, weight, cost, and a host of other factors may come into play.
Examples of signage materials for environmental branding are:
Acrylic – A sophisticated look that is popular for directional signs, room number and destination signs, and office lobbies.
Cast metal – A sturdy option suitable for name plaques, community walls, company histories and anywhere an authoritative look is desired for signage.
Wood – A naturally elegant and trustworthy feel that lends warmth to corporate wall signage.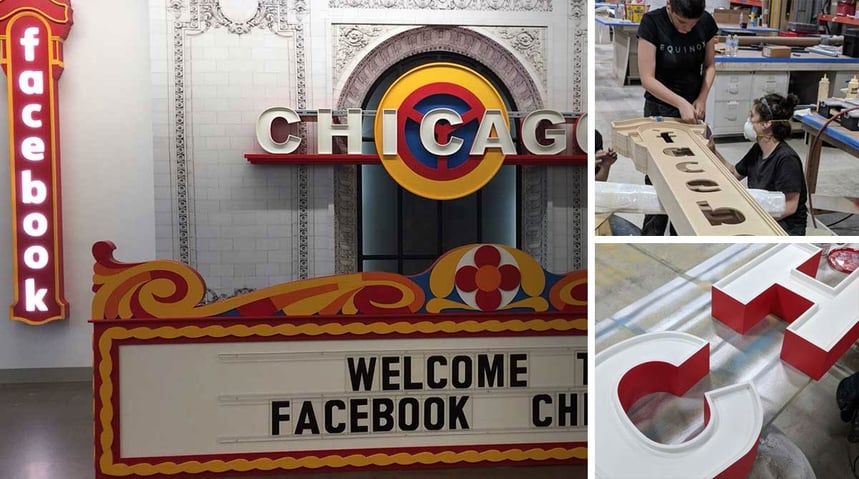 Example 1: Facebook Corporate Redesign
Environmental branding for a Facebook corporate office in Chicago adds local flavor by paying homage to The Chicago Theater with this lighting installation. Signage becomes lighting at the same time, helping to redesign this corporate interior into a space with form, function and brand personality.
Illuminated dimensional signage is one of the more complex elements of environmental branding. In addition to lighting integration, extensive 3D modeling of the Chicago Theater marquee was required for this project, as well as CNC machining to precisely cut each element for final assembly before installation.
---
Custom CNC Services
CNC services are the standard for cutting, bending, engraving or otherwise shaping materials for custom decorative elements in corporate interiors. CNC stands for "Computer Numeric Controlled," and refers to complex machines that are able to quickly and accurately produce art installations to custom design specifications based on 3D modeling data. Logo and wall art, like this reception office redesign for Rio Tinto, requires advanced CNC equipment to produce.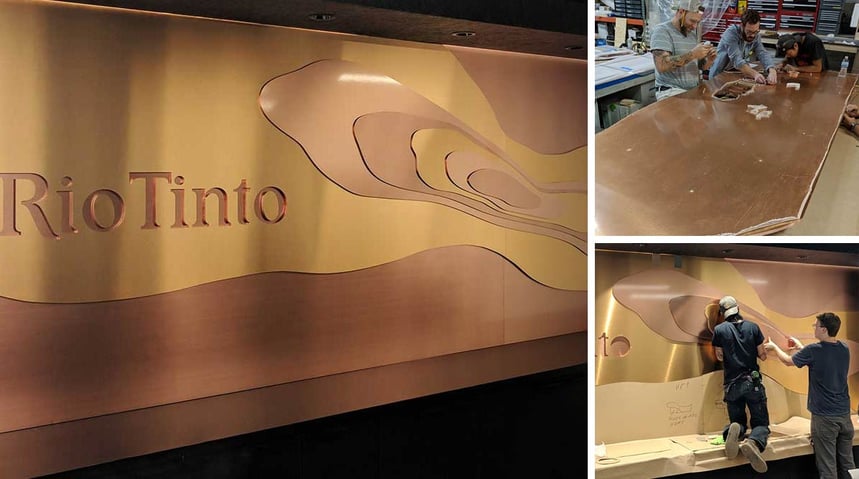 Example 2: Rio Tinto Wall Art
This corporate interior project takes a nuanced approach to environmental branding by incorporating bronze materials to communicate the company's rich history in the mining industry without words. Using CNC metal fabrication services, this unique reception wall was manufactured by cutting and layering bronze substrates to resemble the materials mined and processed by Rio Tinto.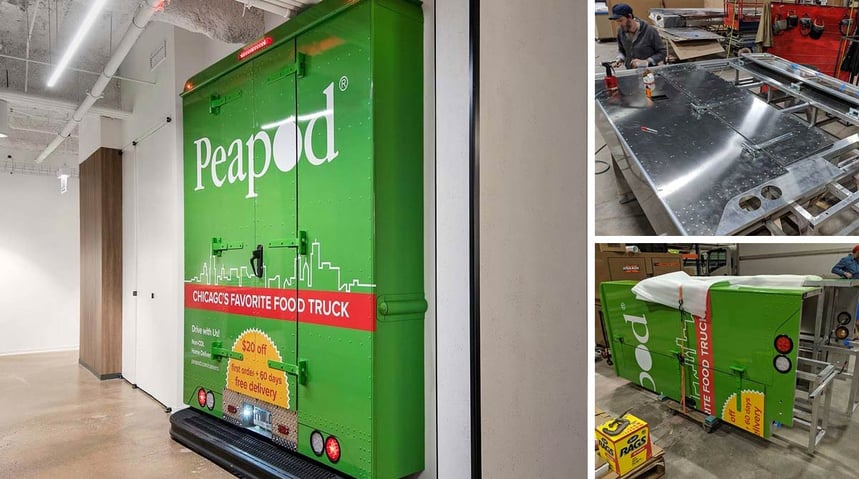 Example 3. Peapod CNC Sculpture Fabrication
To create a branded corporate environment for Peapod, an iconic grocery delivery company, a life-size delivery truck sculpture was designed, engineered and installed in their office. 3D modeling was used to digitally sculpt the truck. CNC metal fabrication services were used for the custom frame and doors – which required advanced levels of sheet metal cutting and forming. Engineering, electronics integration, and graphics wrap completed the sculpture, with on-site art installation as the final step.
---
Corporate Office Graphics
Office graphics refer to the use of high resolution designs and photos for a number of applications ranging from logo walls to fine art installations. Office wall graphics are an efficient way to liven up large neutral areas in branded environments with text and images that support a business' messaging, culture or personality.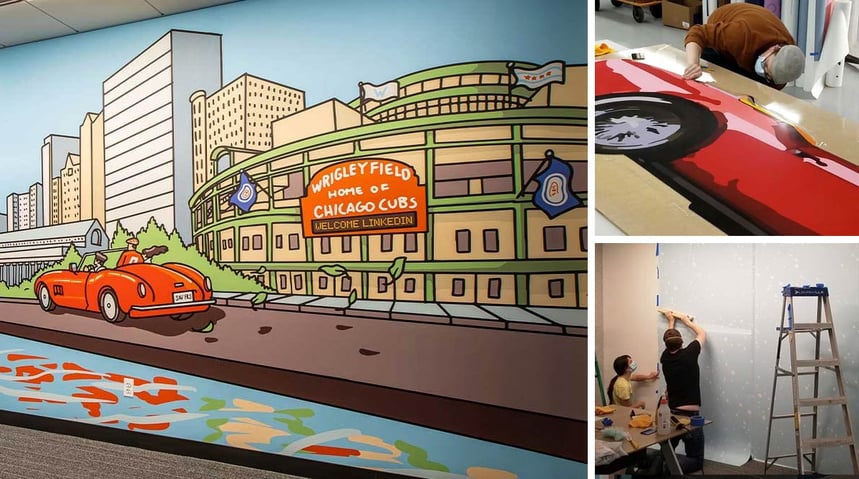 Example 4: LinkedIn Corporate Interior Redesign
This corporate office redesign for LinkedIn employed direct-to-substrate printing for large scale wall art to create a branded environment featuring local landmarks and artists. The large-format wallpaper graphics required extensive color-matching to the original artwork, as well as printing to a variety of substrates. Installations on multiple floors resulted in a unique branded corporate interior from top to bottom.
---
Set Your Next Environmental Branding Project Up for Success.
Environmental branding for corporate interior design can present unique challenges. An experienced design and fabrication studio can help you make the best choices for materials, finishes, installation techniques and the many other variables that impact project success.
To find out how a full-service design and fabrication studio can make the most of your budget, streamline production and ensure the highest quality results, schedule an introduction to Bridgewater Studio today and get a free, customized plan for your next corporate interior project.