Corporate interior designs are increasingly opting for advanced environmental graphics over traditional specialty wallpaper prints and wall coverings as they aspire to more modern experiential design sensibilities.
As environmental graphic design continues to move to the forefront of corporate interior projects, understanding exactly what environmental graphic design is – and how it differs from similar fields – is crucial for project managers looking to identify the most experienced vendors with the right design and fabrication capabilities.
Full-service environmental graphic design for corporate interiors typically includes the following:
Site survey and prep
Graphic printing
Graphic art installations
FCO lettering
Etched graphics
Vinyl wall coverings
Lighting integration & installation
Dimensional signage fabrication + finishing
Wallpaper installation
Sculpture sourcing or fabrication
Many more services
What is Environmental Graphic Design?
Environmental graphic design is a multidisciplinary approach to creating spaces that combine graphic, architectural, interior, landscape, and industrial design elements. It is a subset of experiential design in which 2D elements in a space are the primary vehicles for conveying the sentiments of a planned interaction.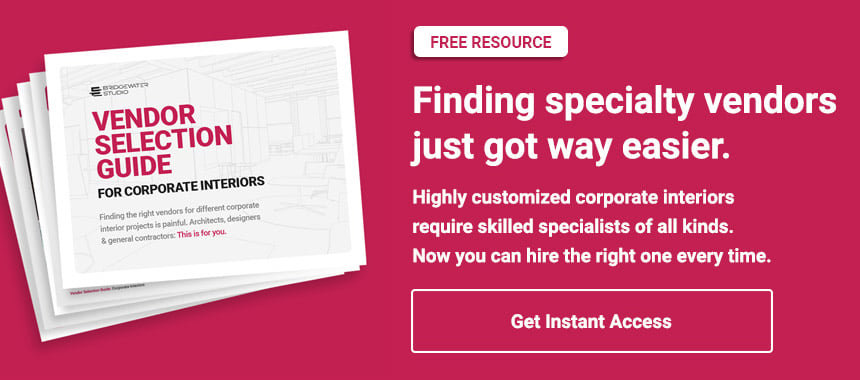 Cost of Environmental Graphic Design Art Installations
An experienced project manager will know how to streamline corporate interior projects and keep labor costs on budget. This includes coordinating with general contractors and other trades to ensure all walls and rooms are prepped and ready for graphic design installation. Careful planning means cleaned surfaces with a level-5 finish, and no obstructions or previous art installations that need to be removed. Any work that still needs to be done can lead to overtime charges.
If the office graphic design installation takes place in an environment that requires union labor, this can also have an impact on pricing.
Ensuring accurate site measurements is another way to control the cost of environmental graphics installation. Onsite dimensions at the time of installation should match those taken during an initial site survey, or costly adjustments may be required.
The types of wallcoverings specified will have a direct impact on budget as well. Materials, printing processes and installation methods will vary with different wallcoverings, so identifying the right option for your needs and budget will save time and money.
What is the Goal of Environmental Graphic Design?
Environmental graphic design integrates a story into a built space through materials, colors, typography, signage, and other elements to transform an otherwise neutral area into something informative and unique. In corporate interiors, they are meant to entertain, inspire and inform people as they interact with an office setting.
According to a popular workplace architecture study called Workplace Strategies and Human Performance, "moods create the 'affective context' for thought processes and behaviors are directly tied to motivation." In other words, a workplace that puts workers in a better mood inspires them to do a better job.
Why Environmental Graphic Design is Popular with Corporate Interiors
When employees are more connected to their workspace, everyone benefits from a boost in productivity, company pride and corporate culture. Environmental graphics can play a major role by creating an office interior with all the right visual components.
Bright colors can liven up employee engagement areas and encourage social interaction. Typographic elements can set a fun, casual tone, or inspire thoughtful reflection consistent with the brand mission. Graphic design motifs can include corporate logos, or take a decidedly different approach. The options are limited only by the imagination, opening the door to corporate interiors that are anything but corporate.
In this sense, environmental graphic design is a way to transform spaces by adding personality, human emotion, and a deeper purpose. By bringing visual storytelling into corporate office interiors, companies can improve the way employees interact with their surroundings—and each other.
Glass Environmental Graphics Design
Window film graphics offer both form and function in corporate interiors. Distraction graphics, often required for safety, make glass doors and walls more visible. They can also provide office privacy and filter light where desired.
Planning for Environmental Graphic Design
Environmental graphic design for corporate interiors begins with a vision for an improved office space. Bringing that vision to life, however, takes careful planning, sourcing and project management. Engaging a full-service design and fabrication studio early in the process will provide valuable insights into material choices, production techniques and installation methods. Have a project to discuss? Schedule an introduction to Bridgewater Studio today and get a free, customized project plan.