When it comes to art installations, corporate office interiors require a lot of careful planning. For a project manager overseeing the installation of corporate art, style, size, placement, and a variety of other details must work together to create an engaging experience for employees and clients alike.
Art installations, by their very nature, are open to interpretation. In the context of corporate environments, this can raise many questions. What is corporate "fine" art? How does corporate art contribute to the purpose of an interior? How can an art installation support a company's image? Can corporate art increase work productivity and career satisfaction?
From wall art to sculptures and more, this guide is for project managers who want to understand the potential impact of their next corporate art installation.
What is the Difference Between Installing Corporate Art and Corporate Fine Art?
Corporate art and corporate "fine" art are often used interchangeably, but there is a "fine" distinction between the two:
Corporate art – Art purchased for display in a corporate interior office. The artist may or may not have been commissioned by a company to perform custom work under their direction.
Corporate fine art – Art, purchased for display by a corporation, created by an artist who is producing original work that is not dictated by others.
While "corporate fine art" can be considered "corporate art", "corporate art" can only be considered "fine art" when an artist has produced the art without any outside guidance or direction.
In other words, if a company hires a studio to design, fabricate and install a work of art, it may be considered an "art installation," but since the inspiration is coming from somewhere other than the artist, it is not considered a "fine art installation."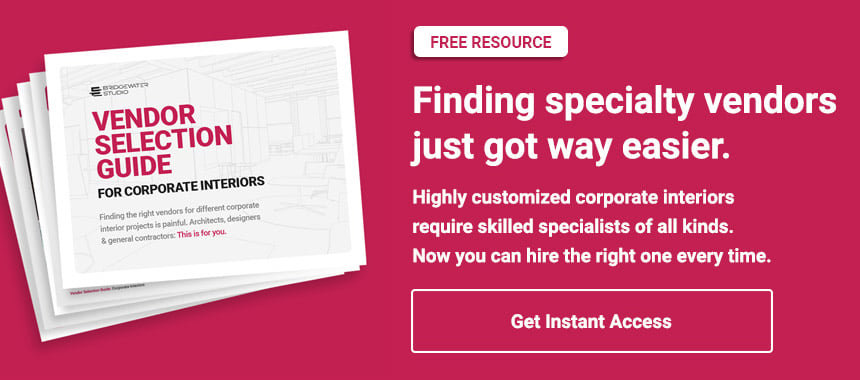 How Fine Art Increases Work Productivity
Fine art installations can consciously and subconsciously increase work productivity by creating spaces that prioritize efficiency, boost morale, and promote a positive corporate culture.
Shapes, colors and patterns can be used to inspire creativity, positivity, and a welcoming environment. Corporate fine art installations can also foster loyalty by celebrating accomplishments in the workforce with history walls, community walls, employee plaques, and other custom wall-coverings that serve as measures of pride.
Modern Trends in Corporate Art
Many corporations are turning to large-scale art to transform their generic office interiors into modern spaces that make big statements. Examples include corporate sculpture, office wall graphics, employee engagement areas and custom elevator lobby design.
Collaborative art installations (multiple artists) are a creative way corporations are using strong visual messages to promote ideals like teamwork and diversity.
Multimedia art installations are yet another way modern corporations are opting for unique office interiors. Multimedia art installations typically use non-traditional materials or techniques, including "found object" art installations, where art is derived from ordinary items used in unusual ways.
Branded environments are corporate interiors that convey a company's personality, message, or other unique traits. An increasingly popular application of corporate art, we'll cover these in more detail next.
Environmental Branding and Corporate Art Installations
Environmental branding, in an office setting, is the use of art installations to visually communicate a company's brand personality or image.
When planning a corporate office installation, companies should consider whether the interior is customer-facing or employee-facing. Environmental office branding is a powerful way to convey a message to a captive audience, but audiences differ.
Environmental branding, when done in a customer-facing office, is more about the clients' experience. The goal may be to encourage sales, foster brand loyalty, or even to create a memorable event that transports visitors to another time and place with a heavily themed environment.
For employee-facing interiors, the purpose of environmental branding is most often to create a work environment that aligns employees with each other and the company's goals. Art installations for this type of corporate interior should be designed accordingly.
Finding an Artist to Produce Corporate Fine Art
In some cases, a corporation may commission an artist before their interior has been designed. In other cases, a corporate interior project may be well underway before art installations are discussed.
In all cases, consulting a fabrication studio early in the process will provide a host of benefits.
A studio with fine art installation experience will be able to help organize and curate ideas. They can provide key insights during the artist selection phase, or in reviewing proposed art. They will prioritize efficiency, identify potential issues and recommend improvements across the entire project lifecycle. They will focus on the smallest of details that contribute to the success of the workplace environment being created.
Finally, searching for a corporate artist, corporate fine artist, or fabrication studio will often lead to confusion over the various media that may (or may not) be considered "art." Our advice is to keep definitions simple, and remember that art is in the eye of the beholder.
Corporate art can include any 2D or 3D works:
Murals
Paintings
Signs
Sculptures
Wall installations
Integrated lighting
Much more
Finding Professional Expertise for Corporate Art Installations
Since fine art installations are so closely tied to the artists creating them, project managers tend to look directly to artists for help installing their works. However, complex art installations (particularly those with large 3D objects) often require a fabrication studio to help create the art and perform the installation.
An artist can help identify the outside services they might need to fabricate and install 2D and 3D works. In most cases, a full-service fabrication studio with a multidisciplinary skillset is the best choice. With expertise that spans the entire project lifecycle, these studios are used to troubleshooting corporate interior art installations, developing new processes to make them successful, and responding with solutions if things go wrong.
A full-service, multidisciplinary fabrication studio should provide the following art installation services:
Replication & reproduction
Casting
Molding
Object enlargement
Specialty engineering
Specialty finishing
Physical installation
Scheduling and Budgeting Tips for Fine Art Installations in Work Environments
A full-service fabrication studio can streamline the entire corporate interior design process. In the planning stages, they will help you prepare for every scenario that might impact the installation of an art piece. Even before fabrication begins, the studio should conduct a thorough site survey to eliminate any surprises that could throw off an installation schedule or exceed budget. A fabrication studio should also review detailed drawings to identify any previous art installations that might need to be removed or replaced.
The best fabrication studios will also create a digital 3D simulation of the site and the artwork, allowing stakeholders to align on the design, execution, budget and timeline of an art installation before it even begins.
Fine Art Installations for Corporate Interiors: Where to Begin?
The most successful art installations for corporate interiors don't happen by accident. They are the result of careful planning, coordinating and execution at every step. Find out how your next project can benefit from a full-service fabrication studio and art installation expert with a free, customized Project Success Map.