Our physical world is filled with manufactured things in all different shapes and sizes and made from a variety of materials. How do these items go from raw materials to completed pieces? The methods of fabrication may change and evolve, but the basic principles remain the same: To construct three-dimensional objects, something is either added or taken away.
This process of building through the addition of something to a blank space or foundation is called additive manufacturing. Within design and fabrication industries, the term most often refers to digital fabrication using 3D printing technology.
In this article, we'll explore how product manufacturers, artists, architects, and creators of all kinds bring custom three-dimensional objects to life with precision and efficiency using additive manufacturing.
What does "additive manufacturing" mean?
Additive manufacturing refers to a fabrication process where the material is added, rather than removed, to create an object. For instance, an artist constructing an object by welding pieces of metal together is using an additive process. An assembly line where plastics are poured into molds is using additive processes, too.
However, the term "additive manufacturing" also has a more specific meaning and is used to distinguish 3D printing from other digital or computer-aided fabrication processes.
3D printers are additive because these machines follow digital instructions to craft an object by adding materials such as polymers or metal to a base. The process is a bit like building a sandcastle using the drip method where you hold sand in your hand and use gravity to add it to your design drop by drop. Various methods such as exposure to air or light cure the materials, solidifying them.
Not all 3D printers work by adding liquids that solidify when cured in the open air, though. Instead of building by adding drops to a surface, SLA 3D printers solidify (a.k.a. cure) targeted portions of liquid resin using a laser.
What is subtractive manufacturing?
As you may have guessed, the opposite of additive manufacturing is subtractive manufacturing. This process involves cutting, carving, or otherwise removing material from a form to reveal the intended object's shape. Sand castle builders who start with a huge mound of tightly packed sand that they then carve into shape use subtractive processes (without the computer assistance, of course).
CNC machines are an example of modern subtractive manufacturing. Using various removal methods and following digital instructions, CNC fabrication removes substrate material until a desired shape is achieved.
Additive vs subtractive manufacturing: Which is better?
Choosing the best way to create a 3D object isn't always simple. The fabrication method you choose for a project will depend on many factors. The time it takes to produce an item, the repeatability of the process, and the durability of the finished product are all impacted by your manufacturing methods as well. While there are exceptions to the following lists, it provides a helpful overview for considering either method.
Pros & cons of additive manufacturing
Results in less waste because materials are used as needed
Fewer choices of materials (selection can be limited by type of 3D printer)
Often requires hand-finishing to smooth surfaces and hide seams
Material and printer selection may limit choice of finishes
Large and/or highly detailed objects may be time-consuming to 3D print
Can modify detail and density of objects through design choices.
Pros & cons of subtractive manufacturing
Increased waste if removed materials are not reusable or recyclable
More options for material choices
May require less hand-finishing of parts
Wider selection of finishes and coatings
Can be faster than 3D printing for large objects
Density of objects is defined by the material


If deciding between CNC vs 3D printing seems like a daunting task, remember that you don't have to use just one process to complete a project.
Often, neither additive nor subtractive manufacturing is the best choice. It's both.
For example, a CNC machine can carve customized shapes from solid blocks of foam or other materials. But to produce multiple pieces of the same object, it might be more efficient to 3D print negative molds and pour liquid foam into them.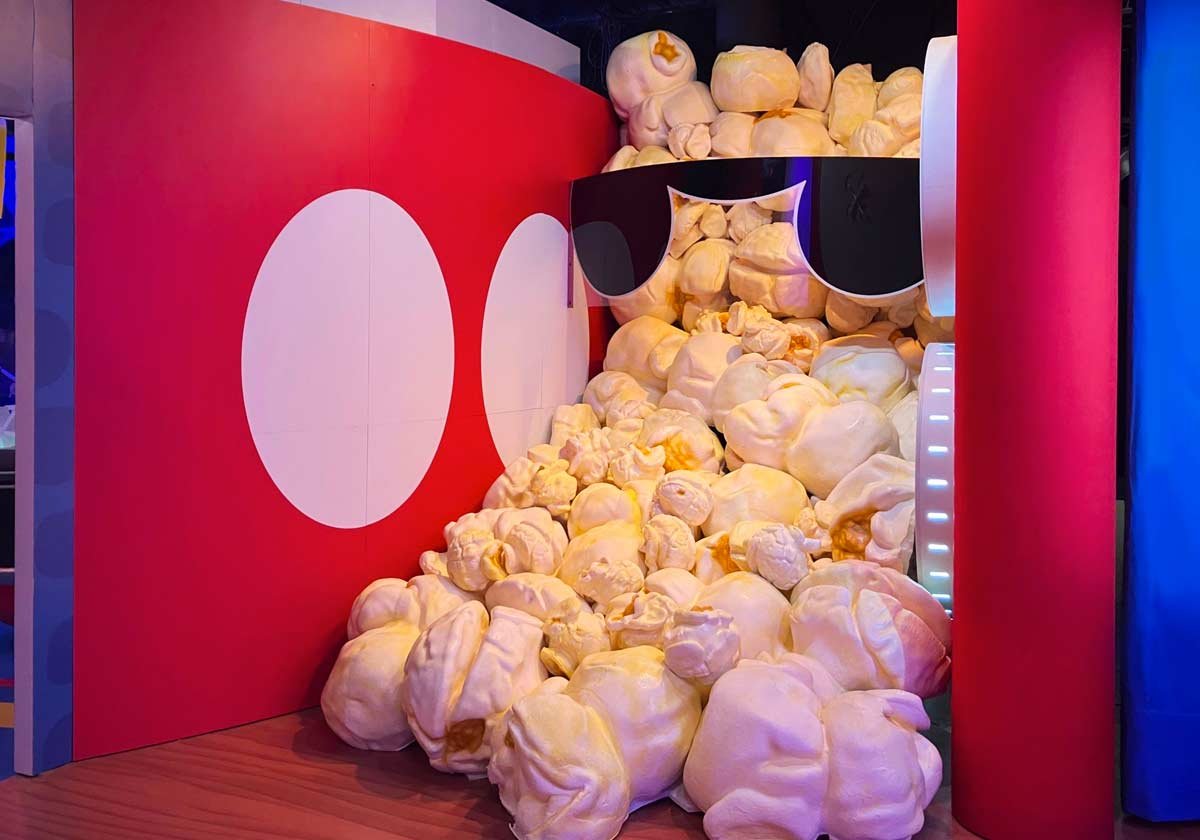 Oversized pieces for this climbable "popcorn wall" were fabricated from foam using 3D-printed molds.
A full-service design and fabrication team with experience using additive and subtractive fabrication methods and access to a full range of manufacturing tools and technologies can help you select the best process or combination of processes for your projects.
Examples of amazing objects made using additive manufacturing
While desktop 3D printers are useful for producing small items, industrial 3D printers allow for highly detailed objects at any scale.
What are some items sculptors, artists, architects, manufacturers, designers, brands, museums, and cultural institutions are building using modern additive manufacturing processes?
Check out these amazing objects built with additive manufacturing:
What would you build with additive manufacturing?
Whether you need a replacement part or a one-of-a-kind piece for your next art installation, additive manufacturing may be the way to get it built. Find out how the right combination of fabrication processes and design and production expertise can help you create something amazing.
It all starts with a Project Success Map—a free plan to detail every stage of your project from ideation to installation. Take the first step toward bringing your ideas to life by scheduling an introduction to Bridgewater Studio today.