From an indoor rock climbing wall at Google's headquarters to HubSpot's coffeehouse-style café, it's never been a better time to be an employee (or a client) at some of the world's most innovative companies. Going above and beyond in their corporate office design, brands like Google and HubSpot use fun and welcoming furnishings, art installations, sculptures, graphics, and typographical elements to create thoughtfully designed common areas, break rooms, and more.
Whether companies are looking to renovate an entire office or create a new, modern employee lounge, there are a number of imaginative ways to take these once utilitarian spaces to a whole new level. In this article, we'll explain how companies can plan and execute a modern employee lounge design and the many benefits it can bring.
The Benefits of Modern Employee Lounge Design
In addition to the perks of having an updated corporate office interior, a modern employee lounge shows staff that a company is invested in their success and comfort. With the right elements, a well-designed lounge can serve as an inspiring place for teams to work, connect, and collaborate. This can all contribute to an exceptional company culture where employees feel seen and appreciated.
The benefits of a modern employee lounge design can include:
Improving employee morale
Boosting productivity
Promoting brainstorming and creativity
Encouraging social interaction
Providing space for colleagues to eat and relax
Helping employees stay physically fit
Temporary escapes from the work environment to recharge
Pride in the company's mission and culture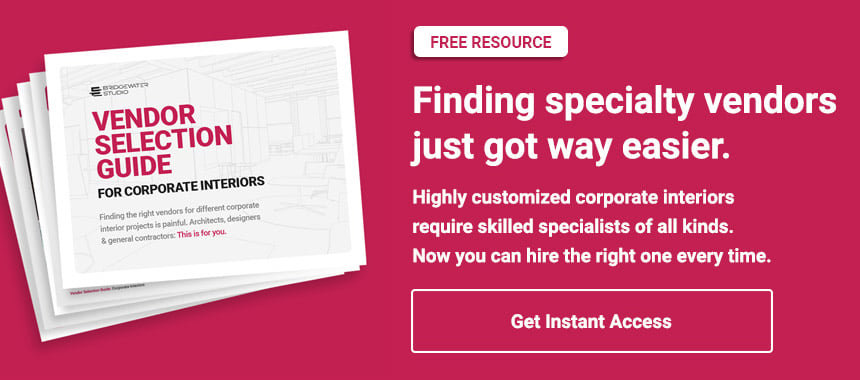 Employee Lounges Designed to Engage
When focused on employee wellness and engagement, employee lounge areas and office interiors can be an excellent investment for teams.
A few examples of staff rooms and spaces that promote employee engagement include:
Cafeterias
Coffee bars
Common areas (kitchens, hallways, seating areas)
Conference rooms
Employee break rooms
Fitness rooms
Hospitality stations
Interactive stations (games, activities, community wall art)
Meditation spaces
Planning An Employee Lounge Redesign
It can be challenging to develop a corporate interior design that satisfies everyone's needs, but with the right approach, brands can create an employee lounge that does just that. When Gusto, a payroll processing company, did an inspiring office design project for their new headquarters in San Francisco, they involved their staff from the very beginning. Through group brainstorms and feedback, the team was able to renovate a historic ship repair warehouse into a homey, artistic space that their employees love.
By starting with a comprehensive planning stage, brands can consider everything that goes into their redesign. A few essential steps will include:
Prioritizing comfort and separation from the workspace
Including space to eat, drink, relax and reflect
Creating a budget and timeline for the project
Optimizing the redesign process with stages for planning, design, production, installation, and clean-up
Partnering with a design and fabrication company who can perform every step
Using insights from the planning stage, brands can get started on designing an employee lounge that aligns with the wants and needs of their most valuable asset—their people.
Designing A Modern Employee Lounge
Today, Gusto's Pier 70 is an expansive office with a custom wall mural, neon signs, oversized couches, wall greenery, and comfortable lounge areas with signature details reflecting the input of its "quirky, vibrant" employees. To pull off a similar aesthetic that combines form with function, many brands choose environmental graphics to make up their spaces, such as:
Logos
Typographical Elements
Wall Art
Signage
Graphics
Furnishings
Sculpture
Interactive Elements
Modern fabrication methods allow brands to choose from a wide variety of materials, from softwood textures to vinyl wall graphics for these elements, which can help to create interiors that feel anything but "corporate." Similar to the approach that Gusto took, the right material choices should ultimately be informed by a combination of brand personality, budget, and employee input.
Bringing An Employee Lounge Concept to Life
With sound planning and design, brands can bring an employee lounge idea to life with ease. The best fabrication and installation partners will own every detail and streamline the process with full-service capabilities that include 3D printing, CNC machining, custom millwork, lighting integration, interactives, and more.
A full-service fabrication company will also ensure a problem-free installation. Corporate office redesigns can become project management nightmares when multiple vendors and trades need to be coordinated. An experienced partner will guide site preparation, anticipate challenges, and perform a flawless installation, so your project continues to run smoothly.
Choosing A Design and Fabrication Partner
There are a lot of steps that go into a corporate office redesign, but with the right partner, brands can get ahead of obstacles and challenges. The sooner a design and fabrication company is involved, the sooner they can offer guidance and expertise, anticipate issues, and recommend solutions—and the more opportunity there will be to maximize your budget.
To learn how a full-service design and fabrication company can take your employee lounge to the next level, schedule a no-pressure introduction to Bridgewater Studio today. We'll customize a free project plan for your corporate interior needs so you'll be set up for success from the start.