Experiential design is the creative force behind some of the most amazing brand activations, art installations, and experiential entertainment events we saw in 2022. Audiences of every kind including tourists, customers, fans and conference attendees are on the lookout for something innovative and new when they venture outside their homes. They expect each interaction with a brand, business, or creator to be an experience–not just a transaction. Experiential design studios are the experts that make these one-of-a-kind interactions possible.
Who are the studios that create the environments where immersive engagements happen? Here's a roundup of our favorites.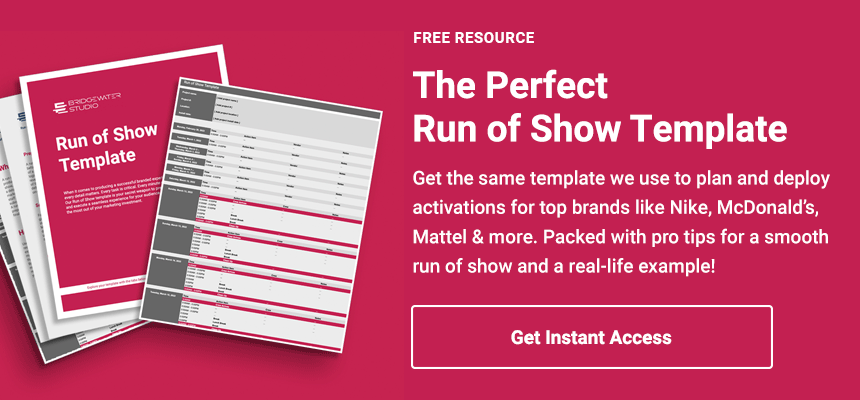 Seven of the industry's best experiential design studios
The following list of experiential design companies includes ones that we've worked with and come to know. They've made our list of studios to watch because of their skill, experience, passion and creativity. These studios are a pleasure to observe and to work with.
1. Engine Shop: A creative agency driven by curiosity.
With clients including Budweiser, Hilton and Mercedes, Engine Shop's award-winning design studio aims to build innovative experiences that tap into humanity's innate curiosity and desire to explore. This creative experiential agency was awarded a 2022 Pro Award for Best Vehicle-Based Campaign for its Mercedes-Benz USA EQS launch sponsorship campaign at the US Open.
This campaign drew attention from fans and industry experts alike by incorporating crowdsourced energy into the experience for the electric vehicle. Innovative audio elements brought even more sensory impact, further showcasing the agency's skill in delivering fully immersive experiences.
2. Mycotoo: An entertainment development company dedicated to telling great stories.
Specializing in creating environments that bring spectators and brands together, Mycotoo is the idea and design team behind popular experiences including Netflix's Stranger Things: The Experience and HBO's SXSWestworld.
Mycotoo transforms brands' intellectual property into powerful, experiential franchises by creating immersive installations and touring exhibitions that elevate strategic partnerships. Today's content consumers are eager to break through the fourth wall and join the action of their favorite programs. High caliber immersive experiences designed by Mycotoo are making that possible.
3. Thinkwell Group: A multi-disciplinary innovation powerhouse for experiential design.
With immersive, experiential installations in 28 countries, Thinkwell Group is a global powerhouse. The innovative design agency became a part of the TAIT Group in 2022, gaining access to even more creatives, engineers, and facilities around the world. More than 430 million people have participated in experiences designed by Thinkwell.
Taking the power to connect people with exciting and engaging environments out of theme parks and into branded spaces, museum exhibits and installations around the world, Thinkwell is known for its ability to create remarkable, immersive environments—from the Samsung Oasis in Singapore to the Fernbank Museum's NatureQuest in Atlanta, Georgia—that connect people with organizations in the physical world.
4. Superfly: Developing inspiring cultural experiences with passion and purpose.
Their design and execution of music festivals, album launches, immersive experiences and more make Superfly, well, pretty fly. Awarded Agency of the Year by The Drum, this experiential design studio has lots to be proud of.
Counting brands ranging from Disney to The Atlantic among their clients, Superfly's designs facilitate cultural connections between companies and their diverse audiences. Modern experiential design that is thoughtful, purpose-driven and inclusive enables brands to communicate their values and support their audiences in pursuit of shared goals.
5. Medici XD: Unifying digital, virtual, physical and sensory to create exceptional interactive experiences.
Medici XD leverages all the powers of the physical and technological universes to create singular, immersive in-person experiences. The experiential design studio is known for its attention to multi-sensory input and use of advanced technologies.
Formerly Mousetrappe, Medici XD builds multi-sensory integrated software, rides, show action equipment and media elements to bring cutting edge immersive experiences to theaters, theme parks, museums and entertainment centers. The TruFlight Theater introduced at the IAAPA Expo in November 2022 is among Medici XD's most notable products. The new generation of immersive experiences is ready for takeoff!
6. Asterisk* Design: Building environments that deliver engaging experiences.
With works installed in office buildings, multifamily housing and public spaces, Asterisk* partners with organizations to create integrated brand experiences. The experiential design studio's collaborative, audience-first approach ensures that each development is unique and on-brand.
The teams at Asterisk* work with partners including Gensler, STG Design and Content & Context to bring outstanding experiences to human-first environments.

asteriskdesign.com


7. 160over90: Putting culture over everything to move audiences.
Part of the Endeavor family of design and production companies, 160over90 taps into modern culture to help brands connect with modern audiences. This agency creates experiential designs that demonstrate brand's values and contribute to ongoing cultural conversations.
Specializing in live concerts and events, pop-ups, takeovers and other interactive experiences that create lasting memories, 160over90 is responsible for events such as HSBC UK's Golf Zone experience and the Saks Fifth Avenue 95th anniversary carousel activation for New York Fashion Week.

160over90.com


Finding the best experiential design studio for your next project
As the line between branding and entertainment continues to blur, and audience expectations continue to increase, organizations need to look for ways to deliver more engaging, memorable experiences. These top experiential design studios are leading the way with innovative ideas and high quality executions.
How can you create a one-of-a-kind experience that engages your audience with purpose? Connect with a full-service design, production and strategy company that can streamline your project from ideation to installation. Leveraging the expertise of a multi-disciplinary partner is the best way to get the most out of your budget—and to deliver the highest quality experience for your audience.