Do people prefer to be spectators or participants? Increasingly, the answer is the latter. People want to influence their environments and to be influenced by them. They are no longer satisfied as passive observers. They want to respond to and exert control over their experiences, and they want those experiences to stimulate their senses and emotions.
That's one reason for the rise in popularity of experiential events.
Experiential events engage the senses, excite participants and leave a lasting impression. But every year, innovative brands and experiential designers are raising the bar on what it takes to make an event memorable.
How do innovative brands consistently win with event experiences? How can your brand get on board? We'll answer these questions and more.
What is an experiential event?
Experiential events are activities that enable brands to interact with customers, clients or stakeholders as a group. Experiential events traditionally take place for a limited duration, and in-person events most often occur at a specific location. Although, brands may launch multiple events at separate locations simultaneously or host traveling events that move from location to location to extend their reach. Organizations may also engage in smaller, individual events or use sponsorship activations to access larger crowds than they might attract on their own.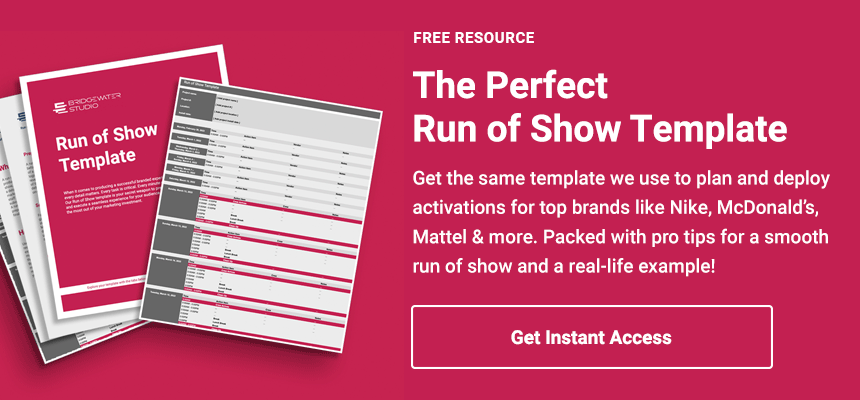 Online and hybrid online-offline events further extend the reach of experiential marketing campaigns. For example, many in-person trade conferences now offer a virtual ticket that enables attendees to tune in online to view keynote and other presentations. Virtual trade halls allow online visitors to explore digital versions of the event's sponsor and attendee trade booths.
Trade conferences are just one type of experiential event, however. Meetings, sponsored competitions, brand activations, concerts, festivals, sporting events, exhibitions or other cultural, entertainment and leisure experiences that encourage interaction between people and organizations also fit within this category.
Why do organizations host experiential events?
Experiential events attract people to a brand enabling it to achieve other goals, such as increasing brand awareness, raising funds or introducing a new product line. A 2021/2022 survey of marketing professionals reveals it was the number one tactic among those surveyed, with 38% ranking it as their most successful tactic.
Most organizations define more than one goal for an experiential event. However, the event's planning and execution should focus on achieving a few primary objectives–namely, event programming. These goals will have defined KPIs and a method for tracking success.
An experiential event may serve as a channel to:
Increase brand awareness with new audiences or deepen brand knowledge with existing audiences.
Gain social media mentions and buzz that earns credibility and reaches new prospects.
Capture revenue by making direct sales or moving event guests further along their buyer's journey.
Demonstrate and educate attendees about a product or service, new initiative or other important organizational information.
Deepen customer relationships through experiences that increase familiarity, trust and affinity for the brand.
Meet your customers, gain first-hand data about their interests and behaviors and conduct market research.
Show a brand's shared interests with customers. Sponsoring a community-focused activity or an event in support of a charity, featuring a purpose-driven keynote speaker or otherwise showing your business's commitment to the values that your customers care about enhances brand loyalty and customer advocacy.
Entertain and interact with the community as a show of appreciation and to improve an organization's reputation.
A key objective of most events is to create a positive, memorable brand impression. Each of the tactics above provide an opportunity to support that goal.
What's trending: How are innovative brands bringing the wow-factor to experiential events?
Reflecting people's increased use of digital technology, current experiential trends include a mix of physical and digital innovations. Going "phygital'' (connecting online and offline experiences) is a top trend for experiential events.
Shareable Experiences
Events that enable guests to share their experiences online in innovative ways are gaining ground as brands know this feature expands their reach and pleases audiences. Practical applications include photo booths, ample wi-fi bandwidth, and QR codes. Adding to the enjoyment on the digital side of phygital experiences are VR and AR applications that supplement physical environments with virtual sounds and images.
Emerging Tech
Digital innovations (think NFTs and blockchain) represent entirely new opportunities to bring value to experiential events. For example, NFTs have the potential to turn event tickets into rare tokens of memorabilia. Blockchain can be leveraged to streamline event ticketing and to help reduce fraud and ticket scalping.
Engaging the Senses
On the physical side of the experiential divide are sensory experiences that can't be replicated online (yet). These event attractions may include tastes, smells, sounds, and touch. Hand-ons activities, themed menus and custom scents are all worthy of consideration for today's curious guests.
Iconic Characters
Using brand mascots or licensed characters to enhance an event's entertainment value isn't a new trend, but it's one that has staying power. Attendees snapping selfies or sharing videos on TikTok may not capture the fine print of a brand's message but the life-sized logo or branded character will definitely stand out.
Live Performances
Finally, while technology enables brands to pre-record and present everything from music performances to webinars, nothing can replicate the unpredictability and uniqueness of a live event activation. One-time, one-of-a-kind events are an effective tool to woo new audiences or reward VIP customers.
Prepare to wow your audience with unforgettable experiential events
At the core of any experiential event is that it delivers an experience that enhances the sponsoring or participating organization's reputation. An event that isn't well-planned and executed can easily have the opposite effect.

The best events start with a detailed, customized plan that seeks to connect your business' unique personality and values with those of your audience. Bringing it all together takes the support of a dedicated partner who understands your goals and how to build and execute an event experience that realizes them.

Ensure your event's success by trusting a full-service experience design, production and strategy company with the expertise to help you select the right concept, designs and fabrication methods for an event that is on brand, on budget and unforgettable.

To learn how the most enviable experiential events are seamlessly produced with a single partner, schedule your introduction to Bridgewater Studio today.