The best modern office interior designs create people-centric spaces that facilitate how work gets done. With a user-first approach to developing functional, flexible, positive and inclusive environments, thoughtful office designs deliver real benefits to employers and employees. These office interiors support the new normal of work that includes hybrid schedules, asynchronous collaborations, and bringing remote and in-person teams together.
Yet, despite all the benefits centralized workplaces offer, many workers are still reluctant to return to the office. Bland, generic interiors that put utilitarian function over comfort and engagement offer little incentive for people who have enjoyed working from home.
What are the latest trends in modern office design that make coming together worth the commute?
Customized interiors that emphasize a company's unique culture and values, facilitate positive interactions among customers, clients, colleagues and visitors, and an overarching recognition that every space should serve the people who occupy it are the office trends that will win workers' affections in 2023.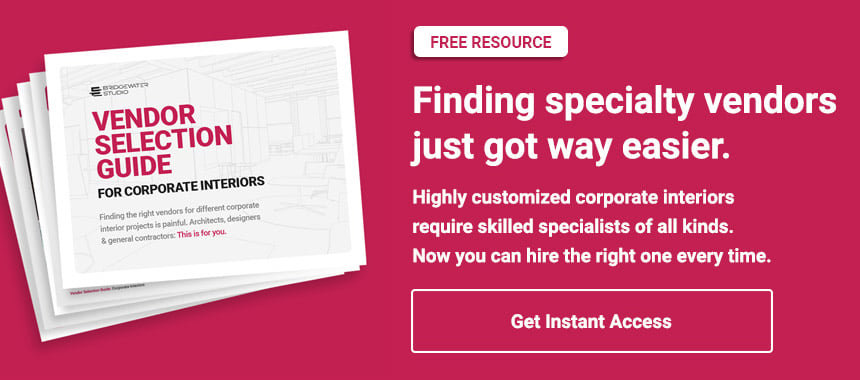 The top trends driving office interior design in 2023
Spatial design, including office interior design, is about crafting and controlling the experience of the people who will use that space. The top trends driving office interior design in 2023 and the future reflect this. Interior designers and architects are creating environments that enhance people's personal well-being, improve their ability to work together, and communicate their company's values and culture.


Here are five ways office interior designs will represent a people-first perspective in 2023:


Every business is one-of-kind; its office interior design should be, too.

Picking up on the consumer behavior trend of seeking unique experiences and favoring brands that offer them, office interior design should reject sameness. Instead, these built environments should be customized to convey the personality and values of the company that occupies the space.

When creating unique office environments, businesses and their office interior design partners should consider the needs of internal and external stakeholders and the impression they want each to have when entering and using the space. Observing how people interact with their environment, asking about their needs and preferences and evaluating their physical workflows will ensure that the design not only conveys the brand's personality but serves the company's workforce.




Give employees the comforts of home and the convenience of the office.

Many people had no choice other than to work from home during portions of the last two years. During that time, they customized their home workspaces to suit their wants and needs.

Now, after getting everything just right, how can businesses entice them to leave their comfortable home and come back to the office?

To keep today's workforce engaged at the office, provide them with comfortable homey employee lounges and other spaces to sit and relax, flexible workspaces that allow them to change locations throughout the day, and a great break room.

Then, add in all the conveniences of corporate infrastructure with easy access to full-feature printers, videoconferencing equipment, room reservation systems, and other equipment and services that support productivity and reduce friction.



Employ your space wisely but don't be miserly. Admittedly, not everyone has a quiet space to work at home. But even a house full of family can't match the noise and distraction levels of a fully packed cubicle farm.

Moveable walls and side-by-side cubicles may seem like an efficient use of space but it's not efficient if it costs your staff productivity. Use modular furnishings and moveable walls to build flexibility into your office design but not at the cost of human comfort.

Create open spaces where people can gather to socialize or work on team projects as well as spaces that can be closed off to allow privacy. Make sure your knowledge workers have places where they can perform focused work without interruptions or distractions.




Use your space as a canvas to communicate directly with staff and visitors.



Experiential design employs both indirect and direct methods to communicate and elicit a response from people. The walls of your office space are an excellent medium for either of these methods. Color, texture and lighting can set a tone. But graphics and text can send a direct message.

In other words, your walls can talk. Add inspirational quotes, the company's mission statement or display a corporate history using two- or three-dimensional customized pieces. Don't forget to add wayfinding signage and signals to help workers and visitors find their way through your space.




Support hybrid workers with systems that facilitate smooth transitions between work and home.



Hybrid work schedules allow your staff to work from home while also coming into the office to interact with co-workers, use equipment and tools or meet with customers and clients. However, when much of your workforce isn't present on any given day, it can be tempting to reduce the number of workstations you have available.

Hot desking isn't a new trend, but neither is employees' frustration with the practice

. Combine flexible work areas and a dynamic system for reserving spaces and identifying those in use, with facilities such as lockers or removable desk drawers that allow out of office employees to secure their belongings to help ease concerns about shared workspaces.
How can you add these crowd-pleasing features to your office's interior design?
Modern graphic design and 3D fabrication technologies make creating customized furnishings, modular wall units, and branded graphics accessible and affordable. Skip the off-the-shelf solutions and instead create an environment tailored to the needs of your workforce with the help of a design and fabrication company that can build an interior to your specifications.
Whether through purposeful, intentional design or by chance, every space creates an experience to those who pass through it. Creating office spaces that deliver positive experiences improves your employees satisfaction and productivity. That's good for their well-being and your company's bottom line.
To discover how a full-service corporate interior strategy, design and fabrication company can help you develop a highly functional, people-first environment, schedule a no-pressure introduction to Bridgewater Studio today. Tell us about your business objectives and your workforce and we'll customize a free office design project plan to help you maximize your space and optimize it for the human experience.