Does a particular space add value for its visitors or occupants? Experiential design is a philosophy that insists that space planners, interior designers and architects ask themselves that question when they plan the physical places that humans inhabit.
Of course, the experiences that add value aren't the same for every type of space. People visit stores, museums, theme parks, offices and other built environments to satisfy differing wants and needs. Yet every space can benefit from experiential design.
In this article, we'll explore the concept of experiential design and how its principles help businesses of all kinds build places where people want to spend time.
What is experiential design?
As human beings, we interact with and respond to our environments and feel the resulting effects—for better or worse. Experiential design is a multi-disciplinary design approach that prioritizes human-centric environments supportive of positive experiences and enhancing users' and visitors' well-being.
This approach to design values human experiences above other factors such as utility, aesthetics and economy. Not that experiential designers don't recognize that a space must be functional, visually appealing or affordable. However, none of these factors should take precedence over creating a physical environment in which human beings can thrive.
Experiential design's applicability is broad, touching many disciplines. Architects use experiential design to plan a building's structure and floor layouts. The principles are also applied in environmental graphic and interior design, wayfinding, and art installation and exhibition design. A location's furnishing and fixtures, interactive elements and its relationship to the surrounding area may also benefit from the application of an experiential design mindset.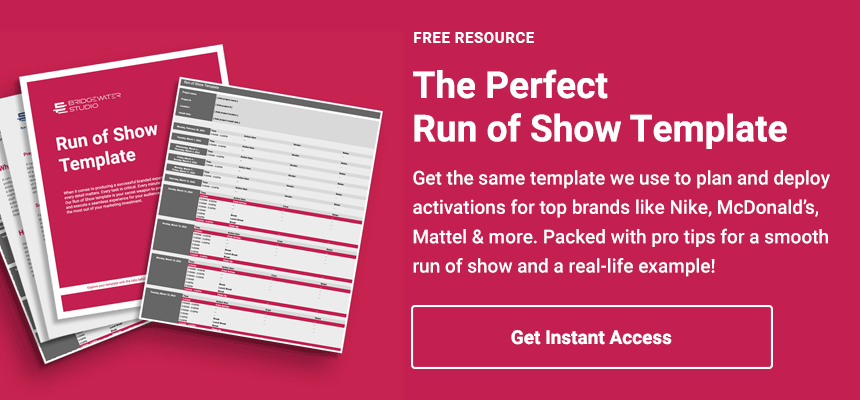 Where do the principles of experiential design appear?
All spatial design is experiential design–it is intended for human beings to experience. From retail stores to factory floors, any place that is built for human habitation is a place suitable for the application of inclusive, experiential design principles.
Like other experiential concepts, such as experiential marketing and art, experiential design emphasizes the experience a person has with a built environment. In this context, experience encompasses a person's physical, cognitive, social, cultural and emotional experiences with a space. Depending on the purpose of the space and the desired objective, each individual's experience may include physical or digital interactions, social aspects, visual, auditory and other sensory inputs and the person's responses to these.
The built environments where experiential design enhances people's experiences include:
Exhibitions and cultural centers
Theme parks and location-based entertainment venues
Restaurants and hospitality locations
Hospitals, medical offices and human services facilities
Retails stores and professional service centers
Concerts, sports and similar events
Public art installations and placemaking
Municipal service, government agency and transportation spaces
Offices, factories, labs and other workplaces
In each of these settings, experiential design helps organizations or sponsors communicate their desired message to each visitor–whether that message is one of comfort and reassurance or surprise and excitement.
For example, when discussed as an architectural or interior design philosophy, the emphasis of experiential design is on well-being and people's overall feeling of comfort or enjoyment of a space. Professionals designing hospitals, airports or private homes incorporate human-experiential design and experiential interior design principles to ensure that the resulting space provides a positive environment for everyone who uses it.
At the opposite end of the spectrum are immersive experiential designs which emphasize creating memorable, engaging multi-sensory experiences. We can see this type of experiential design in interactive museum exhibitions, public art installations, theme parks, concert venues and similar environments.
Each part of an experiential design space is planned to coordinate with and continue a narrative, while taking into consideration the needs of the audience.
Use experiential design to build environments that:
Improve productivity and employee satisfaction
Represent your brand's personality and values
Are accessible and engaging for visitors of all ages
Help employees and visitors navigate through your space safely and confidently
Encourage visitors and shoppers to stay longer
Reduce anxiety and stress
Engage and entertain
Educate and encourage
Tell your story
Four examples of experiential design in action
Experiential design principals can support your project goals from offering a comfortable place to work or play to transporting your visitors to a different time and space. Here are four examples:
1. Playful Learning Landscapes brings interactive educational experiences to Chicagoland children.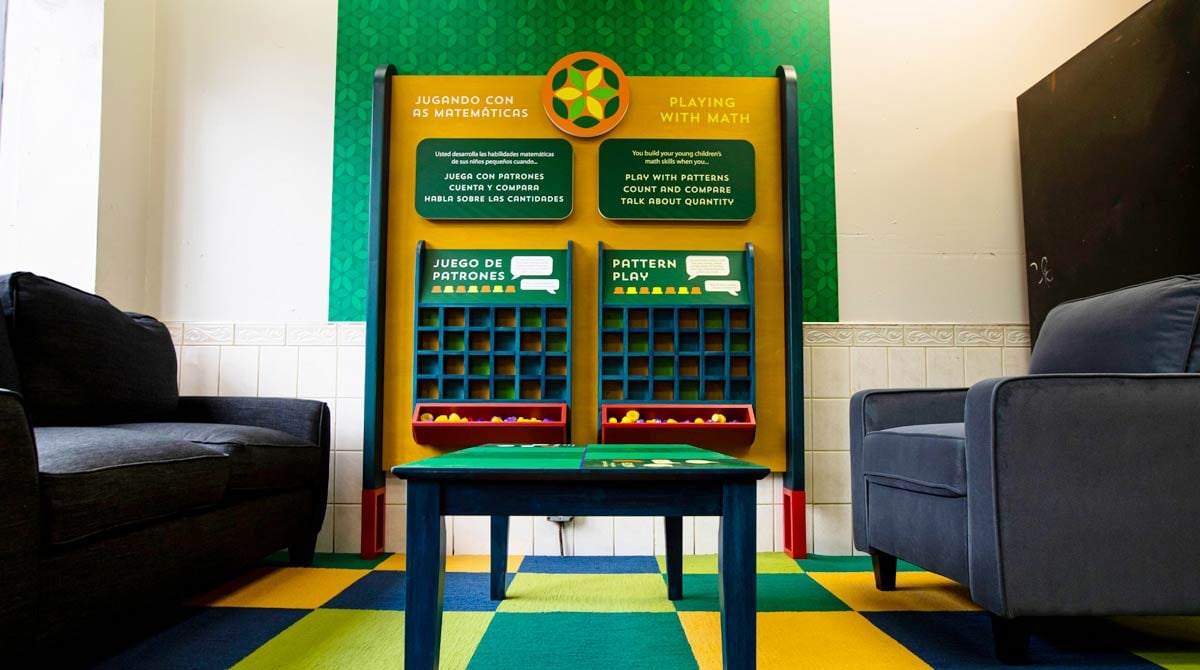 The Playful Learning program installs interactive learning experiences in Chicago-area public spaces to support the well-being of its youngest community members.
2. rEvolution designs a winter wonderland for a special holiday brand activation.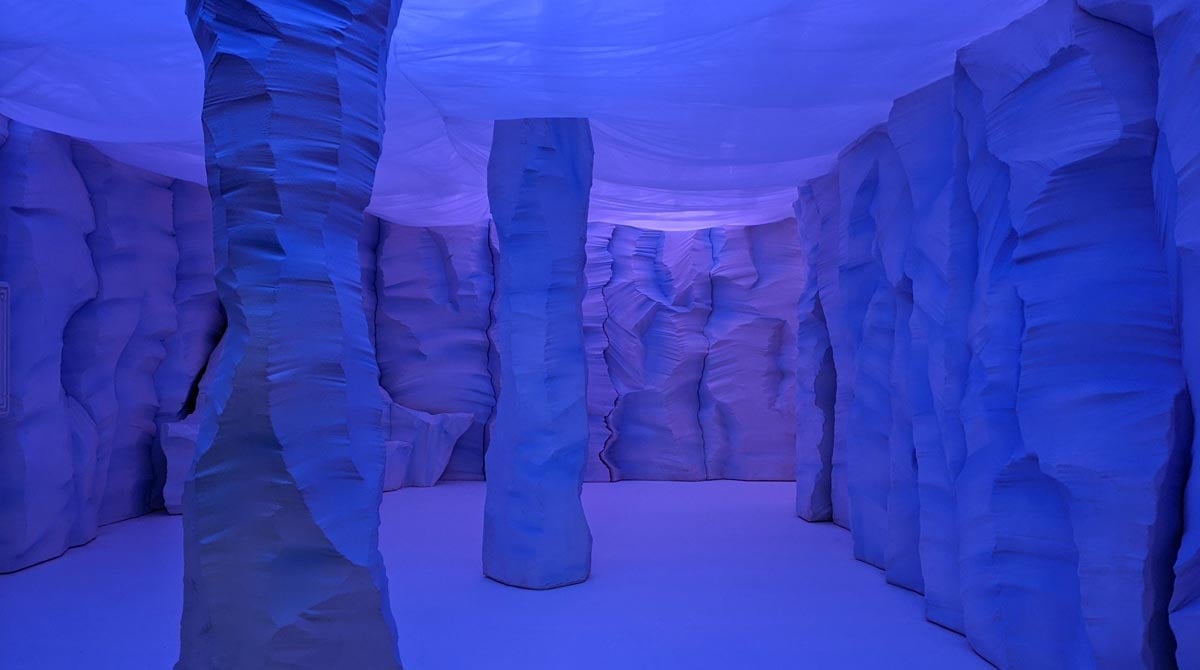 Visitors to the American Family Holiday House's Magic of Lights event were treated to an immersive experience that transported them to a fantasy ice cave. The space was transformed with sculptures and wall, floor and ceiling coverings to create a memorable holiday experience for guests.
3. Komatsu stimulates the senses with experiential interior design.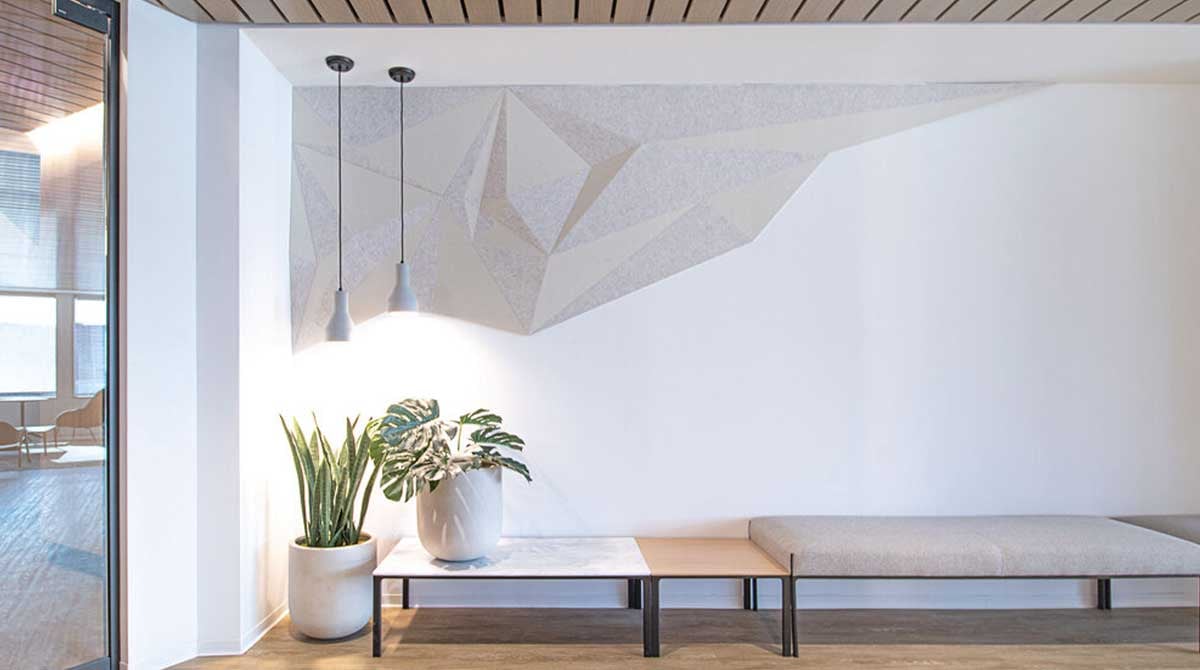 Manufacturing company Komatsu welcomes employees to its new corporate headquarters with human-centric, multi-sensory design touches including digital information displays, natural elements and a mix of different textures.
4. The Adler Planetarium takes visitors into the night with an interactive exhibit.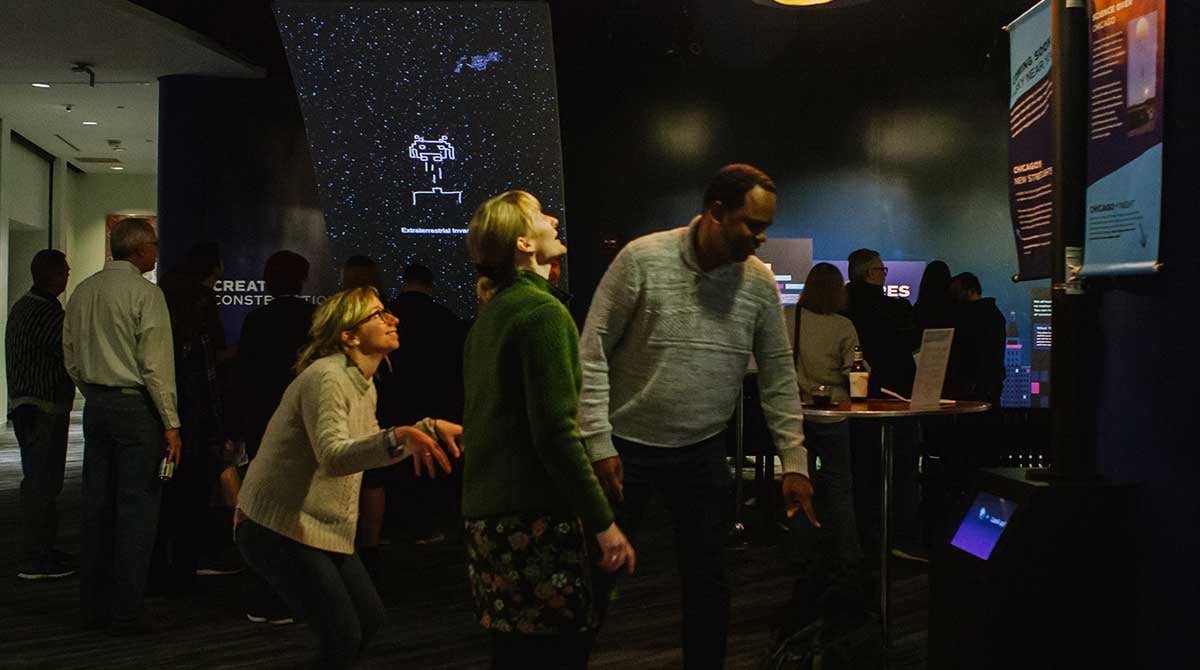 Darkened walls and dim lighting set the stage for an exploration of the night sky in this exhibition at Chicago's Adler Planetarium. The exhibition's story is told through visual and digital effects and interactive displays.
What type of environment do you want to build?
Building positive, inclusive spaces for employees, visitors, customers and spectators requires the expertise of a designer who understands the concepts of experiential design and why they matter. A qualified experiential design and fabrication company will learn about your business and the people who use your space, then develop a plan to build an environment that enhances the experiences of everyone who enters.
To find out more about how you can improve your space with experiential design, schedule a no-pressure introduction to Bridgewater Studio today. We'll customize a free project plan that you can use to begin your next building construction or remodel.