Every company has a story. To inspire and support various branding and marketing initiatives, many brands can use the story of how they started and how far they've come to instill company pride and tie their history into a bigger cause or purpose. Whether it's the history of a company, product, or founder, these stories can all help communicate a consistent brand message. Many brands find the perfect place to tell that story right in their corporate offices, in the form of company history walls.
The best company history walls transform a corporate interior space into an experience—through the creative use of graphics, architectural details, art installations, and other means of visual storytelling. Clients, staff, and corporate guests are taken on an immersive journey, from early beginnings, through to the present, and even into a company's vision for the future.
In this article, we'll shine a light on company history walls as a valuable component of the brand experience. You'll learn how a custom company history wall can revive your office space, what to expect with a history wall project at every stage in the process, and how to get the most out of your investment along the way.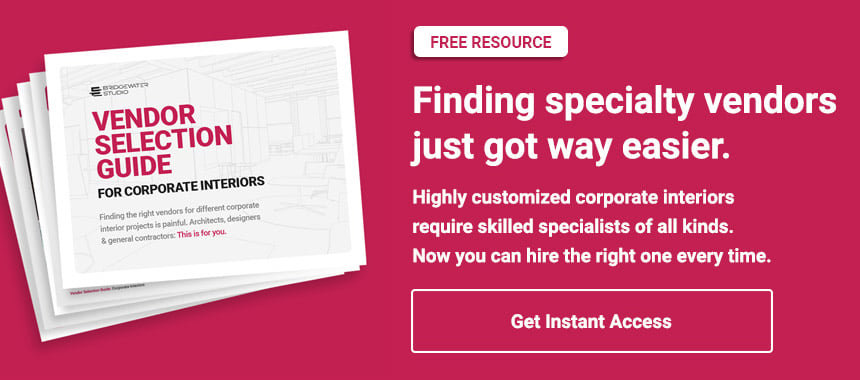 Designing Company History Walls
A company history wall is a timeline of a company's history, highlights, anniversaries, and accomplishments, and can be an effective way to draw interest and attention to a company office lobby, common area, break room, and more. They can be imaginative, creative, informative, and/or minimalistic, depending on the wants and needs of the brand.
Company history walls can be highly customized, too. Exotic materials, elaborate details, and even interactive components can contribute to a one-of-a-kind brand experience—but can also translate into a complex project. An experienced partner can be an invaluable asset, helping to manage everything from planning and design to installation.
Planning a Company History Wall
An effective company history wall begins with a great story. For some brands, the theme might be trustworthiness, longevity, or reliability. For others, a narrative that reinforces the concept of innovation may be more appropriate. While it's tempting to jump right into a design for your company history wall, try focusing on the message first and let it guide absolutely everything else.
A few questions that can help inspire a timeline story include:
What is your brand/organization known for?
Who are the faces of your brand/organization?
How long has your company existed?
What are the major milestones of your brand/organization?
What is your organization the most proud of?
Not every style of story will be a fit for every company. For example, instead of creating a timeline based on their company, a company such as Fiskars could create a timeline based on the history of their iconic orange scissors.
Other examples of story styles for history walls include:
With a compelling story outlined, design concepts will be much easier to explore. As you determine the role of graphics, photographs, video, and even historical artifacts, you will be able to plan around existing assets and those that will need to be created. A realistic project schedule must allow time for content creation—which may include photo retouching, video editing, copywriting, and graphic design. Be sure to consider the time and budget required to bring your design concept to life.
Designing and Creating a Company History Wall
Armed with a concept and a plan for your company history wall, you're ready to move into the design stage of the project. At this point, decisions will need to be made about materials and fabrication methods. These can include:
Materials
Heavy-Duty Vinyl (Etched, Luminescent, Metallic, Patterned, Printed Color, and more)
Decorated Laminates (Acrylic, Gloss, Matte, Metallic, PVC, Textured)
Mixed Material (Wood, Felt, Metal, Chrome, Acrylic, Stencil Graphics)
Canvas or Acrylic Panels
Canvases and Frames
Wallpaper
Fabrication Methods
3D Printing: Additive manufacturing that creates 3D objects
CNC Machining: Automatic contour cutting of materials for wall art, graphics, and wall decor
Graphics Printing: Wide-format printing, UV printing, vinyl wrapping, decals, and more


A company will also need to choose the desired location for their history wall. Hallways, elevator lobbies, and conference rooms are often the best options, depending on the size of the office and goal of the piece. If companies desire to share their history with incoming customers and clients, a waiting room or area near the reception desk, for instance, would be a good choice.
Building and Installing a Company History Wall
Once the design is finalized, you have a few choices for building and installing a company history wall. If an interior design company, architecture firm, or signage company has developed the concept, they will source appropriate vendors for each need. Depending on the complexity of the design, this may require the coordination of multiple subcontractors and their teams.
If you have partnered with a design and fabrication company, there will be a seamless transition into the build phase, as they will have a full-suite of in-house capabilities.
After all of the components are built, it's time to bring your company history wall together. Here, a quality partner will ensure the site is properly prepared for installation. This may include appropriate structural support, wall finishes, electrical wiring, and coordinating with general contractors or other trades working in the space. Costly installation issues and errors often result from poor planning or miscommunication, so you'll want an experienced partner with an eye for detail and a track record of successful corporate interior installations.
Partner With a Full-Service Design and Fabrication Company
Custom company history walls are complex projects, but they don't have to be stressful. A full-service design and fabrication company will have the creative, technical, and project management expertise to handle every step. You'll have one budget, one timeline, one point of contact, and one exceedingly high standard.
To get the most out of your partnership with a full-service design and fabrication company, bring them in as early as possible in the planning stages. It's never too soon to have an expert resource involved, as they will bring value to every phase of the process.
To learn how a full-service design and fabrication company can help you get the most out of your company history wall, schedule a no-pressure introduction to Bridgewater Studio today. We'll customize a free project plan for all of your corporate interior needs, so you'll be set up for success from the start.