Experiential marketing is capturing consumers' attention with new ways to interact and explore in 2022. Brands are pulling out all the stops to deliver one-of-a-kind, multi-sensory experiences for consumers eager to be entertained. Emerging trends in experiential design and fabrication are helping brands raise awareness and connect with their customers like never before.
Museums, restaurants, entertainment complexes and retail stores are all stepping up their exhibition game to create interactive, immersive experiences for their audiences in the post-pandemic economy. What does your brand have planned to get people out of their house?
Check out this list of visitor-centric experiential fabrications that are capturing audiences' imaginations in 2022 for inspiration.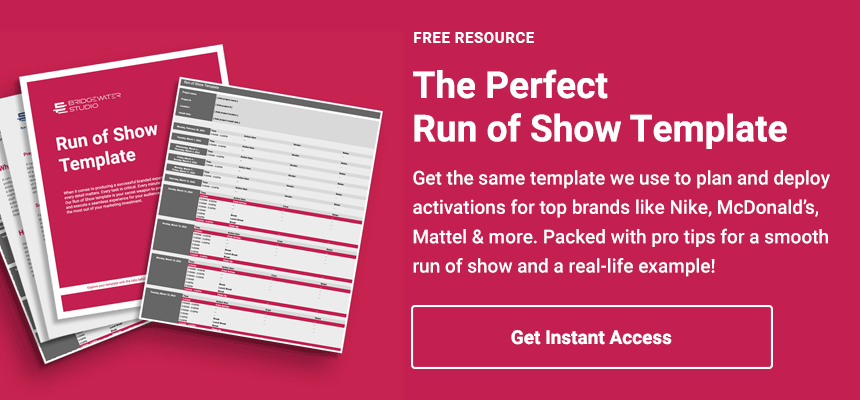 2022's buzz-worthy experiential design and fabrication trends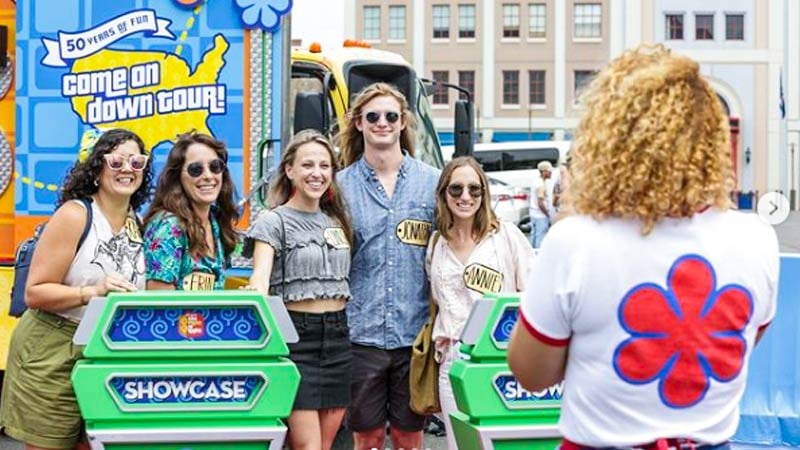 1. The Price is Right Come on Down Tour
The timeless The Price is Right Show proves it can generate excitement anywhere with the lure of gamification. The juxtaposition of risks and rewards that competitions and games provide gives us a rush. The Price is Right leverages our drive to play and win with its interactive exhibition to celebrate the show's 50th Anniversary.
This experiential exhibit will hit 50 different cities across the U.S., so its components had to be built to last. Featuring replicas of iconic games from the television program including Plinko and Spin the Wheel, CBS gives audiences around the U.S. a taste of what it's like to come on down!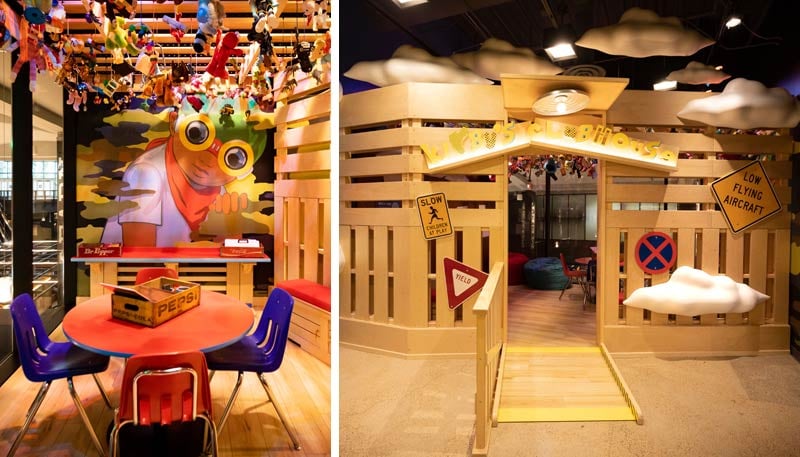 2. Chicago's Children's Museum builds an accessible and inclusive space to inspire the next generation of artists.
The Chicago Children's Museum's new Art Experience is built with and for the community it serves. The museum teamed up with artist Hebru Brantley of Flyboy fame to create an interactive space where artists of any age could create and explore.
With their young audience in mind, the design team created a fantastical kids' clubhouse where everyone is welcome. They also found creative ways to incorporate Brantley's iconic 2D drawings into the environment's fabrication.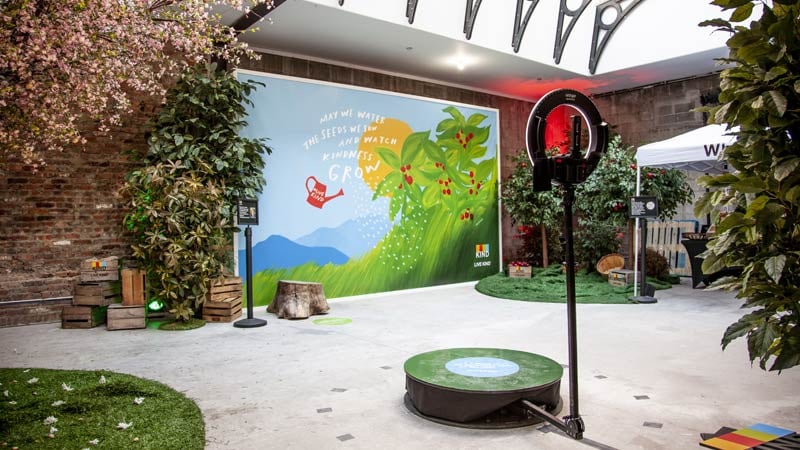 3. KIND Snacks creates a viral sensation with a surprising experience for the people of New York City.
In a world where social media buzz can bring fame or infamy, going viral (in a good way) is a marketer's dream. KIND Snacks managed to make their experiential marketing team's dreams come true by creating an experience within an experience in New York City. For just two days in February, the brand planted a pop-up that on first glance was very un-inspiring. But when visitors investigated they found an exciting surprise.
What appeared to be a simple KIND snack bar vending machine turned out to be a portal into a free farmer's market filled with fresh fruits and vegetables. KIND helped generate buzz by announcing the event on local NYC channels, and the brand activation attracted 8,000 guests.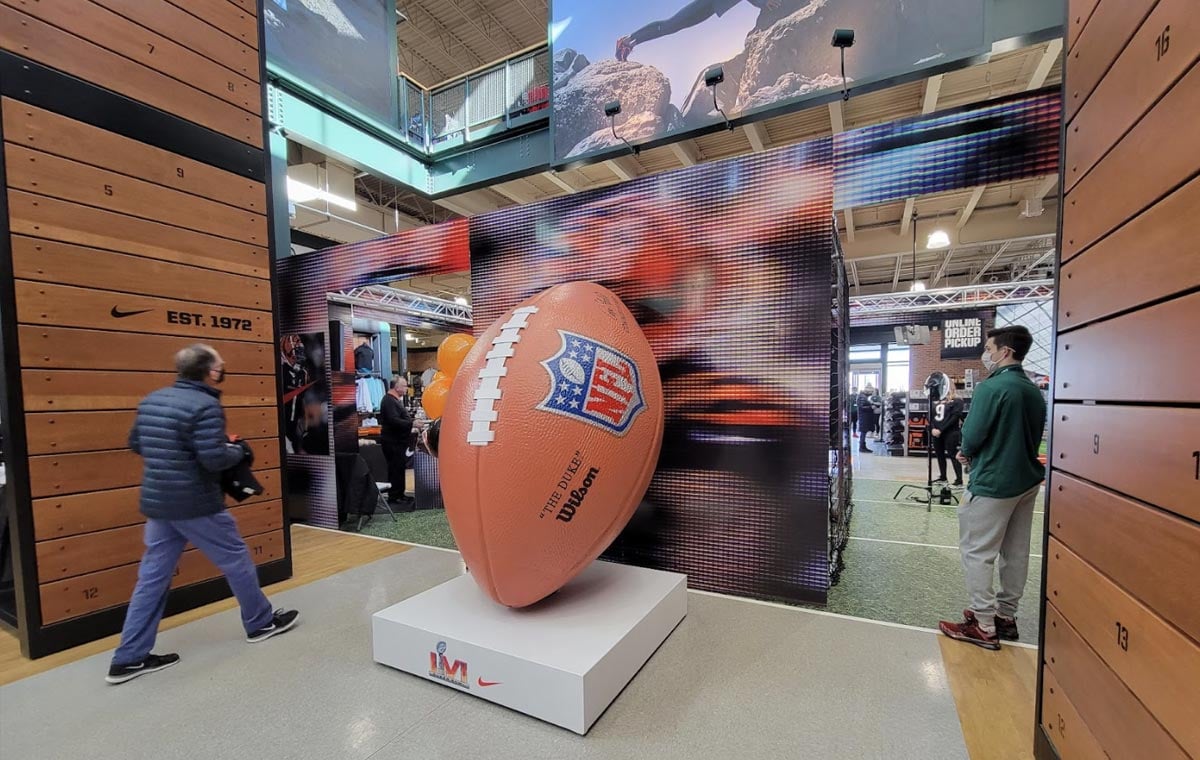 4. Nike demonstrates why localization is the personalization of experiential marketing.
Don't try to say that 5 times fast! Personalized messaging is all the rage in digital marketing where customer data, dynamic content and retargeting technology enables brands to appeal to individuals with customized communications at scale. For large-scale exhibits, adding personalized details for every attendee might not be in the cards. But you can add local details that show your audience you care.
That's what Nike did for its dueling 2022 Super Bowl store-in-store activations. With fan-focused activities and merchandise Nike partnered with our firm to bring individualized in-market flair to its Super Bowl stores in Cincinnati and Los Angeles.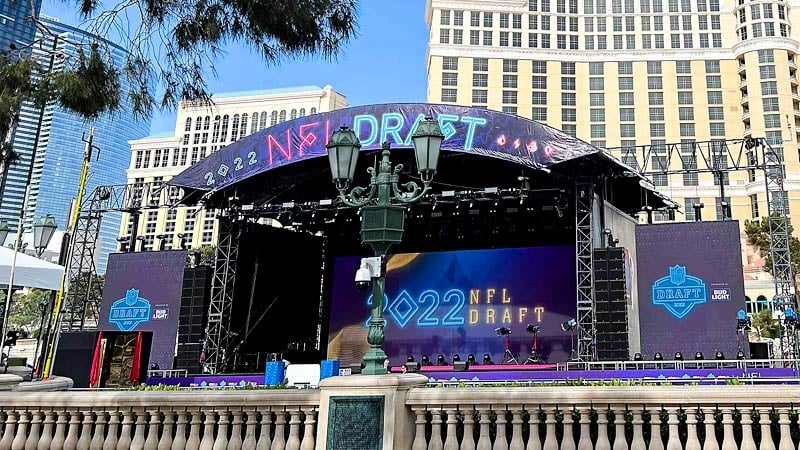 Image copyright: Gary A. Vasquez
5. The NFL Draft adds experiential exhibits to make a spectator event a participatory one.
When in Vegas, right? NFL Draft Day used to be a relatively unexciting event for spectators. But that's all in the past now. The 2022 NFL Draft Day featured a series of events and celebrations hosted at the Bellagio in Las Vegas. There was singing, a Color Guard, a red carpet and the NFL Draft Experience–an interactive football theme park.
This temporary exhibition had just three days to transform visitors from viewers into doers while bolstering the NFL's brand.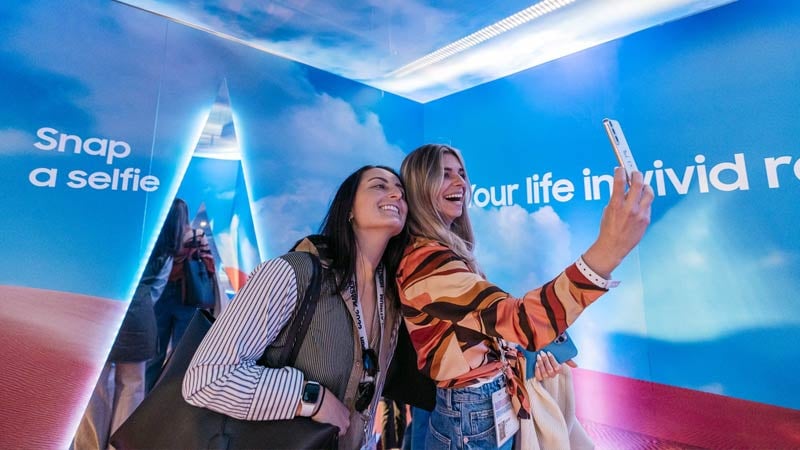 6. Samsung keeps everyone smiling with a mutually beneficial experience.
When your brand invests in an amazing, immersive experience for your customers, you hope to get something in return. Whether you want to introduce them to a new product, gain their loyalty or just get them to like you, your brand activations have a purpose.
Successful experiential marketing campaigns find a way to balance your goals with those of your audience like Samsung did with its interactive displays inside the Samsung Billboard Galaxy House at 2022's SXSW.
The brand's SXSW base of operations offered visitors several interactive experiences including rooms perfectly designed to showcase the Galaxy S22 Series smartphone's best features, including its night camera. Who doesn't love a good photo op? The experiential exhibit provided SXSW visitors a cool place to chill and discover the brand's products.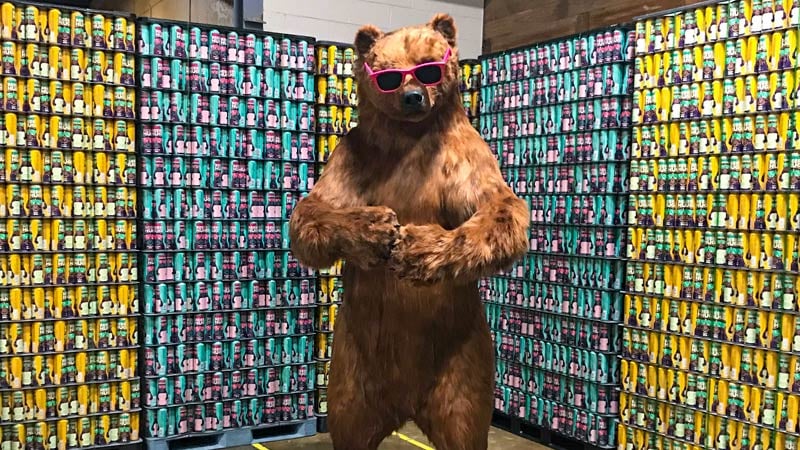 7. Goose Island Brewery shares its values and creates shareable moments.
When Goose Island Brewery wanted to create a photo worthy experience to promote its new Bear Hug beer, it knew using the real thing was out of the question. No one was going to hug a live bear! The brand also knew it wanted to communicate its commitment to being cruelty-free. So taxidermy wasn't the solution.
What to do?
Bridgewater Studio worked with Goose Island Brewery to create a bear they could share, fabricating a 7.5 foot tall mascot for their new beer. Under all that plush, faux fur, this mobile, huggable and photogenic mascot sculpture has a metal frame and a durable body, created using 3D printing and CNC carving.
8. Bompas & Parr sets a new bar with a never-before sensory sensation.
Fruit fog. Never heard of it? You aren't alone.
In an immersive experience scheduled to go live at Bunjil Place in Casey, Australia this summer, visitors will be able to smell and eat the mist. The designers of this all-senses experience call the result "edible mist" or "fruit weather" and it will come in three different flavors each day. The fruit motif is part of the installation's broader garden and localvore theme.
Scents are not new to the experiential landscape and can elicit mixed responses depending on the odor and the audience. Will experiential adventures respond positively to fog as food? We'll find out soon!
Surprise and delight your audience with experiential fabrications they won't forget
Experiential fabrication powers interactive exhibits that engage our senses and our imaginations. By creating experiences that trigger your audiences' emotions and hold their attention, you build deeper connections between them and your brand.
Create buzz for your brand in 2022 by demonstrating the values you share with your audience,
surprising them with new innovations or unexpected twists, giving them a momentary escape from the ordinary and delivering experiences they won't forget!
Find out how our full-service design and fabrication company can create unforgettable experiences for your brand, schedule a no-pressure introduction to Bridgewater Studio today. We'll customize a free project plan, so you'll be set up for success from the start.