Valued for strength and durability, metals are a core component of many buildings. Steel is especially valued for its predictability in performance and recyclability which contributes to safe, sustainable construction practices. Metals of various kinds are also valued for their aesthetic contributions to architectural design. These materials can be sculpted and shaped into visually stimulating and texturally interesting elements that enhance the interiors and exteriors of corporate offices and commercial spaces.
How are today's builders, architects, artists, and interior designers using architectural metal design to enhance the environments they construct? Find the answer in this article.
What is architectural metal design?
Architectural metal design and fabrication are the processes that lead to amazing metal facades, and sculptural and decorative elements that enhance the appearance of buildings and their interiors.
Architectural metal often serves as both a functional and decorative component of a structure. For example, metal roofs and exterior cladding are durable and protective coverings. Yet the color, texture, and other attributes of these pieces contribute to the visual impact of the building it covers as well.
Rose Hill, a residential building in Manhattan, is clad in a pattern of glass and aluminum finished to look like brushed bronze, for a warm modern take on a traditional design. The exterior panels' design and materials contribute to the building's thermal conservation and meet New York City's Zone Green Requirements.
Architectural metal designers combine their knowledge of architectural design, construction, materials science, and metalworking to develop metal pieces that add visual and textural interest to built spaces. Businesses can use metal design to create custom fixtures, signage, or sculptures to improve the experiences of visitors and employees.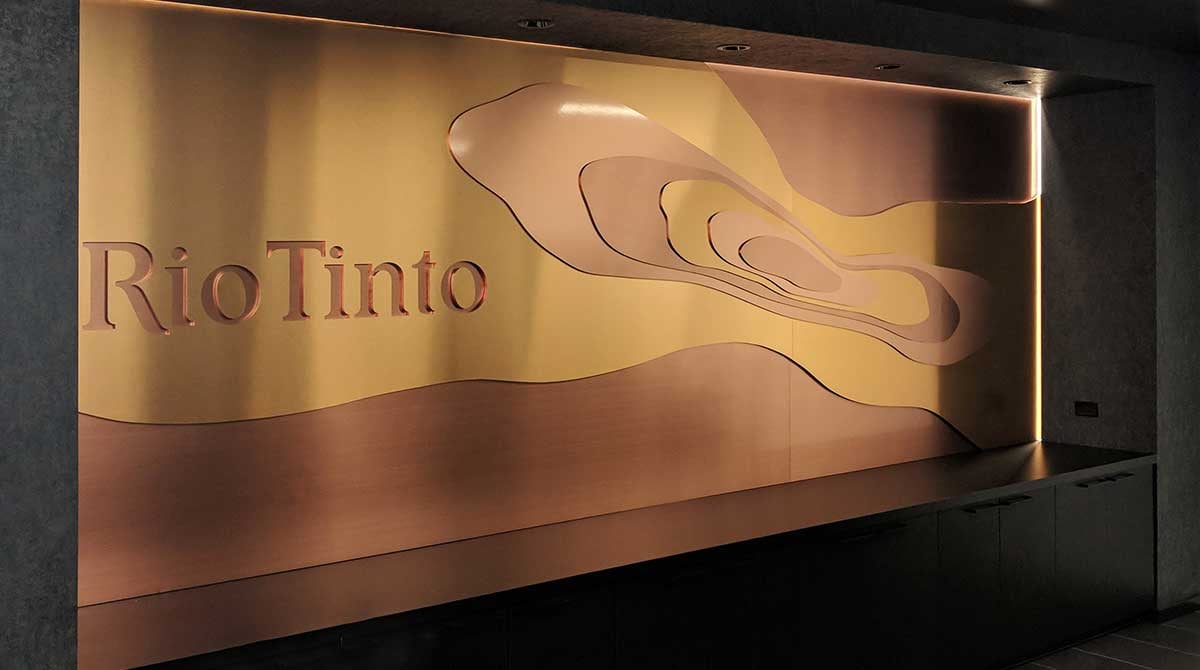 At the Rio Tinto corporate office in Chicago, a metal laminate was used to create a multi-dimensional effect — bringing the depth and color of bronze to this branded wall display, without the cost and weight of a solid metal piece.
What types of metals are used to create architectural design pieces?
Steel, copper, bronze, aluminum, and brass are common metals used for architectural metal installations. These metals may be formed into solid pieces that are structural and decorative, used in combination with other materials, or installed as stand-alone sculptural components.
Advances in metalworking technology including computer-aided design, 3D metal printing, and the use of 3D printers to create molds for casting enable designers to create unique free-form designs in metal that transform the look and feel of buildings' interiors and exteriors.
The resulting metal works may reveal the natural color of the source material or be coated in an array of color combinations.
Inside the corporate offices of Capital One Labs in San Francisco, metal piping, supports, stairways and railings are a canvas to introduce the location's creative color palette of white, blue, and bright yellow.
How are these amazing architectural metal designs fabricated?
With the ability to manipulate shape, texture, color, and light, the range of visual effects available through the use of metal architectural design is stunning.
Metal designers and fabricators use several methods to create custom pieces for a specific building or interior. Metal may be molded, bent, cut, carved, or stamped.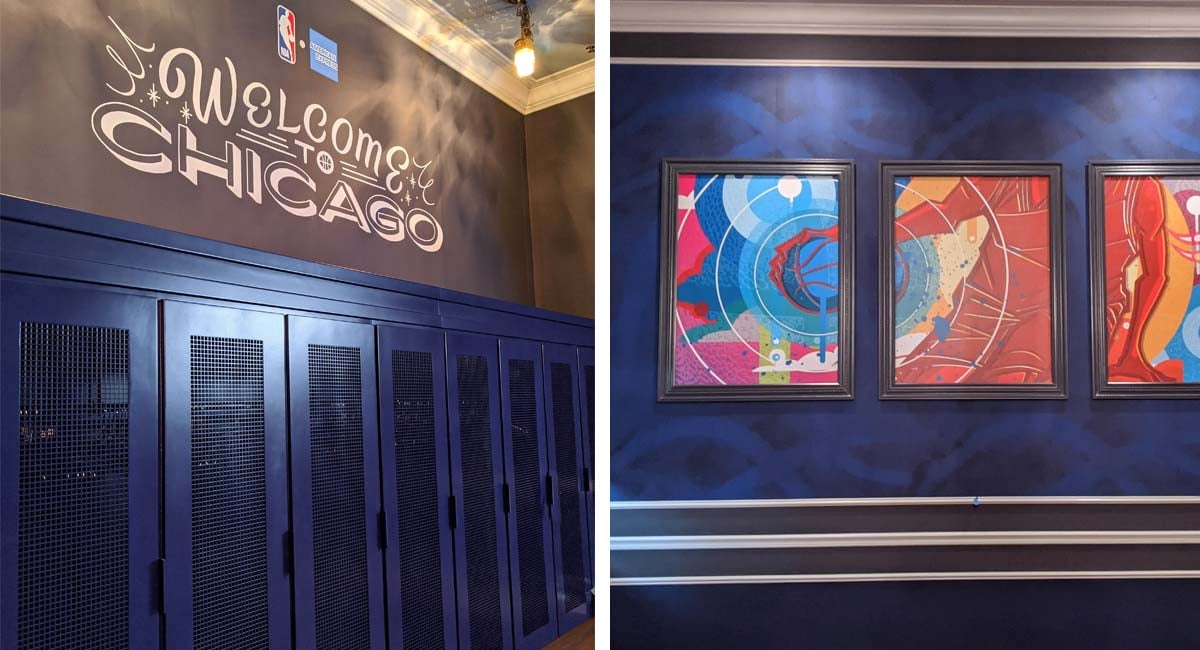 For the American Express takeover of The Violet Hour lounge in Chicago during NBA All-Star Week, our metal fabrication team crafted custom frames to house the activation's art installations and a set of bespoke metal lockers.

Fabrication studios use specialized machinery to manipulate different metals and conform them to desired shapes. Metal laminates can be adhered to and shaped around other surfaces. Metal sculptures made by pouring heated metal into prepared molds enable teams to produce multiple, precisely matched metal sculptures or pieces of larger works.
Metal may also be extruded, milled and separate pieces welded together to build rails, screens, or complex sculptural pieces.
How are modern architects and designers using metal to enhance their built spaces?
Metal panels, three-dimensional pieces, piping, and other objects may appear in or on almost any part of a building's interior or exterior.
Exterior cladding or metal panels are a popular choice for their flexibility. Metal is often lighter than masonry or other coverings and can be designed to transfer impact load, resist wind shear, provide insulation, channel light, and air, and deflect rain–all while adding impressive visual impact.
The Southeast Career Technical Academy is clad in perforated metal panels that shield the building from the sun and display the school's logo and mascot at a massive scale.
Interior wall panels offer designers the opportunity to play with color, texture, and depth and create customized branded interiors for their clients.
Metal's flexibility as a medium for fabrication opens the door to the creation of amazing artwork and branding opportunities like this awesome wall installation at Peapod's Chicago office.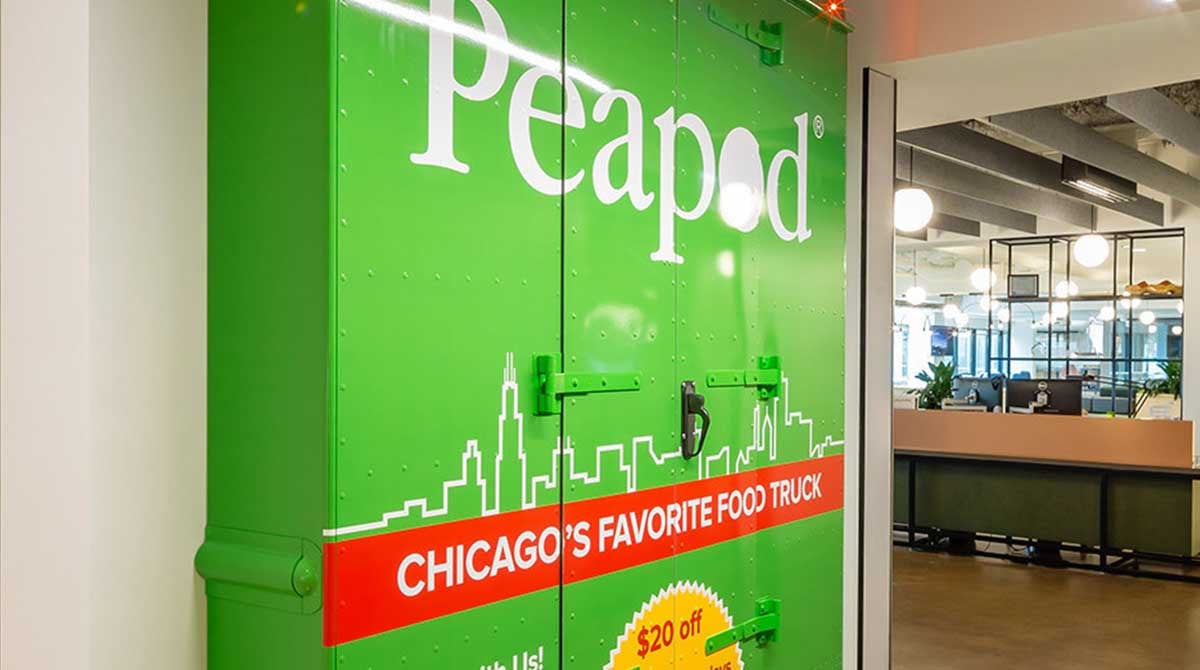 Metal design was essential to bringing this life-size truck model to life in a corporate office interior.


Functional and decorative railings inside and out are also prime places to use metal. Metal architectural design can also appear in ceiling coverings or exposed functional ceiling elements such as utility pipes and wire covers.
Exterior and interior ornamentation may include sculptural elements that range from flowing to ornate. Elevator cabins and lobbies are excellent locations for metal accents to add depth and visual interest. Metal's sharpness and shine can give an efficient modern look to your elevator lobbies. A more ornate treatment will add a sense of tradition and harken back to a time when elevator silos were protected by artfully wrought metal gates or enclosures.
Metal is an excellent medium for crafting wayfinding and other signs to customize interiors, building moveable or permanent screens and dividers to maximize the use of and attractiveness of a space, and cladding flat surfaces such as reception desks and countertops. 3D scanning and CAD technology enable fabrication teams to restore existing metal building elements, too.
Make a lasting impression with architectural metal design
Working with metal opens up a wealth of new design possibilities for your next architectural project. Learn more about how a full-service design and fabrication team with metalworking expertise can help you incorporate visually distinct, sustainable metal pieces into your next building or interior—with a seamless process.
Schedule an introduction to Bridgewater Studio today and receive a free project plan that optimizes every stage of your architectural metal design concept from ideation to installation.