Today's corporations solve problems by leveraging the input of internal and external contributors and stakeholders working in-office, at home and from remote workspaces. You might think that means that the need for conference rooms is in decline for corporate interiors. But the reality is that companies still need on-site spaces where these problem-solvers can come together, in-person and virtually, to complete projects.
Modern conference rooms must meet the needs of diverse individuals and groups across departments and around the world. And, they must accommodate the technology and tools required to get work done. What does the increasing demand for more collaborative, multiple-participant knowledge work mean for conference room design?
Here's what you need to know…
Trends shaping modern conference room design
In the wake of a major reshuffling of worker and employer priorities, experts predict that as much as 20% of corporate office space may need to be removed or repurposed. For modern workspaces, flexibility is key. Experiential workplaces that adjust to meet the needs of individual workers will replace static activity-based spaces.
Hybrid work environments that provide room for employees to find their focus and join together for cognitive collaborations will be in high demand.
That's just one trend shaping the future of work and of workplace conference rooms, though. The much-hyped metaverse is also making its presence known in corporate circles as businesses ranging from retail to recruiting make plans to develop their corner of the virtual world.
Bill Gates predicts future meetings will take place in 3D environments where participants will use "VR goggles and motion capture gloves to accurately capture" each person's movements. If Gates is right, conference rooms will need to accommodate this equipment and the data it produces.
Technology such as spatial audio will enable equipment to produce directional sounds in virtual environments so that meeting attendees share the same experience, whether they are attending online or in the office.
Make no mistake, people will still attend in-office meetings–lots of them. According to The American Express Global Business Travel 2023 Global Meetings and Event Forecast, 90% of meetings in North America will be in-person only or hybrid in-person and virtual events. A 2020 survey performed by Gensler found that 49% of U.S. workers preferred in-office environments for team collaboration.
Nonetheless, hybrid and fully remote work programs are here to stay. Modern conference room designs that provide an equally positive experience for in-person staff will enable companies to unlock the full potential of virtual meetings.
The benefits of creating flexible, inclusive conference rooms include lowering carbon footprints by reducing travel demands, expanding access to talent from around the world, and improving employee experiences (and productivity) by offering comfortable, effective meeting spaces.
What can your business do today to prepare for your future meeting space needs?
How to design a conference room that serves tomorrow's workforce today
Every built environment should start with the goal of serving the people that will use it. For modern conference room spaces, this means giving in-office and virtual workers an equal seat at the table. Examine your workforce and meeting data to determine how many people attend meetings at your organization.
Calculate your average in-person and virtual attendees and your minimum and maximum attendance sizes. These figures will help identify how large your largest conference space should be, how much space to dedicate to virtual attendee accommodations, and how much flexibility to build into the space's design.
For example, organizations that conduct meetings that include multiple departments and teams will need space to accommodate everyone and the infrastructure to capture and relay images and audio to numerous remote attendees. An organization that hosts meetings for widely varying group sizes may consider modular spaces with adjustable walls and private booths or cabins.
Also, gather information about how workers and guests use your organization's meeting spaces. In today's collaborative culture, the ability to share files, write information on digital whiteboards, and record audio and visual input are key features. So are flexible seating, panoramic video capture, and large surfaces for sharing physical models or documents.
To suit different purposes and people, consider moving away from the standard single large table and identical chairs design when creating your modern meeting space. Innovative 3D printing and fabrication technologies make crafting a truly custom space with coordinated, yet varied seating and surfaces feasible and affordable.
From wall coverings to wi-fi, companies can work with a design and fabrication team to create customized highly functional, distinctive branded environments.
What else should companies know before their next conference room design project? Check out the expert advice below.
Seven features to look for in this year's conference room designs
Natural lighting and biophilic design. Bring nature into your interior spaces when and where possible. Natural lighting, even indirect light, can boost morale and enhance the appearance of meeting spaces. Where including natural light isn't possible, include variable lighting that allows a room's users to adjust the lights' brightness and direction.
Live plants add color and connect people to the outside world, even when they are stuck inside in a meeting. Plants may also contribute to interior air quality to a limited extent.
Built-in technology infrastructure. This is a must-have feature for the modern meeting room. Conference rooms should come equipped with flexible technology that accommodates various devices and can handle transmission loads so everyone hears and sees everything loud and clear.
An end to the rectangle room. Okay, the room may still be a rectangle as a point of departure. But new conference rooms will come in different shapes and sizes and include modular elements that allow users to change the space to suit their needs. Kinetic design will be the standard to maximize the effectiveness of these new multiple-use spaces.
Walls that aren't just for separating spaces. Digital displays, virtual whiteboard, inset camera and audio equipment, super-wide video screens, environmental graphics, or at least a nice map. Wall space is prime space for communicating with in-person and virtual participants and deploying visuals that enhance collaboration.
Rooms built for multi-source communications. Meeting rooms will need to accommodate two-way visual and audio communications between in-person and remote attendees while keeping what happens in the conference room in the conference room. Sound insulation and speaker placement will be a must to avoid noise interference making its way into adjoining workspaces.
Elements for sensory engagement. Sometimes a little distraction isn't a bad thing. In fact, it can spark creativity and engage meeting participants who might otherwise find their own escapes by paying more attention to their phones than other meeting attendees.
Modern conference room design incorporates furnishings, custom millwork, and decorative panels, and other unique elements that give the room personality and engage users.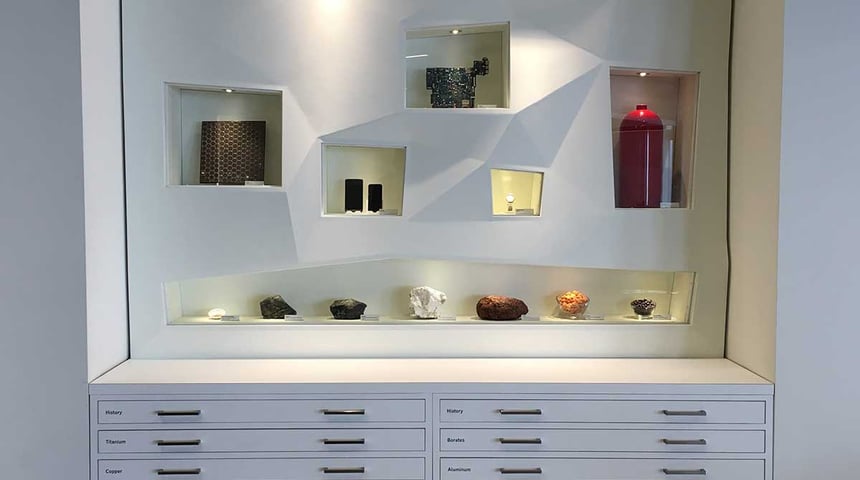 This wall display at the Rio Tinto corporate offices adds visual interest though color, texture and light while displaying some of the company's raw materials and products.
Wayfinding inside and out. Simple wayfinding signs remain an important part of office interior design. But wayfinding has gone digital, too. Interactive exterior and interior room signage. such as message boards and placards can keep meeting attendees informed and help them avoid getting lost.
Make your organization's conference room design work for everyone
There are many opportunities to customize and optimize your organization's conference room design to meet the needs of your diverse workforce. Furnishings, functional components, and decorative features can all be designed to drive engagement and improve employee experiences.
Find out how a full-service design and fabrication company can help you create the meeting room of your staff's dreams by scheduling an introduction to Bridgewater Studio today. We'll create a free, customized project roadmap for your conference room build or remodel to guide you.