A business's lobby isn't just a space for people to pass through or pass the time while waiting to be seen. This familiar, often utilitarian space is also an important channel of communication. Through amenities, appearance, and other sensory elements, lobbies create an environment that tells visitors about a business and its purpose and values.
The best lobby designs set the stage for an engaging spatial experience—one that communicates a brand's personality, reinforces its message, and creates a lasting memory. A poorly designed lobby, on the other hand, is a missed opportunity that can translate into a bad first impression.
What is your organization's lobby saying to the people who pass through it?
In this article, we'll explore 5 ways to take your lobby design to the next level, so your brand can put its best foot forward in delivering a memorable experience for all who enter your corporate office interior.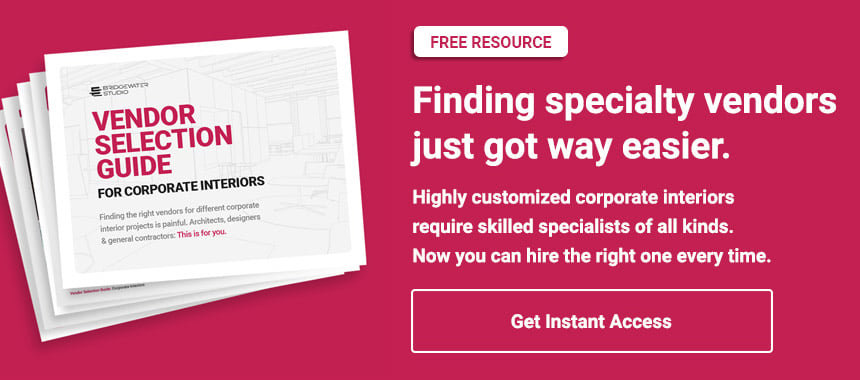 Traditional Lobby Design: A Functional Space
Lobbies are transitional spaces. Traditionally, a lobby was positioned at the front of a building and separated the interior of the building from the outside. Among other things, these spaces allowed guests to take shelter while waiting to be greeted by the building's owner or escorted to other areas within the space.
Modern lobbies still separate indoors from out, but are also used to separate private and communal spaces within multi-tenant or multi-owner buildings.
The specific purposes a lobby might serve depend on the objectives of the business for which it will serve as a portal, but may include the following:
Marking the main entry of a business and serving as a control point for access to interior spaces.
Mitigating and controlling the effect of the outside environment, such as temperature, on the building's interior.
Provide a distinct, secure area for security checks, visitor sign-ins, temperature screenings and other gatekeeping activities.
Housing customer service, concierge or reception desk or self-service registration and check-in facilities.
Serving as a simple waiting area for visitors.
Offering amenities such as seating, workspaces, dining areas, lockers, mailboxes, and other convenience and comfort features.
Separating an organization's work, commerce or exhibition space from surrounding businesses or shared spaces.
Creating an environment representative of the organization that designed and built the lobby.


Lobby design must also include standard use and safety features, such as proper ingress and egress points, signage and other elements. Superior lobby designs are not only functional but also contribute to the positive impression people who use the space have about the businesses those lobbies serve.
To achieve these goals, experts in corporate interior design develop plans that accommodate each necessary feature, along with customized furnishing, amenities and design elements that create a cohesive, on-brand environment for their clients.
5 Lobby Design Elements That Shape the Visitor Experience
Businesses might not be people, but they definitely have personalities. Those personalities or brand personas are expressed through various channels including the company's advertising and PR efforts, its company culture and mission statements, and yes–even its physical properties.
A company's lobby is a localized representation of its personality, and a chance to influence the employees, vendors, prospective customers, clients, business partners and other visitors who pass through the space. Here are 5 elements that contribute most:
1. Smart Layout & Design Choices: Maximize Your Lobby Space
Great lobby design facilitates traffic flow and the usability of a corporate office. People must be able to easily navigate through a lobby to access office elevators, amenities and other interior spaces. A lobby design should never create a confusing or crowded experience.
The size of a lobby also makes an impression on visitors. Whether constructing a new building or building out a leased space, many businesses install large, expansive lobby areas with high ceilings and open spaces to communicate success. A large space also allows for improved airflow and enables a company to use the space for other purposes such as receptions and gatherings.
A large lobby surrounding an open atrium or faced with multi-story windows serves a functional purpose, allowing natural light to reach the interior of the building.
Of course, not every business can allocate a large volume of space to its lobby. Even a small space can be optimized to feel expansive. A design company experienced in corporate interiors will create a layout that maximizes square footage and delivers the most impact to visitors.
2. Mixed Materials & Textures: Deliver Multi-Sensory Impact
The materials used for the furnishings, walls, floors and other surfaces significantly affect visitors' experience with the space. Materials such as woods, metals and fabrics alter how surfaces feel and look, and also how sound carries throughout the room. Hard surfaces reflect light and sound while softer materials will absorb noise and soften lighting.
Visually, textured surfaces add depth and the colors of different materials will affect the space's overall color scheme.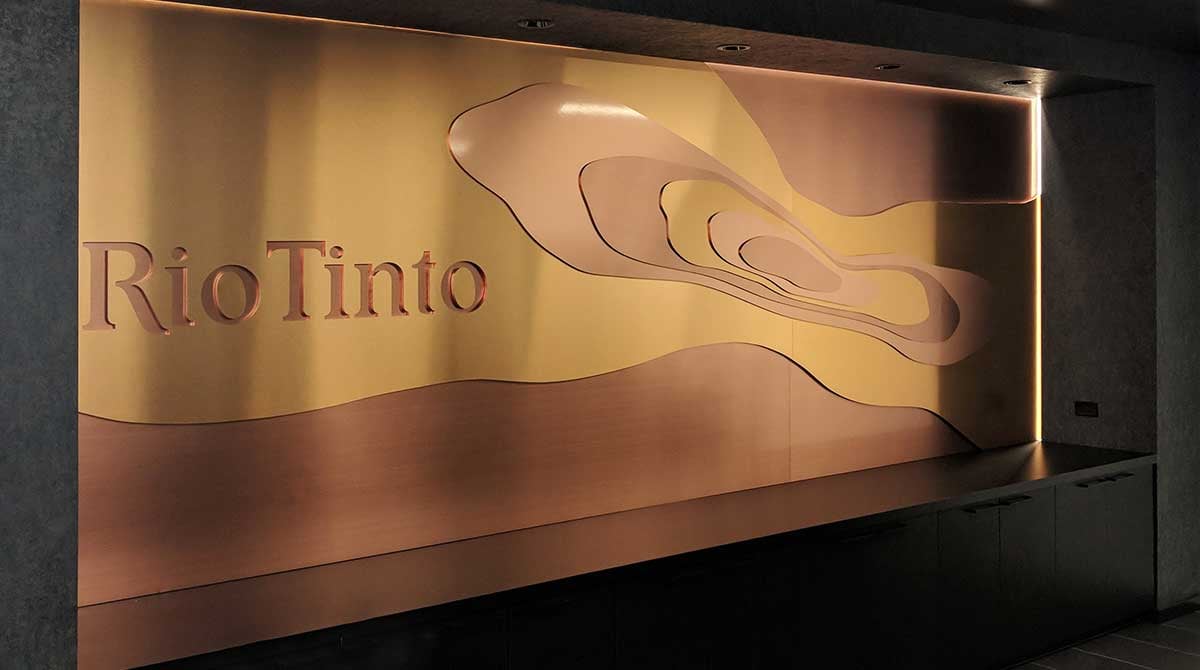 This sign at the Rio Tinto Headquarters in Chicago combines color, texture and light to create a warm, eye-catching display.
When selecting materials for high-traffic spaces such as lobbies, it's important to consider costs and durability, as well as looks. Investigate how difficult it is to clean and maintain materials used for floors, countertops and furniture to make well-informed choices.
3. Strategic Use of Color: From Mood to Mission & Messaging
Color has incredible power to communicate. While the exact meaning of different hues varies among cultures, nearly everyone associates colors with emotions or ideas.
Bright red communicates danger, boldness or excitement. A deeper red can convey luxury. Bright blue is a cheerful color. Add a touch of gray to blue and it becomes serious or sad. The color green is associated with sustainability, but also money and success.
The use of color on walls, floors and furnishings can set a lobby's mood. Add color with graphic design to clarify the message. Is your lobby a modern space built for commerce or a relaxing place to escape for a break?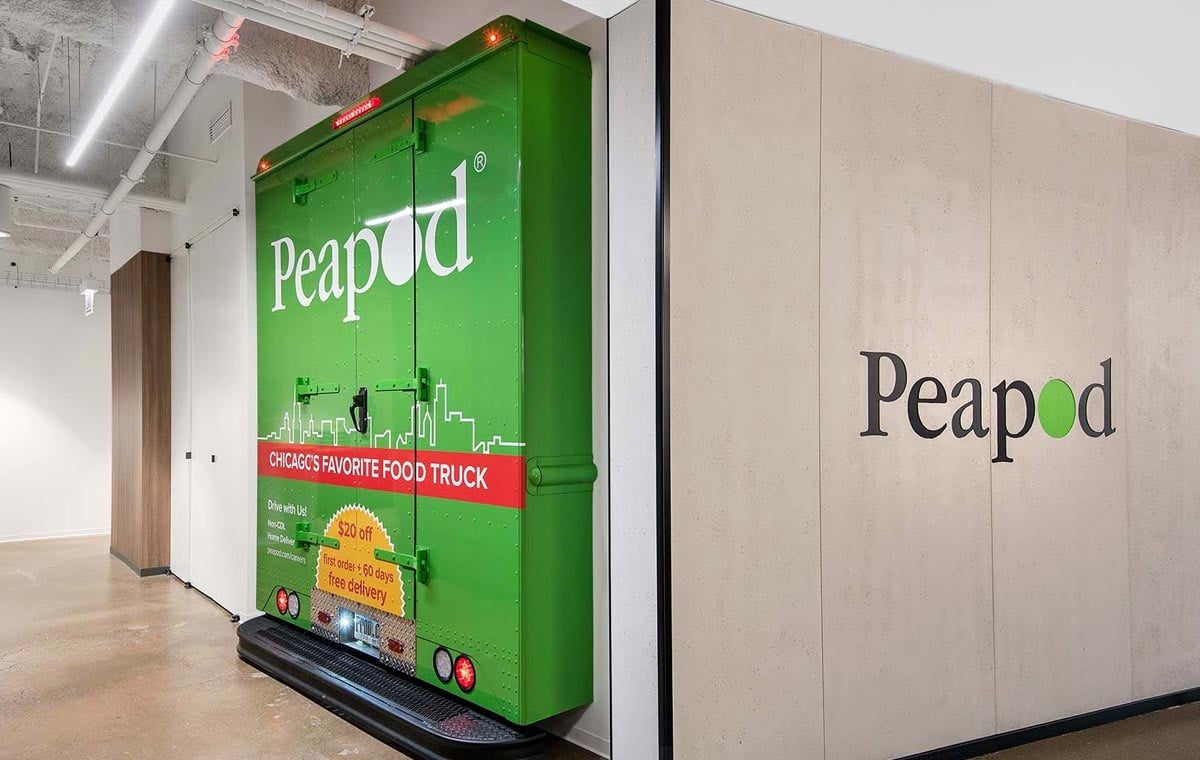 Grocery delivery company Peapod combines its characteristic green with natural tones in brown, white and tan to create this bright, comfortable space.
4. Sculptures & Graphic Displays: Say It With Art
Artwork and graphic design in lobbies can be functional or decorative, or both. For example, branded sculptures or wall displays featuring your corporate name or logo tell visitors they've found the right place.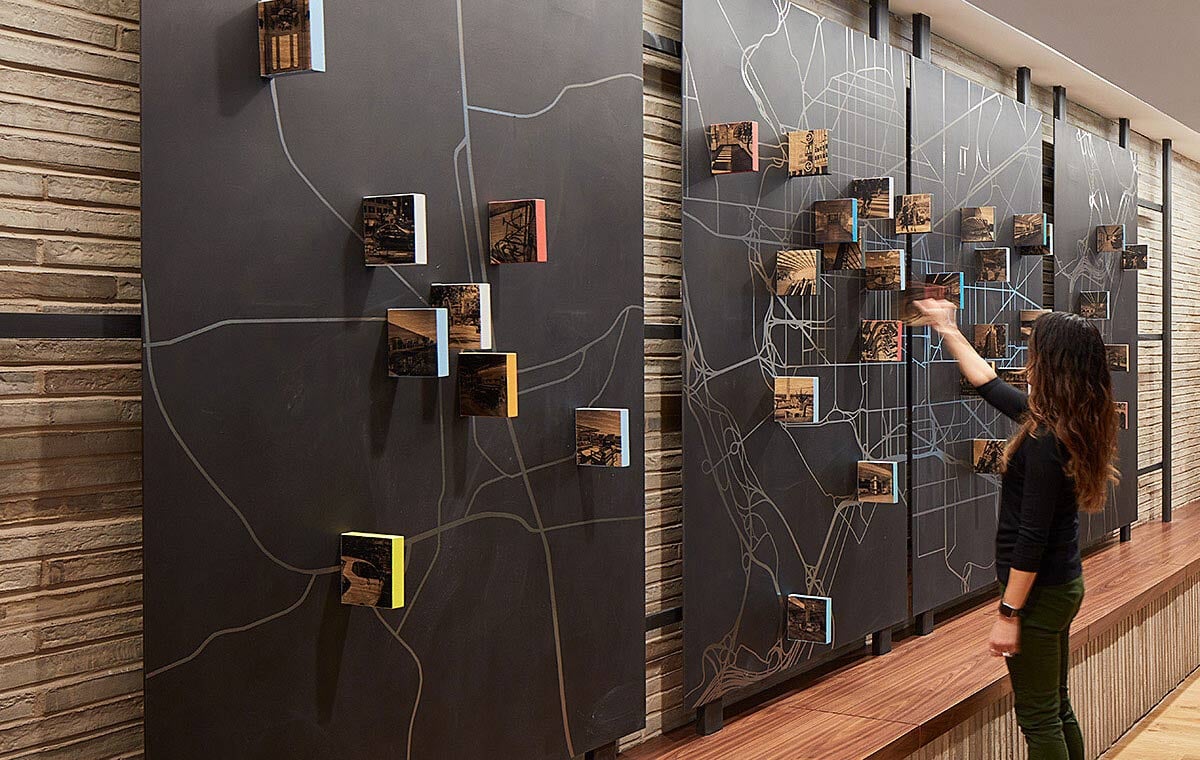 Decorative wall elements can also be used to communicate core values, company history, and other important brand messaging.
Turn your lobby into a self-directed introduction to your company by adding a corporate history wall that invites visitors to explore. Fine art or installation pieces can add to the overall ambiance of your space.
Sculptures are an excellent way to add dimension and interest to your physical space and your corporate lobby is the perfect location to place them. A centrally spaced floor sculpture can split traffic flows, while widely spaced pieces can encourage visitors to make full use of the available space. Fill vertical space and enhance visitors' experiences with aerial sculptures or multi-story 3D wall art.
5. Lighting & Natural Elements: Bring the Outdoors In
Lighting affects people's response to a space and how they use it. A dimly lit lobby may convey a sense of calm or relaxation. A brightly lit lobby is more conducive to getting work done while waiting for an appointment. Don't go overboard, though. Bright, harsh lighting can put visitors in a bad mood.
When possible, incorporate natural lighting into your lobby's design and add other natural elements such as plants or a water feature, too. Biophilic design is the practice of incorporating nature into built environments in a way that contributes to people's wellbeing. Good air flow, real plants, and natural light will make your lobby more inviting and comfortable.
Create a Welcoming Experience With Custom Lobby Design
Creating spaces that are comfortable, functional, welcoming and on-brand requires careful planning and attention to detail. To ensure that your corporate lobby puts your business's best on display, tap the expertise of a full-service design and fabrication company as early as possible in your planning.
With a multidisciplinary team managing your lobby design from ideation to installation, you'll enjoy a streamlined, stress-free process from start to finish—and a one-of-a-kind result.
Ready to take your lobby design to the next level? Schedule an introduction with Bridgewater Studio today. You won't just get a quote. You'll get a detailed project plan that sets your entire lobby design experience up for success from the start.