It is estimated that modern consumers are exposed to as many as 10,000 marketing messages every day. That's a staggering statistic, but it comes as no surprise that consumers are becoming increasingly immune to these constant attempts to vie for their attention. As the marketing landscape continues to saturate, brands looking to make meaningful connections with their audiences are breaking through the clutter with unique, in-person experiences—in the form of retail activations.
Retail activations bring customers face-to-face with a brand, engage the senses, appeal to emotions, and entertain with hands-on activities, all within a retail environment. This gives brands the opportunity to tell a story and, when successful, creates a memorable experience that fosters loyalty and encourages customers to organically spread the word.
What exactly is a retail activation? Should your brand create one? What makes a retail activation successful? Who do brands hire to produce retail activations?
In this article, we'll answer these questions and more, so you can determine if retail activations should be an essential part of your brand strategy. You'll also find several examples of the best retail activations to inspire your own in-store event mobilization or retail store design.
What is Retail Activation in Marketing?
In-store shopping has returned to pre-pandemic levels, with 47% of people shopping in-store daily or weekly. While online shopping remains popular, 60% of men and 52% of women shoppers said they want to visit a store to check out a product before purchasing it. This provides brands with the opportunity to meet their customers face-to-face with memorable in-store experiences.
Retail activation, or experiential retail activation, is the vehicle to deliver that immersive, memorable moment that truly engages customers with the brand. Also called in-store activation or shopper marketing, this strategy is all about creating compelling in-person experiences through visual storytelling within a space. This helps communicate and "cement" your brand's identity and the unique value it can add to your customers' lives.
There are a few different ways to produce a retail activation. Retail activations can happen within the selling area of a physical store, allowing customers to be more focused on engaging with your brand. This can also improve customer conversions, as they occur at or near the point of purchase. There are also retail activations that occur in spaces outside, at supermarkets, drugstores, boutiques, and other shops. Other creative places to hold such retail events are commuter stations, public sidewalks, and bike paths and other high-traffic areas.
What Is the Difference Between Retail Activation and Brand Activation?
With so much marketing jargon out there, it can be easy to confuse retail activation with brand activation. As popular strategies for experiential marketing campaigns, both retail and brand activation have the same goal of increasing and deepening your customers' connection with your brand.
However, retail activation is a specific type of brand activation, making the latter more encompassing. So let's drill down further on how the two differ, beginning with brand activation.


Brand activation
A brand activation is an event or experience that creates a memorable interaction between a brand and its audience. Brand activations often seek to generate a lasting impression and positive word-of-mouth by engaging potential customers in unexpected ways, outside of typical marketing channels. As part of a brand strategy, a brand activation's goals may include increasing awareness and building trust and loyalty, but may also focus on boosting sales.
A brand activation can be in-person, such as a retail activation. It can also be an interactive experience online. A brand activation can even be "phygital," meaning the physical and digital worlds come together, as with the Amazon Go app.
Common examples of brand activation are festivals, digital campaigns, trade shows, sports events, and retail activations.
Retail activation
Retail activation is one type of brand activation that delivers a personal and immersive experience to convey the brand's story to the customer. From the retail graphics to the point of purchase, retail activation attracts the customer and sustains their interest through a thoroughly engaging story.
Retail activation also differs from other brand activations that don't happen at the point of purchase. People who enter a store most likely already have a buying mindset. They may be looking to see a product before purchase or browsing for new products and experiences. Either way, they may be open to engaging with the brand further, which may influence their shopping decisions immediately or eventually.
One popular retail activation tactic is guerrilla marketing. These are over-the-top events designed to generate buzz and interest in the brand. It isn't uncommon for these events to go viral, such as the Taco Bell Airbnb Steakation campaign. Organizers ran a nationwide contest for thousands of applicants. The prize was a stay at Canada's busiest Taco Bell, which was converted into an Airbnb with a "Steakation" atmosphere.
Other types of retail activations are street parties, product samplings and demonstrations, photo sessions, classes, and workshops.
Benefits of Experiential Retail Activation
Builds a relationship between the customer and the brand

Prolongs "dwell" time (allowing for deeper engagement)

Complements your other marketing channels (such as digital)

Provides a rich source of on-site customer data

Delivers faster sales conversion opportunities (closer to point of purchase)

Creates word-of-mouth conversations

Gives a reason for customers to go to the store, other than shopping
What is a Store-In-Store Activation?
A store-in-store, or store within a store (SWAS), is a brand activation located within another brand's retail space. Think about a store-in-store as a partnership between two brands—where one is the host and the other is literally "setting up shop" inside of the host's store. If you've encountered a Starbucks inside your grocery store, or the Apple section at your local Best Buy, you've seen a store-in-store activation at work.
Store-in-store activations continue to gain popularity among top retail brands, as there are benefits to all parties. The host brand is able to provide a more robust shopping experience for customers and increase their dwell time. The brand producing the activation enjoys a steady flow of foot traffic, without the overhead required to operate an independent store.
Of course, brands aren't the only ones benefiting from this experiential retail trend. At the heart of all great marketing experiences are customers. With a store-in-store, shoppers have a compelling reason to visit a retail location in person. Engaging activities, product demonstrations, free samples, and unique photo opportunities are just some of the creative ways a store-within-a-store can deliver the kind of shopping experience modern customers are looking for.
Retail Activation Ideas From Top Brands
A retail activation is the result of many fantastic components put together. For example, a store-in-store activation will have an engaging retail store design on a compact scale, and may employ staff, music, and a host of other elements to deliver a memorable experience to shoppers. Here are recent examples of successful retail activations.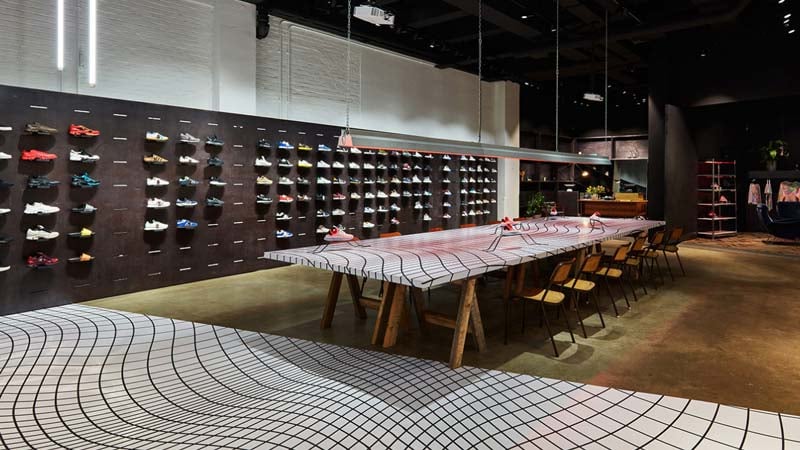 Adidas
As one of the world's leaders in branding, the creative team at Adidas is always at the forefront of the most innovative ideas. At the Adidas Shoreditch-based Studio London, which features reclaimed doors from the British Museum, as well as a "steel show wall," local creatives are invited to come in and connect in the space. Customers can also book free sports classes at the store, such as yoga, via Adidas Facebook Messenger chatbot or through ClassPass.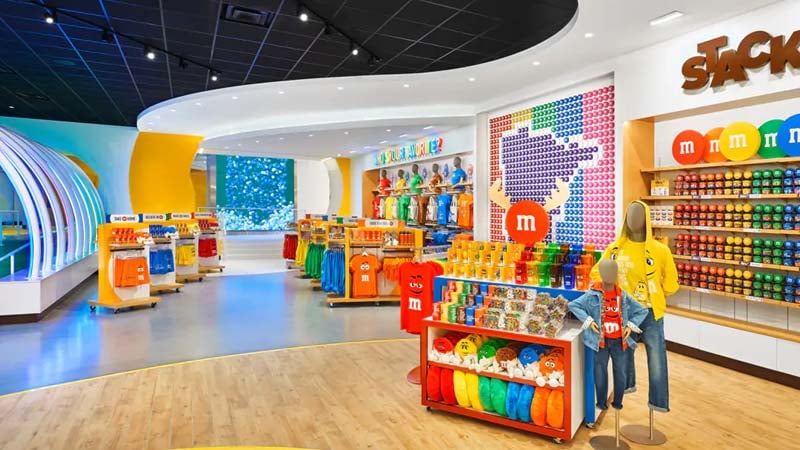 M&M's
The retail activation at the 24,000-square foot M&M's store at the Mall of America created a fanciful world for lovers of the famous chocolate brand while also paying tribute to the culture of Minnesota. From the retail store design and standees to the available things to do and the goods on sale, each detail enriches the entire immersive experience. For example, visitors can have the fun moment of virtually transforming into their favorite M&M's character through the M&M's Mirror. You can also go carefree and express yourself by sound, color, and movement at M&M's Sweet Moves. Yet another experience to savor is visiting Peanut Peak at the summit of the store, where you can enjoy the Minnesota-inspired views.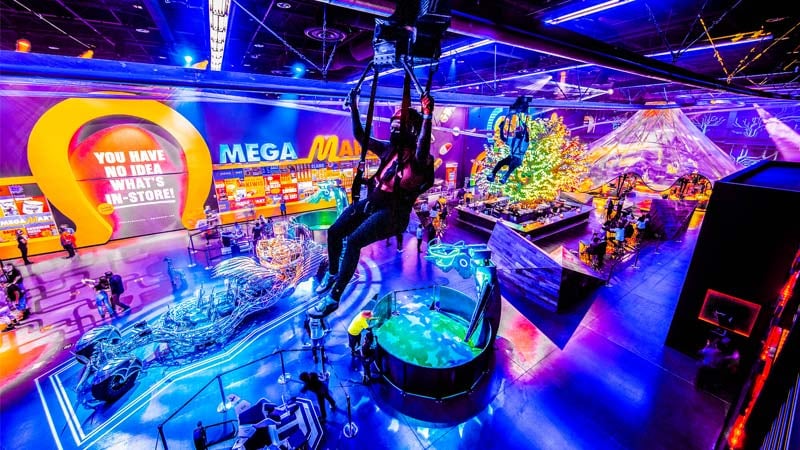 Area15
What this newcomer lacks in brand name recognition, it more than makes up for in the customer experience. Fittingly located in the heart of Las Vegas, Area15 describes itself as "an immersive wanderland of art, entertainment, and amusement." More than a single activation, the 200,000-square-foot space wholly embraces the concept of "experiential retail" through events, activations, art galleries, VR experiences and more.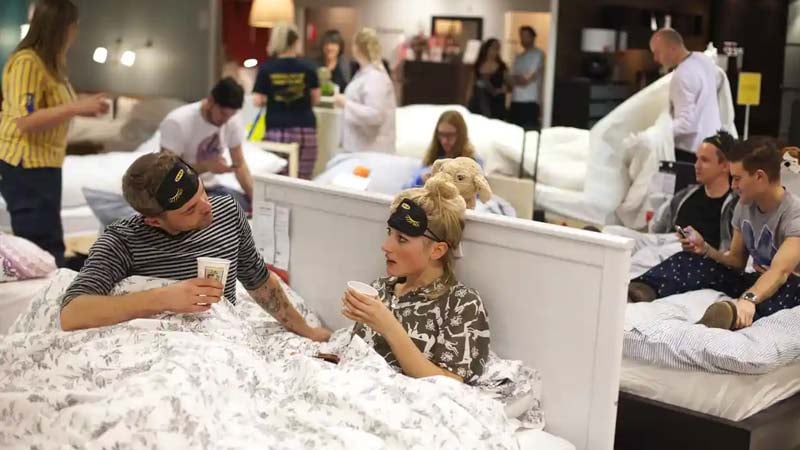 Ikea
Ikea's sleepover retail activation fully immersed customers into their store. For this experience, customers picked their own Ikea mattresses, pillows, and type of bed, and stayed the night. Store consultants and personnel gave sleeping tips and tricks, allowing customers to savor the Ikea sleeping experience. The helpful bedtime hacks from the furniture giant's sleep experts strengthened the link between Ikea and high-quality slumber solutions. Lastly, being in the store made it easy for already interested customers to follow through with actual purchases.
Finding the Right Retail Activation Partner
Ideas may be a dime a dozen, but to plan, design, build, and install a successful retail activation requires a variety of specialized skills. The best retail activation companies will provide all design and fabrication services under one roof with a streamlined process and expert guidance at every step.
With a single partner to manage everything, you'll have one point of contact and control over the entire project lifecycle—so you can avoid the miscommunications, errors, and costly delays that often come with hiring a patchwork of external vendors.
To learn how a full-service retail design and fabrication company can help you get the most out of your next retail activation, schedule a no-pressure introduction to Bridgewater Studio today. We'll customize a free project plan with the right solutions for every stage of your activation, so you'll be set up for success from the start.