Consumer behaviors and their expectations from brands are changing. People have become less interested in the acquisition of things and more interested in the acquisition of experiences. What does that mean for companies that are in the business of selling things? They must deliver extraordinary experiences to earn brand recognition, consumer goodwill and customer loyalty. However, retailers' efforts to engage consumers through experiences won't pay off without effective event branding.
Event branding is the method brands use to link the extraordinary experiences they create and the positive emotions those experiences generate to their company and its products or services.
In this article, discover what event branding is, why it is important for retailers, and how to integrate your brand's name, message and personality into your events, from pop-up stores to sponsorship activations.
What is event branding?
Event branding is how you ensure that event marketing efforts pay off—by putting your name on those efforts. Event marketing is an attraction marketing strategy that hinges on creating an activity, attraction, contest, or gathering that captures attention and draws people to your brand.
Retailers use event marketing to reach new audiences, raise brand awareness, increase customer loyalty and create social buzz. They use event branding to tell event attendees who is responsible for the good time they're having.
Successful event branding isn't just about putting your name on a sign or displaying your logo on the side of a booth, though. Event branding is a part of environmental design, employing multiple channels to build a coordinated message that says, "This is who we are."
Your event branding plan will include strategic placement of your brand's name and logo. However, your plan should identify the images, colors, physical interactions, sounds and sometimes even smells that visitors will encounter at your event, too.
These elements all come together to form a lasting impression.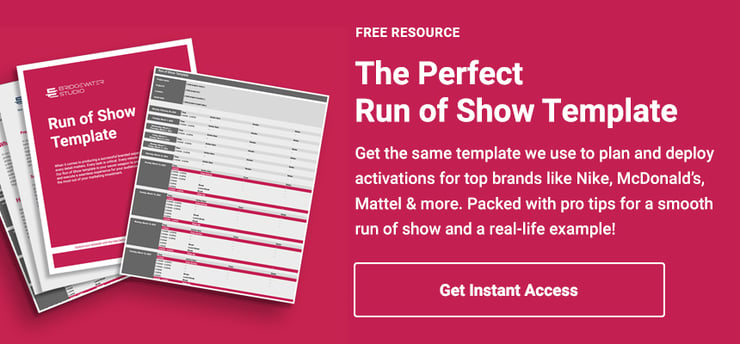 Why is event branding important?
Event branding is an important way for retailers to address the desires of modern consumers. People want to feel like they know and understand the brands from which they purchase, and especially, that the brand's values align with theirs. Each positive experience with a retailer contributes to the formation of a deeper connection. That's why it's important for the experience and the brand not to be forgotten.
Where do retailers engage in event marketing and branding?
Retail events may be singular affairs hosted by one retailer, or group events where different brands use their collective resources to draw a crowd. Brands may also sponsor events. These events may occur online or in-person, or as hybrid events with both online and offline components.
For instance, a retailer might open a physical pop-up store or host an online social media contest. Both of these events attract attention and have the potential to create positive impressions of the brand.
L'Oreal Paris' 2022 Paris Fashion Week runway show is an example of a high-impact, hybrid event. The brand live streamed the Paris show featuring the works of several designers and the brand's cosmetics and hair care products on several social media channels including Instagram and TikTok, extending the event's potential reach to over 10 million online followers. The branded content lives on, gathering more positive buzz for the brand on its website and YouTube.
In-person, Nike makes its presence known at sponsorship events around the world. For instance, participants and spectators at the Bank of America Shamrock Shuffle Chicago Marathon were treated to a Nike-branded, and appropriately green, Shamrock Shuffle pop-up.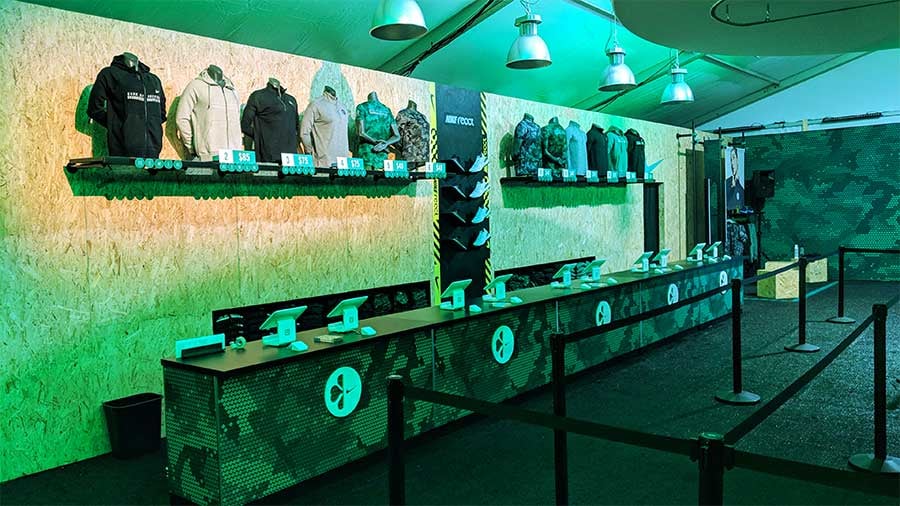 Nike's annual appearance at the marathon is part of a large program, the Nike Running Club, that encourages Chicago runners all year round and keeps the Nike name top of mind.
Conferences are a big draw for consumers and a big branding opportunity, at San Diego's 2022 Comic-Con, brands put their name on interactive activities and plenty of photo op displays. Ensuring that your brand's name, logo, or recognizable products, characters or colors appear in photo zones is a great way to expand your reach.
How to create the branding strategy for your retail event
Getting the most out of your event branding starts with careful planning. As part of your event marketing strategy, identify your objectives and how you'll measure success. You'll also need to define your budget and your production timeline.
It's a good idea to bring your design and fabrication team in before you get too deep into your planning process. They will play an important role in answering essential questions like, "How long will it take to build this?" and "How much will this concept cost?"
Of course, you'll also want to identify your target audience and the experience you want to deliver to them. What's your message going to be?
The next step is to work with design strategists to develop a unique—but viable—concept that will surprise and delight event attendees. Once the design process begins, your design and fabrication partner will use your brand's style guide and the concept for your event to create branded elements that pull the whole experience together and ensure your branding is clear and memorable.
Tips for making event branding work for your retail brand
Making sure your brand name appears in prominent locations throughout your event space seems simple enough. But what are some other ways retailers can gain recognition from a marketing event?
Here are six of our favorite ideas:
Give your event a great name. Use alliteration, puns, a play on your brand's name or reputation or other methods to make the name you choose attention-grabbing and memorable. For example, family experience store CAMP calls its weekly kids' club events "Tuesdays Together."


Hand out branded swag so your brand name goes home with guests. A cup cooler, key fob, T-shirt or other branded item can take your name farther than its mention at a single event.


Distribute branded photo zones throughout your event space. Include different types of settings to appeal to individual and group visitors. If you have a mascot, make sure it's around for the photo shoot.



Goose Island Brewery created a

"bear hug" photo op

, complete with branded background, that is sure to be a hit on social media.


Build social media buzz before, during and after your event with a branded hashtag made just for the occasion. Create hashtags that are intuitive, short and easy to remember like #KleinfeldSampleSale. Get out in front of this task early. If you don't create a hashtag for your event, your audience may choose their own.


For in-person events, include your social media handles and QR code for your event's landing page in your event graphics so attendees can easily connect with you online to share their photos and feedback.


Whether your event is online, offline or hybrid, the key to memorability and reach is engagement. Interact with guests, post live commentary about your event, and use every opportunity to thoughtfully reinforce your event's branding.
Make your brand as memorable as your next event
Today's consumers may think they've seen it all, but you can prove them wrong by delivering a one-of-a-kind experience at your next brand event. Just don't let all your hard work go to waste by failing to incorporate effective branding.
The best way to ensure your brand gets the recognition it deserves, is to engage an experienced design, fabrication, and strategy company early in the process.
Book a no-pressure introduction to Bridgewater Studio today to learn how we help top brands plan and execute events with purpose. You'll get answers to all of your questions, along with a customized project plan that sets your next branded event up for success from the start.